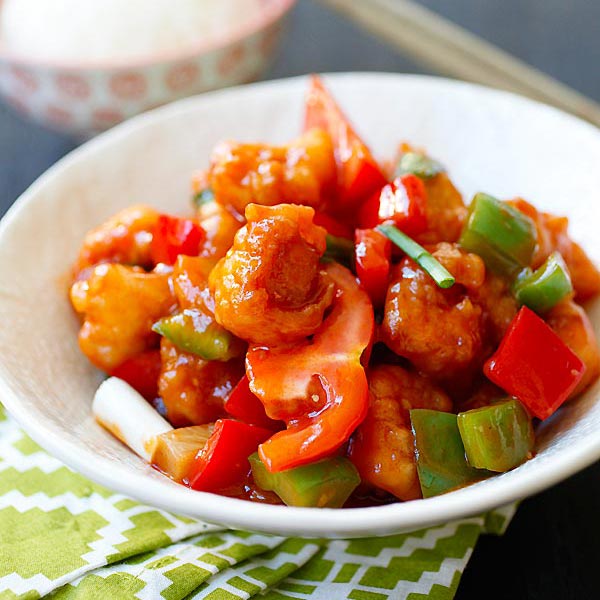 Sweet and Sour Chicken
Sweet and Sour Chicken Recipe. The best and easiest sweet and sour chicken recipe that anyone can make at home. Much healthier and better than takeout | rasamalaysia.com
Prep time:
Cook time:
Total Time:
Ingredients:
8 oz. boneless and skinless chicken breast (cut into bite-size cubes)
1 tablespoon shaoxing wine (optional)
1 green bell pepper (seeds removed and cut into squares)
1 stalk scallion (cut into 2-inch lengths)
2 cloves garlic (finely chopped)
Oil for frying
Batter:
4 tablespoons all-purpose flour
4 tablespoons corn starch
1/2 cup water
1/2 teaspoon baking powder
Sweet and Sour Sauce:
3 tablespoons ketchup
3 tablespoons Lingham brand hot sauce/chili sauce
1 teaspoon plum sauce
1/2 teaspoon Lea and Perrins Worcestershire sauce
1/4 teaspoon Chinese rice vinegar
1/2 teaspoon oyster sauce
3 tablespoons water
1/2 teaspoon corn starch
3 dashes white pepper powder
2 tablespoons oil
Method:
Cut the chicken breast meat into bite-size cubes and marinate with 1 tablespoon of wine for 10 minutes. Mix the batter in a bowl and add the chicken cubes into the batter. Mix the sweet and sour sauce in a small bowl and set aside.
Heat up cooking oil in a wok and deep fry the chicken cubes. (Shake off the extra batter before frying). Transfer the chicken out on a plate lined with paper towels to soak up the excess oil. Transfer the cooking oil out and leave only 2 tablespoons oil in the wok.
Add garlic and saute the garlic until light brown and then follow by the green bell peppers. Stir-fry until you smell the aroma. Add the sweet and sour sauce into the wok and bring it to boil. Toss in the chicken, add the chopped scallions, do a few quick stirs, dish out and serve immediately with steamed white rice.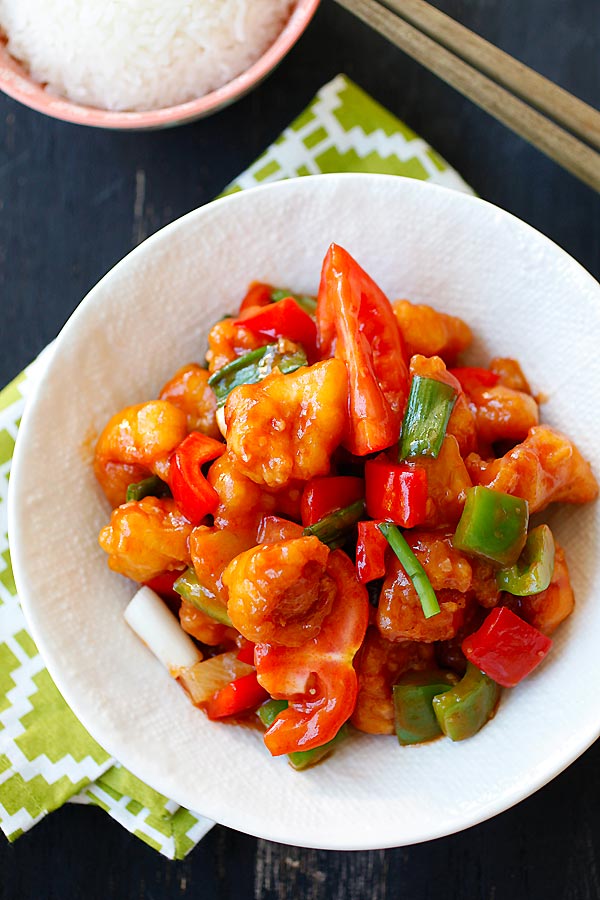 Sweet and Sour Chicken
Sweet and sour chicken is delicious. Easy sweet and sour chicken recipe that calls for chicken, sweet and sour sauce that is better than takeout.
When it comes to Chinese recipes, there are a few basic cooking methods…one of it is definitely sweet and sour.
I love sweet and sour flavors and have shared quite a few recipes, such as sweet and sour pork, sweet and sour fish, sweet and sour fish balls.  Sweet and sour sauce goes extremely well with plain white rice; it also "opens up" your appetite.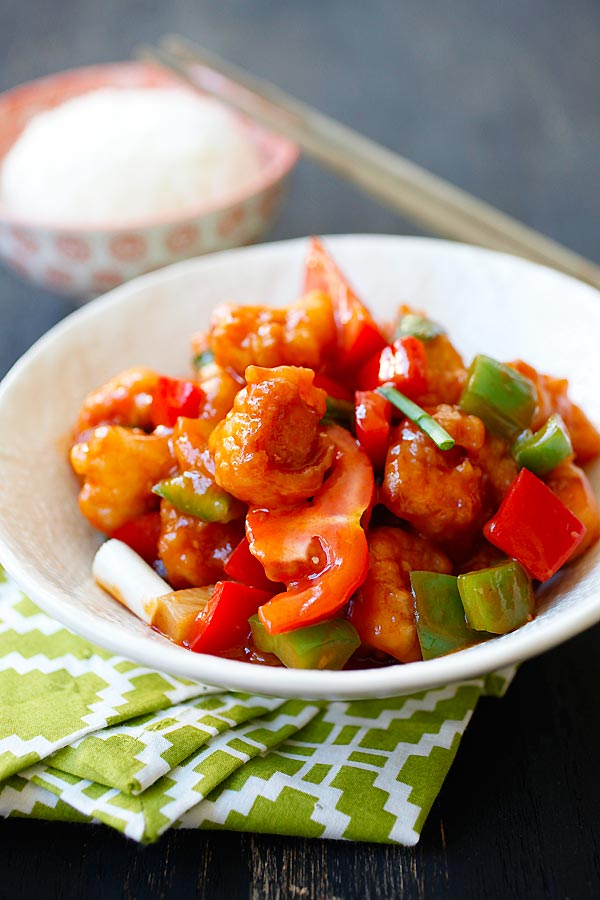 Today, I am sharing my sweet and sour chicken recipe with you. Sweet and sour chicken is a simple recipe that is friendly to most people. The key to a great sweet and sour chicken is that you don't want your chicken to swim in the sweet and sour sauce like what most Chinese restaurants do. The sauce should lightly coat the chicken cubes so they don't turn soggy. Another secret is  the use of baking powder in the frying batter, which does a great job in giving the battered fried chicken an extra crunch. Try it and let me know how your sweet and sour chicken turns out!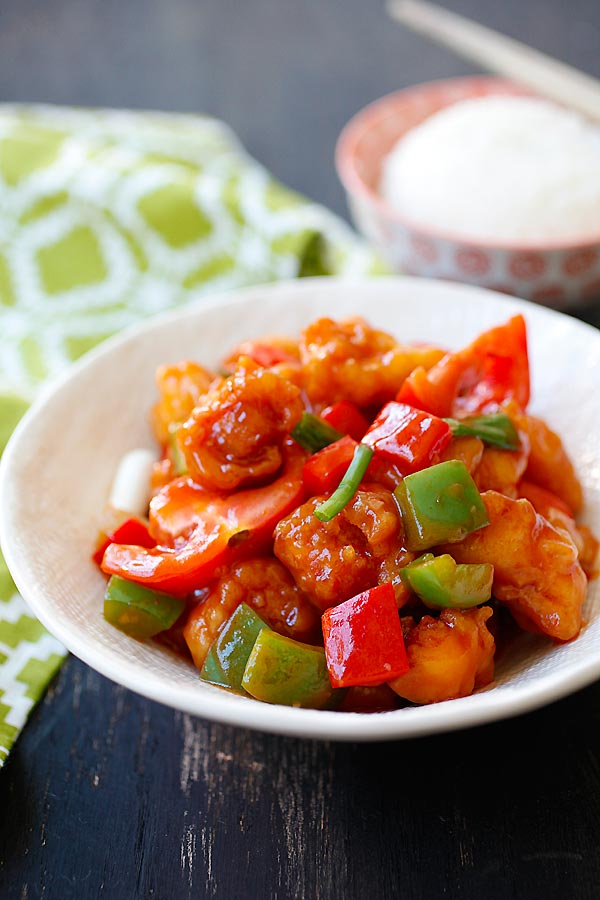 Other popular Chinese recipes: Broccoli Beef, Sweet and Sour Pork, Egg Drop Soup, Kung Pao Chicken, Chow Mein, Fried Rice, Orange Chicken, Mongolian Beef, General Tso's Chicken, Honey Walnut Shrimp, Lettuce Wraps, and more.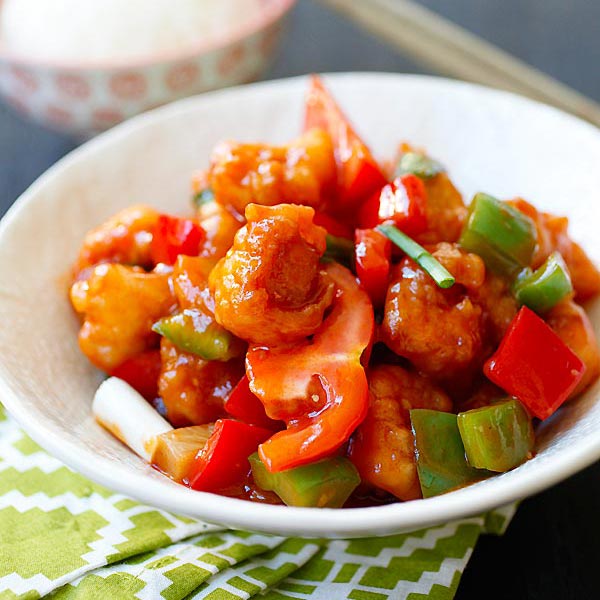 Rate This
Recipe Name
Preparation Time
Cook Time
Total Time
Average Rating

Based on 8 Review(s)