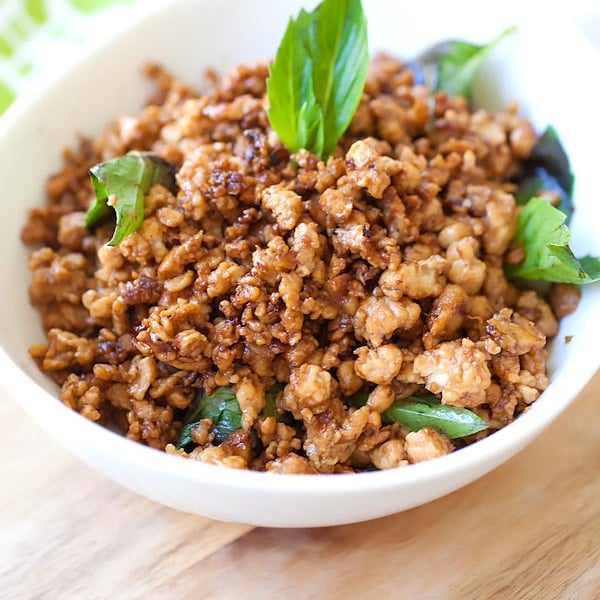 Basil Chicken (Gai Pad Krapow)
Thai Basil Chicken – made with ground chicken, basil leaves, and chilies. Basil chicken is great with rice and this recipe is super easy and authentic | rasamalaysia.com
Ingredients:
2 tablespoons oil
4 cloves garlic, finely chopped
2 shallots, finely chopped)
10 oz ground chicken
6 bird's eye chilies, chopped and pounded with a mortar and pestle, or 1-2 fresh jalapeno cut into slivers
1 1/4 tablespoons fish sauce
1 teaspoon palm sugar or sugar to taste
1/2 teaspoon kecap manis or sweet soy sauce
1 big bunch Thai basil leaves, lower stems removed
3 dashes white pepper
Method:
Add the oil into a heated wok, follow by the chopped garlic and shallots. Stir fry the garlic and shallots until aromatic, then add the ground chicken into the wok. Use the spatula to quickly stir-fry and break the ground chicken meat into small lumps.
When the chicken meat changes color, toss in the chilies, fish sauce, palm sugar, and sweet soy sauce. Stir to combine well. Add in the basil leaves and do a few quick stirs until the basil leaves wilted and you smell the exotic fragrance of the basil leaves. Add the white pepper into the dish, do a final stir, dish out and serve immediately.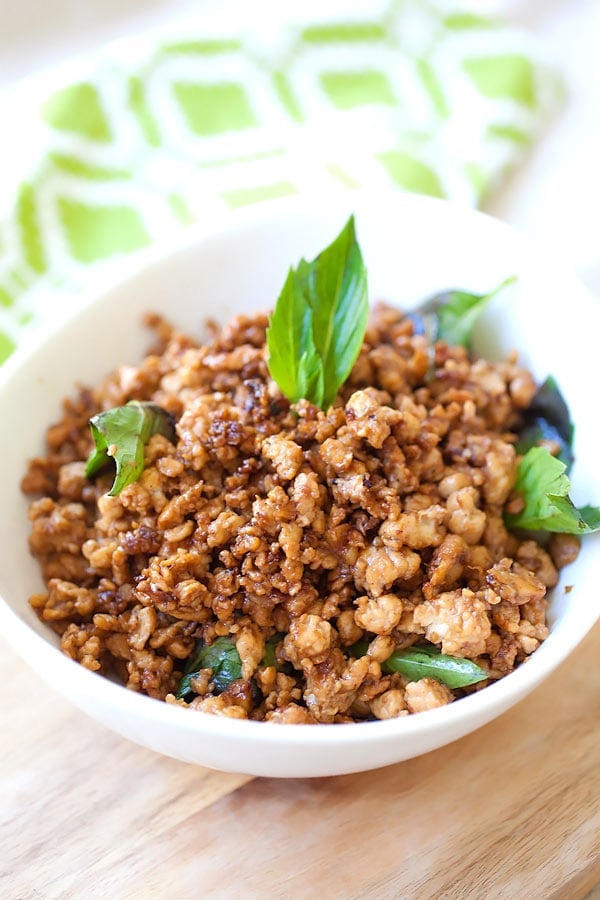 Basil Chicken (Gai Pad Krapow)
Thai Basil Chicken – made with ground chicken, basil leaves, and chilies. Basil chicken is great with rice and this recipe is super easy and authentic!
Originally published on Dec 1, 2009. Updated with new photos.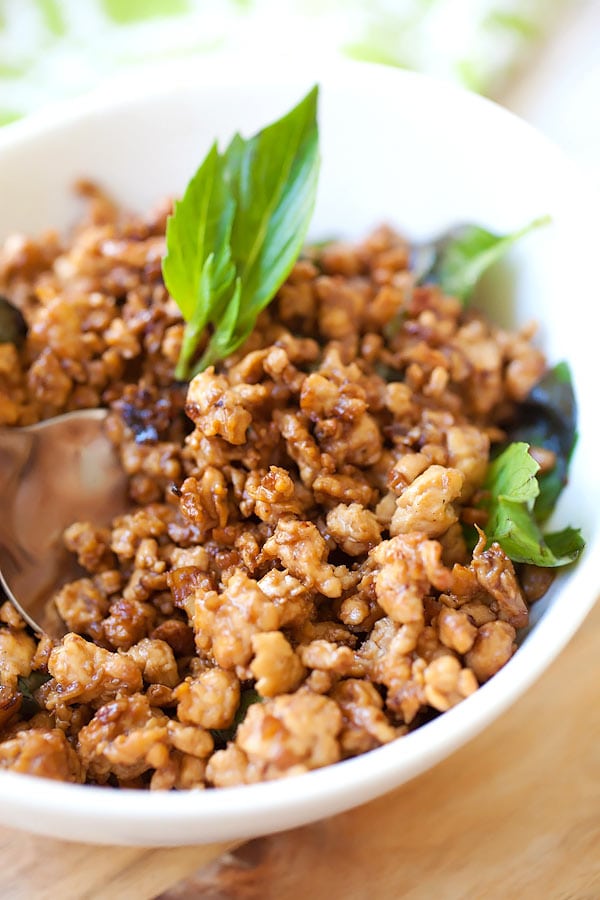 When I was working in Beverly Hills, there is this Thai restaurant that my colleagues and I would always go to. One of my favorite dishes was its spicy basil chicken rice plate—perfectly steamed and fluffy jasmine rice coupled with ground chicken meat infused with aromatic Thai basil leaves. It was delicious, with fine balance of fiery hot and savory. I just loved that dish.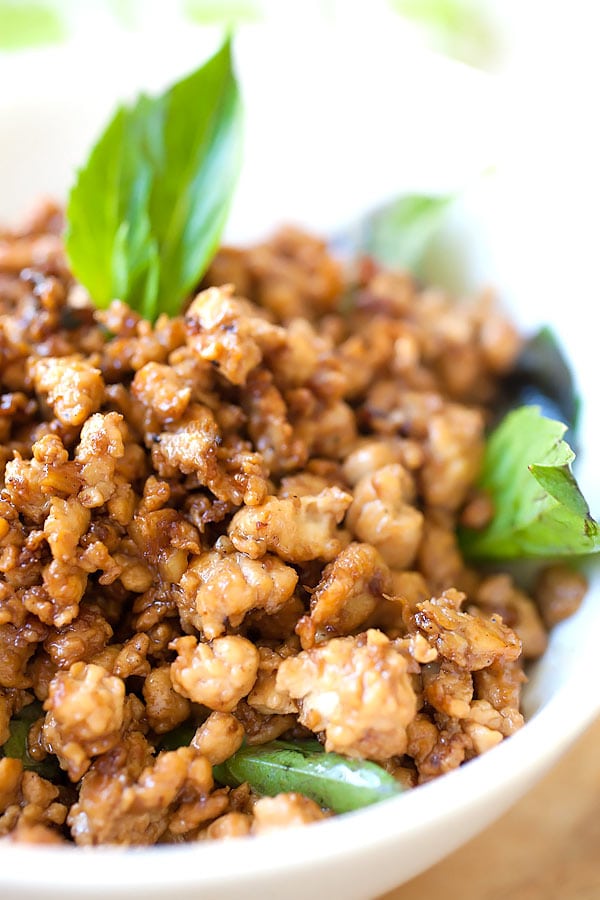 Now that I left the company, I often miss the basil chicken rice plate for my lunch. Living in Orange County, with no decent Thai restaurants within the 30 miles radius, I decided to learn making it myself.  And so I did, and I learned well.There are many gai pad krapow recipes scattered on the internet but I attempted and adapted the basil chicken recipe at Temple of Thai. The beautiful picture pretty much sealed the deal. It did not disappoint; it works and delivers the authentic flavors that I have been longing for.
I love making this recipe at home because Mr. Rasa Malaysia really enjoys the dish. My son also loves the recipe because it's made with ground chicken and it's very easy for him to chew and eat. For the basil leaves, if you can find royal basil leaves in your farmers market, use them. Otherwise, use Asian basil leaves with purple stems. All in all though, this Thai basil leaf chicken recipe is very easy to make and will definitely be my keeper!