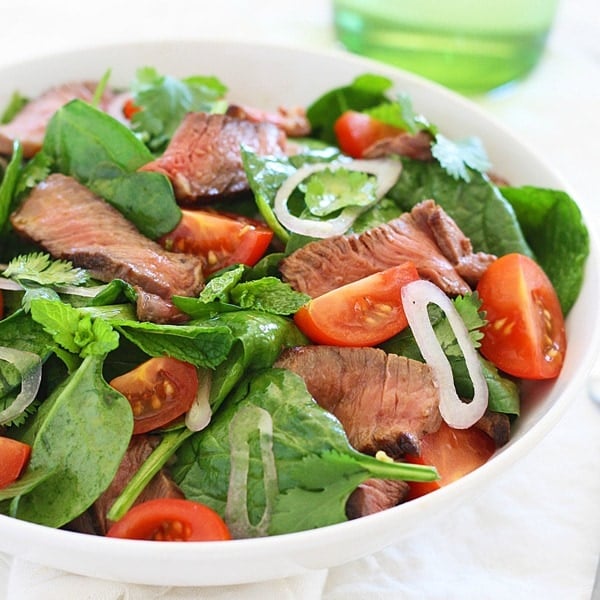 Thai Beef Salad
Thai Beef Salad is a tasty salad with beef and greens in a savory dressing. Easy Thai beef salad recipe that everyone can make at home. | rasamalaysia.com
Prep time:
Cook time:
Total Time:
Ingredients:
1 lb/450 grams grilled top sirloin or trimmed rib eye steak
A tiny bit of cooking oil
For the salad:
1 cup spinach leaves
1/2 cup fresh mint leaves
1/2 cup fresh cilantro
2 thinly sliced shallots
6-8 cherry tomatoes cut in halves
For the dressing:
1/4 cup lime juice or 5 tablespoons lime juice
1/4 cup or 5 tablespoons fish sauce
Sugar to taste
1- 2 red birds eye chilies finely chopped (depending on how hot you like it)
Method:
1. Preheat a pan on high heat until very hot. Add a bit of cooking oil and spread it evenly across the bottom. Let the steak sit in the pan for around a minute to get a nice crust. Flip over the steak and repeat. Reduce heat to medium and cook to your liking. Wrap the meat in aluminum foil and allow resting for about 5 – 10 minutes before thinly slicing across the grain.
2. In a bowl whisk together fish sauce, lime juice, bird's eye chilies and sugar to taste. Toss in the mint leaves, cilantro, shallots and cherry tomatoes and mix well. Serve the salad mix on top of a bed of spinach and drizzle some of the dressing over.
Cook's Notes:
If you have the access to a grill, this will produce even better results. Cooking time of the steak depend on how thick it is and if you prefer it rare, medium rare or well done.
For a less spicy alternative, use fresh red finger length chilies with seeds and central stem removed.
Temper the meat by letting it rest in room temperature for 30 minutes before grilling/cooking.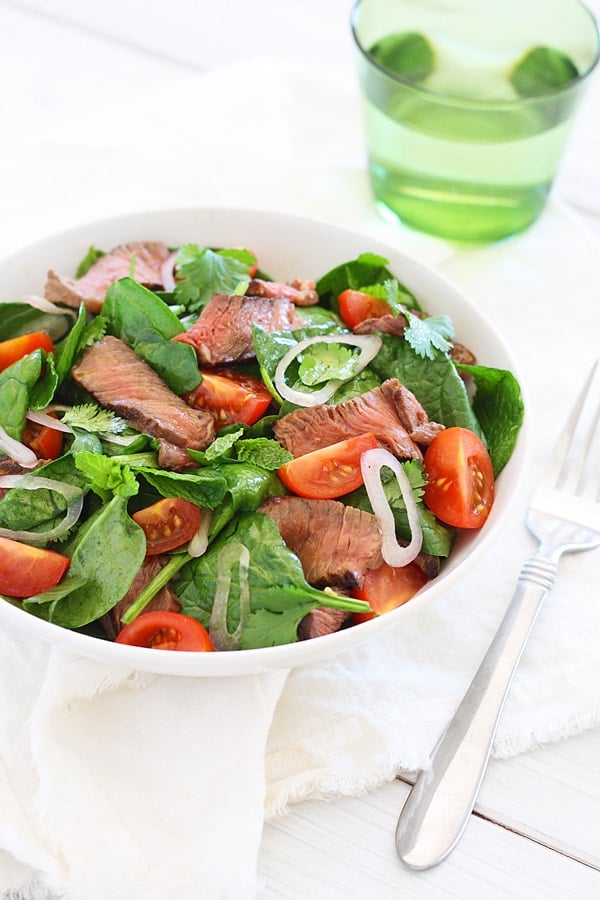 Thai Beef Salad
I am a firm believer in clean eating; my diet consists of well-balanced meals that include lots of vegetables and greens. In summertime, I love making healthy and colorful salads because fresh produce are bountiful in the farmers market. Plus salads are so quick and easy to make, and the taste is always refreshing, light, and healthy.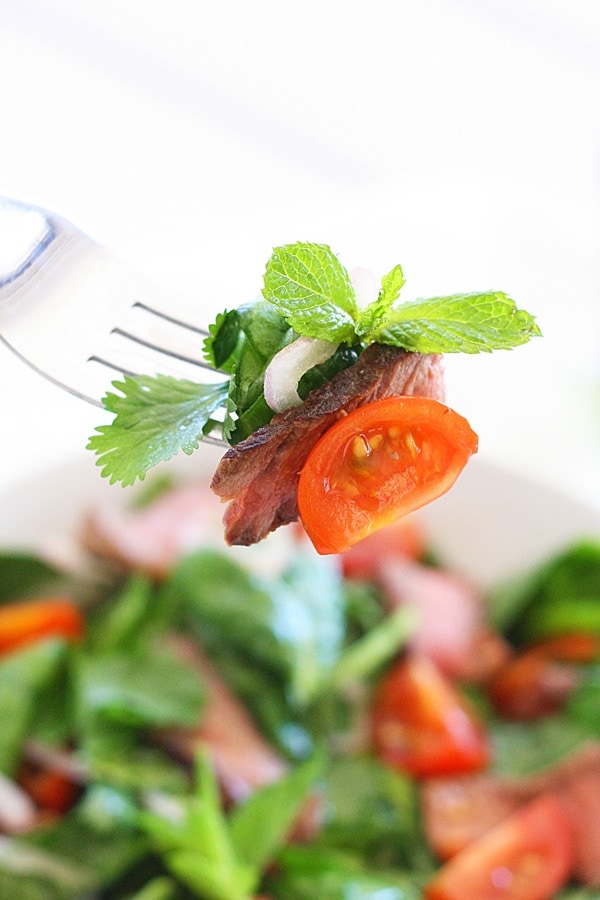 One of the salads I really like is Thai Beef Salad—tender greens with perfectly seared beef in a savory Thai dressing that is packed with lots of flavor. However, as a work-from-home mom, sometimes my days are so packed that I have no time to prepare even the simplest of meals. That's when I head out to Panera Bread for my quick lunch. For Thai-flavored salad, I always order Thai Chicken Salad because it is so good and made with clean ingredients that fit my lifestyle.
Panera is on a mission to serve clean food by the end of 2016. The new tagline "Panera Bread. Food as it should be" clearly reflects their commitment to promote wellness for the millions of their patrons, and I stand by them. All their bakery-cafes in the United States will have no artificial colors, sweeteners, flavors and preservatives on the menu– all things I like to avoid feeding my child.
Panera strives to make incredible food; not only food that we crave, but food that's healthy–food that will make the rest of you feel as good as your taste buds. All of their their food is made with seasonal, clean ingredients from reputable vendors. Panera is also removing artificial colors, sweeteners, flavors and preservatives in all of their U.S. Bakery Cafes by the end of 2016. Panera wants their guests to revel in the joy of good eating and to share the experience of good food, and that's the very reason why I enjoy so many of the salads served at Panera: because they're delicious!
Other than Thai Chicken Salad, I also like the Strawberry Poppyseed & Chicken Salad. I love the beautiful color of strawberry and greens. The brighter the color, the better it is as the salad is visually appealing and delicious.
The Power Kale Ceasar Salad is another feel-good salad. Kale is a super food and has a lot of fiber and texture. It's extremely healthy and allows me to really chew and enjoy the texture of the salad.
I am also partial to the Mediterranean Chicken & Quinoa Salad. There is no artificial colors, sweeteners, flavors and preservatives from the salad dressings in this salad. It's purely clean and it tastes better as I can actually enjoy the natural flavors of the ingredients.
So head to Panera and enjoy clean food, or you can order online. For more information about Clean eating, click here.
This post was brought to you by Panera Bread. I received compensation to write this post. All opinions expressed are my own.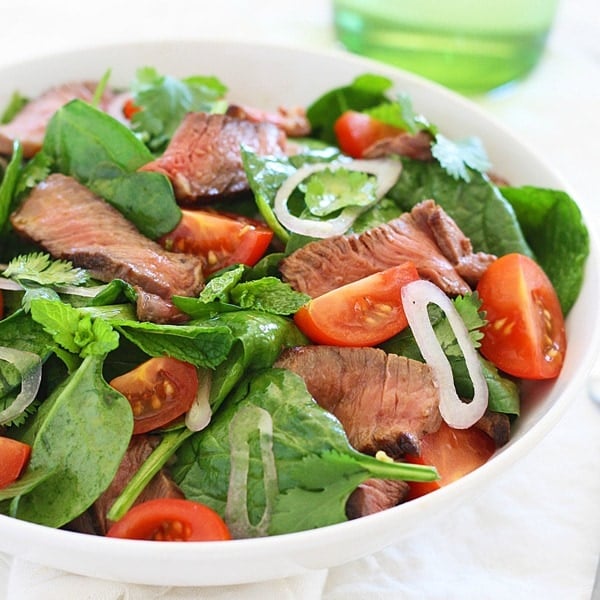 Rate This
Recipe Name
Preparation Time
Cook Time
Total Time
Average Rating

Based on 3 Review(s)