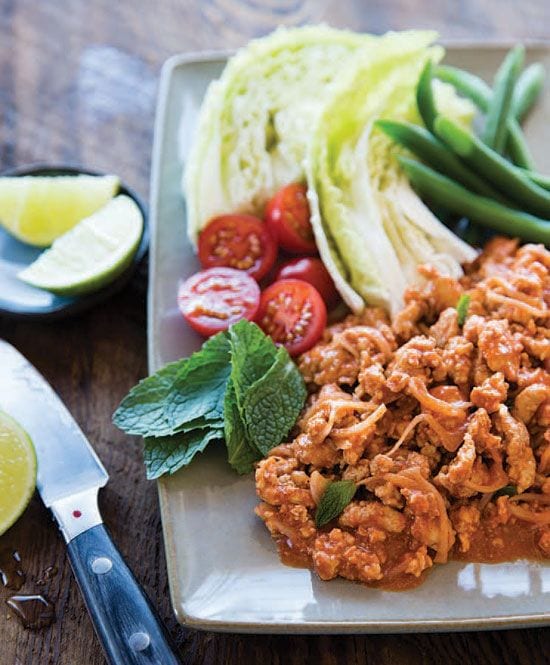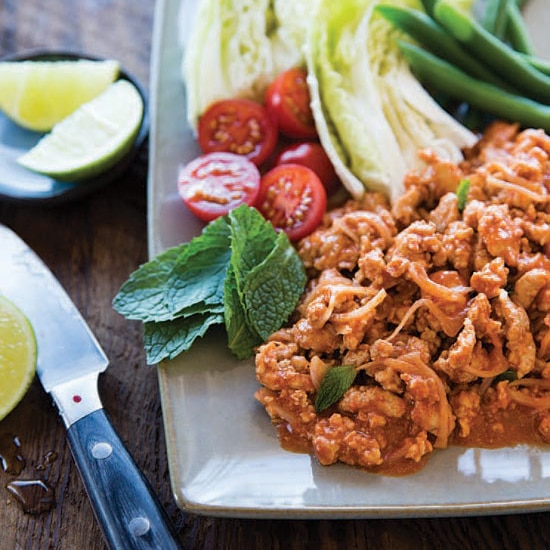 Thai Minced Chicken Salad
Northeast Minced Chicken Salad from Simple Thai Food cookbook. | rasamalaysia.com
Makes4
Ingredients:
1 (1/4-inch thick) slice galangal, minced (optional)
2 large shallots, about 1 ounce each, sliced lengthwise paper-thin
2 tablespoons red chile powder
1 ½ tablespoons fish sauce
3 tablespoons freshly squeezed lime juice
12 ounces ground chicken
1/3 cup water
2 teaspoons toasted rice powder
10 blades fresh sawtooth coriander, coarsely chopped, or ½ cup fresh cilantro leaves
½ cup loosely packed fresh mint leaves
3 or 4 (1-inch-wide) wedges green cabbage
Method:
Place a dry wok or 14-inch skillet over medium-low heat, add the galangal, and toast, stirring constantly, until dry to the touch and fragrant, which should take about 1 minute. Transfer to a bowl.
Add the shallots, chile powder, fish sauce, and lime juice to the bowl with the galangal, stir to mix, and set aside.
Return the pan to medium heat. When the pan is hot, add the chicken and water and cook, stirring and breaking up the meat with the edge of the spatula, just until the chicken is cooked through, about 5 to 8 minutes. Transfer the chicken and its juices to the bowl with the dressing.
Stir everything together well, then taste to see if the seasoning needs correcting. The salad should be predominantly sour, then salty. Adjust the seasoning as needed. When the salad tastes right, stir in the rice powder, sawtooth coriander, and mint. Serve immediately with the cabbage on the side.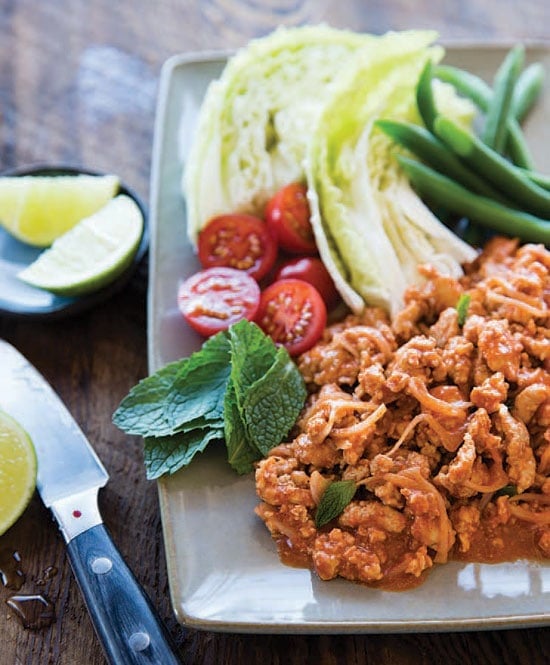 This Northeast Minced Chicken Salad recipe is another recipe that I wanted to showcase from the Simple Thai Food cookbook by Leela at She Simmers. As I mentioned, I reached out to them and I will be republishing 3 recipes from the cookbook, with permission. The last recipe of Miang Kham is such a hit on Rasa Malaysia as well as my social media channels, so I have no doubt that this Thai Minced Chicken Salad from the northeast region of Thailand will win you over.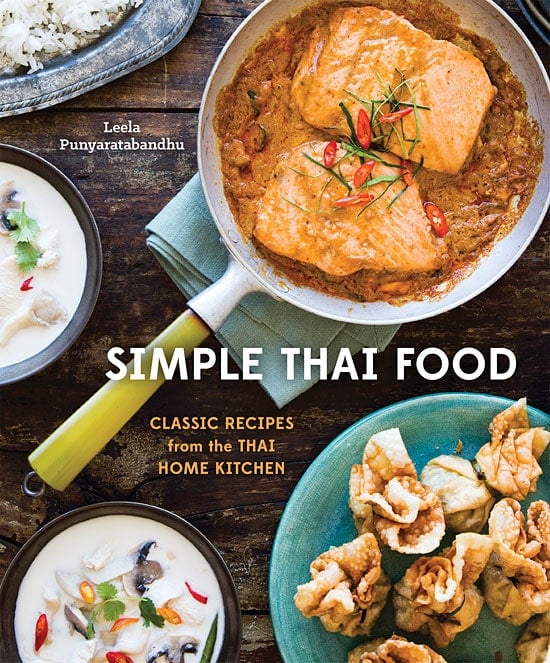 Isaan, or the Northeast part of Thailand is a vast land that is land-locked, and bordered by Cambodia and Laos. Due to the proximity to Laos, the cuisine for this part of Thailand is very different from what we know about Thai cuisine. Dishes such as lap (larb), a ground meat salad is very popular. This minced chicken salad is one of the variations of the popular pork larb.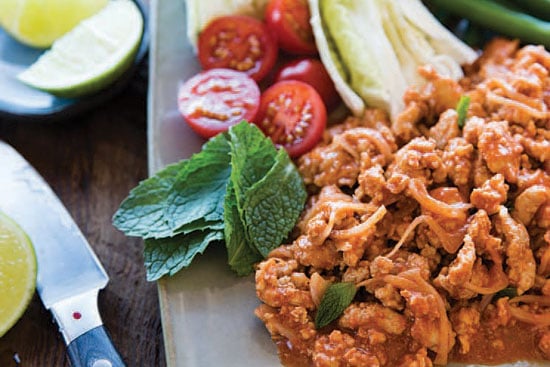 Anyway, I think this dish is extremely flavorful and refreshing, with really complex and exotic flavors. Since it's made with chicken, everyone can eat it. This minced chicken salad makes a great springtime salad, and I am sure you will find it delightful. If you like what you see from the Simple Thai Food cookbook, you can pre-order now at Amazon.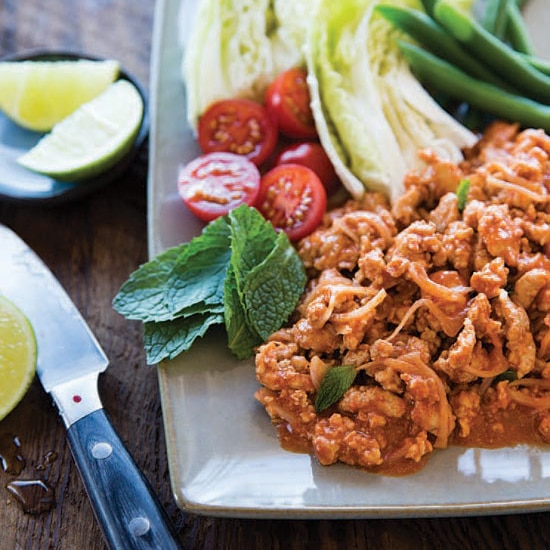 Rate This
Recipe Name
Thai Minced Chicken Salad
Average Rating

Based on 3 Review(s)