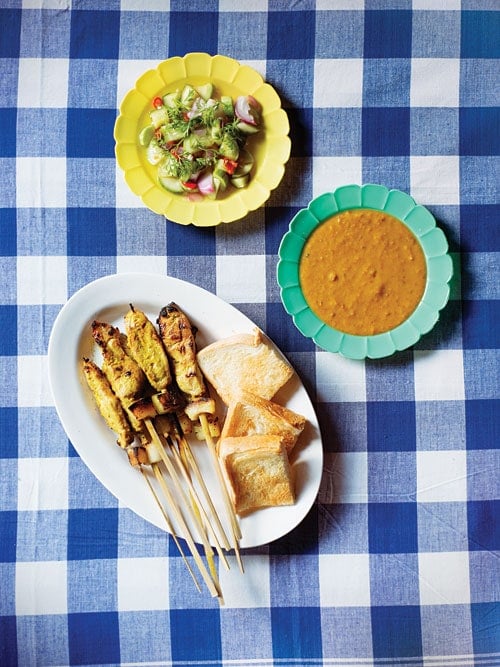 Muu Sateh (Pork Satay) Recipe
Reprinted with permission from Pok Pok by Andy Ricker with J.J. Goode, copyright © 2013. Published by Ten Speed Press, a division of Random House, Inc.
Photography credit: Austin Bush © 2013
Makes about 36 skewers (Serves 6 as snack or 6 to 10 as part of a meal)
Ingredients:
SPECIAL EQUIPMENT
36 wood skewers (8 inches or so each), soaked in tepid water for 30 minutes
A Thai granite mortar and pestle
A charcoal grill (highly recommended), grates oiled
MEAT
1 (6-ounce) piece pork back fat (highly recommended but optional)
2 pounds boneless pork loin, cut into strips that are approximately 3 inches long, 1 inch wide, and 1/4 inch thick
MARINADE
11/2 teaspoons coriander seeds
Very small pinch cumin seeds
1 teaspoon kosher salt, plus extra for seasoning the skewers
14 grams thinly sliced lemongrass (tender parts only), from about 2 large stalks
1 (14-gram) piece peeled fresh or frozen (not defrosted) galangal, thinly sliced against grain
1 (14-gram) piece peeled fresh or frozen (not defrosted) yellow turmeric root, thinly sliced against grain
2 tablespoons granulated sugar
6 tablespoons sweetened condensed milk, preferably Black & White or Longevity brand
1/2 teaspoon ground white pepper
1 cup unsweetened coconut milk (preferably boxed)
TO SERVE ALONGSIDE
About 11/2 cups Naam Jim Sateh (Peanut sauce), page 281
About 11/2 cups Ajaat (Cucumber relish), page 283
About 6 thick slices Pullman or other thick-cut white bread, lightly grilled or toasted, then quartered
Method:
MAKE THE SKEWERS
Put the fat in a small pot, add just enough water to cover, and set the pot over high heat. Bring the water to a rolling simmer, decrease the heat to maintain it, and cook until the opaque white fat has turned slightly translucent, about 5 minutes. Drain the fat, discarding the water, and cut it into approximately 3/4-inch squares that are about 1/4 inch thick.
Skewer one fat cube per skewer (discard any extras), pushing the cubes down to about 4 inches from the tip. Weave one skewer through the center of each strip of pork, exiting and entering several times, so the strip is fixed firmly to it and ends just below the tip of the skewer.
MAKE THE MARINADE
Combine the coriander and cumin in a small pan, set the pan over medium-low heat, and cook, stirring and tossing often, until the spices are very fragrant and the coriander seeds turn a shade or two darker, about 8 minutes. Let the spices cool slightly and pound them in a granite mortar (or grind them in a spice grinder) to a coarse powder. Combine the spice powder, condensed milk, lemongrass, galangal, turmeric, sugar, salt, pepper, and all but a few tablespoons of the coconut milk in a blender. Blend until smooth, then pour the marinade into a container, preferably a deep, narrow one. Swish the remaining coconut milk in the blender and pour it into the container.
MARINATE THE PORK
Add the skewers to the container with the marinade so that the meat (not necessarily the fat) is submerged in the marinade. Let it sit for at least 30 minutes or up to 1 hour while you prepare the grill.
COOK THE PORK
Prepare a grill, preferably charcoal, to cook over medium-high to high heat (see page 124). Or preheat a lightly oiled, large flat griddle over medium-high heat. Remove the skewers from the marinade, letting any excess drip back into the container. Season both sides of the pork with salt and cook in batches, if necessary, turning the skewers over once and moving them around to contain flare-ups, until the pork is just cooked through and the outsides are as charred as you like them, 3 to 6 minutes total.
Serve them right away (or cover loosely with foil for up to 15 minutes after grilling) alongside the peanut sauce, cucumber relish, and bread.
Cook's Note
Up to 1 day in advance: Make the cucumber relish and skewer the pork
1 hour before: Marinate the pork
Most-Pinned Recipes
Ginger Garlic Baked Chicken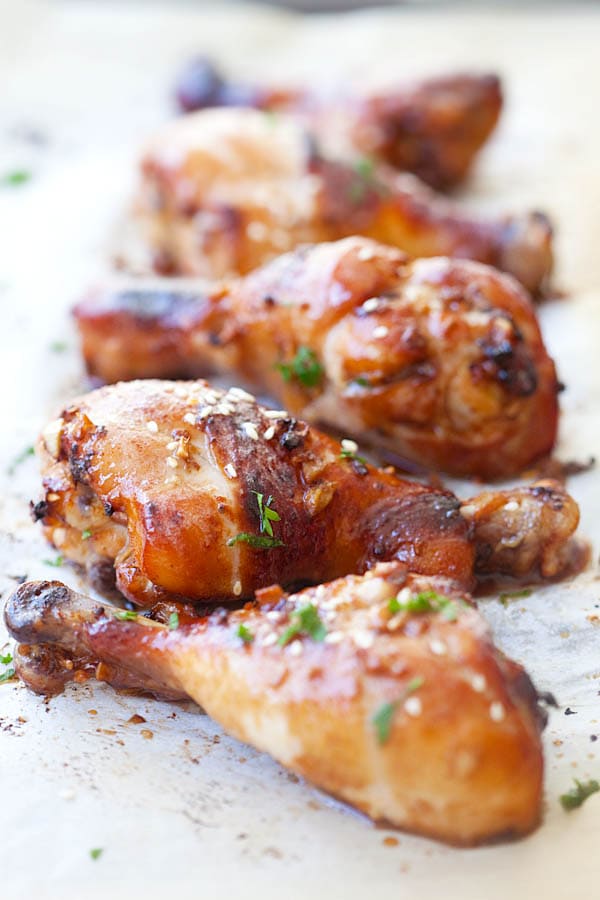 Crab Rangoon (Cream Cheese Wontons)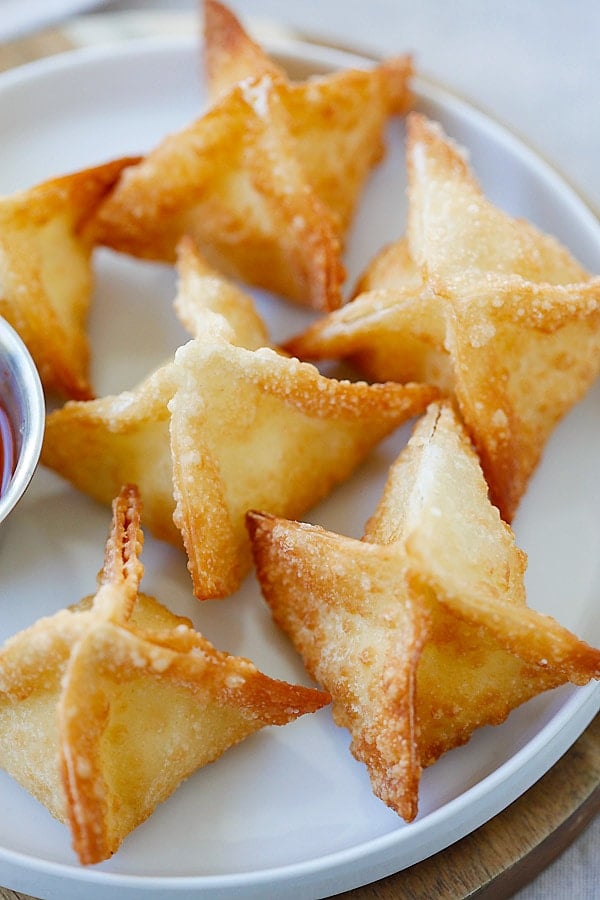 Chicken Wontons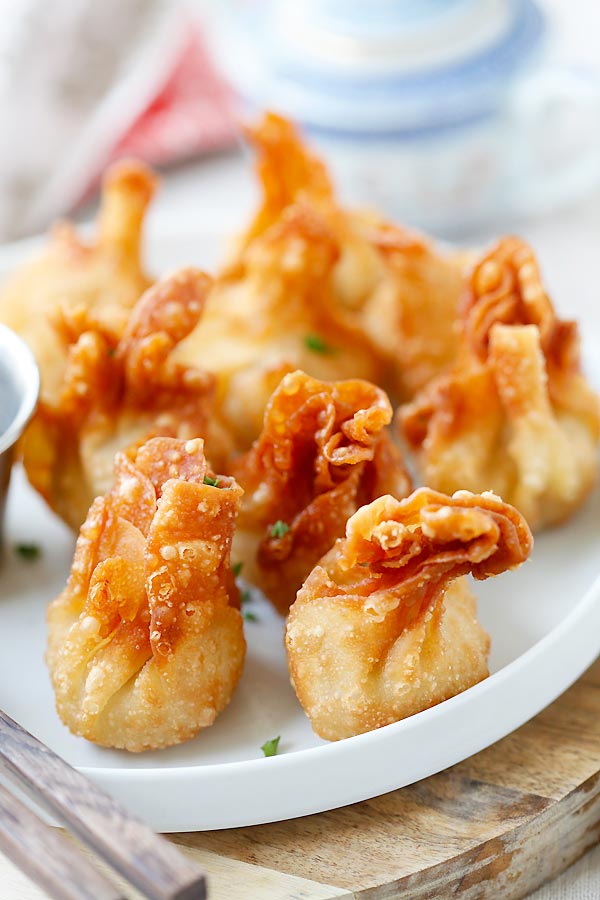 Onion Scallion Beef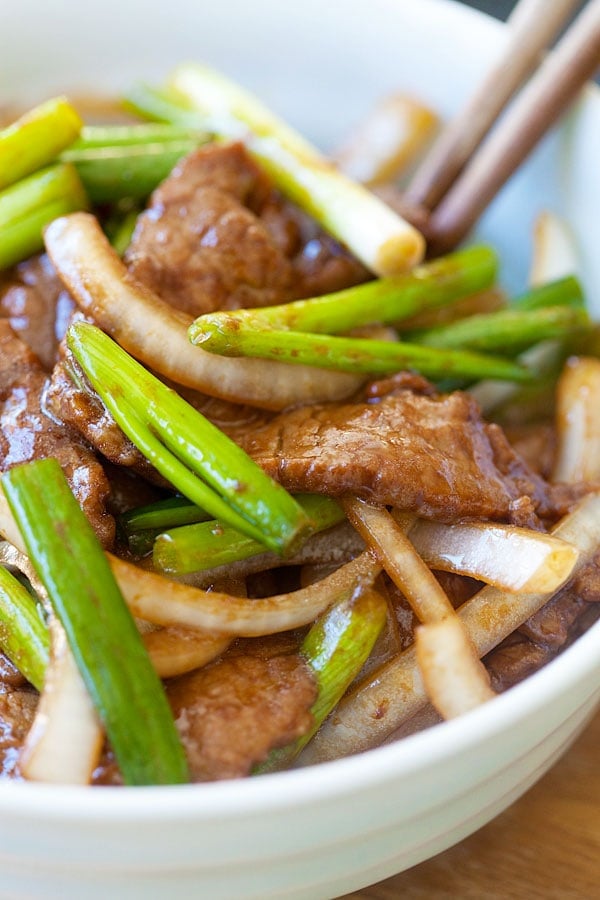 Thai Chicken Sate with Peanut Sauce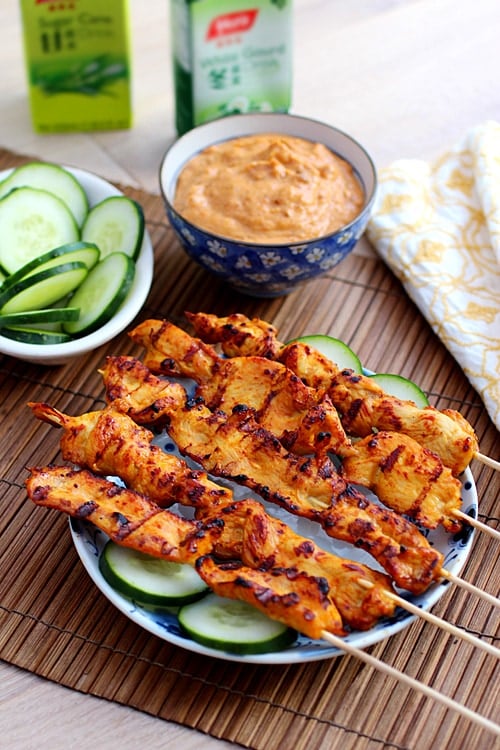 Thai Peanut Sauce