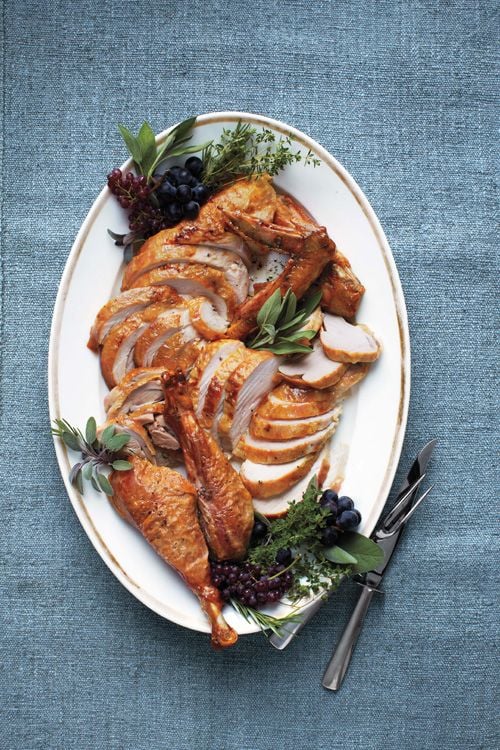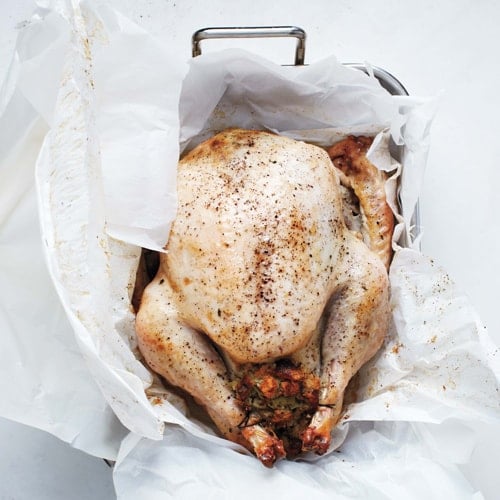 Roasted Turkey in Parchment Paper
Moist, tender, juicy Thanksgiving roasted turkey recipe using parchment paper. Easy and perfect roasted turkey recipe from Martha Stewart Living.
Ingredients:
1 14-pound turkey, neck and heart reserved for Turkey Stock
10 cups favorite stuffing or Sausage Pear Stuffing
1 stick unsalted butter, softened
Coarse salt and freshly ground pepper
Turkey Gravy Recipe:
Drippings from Roasted Turkey in Parchment Paper
1/2 cup dry white wine
2 1/2 cups Turkey Stock
2 tablespoons cornstarch
Coarse salt and freshly ground pepper
Turkey Stock Recipe:
Neck and heart from a 14-pound turkey, and/or 1 pound turkey wings
10 cups cold water
1 carrot, cut into 2 or 3 pieces
1 onion, cut into 2 or 3 pieces
1 stalk celery, cut into 2 or 3 pieces
Small handful of flat-leaf parsley sprigs and stems
1 bay leaf
5 whole black peppercorns
Method:
Roasted Turkey in Parchment Recipe:
Let turkey stand at room temperature 1 hour. Preheat oven to 325 degrees with rack in lower third. Pat turkey dry with paper towels. Fill body cavity with 6 cups stuffing. Fill neck cavity with 4 cups stuffing. Secure skin flaps with toothpicks or skewers. Spread 6 tablespoons butter over top of turkey, then season generously with salt and pepper. Tie drumsticks together with kitchen twine. Tuck wings under turkey.
Place a 40-inch sheet of parchment on a work surface and spread with remaining 2 tablespoons butter. Place turkey on top, with a short side of bird facing you. Gather ends, wrapping turkey. Fold overlapping ends of parchment over turkey and secure with staples. Place a 48-inch sheet of parchment on work surface, place turkey on top, and rotate 90 degrees. Fold short parchment sides over turkey and secure with staples. Rotate bird another 90 degrees and repeat process with another 40-inch sheet of parchment. Secure all paper flaps with staples.
Place turkey in parchment on a flat (not V-shaped) rack set inside a roasting pan. Roast turkey 2 hours, 45 minutes. Remove from oven; cut open parchment with scissors. Increase oven temperature to 425 degrees. While holding drumsticks, slide parchment out from under turkey and discard. Return turkey to oven. Continue to roast turkey until golden brown and a thermometer inserted in breast reads 165 degrees, about 45 minutes more. Transfer to a carving board and let rest at least 45 minutes and up to 1 hour before carving.
Meanwhile, remove stuffing from both cavities; transfer to an 8-inch-square baking dish and bake until thermometer inserted in center of stuffing reads at least 165 degrees, 15 to 20 minutes. Using drippings in pan, make turkey gravy.
Turkey Gravy Recipe:
Pour drippings from roasting pan into a fat separator and set aside. Place pan on 2 burners over medium-high heat. When pan is hot, pour in wine, scraping up brown bits with a wooden spoon. Pour in defatted drippings (use only 2 tablespoons of those from dry-brined bird) and 2 cups stock; bring to a boil.
Combine remaining 1/2 cup stock and cornstarch in a small jar, seal it, and shake to combine. Pour cornstarch mixture into boiling mixture in pan and boil until thickened, 2 to 3 minutes. Pour through a fine sieve into a bowl. Reheat when ready to serve. Before serving, season with salt and pepper.
Turkey Stock Recipe:
Combine all ingredients in a large stockpot and bring to a boil. Reduce heat and simmer, skimming froth off top occasionally, until reduced by half, about 1 hour. Pour through a fine sieve into a bowl; discard solids.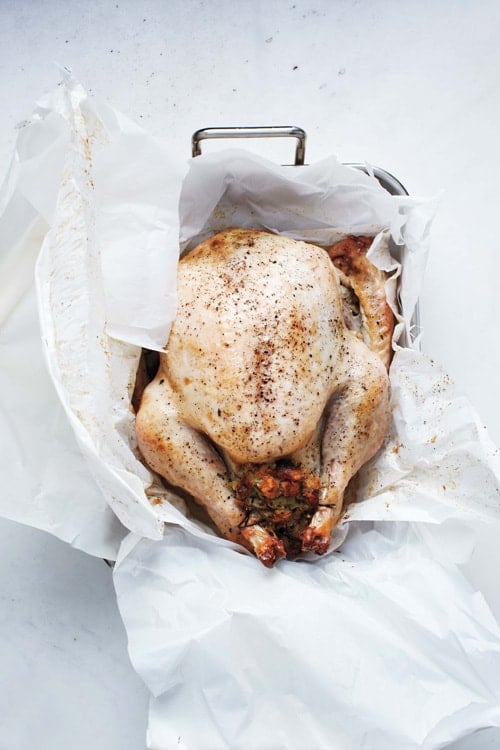 Mr. Rasa Malaysia and I celebrated our first Thanksgiving in the Midwest, when we were attending our graduate school. We had a pot luck; it was our very first Thanksgiving meal of roasted Turkey, stuffing, pumpkin pie, and rolls. Unfortunately, the store-bought roasted turkey was dry, tough, and chewy, and I have always wanted a great roasted turkey recipe that delivers tender and juicy meat.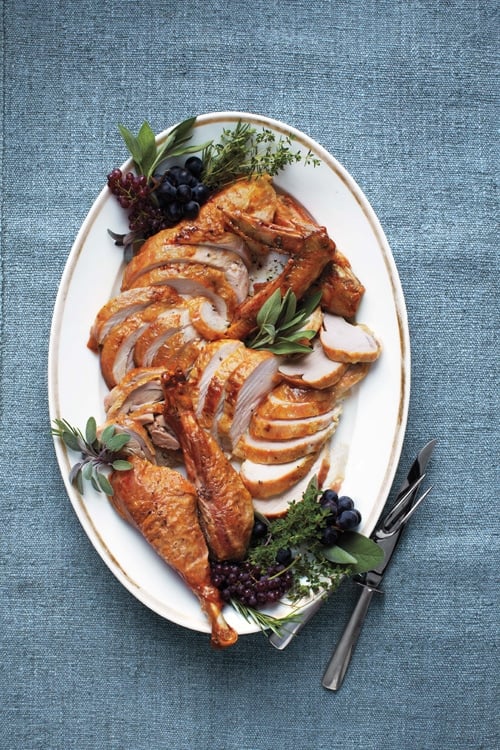 Everyone wants an easy and perfect Thanksgiving roasted turkey recipe but it's not easy to reinvent roasted turkey every year. This year, I am going to share a tried and tested roasted turkey recipe from Martha Stewart Living November issue. The parchment bag turkey caught my attention because the bird looks absolutely moist, tender, juicy, and delicious. When the bird is wrapped with parchment paper, it creates a cozy steam in the packet. This ensures super moist meat throughout. To brown the turkey skin until crackling-crisp, all you have to do is rip the parchment paper open and expose the turkey and let the oven does its job of roasting it. It's so easy!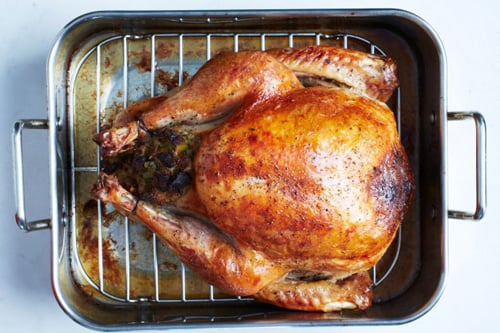 If you are still planning your Turkey Day menu, I urge you to try out this roasted turkey in parchment paper recipe on the November issue of Martha Stewart Living magazine, one of my go-to food magazines. You can also check out the recipe here. I have also shared the popover recipe to go with your roasted turkey. Try the recipes and I am sure your family will be pleased.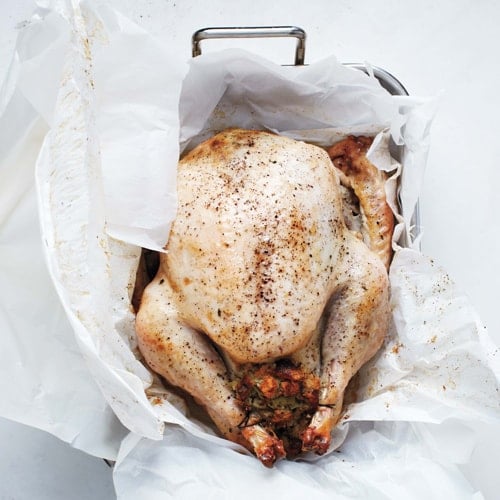 Rate This
Recipe Name
Roasted Turkey in Parchment Paper
Preparation Time
Cook Time
Total Time
Average Rating

Based on 3 Review(s)