Wonderful cookies!i made it after much hesitation but was amazed at the result.
–
by
Mini
,
December 5, 2012
Wonderful cookies!i made it after much hesitation but was amazed at the result.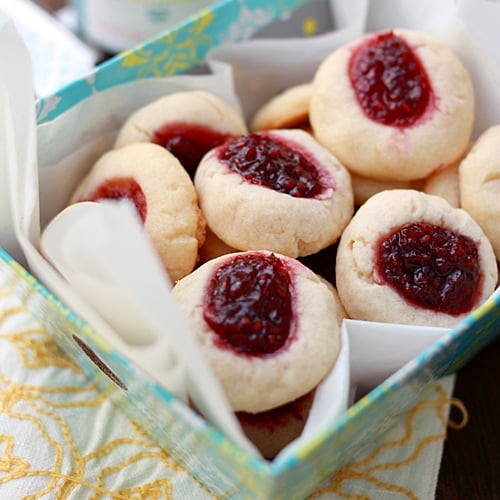 Thumbprint Cookies
Thumbprint Cookies – Amazing thumbprint cookies filled with raspberry jam. So crumbly, sweet, and buttery
Prep time:
Cook time:
Total Time:
Ingredients:
1 3/4 cups (~222g) all purpose flour
1/4 teaspoon salt
3/4 cups (6oz/~170g) unsalted butter, softened
1/2 cup (~113g) fine/baking sugar
1/2 teaspoon vanilla extract
Chez Pim Fetching Framboise Raspberry Jam
Method:
Preheat the oven to 350°F (~180°C). Line 2 baking sheets with parchment paper.
Sieve the flour and salt into a bowl. Whisk it and set aside.
Cream the butter and sugar until fluffy. Add in the vanilla extract. Beat to combine.
Slowly add in the flour mixture spoon by spoon. Use a spatula to scrap down the flour on the side and bottom as needed. Make sure the mixture is well combined. The dough becomes crumbly but will hold together when pinched.
Using your hand, take out approximately 1 tablespoonful of the dough. Knead it on your palm with your fingers a few times and then roll into a 1″ ball. Place them on the baking sheet 2″ apart. Use your thumb and press a well in the center. Fill each well with 1/2 teaspoon jam.
Bake for 10-12 minutes. Transfer to wire tray to cool completely before storing them in air tight container.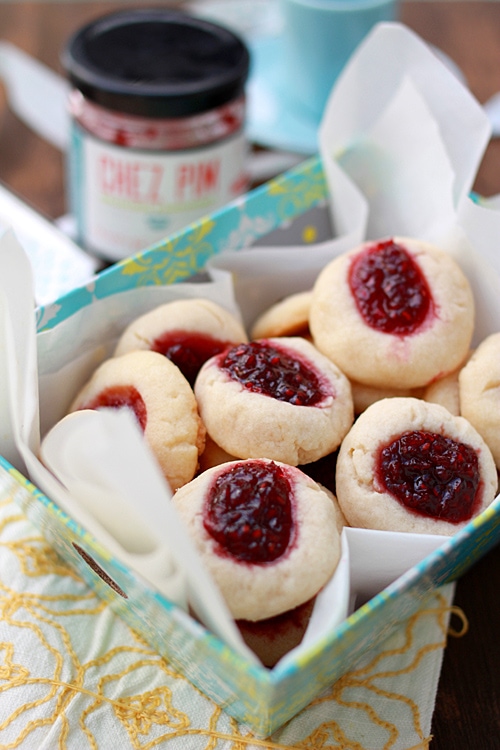 December is a happy month. It is a month about baking really outstanding cookies for the upcoming holiday season; it is also a month filled with holiday parties, great friends, and family. So this month, I am sharing a few of my favorite cookies recipes as well as party foods with you.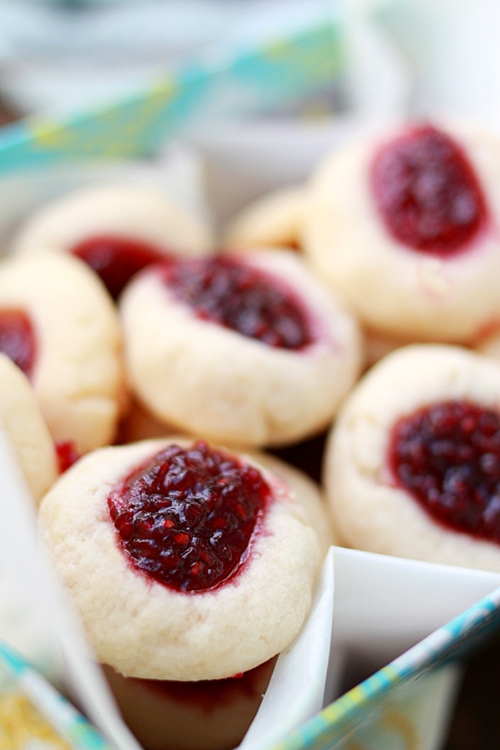 When I decided to make thumbprint cookies, I knew that I had to buy an excellent jam. After all, thumbprint cookies are precisely butter cookies filled with jam. Being a jam novice, I turned to my friend Chez Pim—food blogger extraordinaire turned award-winning jam maker. Pim recommended her Fetching Framboise Raspberry Jam. Oh boy, all the hype is true…Chez Pim's jam is the best jam I have ever tasted. (Her celeb devotees includes Nigella Lawson, Anthony Bourdain, Ruth Reichl, and many more!)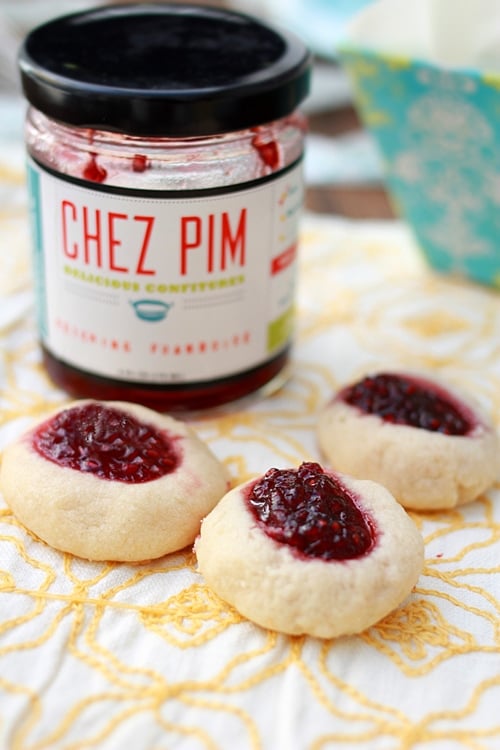 The Fetching Framboise made an excellent filling for the thumbprint cookies. I love the fresh taste of the berries (yes, you can taste the freshness even though they had been made into a jam), the slight tartness, with just the perfect balance of sweetness, and the aroma…oh, the aroma and fragrance of the berries. It was so good even the picky Baby G loved it on his toast.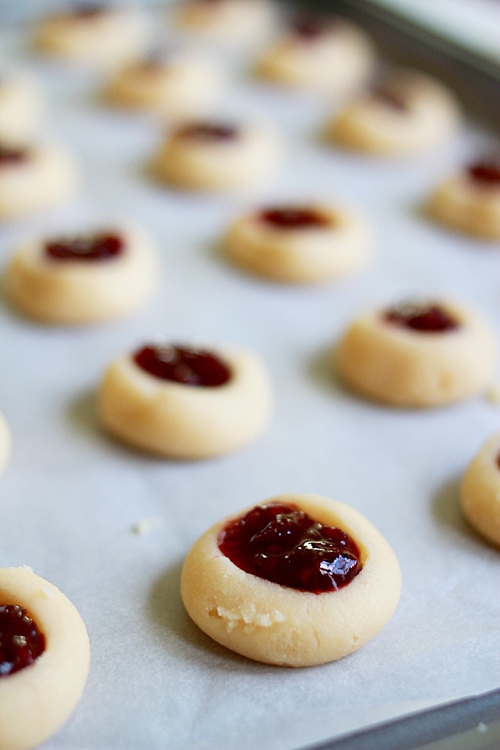 Anyway, thumbprint cookie is a holiday classic so if you are making them this year, you can try out my recipe below.