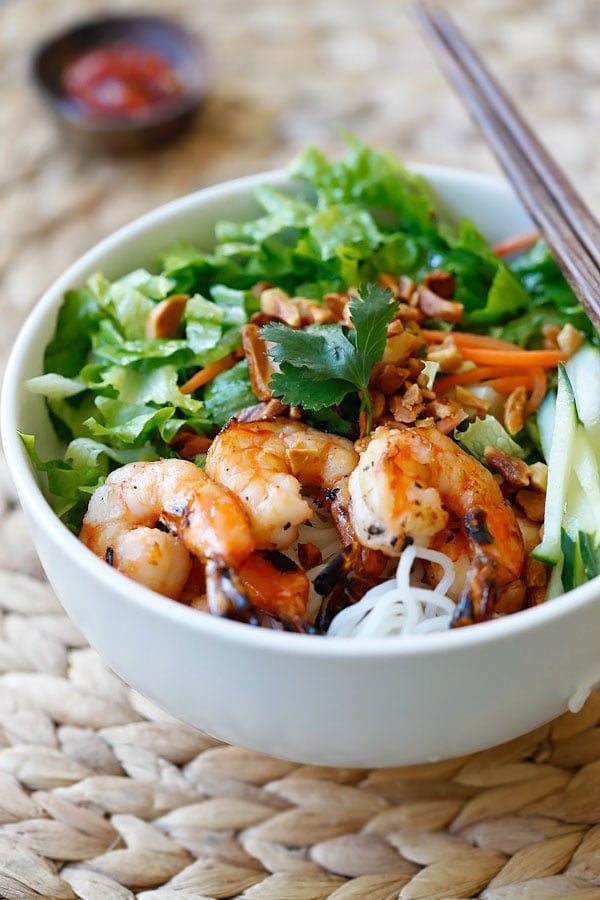 Vietnamese BBQ Shrimp Vermicelli Recipe (Bun Tom Heo Nuong)
Serves 3
Ingredients:
8 oz rice sticks
12 medium-sized shrimp, shelled (but leave tail intact) and deveined
3 lettuce leaves, thinly cut
1/2 small cucumber, cut into thin strips
1 cup fresh bean sprouts
1/2 small carrot, peeled and cut into thin strips
Some cilantro leaves, coarsely chopped
Some mint leaves, coarsely chopped
Some perilla leaves, coarsely chopped (optional)
Some Thai basil leaves, coarsely chopped (optional)
3 tablespoons roasted peanuts, coarsely ground
BBQ Shrimp Marinade:
1 teaspoon fish sauce
3 heavy dashes black pepper powder
A pinch of turmeric powder
Method:
Cook the rice sticks according to the package instructions. Rinse with cold water thoroughly after cooking, drain in a colander and set aside.
Marinate the shrimp with all the ingredients in the BBQ Shrimp Marinade for 30 minutes. Prepare and cut all the vegetables and herbs.
Fire up your BBQ pit and grill the shrimp until they are properly cooked. Divide the rice sticks, vegetables and herbs into 3 portions and transfer them into 3 bowls. (The rice sticks should sit on top of the vegetables and herbs). Transfer 4 shrimps into each serving, sprinkle some ground peanuts, and pour some nuoc cham (fish sauce) into the noodles. Serve immediately.
Nuoc Cham (Fish Sauce or Vietnamese Dipping Sauce) Recipe
Ingredients:
1/4 cup fish sauce
1/2 cup warm water
1/4 cup sugar + 1 tablespoon sugar (if you like it sweeter)
3 tablespoon lime juice
Method:
Add fish sauce, water, sugar and lime juice in a small bowl and mix well. Make sure the sugar is completely dissolved.
Cook's Notes:
To jazz up the taste, add some garlic chili sauce and mix well with the fish sauce (nuoc cham) before serving.
For the nuoc cham recipe, different brand of fish sauce tastes differently, so adjust the sugar, warm water level to your liking. If it's too salty or strong for your taste, add more water and sugar.
For fish sauce, I recommend 3  Crabs brand Fish Sauce.
Most-Pinned Recipes
Ginger Garlic Baked Chicken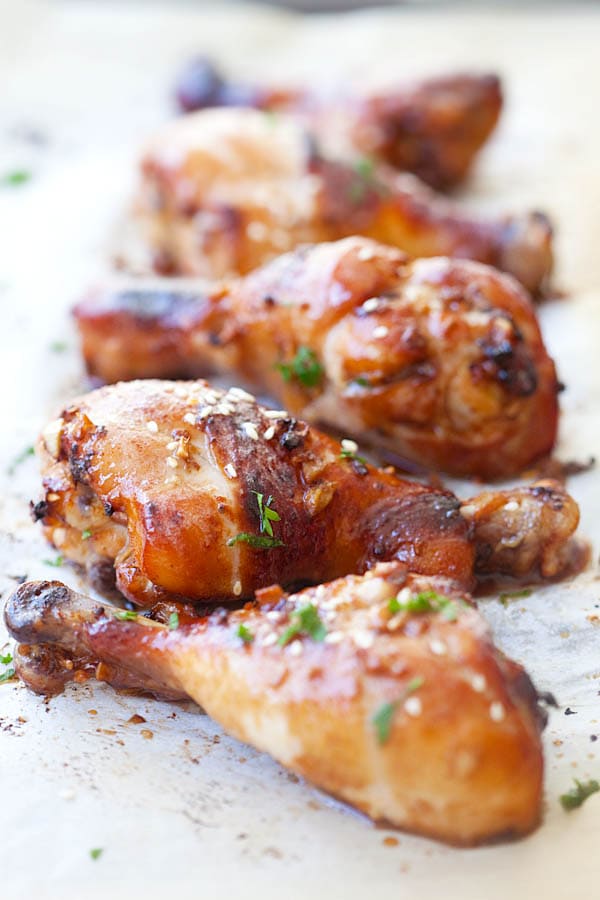 Crab Rangoon (Cream Cheese Wontons)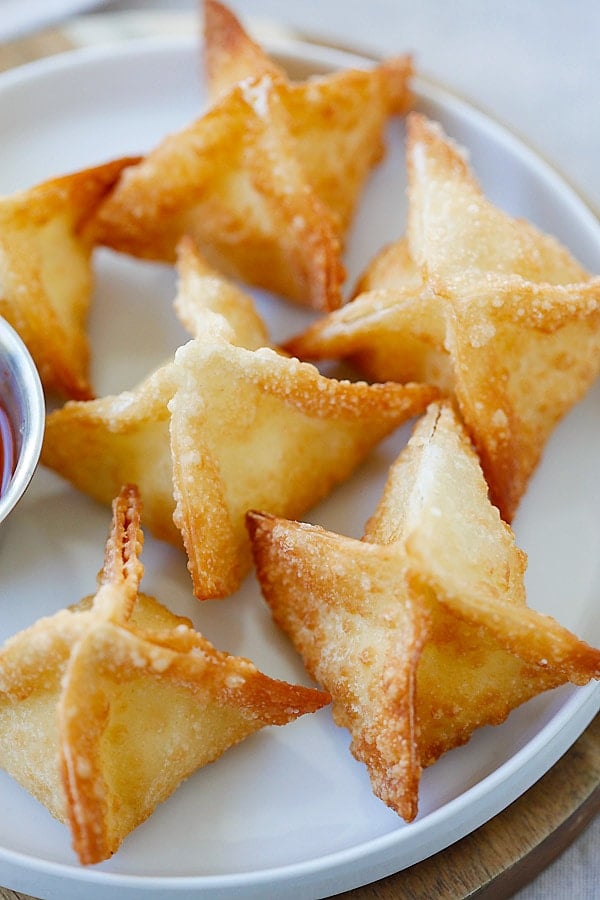 Chicken Wontons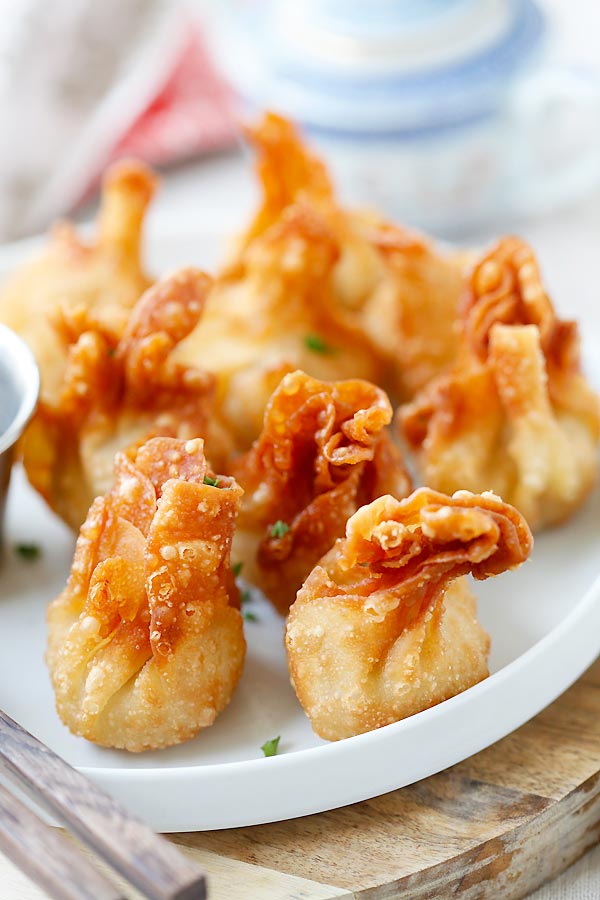 Onion Scallion Beef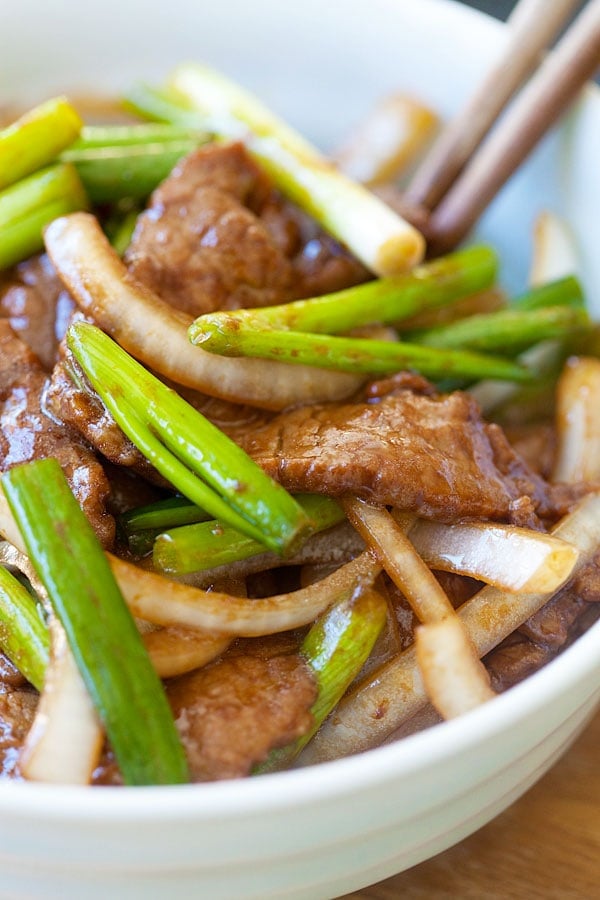 Thai Chicken Sate with Peanut Sauce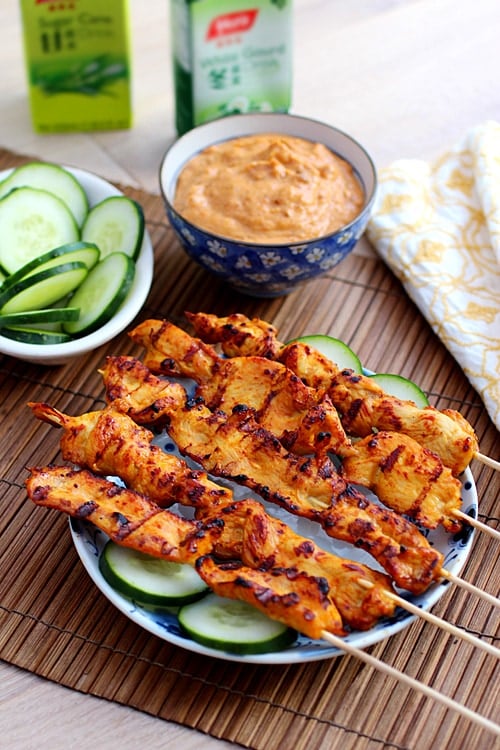 Thai Peanut Sauce