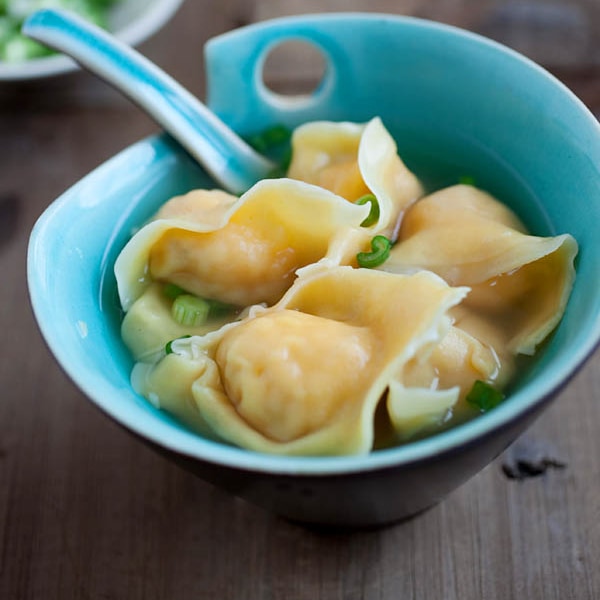 Wonton Soup
Wonton soup – learn how to make Chinese wonton soup with this SUPER easy recipe. Plump and juicy wontons that you can't stop eating | rasamalaysia.com
Prep time:
Cook time:
Total Time:
Ingredients:
8 oz peeled and deveined big shrimp
1 oz yellow chives or scallions, chopped finely
15 wonton wrappers
Water, for boiling wontons
Seasonings:
1/4 teaspoon sesame oil
1/2 teaspoon chicken bouillon powder
1/4 teaspoon fish sauce
Pinch of salt
3 dashes white pepper
1/2 teaspoon corn starch
Soup: 
3 cups low sodium chicken broth
Salt to taste
White pepper to taste
Sesame oil to taste
Method:
Rinse the shrimp and pat dry with paper towels and then cut each shrimp into 3-4 pieces.
Add half of the chopped yellow chives into the shrimp and marinate with the seasonings for 1 hour.
Place a wonton wrapper on your palm and put about 1 teaspoon (about 3-4 pieces of the shrimp) filling in the center of the wonton wrapper. Gather the corners of the wrapper with the other hand and pinch in the middle to "seal" the wonton. Make sure the wontons are sealed tight. Repeat until the filling is used up.
Prepare the soup first by bringing the chicken broth to boil. Add salt, white pepper, and sesame oil to taste.
Heat up another pot with water. As soon as it boils, drop all wontons into the water. Stirring gently so the wontons don't stick together. Continue to boil until the wontons are completely cooked and float to the top.
Transfer the wontons out with a strainer and into the Soup and serve immediately.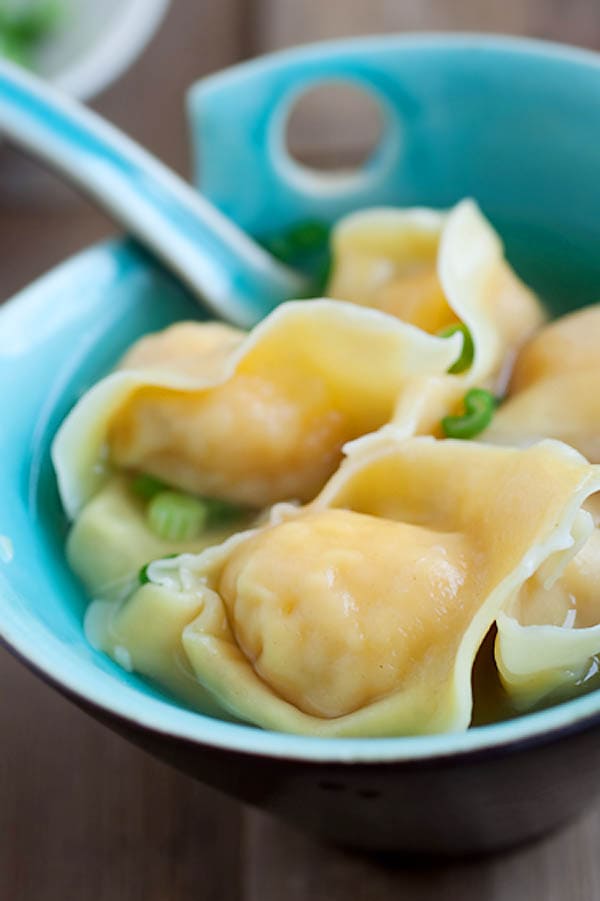 Wonton Soup
Wonton soup – learn how to make Chinese wonton soup with this SUPER easy recipe. Plump and juicy wontons that you can't stop eating.
Wonton soup is probably one of the most popular Chinese recipe for soups. The mere mention of wonton soup and you will think of delicately wrapped dumplings in a soothing broth served at your favorite Chinese restaurants. Wonton soup is a hearty and nourishing soup, so it's no surprise that everyone loves it.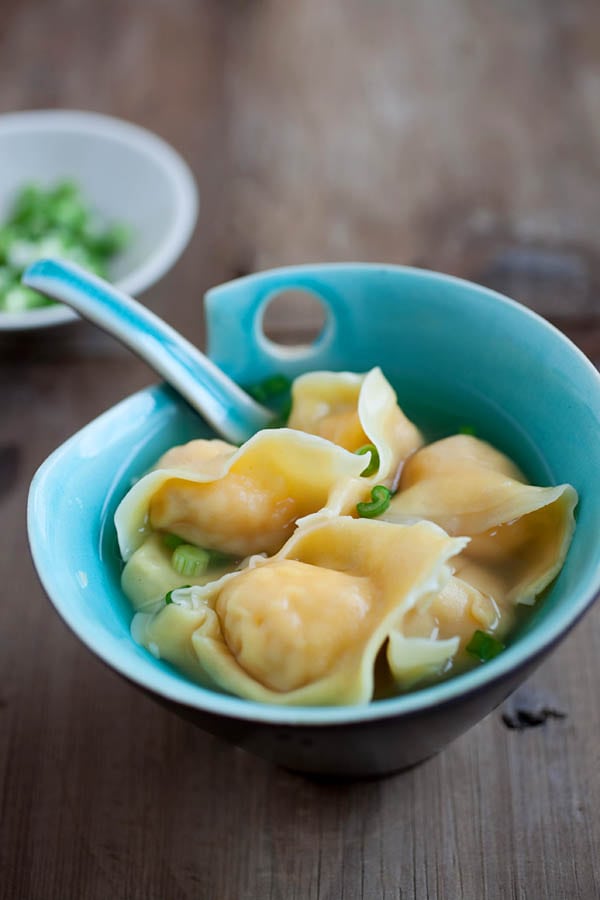 The typical Chinese restaurant wonton soup is watered down, with wontons made of mostly the wonton wrapper with very little filling. So here is my delicious and super easy Chinese wonton soup recipe that you can make in a jiffy. While most Chinese restaurants served wontons made of ground pork filling, my wontons are shrimp wontons so every bite is bursting with the briny, juicy, and sweetness of fresh shrimp. Plus everyone can enjoy this wonderful soup as it is not made of pork.
Please also take note that I used yellow chives in my recipe, which is an authentic way of making wonton soup. If you can't find yellow chives, feel free to use scallions and your wonton soup will still taste very good!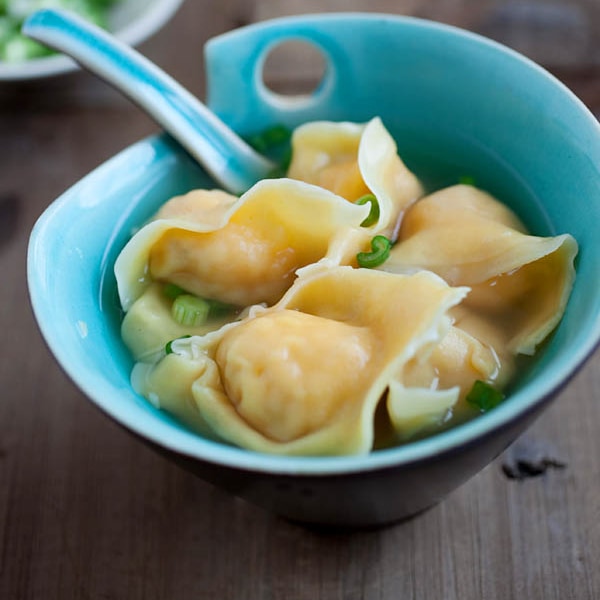 Rate This
Recipe Name
Preparation Time
Cook Time
Total Time
Average Rating

Based on 3 Review(s)