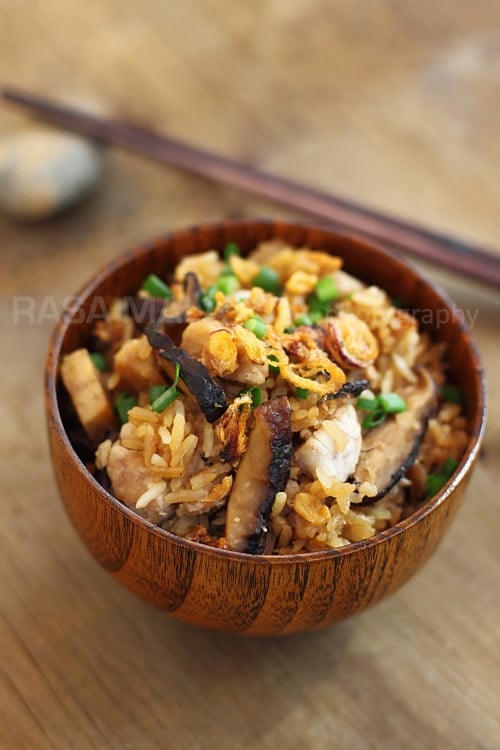 Yam Rice Recipe (芋头饭)
Ingredients:
12 oz. yam/taro (cut into small pieces)
3-1/2 cup rice (measured using the smaller rice cup that comes with the electric rice cooker)
2 cloves garlic (finely chopped)
2 shallots (finely chopped)
2 1/2 tablespoons dried shrimp (soaked in warm water, drained and roughly chopped)
10 oz. ground pork or chicken meat (minced)
2 cups water (using a regular measurement cup to measure the water)
5 dried shiitake mushrooms (soaked in warm water, drained and cut into thin slices)
4 tablespoons cooking oil
Fried shallot crisps (for garnishing)
1 scallion (cut into small rounds, for garnishing)
Seasonings:
2 tablespoons sweet soy sauce (kecap manis)
3 tablespoons soy sauce
1 tablespoon oyster sauce
1 teaspoon salt or to taste
1/2 teaspoon sugar
3 dashes white pepper powder
1 teaspoon sesame oil
Method:
Measure the rice using the small rice cooker cup (comes with electric rice cooker). Transfer the rice into your rice cooker and wash and rinse it with water like you are cooking regular steamed rice. Drain the water dry and set aside.
Heat up a wok and add cooking oil. Stir-fry the shallots and garlic until aromatic. Add pork (or chicken), mushrooms and dried shrimp and stir-fry until the meat changes color. Use the spatula to break the ground pork or chicken so they form into small lumps. Add water into the wok and follow by the yam pieces. Add all seasonings and bring it to boil. Add rice into the wok and do a few quick stirs. Transfer everything into the rice cooker and cook it like you are cooking steamed rice.
When the rice is cooked, use the rice scoop to stir the yam rice and loosen it up. Serve immediately with some fried shallot crisps and chopped scallions.
Most-Pinned Recipes
Ginger Garlic Baked Chicken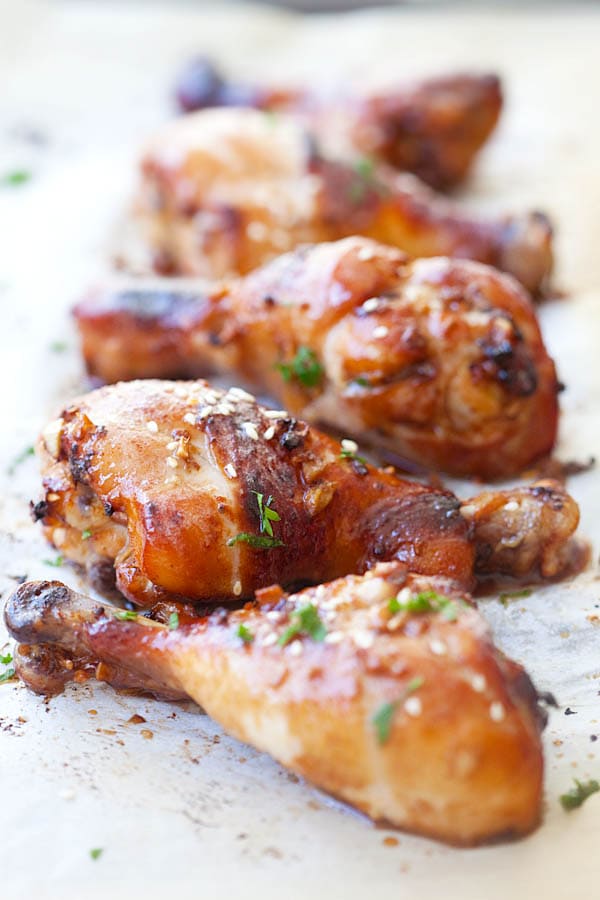 Crab Rangoon (Cream Cheese Wontons)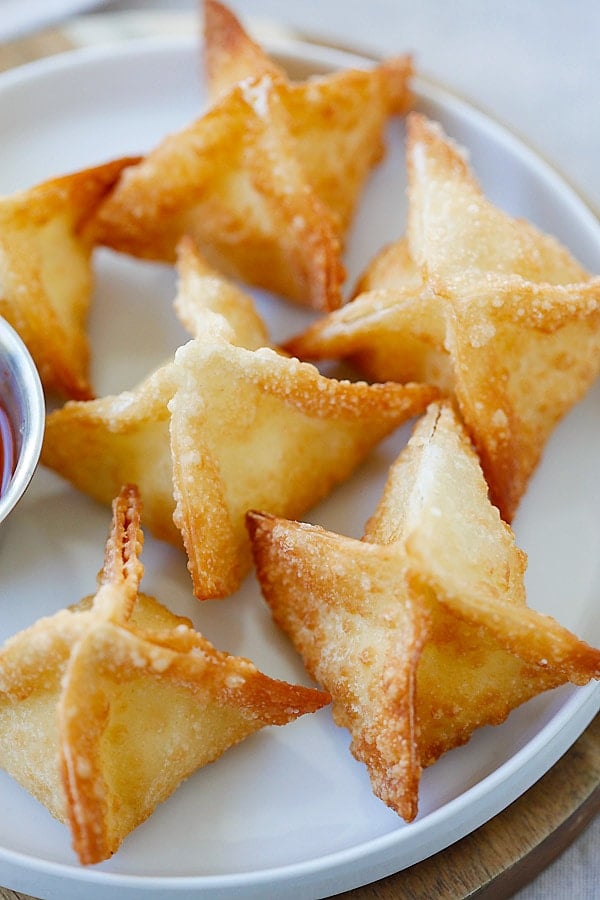 Chicken Wontons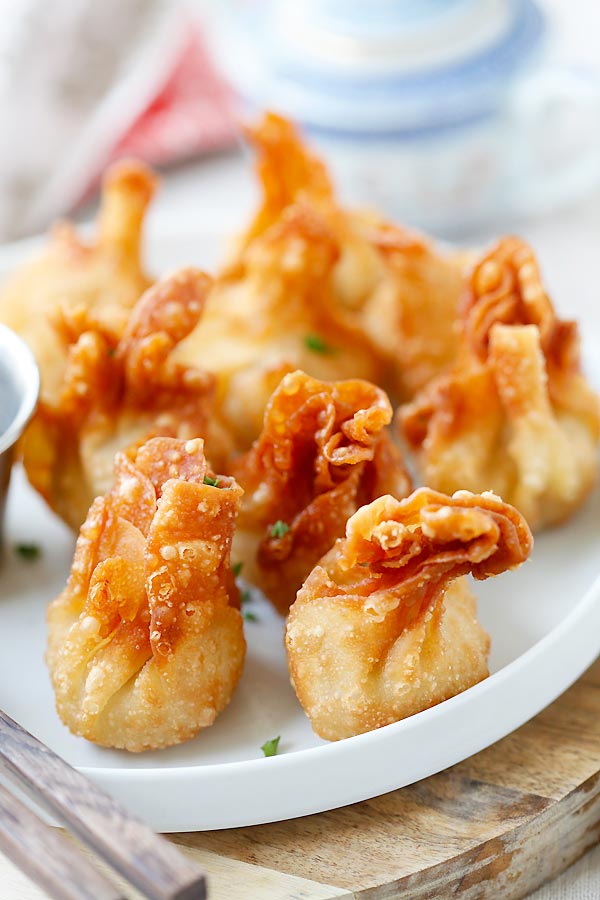 Onion Scallion Beef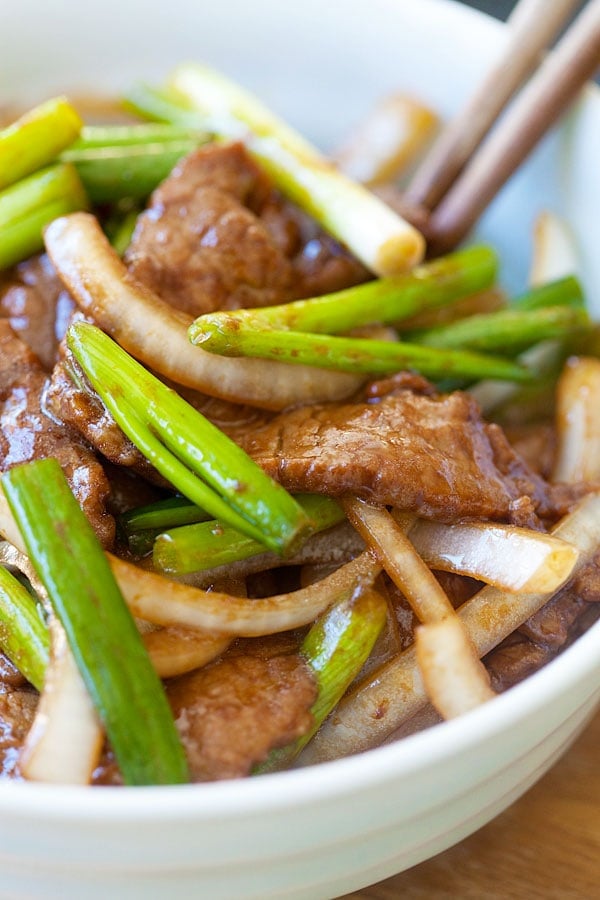 Thai Chicken Sate with Peanut Sauce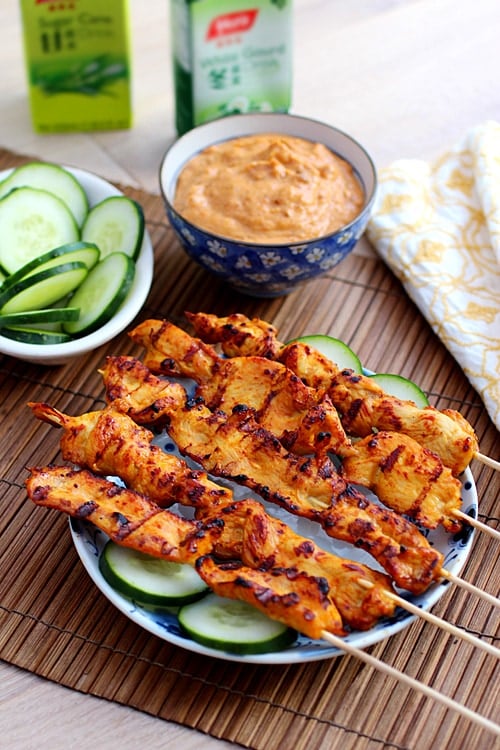 Thai Peanut Sauce