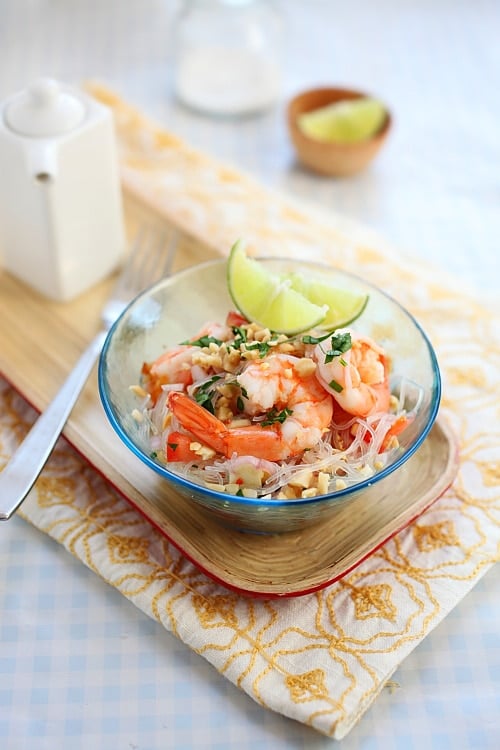 Yum Woon Sen (Thai Noodle Salad with Shrimp) Recipe
Serves 2 | Prep Time: 20 Minutes | Cook Time: 10 Minutes
Ingredients:
4 oz pre-soaked mung bean noodles (glass noodles, cellophane noodles)
8-12 medium-sized shrimp, shelled and deveined
3 shallots, thinly sliced
1/2 small tomato, diced
1 tablespoon coarsely chopped cilantro leaves
1 tablespoon coarsely chopped mint leaves
2 tablespoons roasted cashew nuts (or roasted peanuts), pounded
Dressing Ingredients:
1 garlic, fineley minced
1 1/2 tablespoons fish sauce
1 tablespoon sugar or to taste
2 tablespoons warm water
1 tablespoon lime juice, or to taste
1 tablespoon Thai sweet chili sauce
Method:
Dry mung bean noodles are very light. Soak the dry mung beans noodles with warm water for about 10 minutes (until soft). Discard the water, drain dry and set aside (use 4 oz of them for this recipe). Boil some water and add in the noodles and cook according to the package instruction (a couple of minutes or until the noodles are just cooked through but not mushy). Remove the noodles and drained. Using the same water, boil the shrimp until they are completely cooked. Remove and set aside.
Mix all the ingredients in the Dressing well (make sure the sugar is completely dissolved), set aside.
In a salad bowl, mix the mung bean noodles, shrimp, shallots, tomato, cilantro, mint with the Dressing. Toss to blend well. Add the roasted cashew nuts, stir to combine well. Serve immediately at room temperature or chill in the refrigerator for 30 minutes before serving.
Most-Pinned Recipes
Ginger Garlic Baked Chicken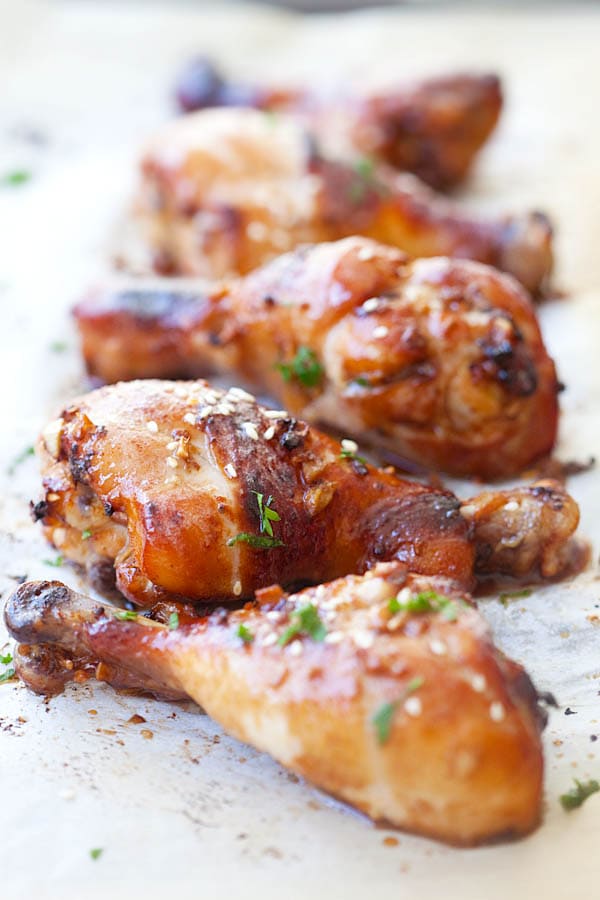 Crab Rangoon (Cream Cheese Wontons)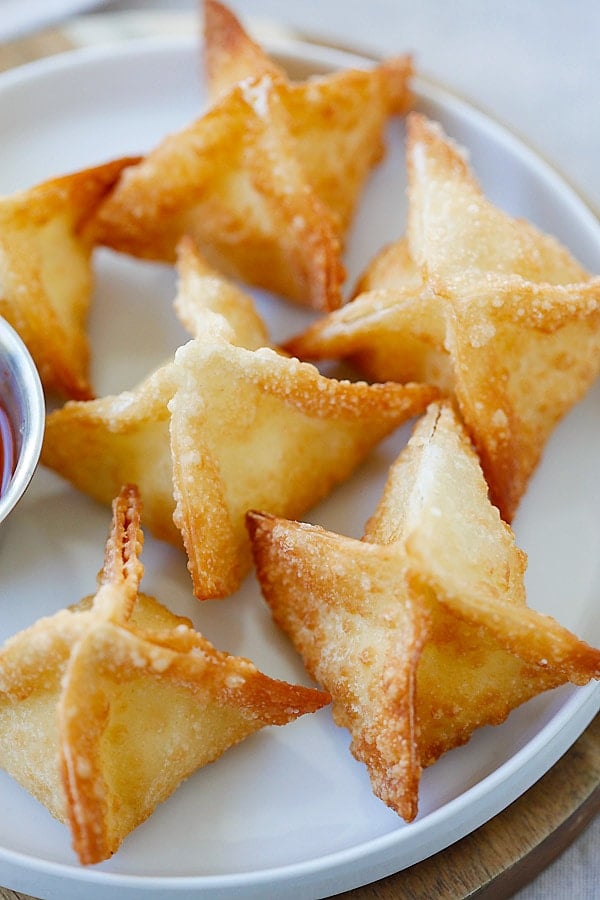 Chicken Wontons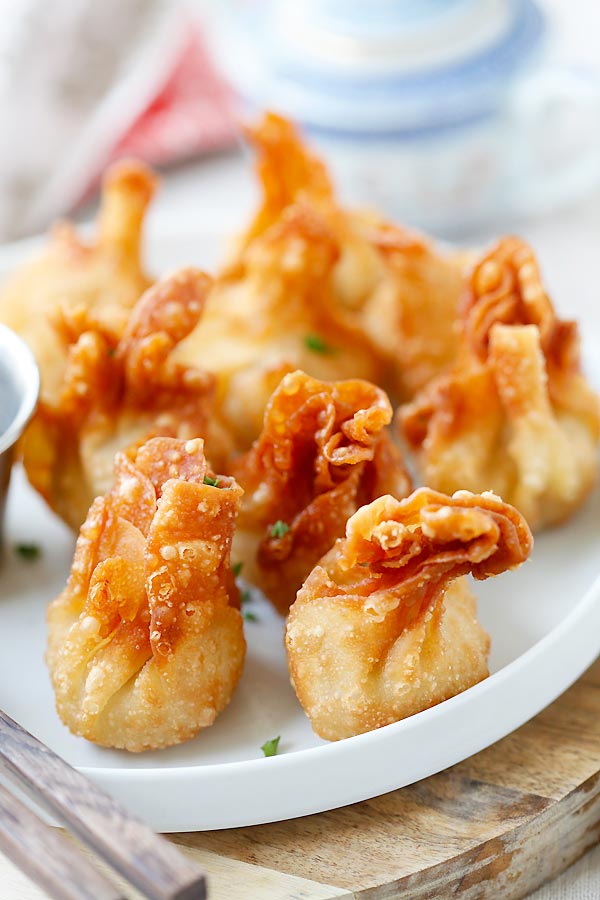 Onion Scallion Beef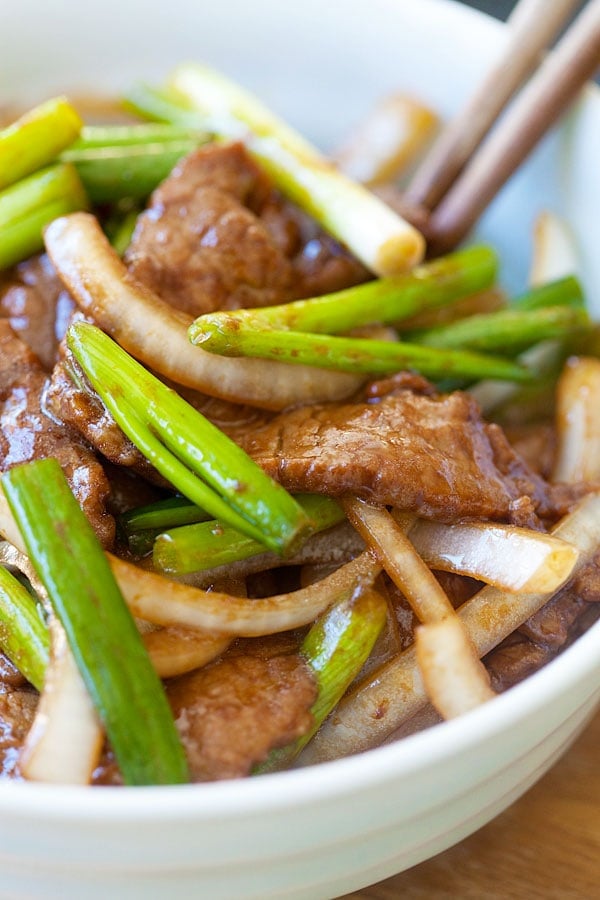 Thai Chicken Sate with Peanut Sauce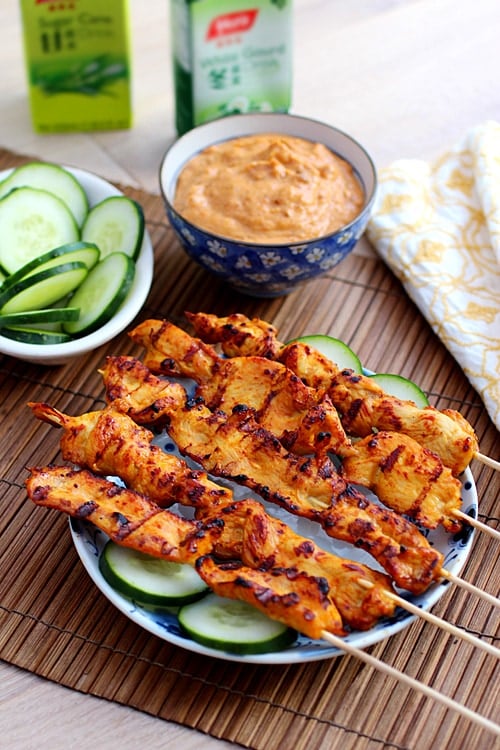 Thai Peanut Sauce