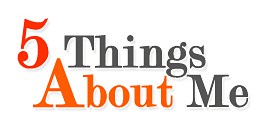 Tagged by both Flog and Rosbif and Budding Cook, here are five things most people don't know about me:
I do not eat red meat – yep, you hear it right. As a food blogger, how can I not eat red meat? Well, I just don't (I heard that's the secret of staying young!). Of course I have tasted red meat such as beef and lamb before, but I didn't like the taste. That explains the mystery why there are no red meat dishes/recipes on my blog. Well, that doesn't mean that I won't cook red meat, you just have to wait patiently.
The first time I cook, I failed miserably. I made some butter prawns, fried chicken, soup, and stir-fried Chinese greens. My butter prawn dish was a disaster, the fried chicken was tough as a rock, my soup was bland, and my greens turned purple. One of my guests practically swallowed the food. As soon as he was done, he sighed with great relief and said "Phew, finally I am done eating!" Great skills do not happen overnight; it takes a lot of trial and error, and always remember that practice makes perfect.
Tummythoz and I went to the same college in Kuala Lumpur/KL, Malaysia.
My great grandmother came from Thailand (she was of Chinese descent), my grandfather was from China, and my grandmother was a Nyonya.
I am 5 ft 6 in and 112 lbs.
I admire the work of the following five floggers and I would like to learn more about them, so I shall tag:
I am nosyfriendly and wanted to know my fellow Malaysian food buds better, so I am also tagging: