Food is a celebration.
Most of my fondest memories are centered around food. Certain food brings back nostalgic memories of the bygone times and the tastes linger in one's mind and transcend time, for example: bak kua (肉干) or Malaysian version of jerky–little squares of dry-treated meat charcoal-grilled to perfection, with flavors so sublime words can't even begin to describe.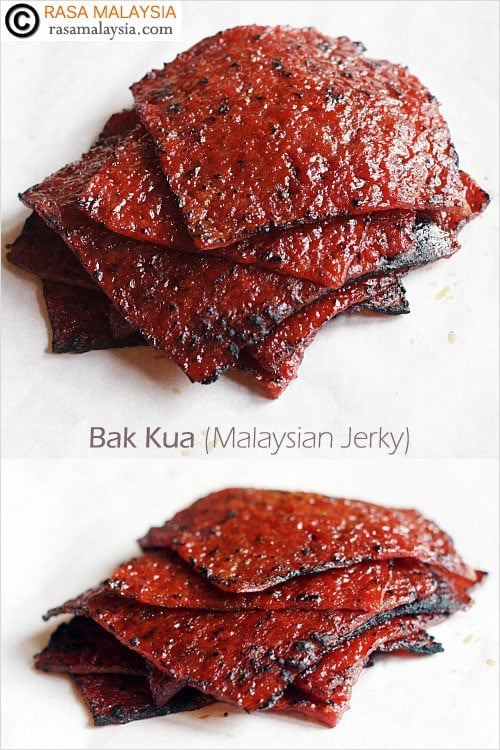 As the youngest child in a big family, my late parents loved to take me to kung fu movies when I was little. Back then, I didn't really understand movies and was always puzzled why the bad guy who died in last week's movie was now alive and kicking. I didn't know that movies were fictitious and unreal; I was intrigued nonetheless…
We went to movies a lot, almost every weekend. My parents loved going to the old Capitol and Federal Cinemas in Penang. I was always brimming with excitement when weekends come, not so much for the kung fu movies, but the thought of having "cinema food"–aromatic and droolsome charcoal-grilled bak kua sandwiched in between a bun from the hawker stall in front of the cinema. If you grew up in Malaysia, I am sure you remember those little hawker carts that sell bak kua, bak hu (pork floss), pink-colored chicken wings, and buns. While cinema foods mean popcorns and sodas in the United States, bak kua and bun were our version of cinema food. It was a favorite childhood food of mine.
As I reminisce my childhood days, tears well up in my eyes. Sometimes, it's very easy to lose sight of things that happened in the past, but I always believe that one should never forget your root–the places, smells, tastes, sounds, and sights of your hometown. Those are the things that shape up who you are today.
Since I moved to the United States–I'd attempted to bring back bak kua from Penang only to have them confiscated by airport custom. Once, it was in Singapore. I had a box of nicely sealed and packed bak kua, buried deep inside my suitcase. It was immediately trashed away by the custom officer. My 5 KG worth of bak kua goodness in various flavors, shapes, and meats were total waste. I tried again, naturally, but was caught again. The second time, it was the US airport custom. Another 5 KG of bak kua ruined. I gave up eventually.
So, here I am saying it again–food is a celebration, a very important component of what makes our lives truly meaningful.