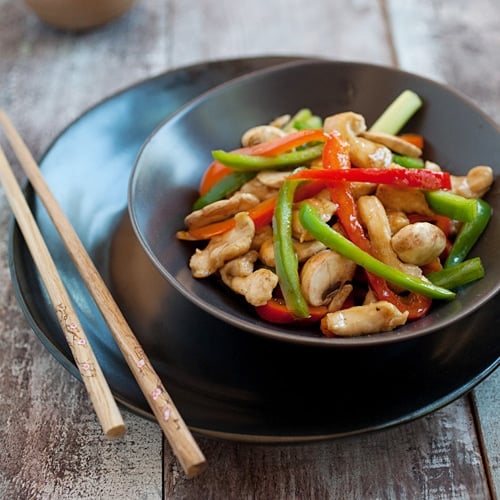 Bell Pepper Chicken
Bell Peppers Chicken Recipe. Quick, easy, and healthy chicken stir-fry with red and green bell peppers and a Chinese brown sauce. SUPER YUM!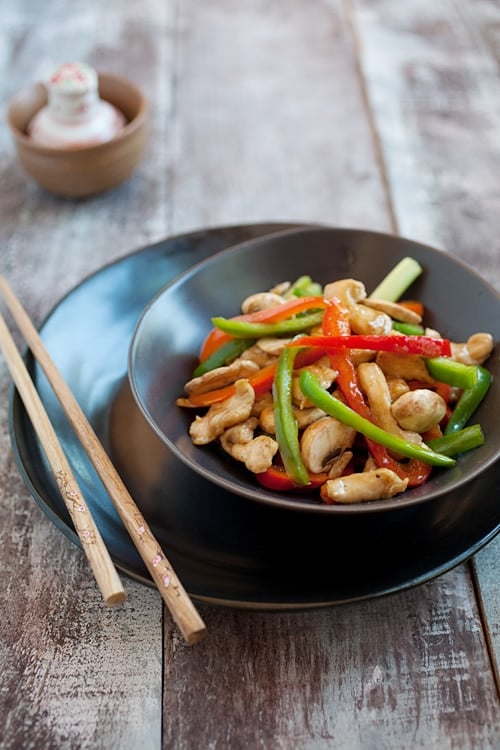 There are three main elements to Chinese cooking: color, aroma, and taste, or in Chinese 色香味. Color is very important as food is supposed to appeal visually to the eyes, and hence stimulates one's appetite. When I was making this bell pepper chicken, I made sure that I incorporated the element of color into this dish, and used both green and red bell peppers to accompany the chicken meat to bring out the beautiful color of the dish.
Anyone can attempt this bell pepper chicken recipe at home as it calls for everyday ingredients that you can get at any stores or market. Plus the recipe is very versatile and you can use the protein of your choice: beef, pork, shrimp, or fish fillet. For the mushroom, I like fresh button mushroom but you can also use shiitake mushroom or canned mushroom. It is your personal preference.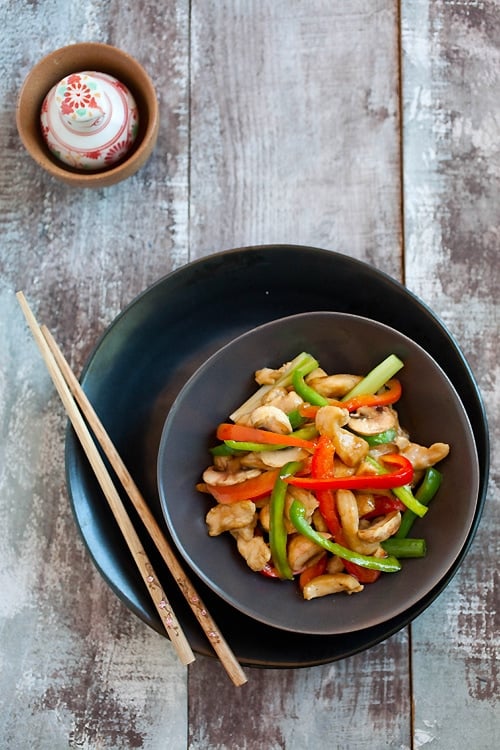 Bell Pepper Chicken Recipe
Serves 3 | Prep Time: 15 Minutes | Cook Time: 15 Minutes
Ingredients:
5 fresh button mushrooms
8 oz chicken breast, cut into pieces
2 tablespoons oil
5 slices ginger
1/2 green bell pepper, sliced
1/2 red bell pepper, sliced
Marinade:
1/2 tablespoon Shaoxing wine
1/2 tablespoon corn starch
1/4 teaspoon sesame oil
Pinch of salt
Sauce:
1 tablespoon oyster sauce
1/2 tablespoon Shaoxing wine
1/2 heaping teaspoon sugar
1/4 teaspoon sesame oil
1/2 teaspoon cornstarch
Pinch of salt
3 dashes white pepper
Method:
Marinate the chicken with all the ingredients in the Marinade, for 15 minutes.
Mix all the ingredients in the Sauce in a bowl, stir to blend well.
Heat up 1 tablespoon of the oil in a wok and stir fry the chicken until the surface turns opaque, or about 80% cooked. Dish out and set aside.
Heat up the remaining 1 tablespoon of the oil and stir fry the ginger until aromatic. Add in the the bell peppers and stir-fry until you smell the peppery aroma. Transfer the chicken into the wok and stir to combine well with the bell peppers. Add in the mushroom and the Sauce (stir it before using so there is nothing settles at the bottom), stir fry continuously until the sauce thickens and the chicken is completely cooked. Dish out and serve immediately.
Most-Pinned Recipes
Ginger Garlic Baked Chicken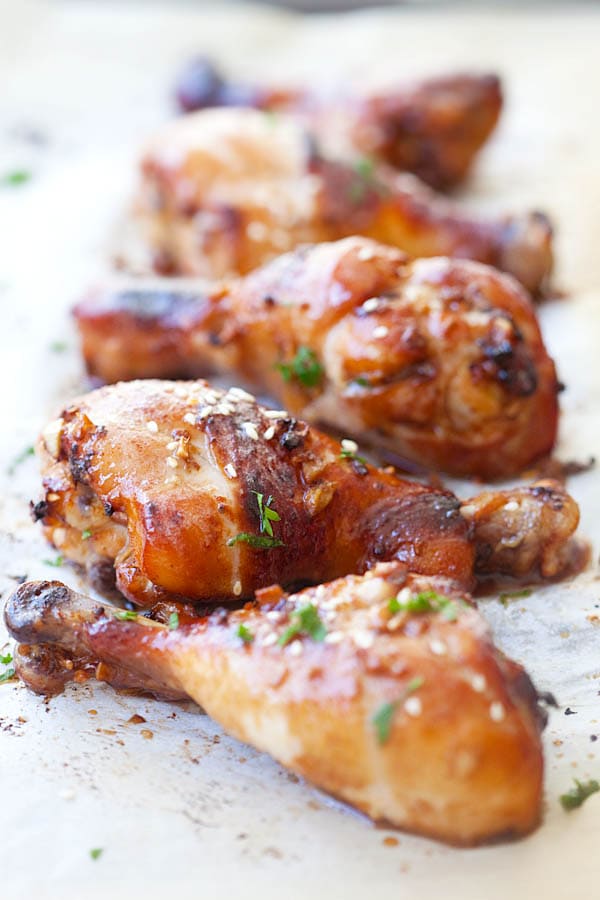 Crab Rangoon (Cream Cheese Wontons)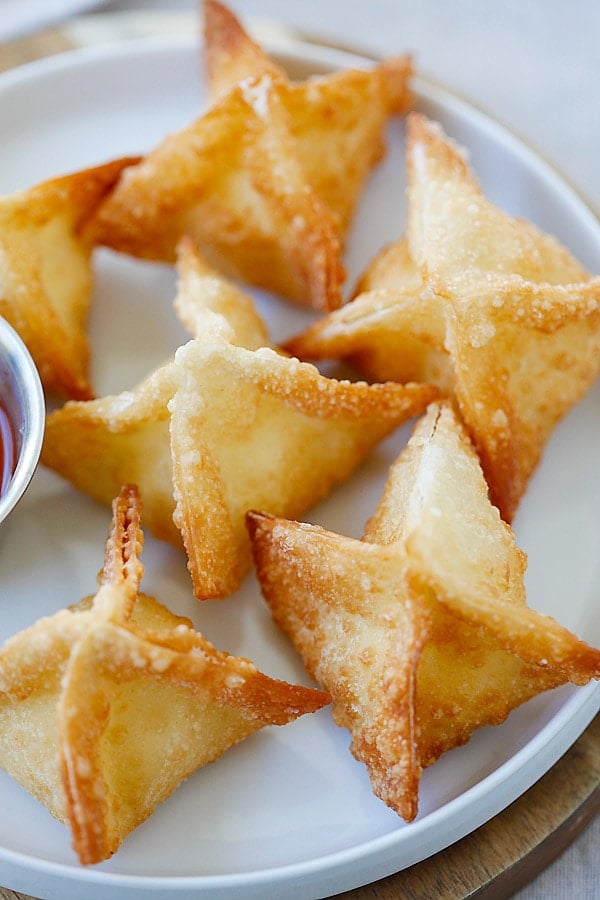 Chicken Wontons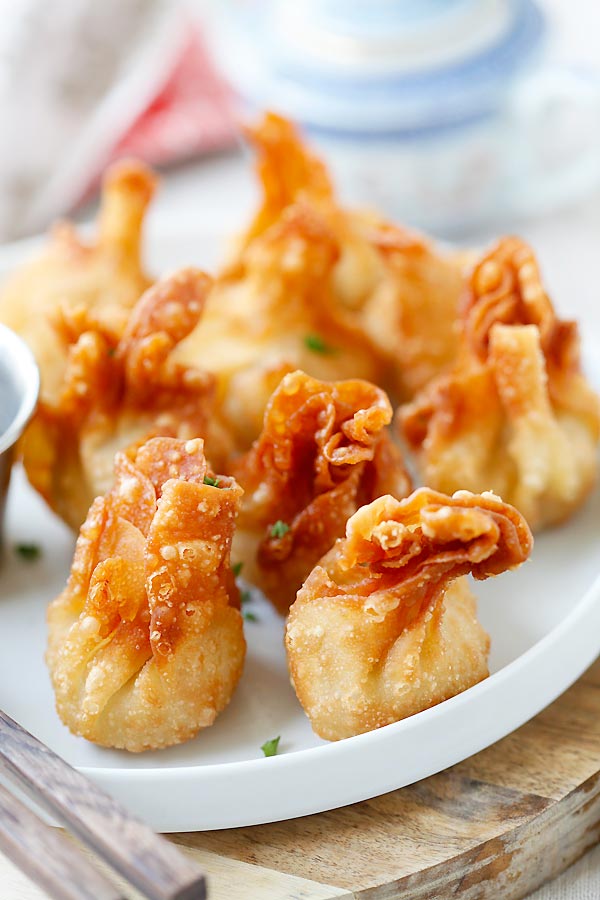 Onion Scallion Beef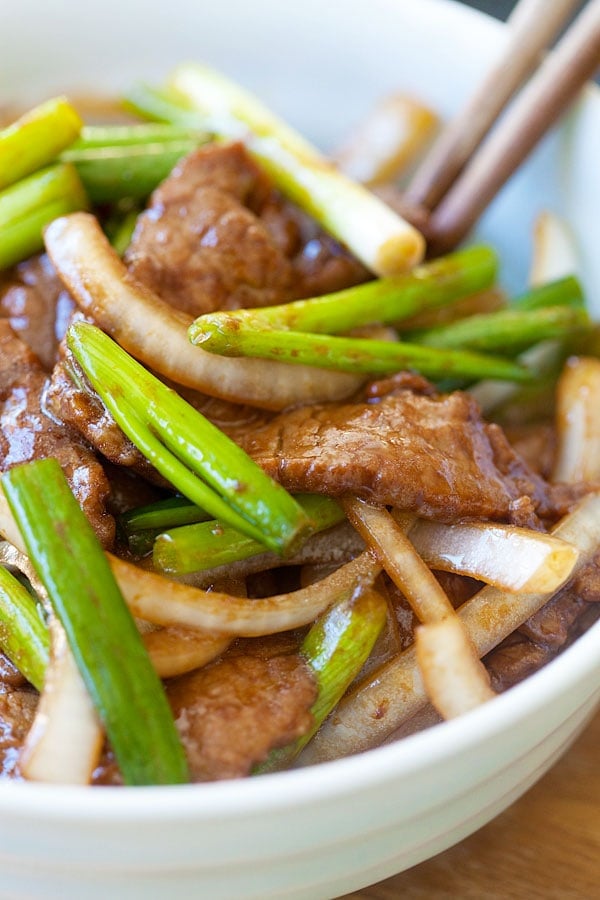 Thai Chicken Sate with Peanut Sauce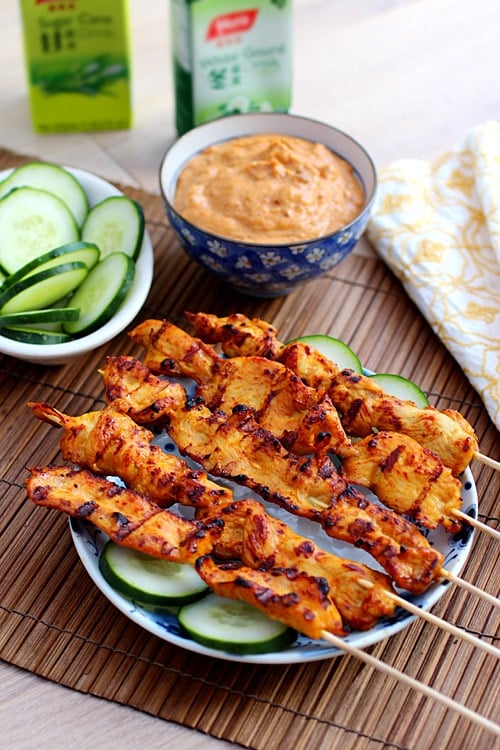 Thai Peanut Sauce