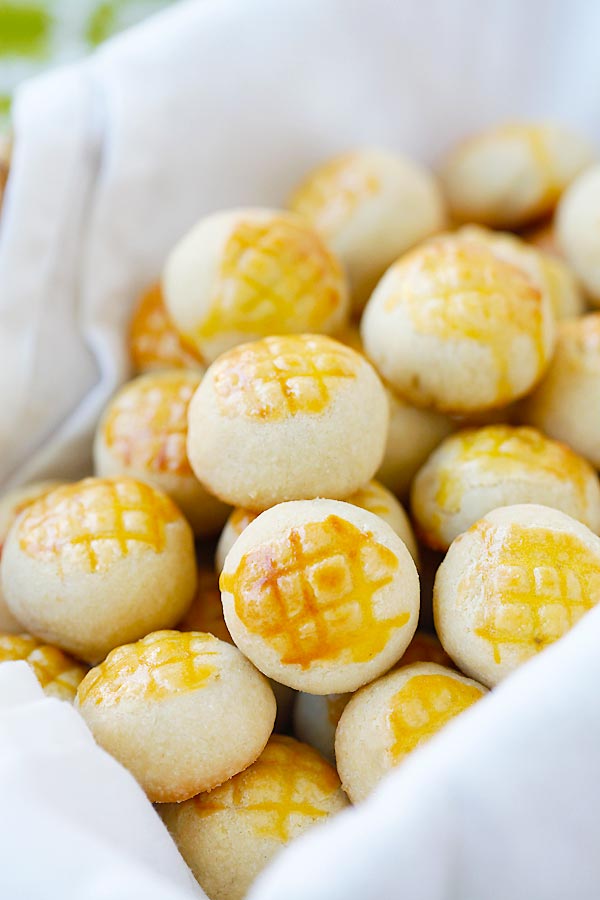 Every year before Chinese New Year, I would bake trays and trays of pineapple tarts, a must-have Chinese New Year cookies in Malaysia, my home country.
Just like Turkey to Thanksgiving, no Chinese New Year is complete without pineapple tarts.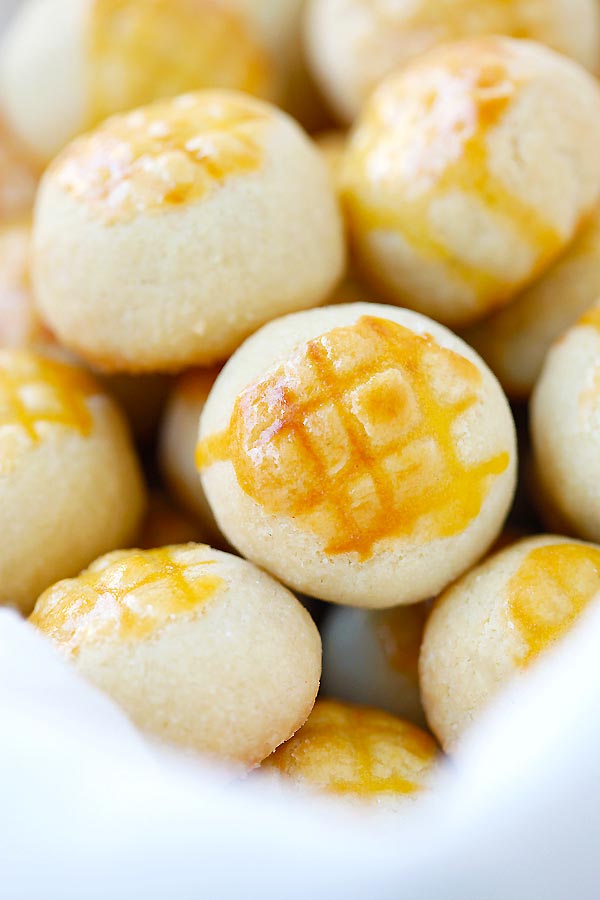 Called "Nastar" in local language, pineapple tarts are basically a cookie with a pineapple filling, in a buttery and crumbly pastry.
They are mostly referred as pineapple tarts in Malaysia and Singapore.
Some call them pineapple cakes (but they are not really cakes), pineapple shortcakes, pineapple cookies, or pineapple pastries. Regardless of its name, they are ABSOLUTELY delicious and the most AMAZING cookie ever.
The filling is from fresh and juicy pineapple, which is cooked and reduced to a golden-color pineapple jam filling. No words can describe just how awesome they taste, and I can't think of any, ANY, cookies that would top this.
Simple as that.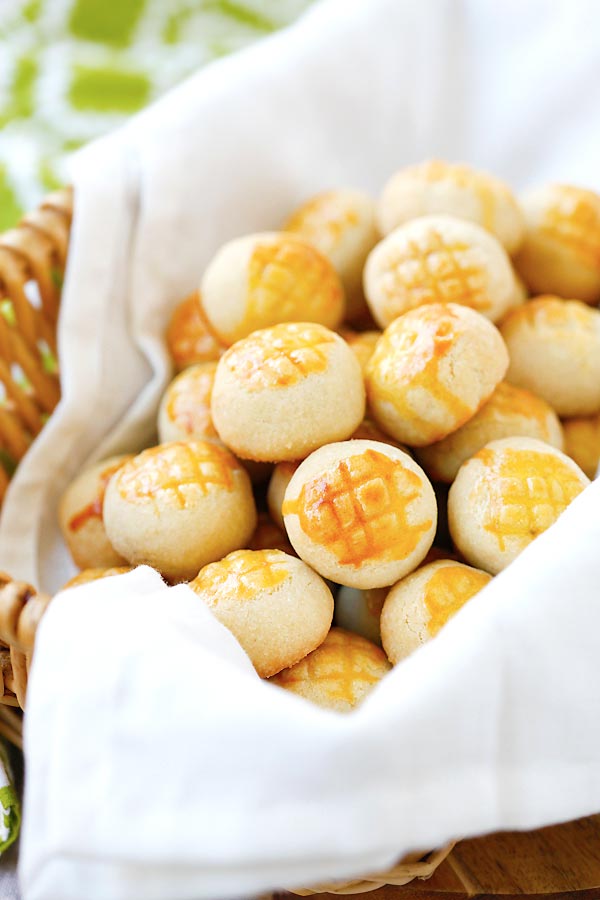 Now, I am not being biased as I have served these pineapple cookies to many friends from all over the world – Americans, Europeans, Persians, Chinese, Taiwanese, Koreans, Mexicans, Vietnamese, Indians, and everyone would agree that these dainty and beautiful cookies are basically out of this world.
Many came back to me and ask for more.
So, if you wanted to know what the best tasting cookies in the world taste like and introduce your culinary palate to something new, make these pineapple cookies. They will take some time, but you won't regret it.
I GUARANTEE you!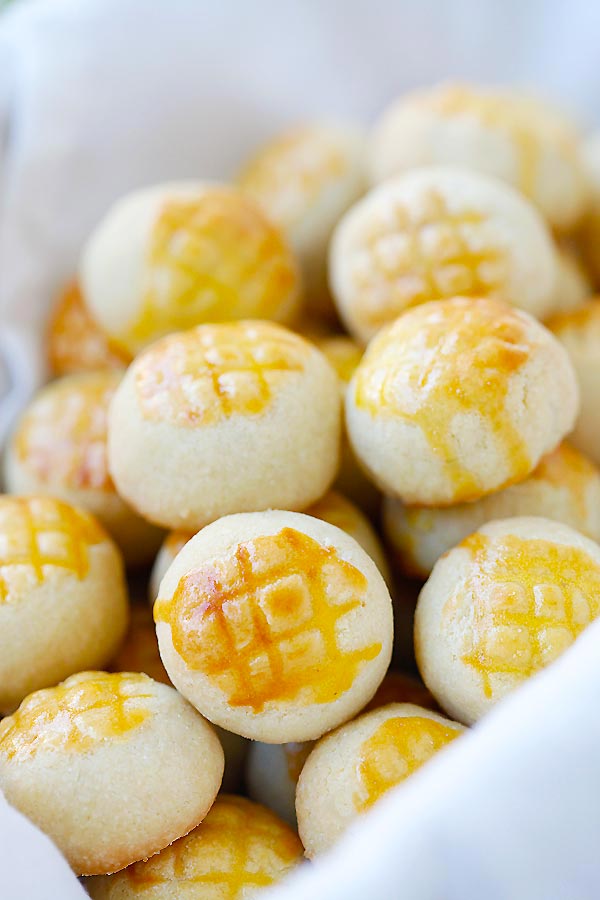 Over the years, I have tried many recipes, and they all become my favorites.
This year, I tried a new recipe from an amazing Malaysian food blogger Sonia (you can follow her on Instagram) at Nasi Lemak Lover, and I have to say that this recipe is currently my favorite recipe at the moment and Sonia is happy to share her recipe with Rasa Malaysia readers.
The pastry is made of four basic ingredients: flour, butter, egg yolk, and condensed milk.
This recipe yields utterly scrumptious and perfect pastry—super buttery, crumbly and addictive pineapple cookies that won't stick to your mouth and teeth…they are just unbelievably good!!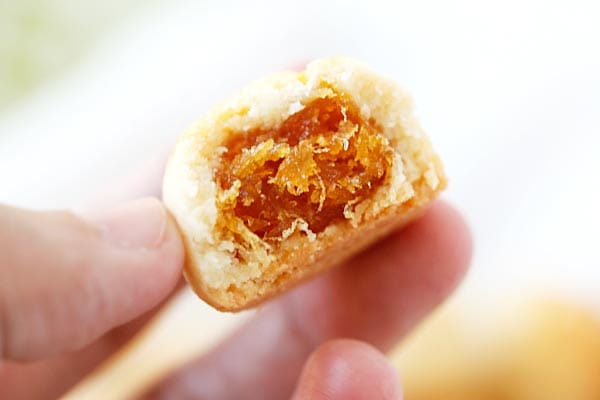 Other amazing pineapple tarts recipes can be found here on Rasa Malaysia.
Happy baking!
Complete Meal Plan
Click Here to Pin This Recipe

SUBSCRIBE AND NEVER MISS A RECIPE
If you try my recipe, please use hashtag #rasamalaysia on social media so I can see your creations! Follow me on Facebook | Instagram | Pinterest | Twitter for new recipes, giveaways and more.