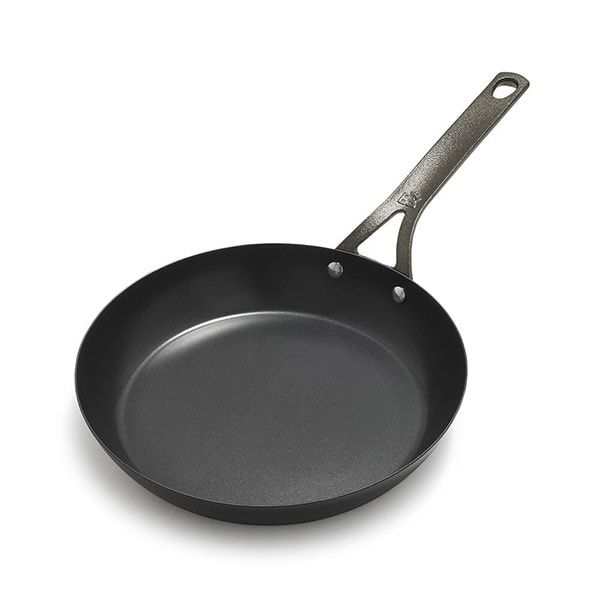 I am partnering with my friends at BK DUTCH COOKWARE to giveaway a BK Black Steel 10″ Skillet, MSRP: $39.95, US only.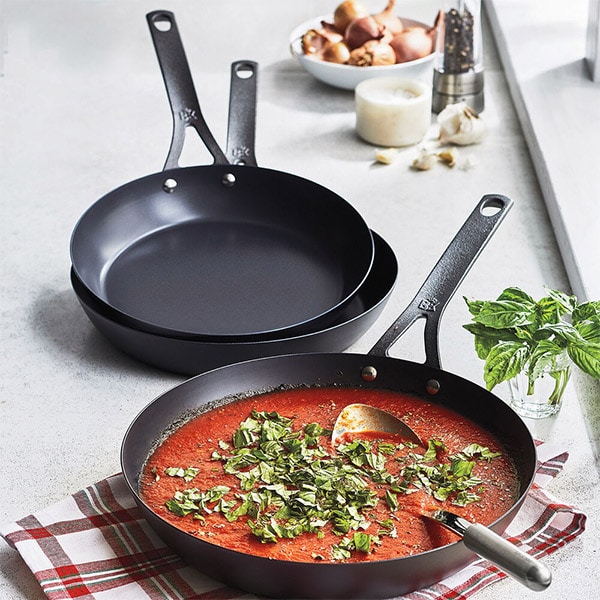 BK Black Steel 10″ Skillet
Celebrated by chefs everywhere, carbon steel provides exceptional browning and searing, weighs a fraction of cast iron, is more heat responsive than cast iron for faster, more even heating and, best of all, gets better with each use! Every time you use these remarkable skillets, they become darker, forming a layer of patina, which naturally improves their durability and nonstick properties—they're virtually indestructible. BK Black Steel is tough, lightweight and winner of the 2019 Red Dot Award for design.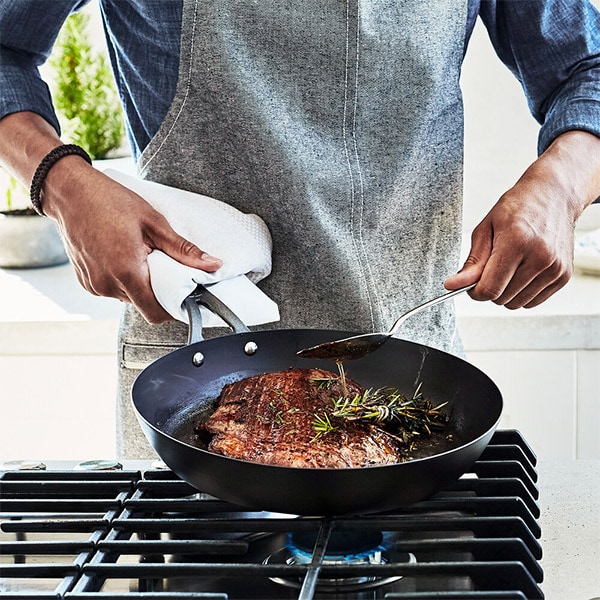 Three times denser than aluminum, hot-rolled black steel is even stronger and more durable than traditional gray carbon steel, and with a thickness of 2mm, these skillets were made to conduct heat incredibly well and last for generations. They're are extremely resistant to corrosion, damage and stains thanks to a high-temperature black iron oxide layer and are safe for use with metal utensils. Their coated cast iron handles are securely attached with rivets and shaped for comfort.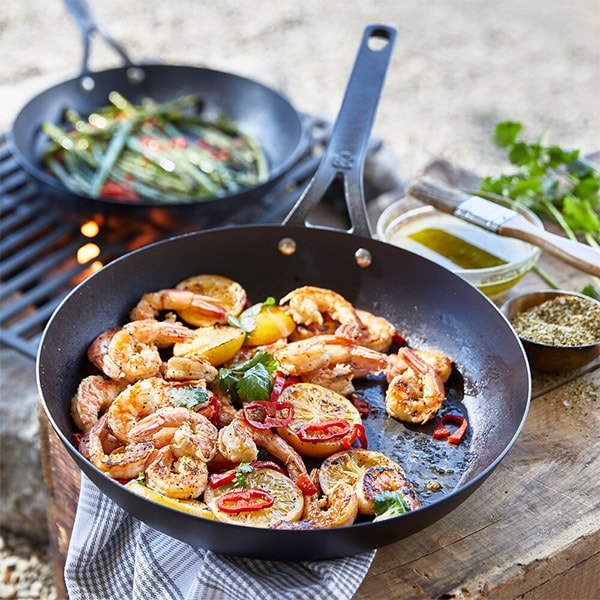 BK Black Steel is naturally pre-seasoned with oil during the production process. This cookware ships with a thin silicone wax coating that's much easier to remove than a thick layer of beeswax or grease, so it's ready to use after a quick wash with soap. Cleaning is as simple pouring on hot water, wiping, then drying.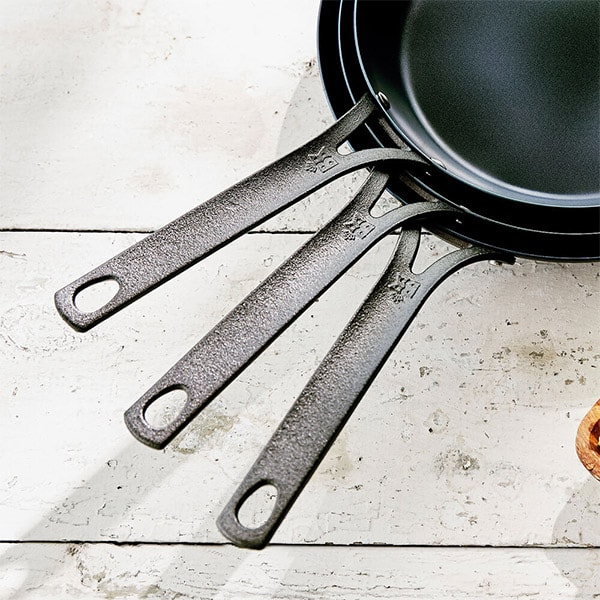 BK has a rich history of innovation. In 1851, coppersmith Hendrik Berk of Kampen, Holland, was commissioned by local inhabitants and businesses to make milk churns, pots, pans and other cooking utensils. Forty years later, he added a protective layer of enamel to his steel pans and tins and introduced the world to the first enameled steel Dutch oven. This laid the foundation for BK, which continues to bring high quality and innovative engineering to their approach to cookware. BK's crowning achievement came in 1951 when Queen Juliana awarded them the Royal predicate—a title awarded only to organizations that hold a prominent position in their field.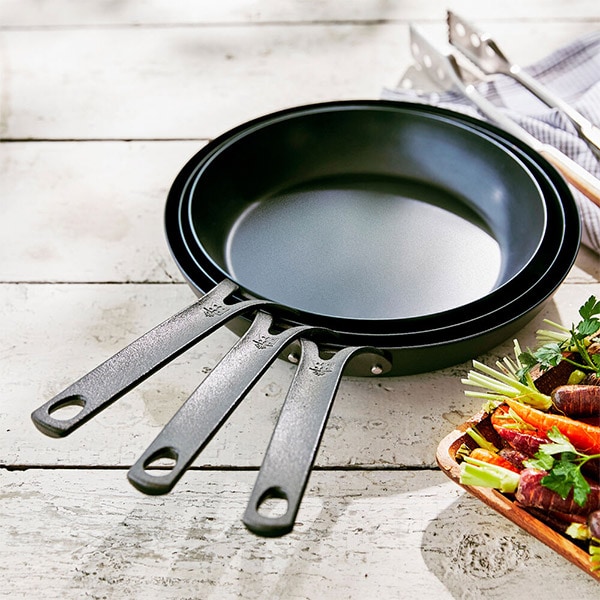 Carbon steel weighs a fraction of cast iron and is more heat-responsive for quicker heat-up and cooldown while providing the same great searing results as cast iron
Black iron oxide layer provides superior corrosion and stain resistance
Natural and durable nonstick properties improve with each use; skillet will become darker with each use, building up patina layer proving better release and durability
Naturally pre-seasoned; ready to use after washing
Safe for use with metal utensils
Toxin-free, PTFE/PFOA-free
Riveted and coated cast iron handles shaped for comfort
Eligibility: United States only. No purchase necessary and subject to this official giveaway rules.
Closing Date: February 17, 11:59 pm PST. Winner will be randomly selected and contacted via email on February 18, 2020.
To enter, please follow the steps below.
Step 1
Follow Rasa Malaysia (@rasamalaysia) on Instagram. (Click on the Instagram button below and click "Follow." If you don't have Instagram, skip this step.)


Step 2
Follow All Rasa Malaysia Boards on Pinterest. (Click on the Pinterest button below and click "Follow All." If you don't have Pinterest, skip this step.)


Step 3
Fill in the form below. You can enter to win every day.
BE SURE TO ENTER EVERYDAY! ONE ENTRY PER DAY STRICTLY ENFORCED. By entering into this contest, you are automatically subscribed to Rasa Malaysia newsletter for new giveaways, recipes, and more. If you don't want to receive the newsletter, you may unsubscribe it.
GIVE US SOME LOVE!
Like Rasa Malaysia on Facebook. (Click on the Like button below.)
You will be redirected to the "Thank You" page if your entry is successfully submitted. Enter to win by using the form below!
Latest Giveaways: Enter to Win