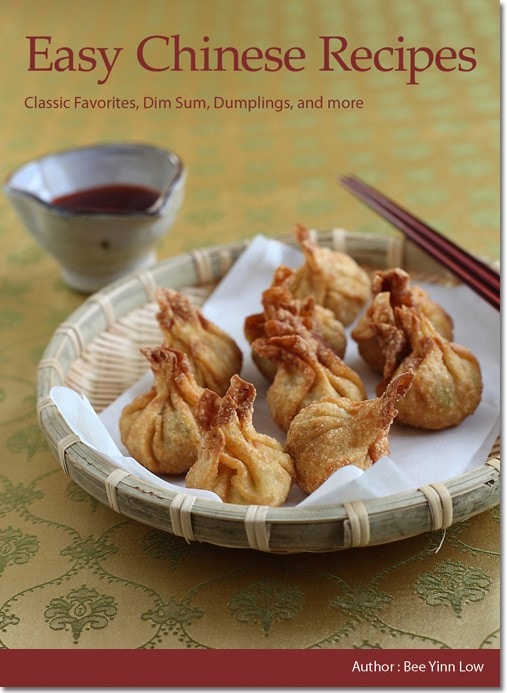 Disclaimer: This is not the final design or title of the cookbook
What a way to announce a great news during Chinese New Year, especially in the auspicious Golden Tiger Year.
It's official! I have finalized a contract with Tuttle/Periplus Publishing Group to develop my very first cookbook—a Chinese recipe cookbook, scheduled to hit bookshelves in Fall 2011.
I consider myself extremely lucky. By chance, my editor discovered Rasa Malaysia and asked if I would be interested in authoring a cookbook. Caught by surprise, I fell out of my chair while saying "YES!"
Although I have been working on my cookbook for a few months, the contract negotiations were completed not too long ago. Upon receiving the signed contract from the publisher, I made an announcement on Twitter, my Facebook fan pages, and in the "From the Editor" section of Rasa Malaysia. Many readers offered their congratulations, to whom I offer my sincere thanks.
"Thank you" to my family, friends, fans, and fellow food bloggers who have been instrumental in the growth of Rasa Malaysia. None of this would have been possible without your continued support, and I look forward to your ongoing blessing and friendship. I can't thank you enough for your kind assistance, generous advice, and encouragement.
I will continue to share exciting news on Rasa Malaysia regarding my cookbook, so please stay tuned.
Here are some of the common questions about the cookbook, as well as my answers…
Frequently Asked Questions (FAQs):
1) What will your cookbook contain?
The cookbook will contain 80 healthy and easy-to-prepare Chinese recipes, each accompanied by a full-color photograph. Some recipes will include step-by-step color photographs. I will be styling and photographing all photos in the cookbook (so now you know why I have been investing heavily in a new camera, gear, and props!). Special thanks to my friend Chef Danhi who loaned me his precious collections of props.
2) Why not a Malaysian recipe cookbook?
Because I am a first-time cookbook author, I need to establish myself by publishing a cookbook on mainstream Asian cuisine, thus my first book will be on Chinese recipes. In fact, Rasa Malaysia is as much a Chinese food blog as a Malaysian food blog. For Malaysian food lovers, I hope to next develop a Malaysian recipe cookbook.
3) How will your cookbook be different from other Chinese recipe cookbooks?
My Chinese recipes will be healthy and easy-to-prepare, while preserving their authenticity and remaining delicious. Recently I received an email from a reader who tried one of my Chinese recipes and insisted that it was the best he had ever tasted, better than that of the best Chinese restaurant in his city (a city full of renowned Chinese restaurants)! On top of offering popular Chinese recipes for such dishes as beef chow fun, stuffed crab claws, and multiple types of dim sum and dumplings, my cookbook will also include restaurant-style recipes not commonly found in Chinese cookbooks!
4) What is the title of your cookbook?
My editor and I have not decided on a title. If readers would like to suggest some titles, they should feel free to post a comment.
5) How can I be a recipe tester?
Once all 80 recipes are perfected, this blog will inform readers how to do so. I will definitely need your help, so please stay tuned.
6) What is the release date of your cookbook?
The cookbook is scheduled to hit shelves sometime in Fall 2011. While the exact date is not yet determined, when it is will be posted on this blog.
7) Will your cookbook be available outside the United States?
Yes! Tuttle/Periplus Publishing Group publishes and distributes worldwide so you should be able to get my cookbook in a book store near you!