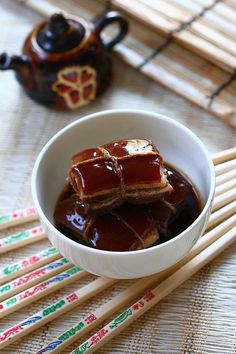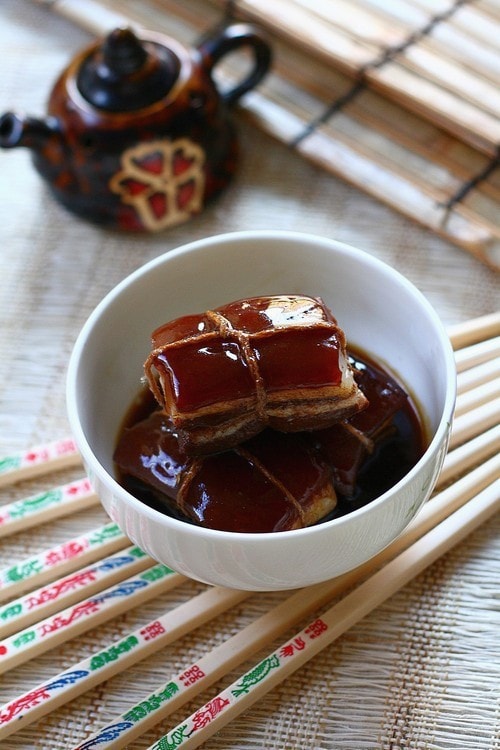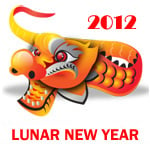 Pork is most definitely not just "the other white meat" in China.
From the smoky-licious BBQ Pork (叉烧) and Crispy Pork Belly (烧肉) in Cantonese cuisine to the dainty-licious Xiao Long Bao (小笼包) from Shanghai and numerous other famous Chinese pork dishes in between, pork is clearly the meat of choice in Chinese cooking.
In fact, the Chinese character for meat '肉' (ròu), refers to pork if no particular meat is specified (e.g. 咕噜'肉' translates to Sweet and Sour 'Pork').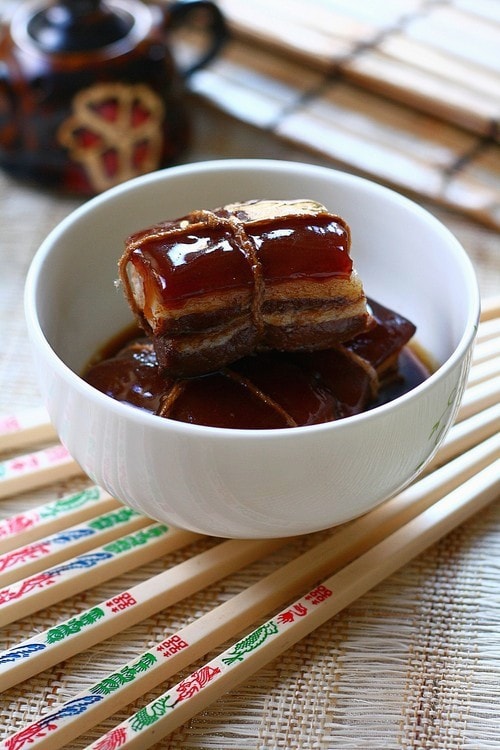 During one of my travels to China, I had the pleasure of introducing my taste buds to a deservedly popular pork dish in Chinese cuisine—the delicate and delectable Braised Pork Belly, Dongpo Pork (东坡肉). As I have mentioned before, many Chinese dish names tell interesting stories, like Beggar's Chicken (叫化鸡) or Goubuli Baozi (狗不理包子).
Dongpo Pork is an iconic feature of Hangzhou (杭州) cuisine and can be attributed to Su Shi (苏轼) a.k.a Su Dongpo (苏东坡), a scholar and court official during the Song Dynasty (宋朝), renowned today for his brilliance in poetry, calligraphy, and writings in Chinese literary history.
There was a time when Su Dongpo was demoted for criticizing the emperor and sent to Huangzhou (黄州) in exile.
One day, he was so engrossed in a game of Chinese chess (象棋) with an old friend that he forgot all about the Red-Cooked Pork Belly (红烧肉) braising on his stove.
The fragrant aroma from the lengthy braising drifting in from the kitchen suddenly reminded him.
As he took a bite of the pork, he was pleasantly surprised to find that the dish he thought had been ruined turned out to be even more tender and tastier than expected.
Dongpo Pork was thus born.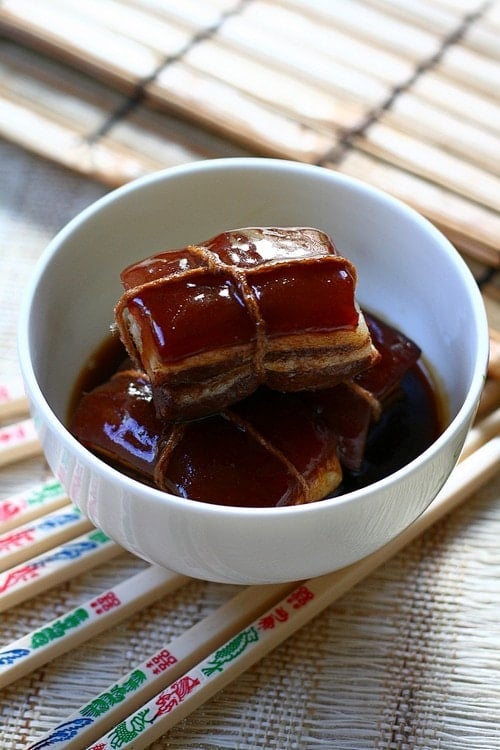 When he was later stationed in Hangzhou (杭州) and was overseeing a reconstruction project on the West Lake (西湖), he cooked the same dish with the pork cut up into cubes and distributed them to the workers as a sign of gratitude.
The dish was thoroughly enjoyed by all and Dongpo Pork rapidly gained popularity then and there right up to the present day, where it has become a notable signature dish in Hangzhou cuisine and famous all around the world.
The key discerning factor between Red-Cooked Pork and Dongpo Pork is undoubtedly the lengthier braising process, which increases the caramelization of the sugar to enhance the flavor, infuses the cooking wine into the meat longer for an even richer fragrance, and last but definitely not least, breaks down the fat further to give the pork that tender "melt-in-your-mouth" texture minus the greasiness.
In other words, this is one dish that is definitely worth the wait.
And as a bonus for your patience, you can always "forget" to set your kitchen timer and wait for the tantalizing aroma to remind you of the mouth-watering concoction simmering on your stovetop. Who knows?
You might just get a dish named after you!
Click Here to Pin This Recipe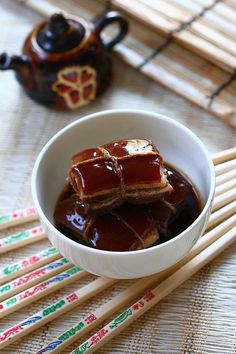 SUBSCRIBE AND NEVER MISS A RECIPE
SUBSCRIBE TO RASA MALAYSIA NEWSLETTER AND GET EASY AND DELICIOUS RECIPES DELIVERED TO YOUR INBOX. If you try my recipe, please use hashtag #rasamalaysia on social media so I can see your creations! Follow me on Facebook | Instagram | Pinterest | Twitter for new recipes, giveaways and more.