Broccoli and Scallops - Easy Chinese vegetable recipe that is great for all occasion. Fresh broccoli with scallops in a sauce make it a great dish.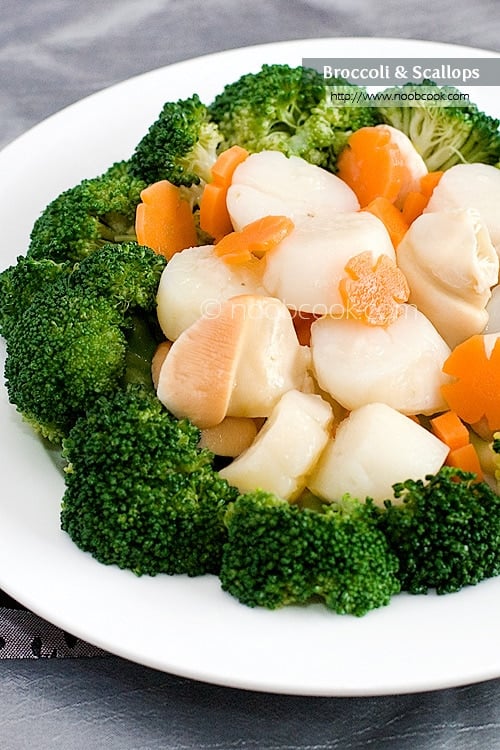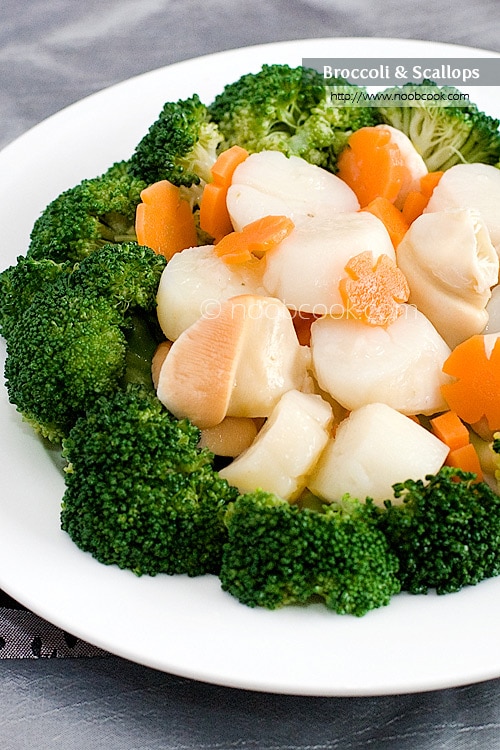 Please welcome Wiffy of Noob Cook to Rasa Malaysia today.
She is sharing with us a Chinese New Year recipe called 花开富贵, or stir-fried broccoli and scallops, which means richness and abundance. Noob Cook is a great Singaporean food blog with many delicious home-cooked recipes, I have to say that Wiffy is certainly no noob in the kitchen as she constantly whips up droolworthy, delicious, and homey dishes.
Hop over to Noob Cook and check it out yourself. This broccoli and scallop dish pairs perfectly well with other Chinese New Year recipes that I have recently posted.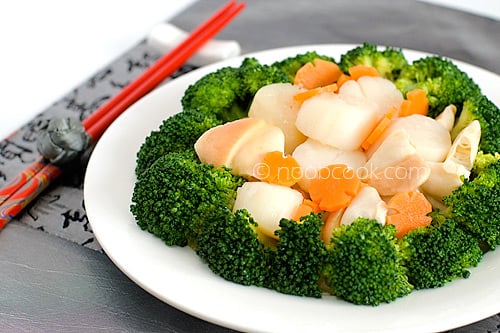 Broccoli and Scallop is one of my favourite dishes to order when I eat out at our local zi-char stalls or Chinese restaurants.
However, it's usually not cheap presumably because of the fresh scallops. That's why I like to make this at home. Being a noob cook, I am unabashed about my non-purist way of cooking, and hence I would like to share my short-cut way of remaking this dish at home.
The method is super easy – simply blanching the vegetables in boiling water for just a few minutes, and then creating a fast and simple cheater's sauce using instant vegetable stock and corn starch solution to drizzle over the vegetables & seafood. While this dish is small in effort, it is big in taste and also easy on the wallet.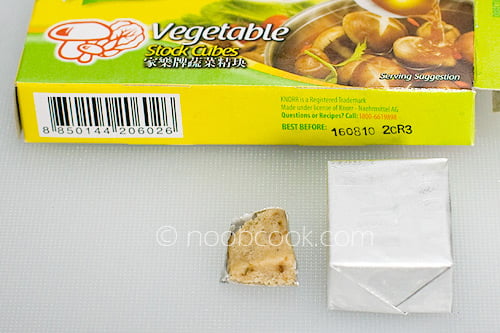 With Chinese New Year coming around the corner, this is an auspicious and colourful dish to serve to your family. The broccoli florets and carrots sliced to flower shapes symbolise richness and abundance (花开富贵).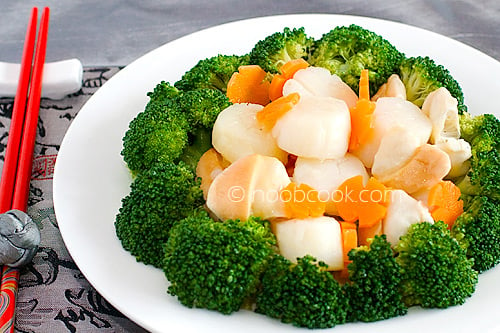 How Many Calories Per Serving?
This recipe is only 92 calories per serving.
What Dishes To Serve with this Recipe?
For a wholesome meal and easy weeknight dinner, I recommend the following recipes.
5 Secrets to 20 Min Dinners
Get tricks for quick & easy meals!
Yield: 4 people
Broccoli and Scallops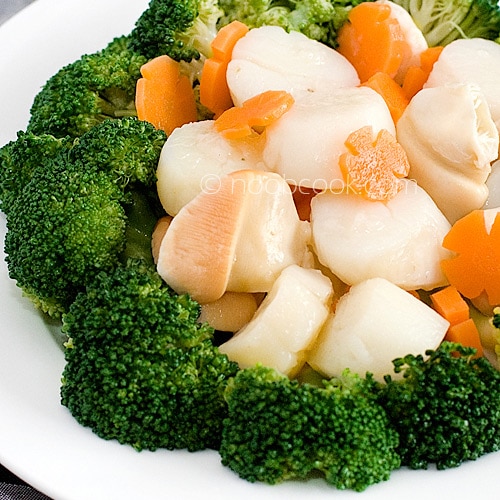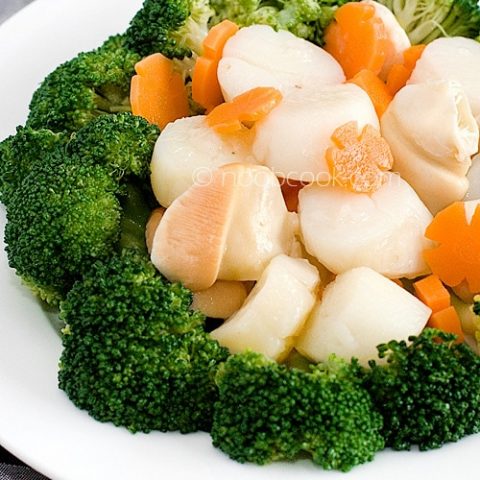 Broccoli and scallops is an easy Chinese vegetable recipe that is great for all occasion. Fresh broccoli with scallops in a sauce make it a great dish.
Ingredients
(A) Vegetables:
200 g (7 oz.) broccoli, ends trimmed and separate to smaller florets
200 g (7 oz.) fresh white scallops, around 10*
1 medium carrot, peeled, sliced (you can cut them to decorative flower shapes if you like)
10 pacific clams, 鲍贝 ,optional
1 tablespoon vegetable oil
3 slices old ginger
(B) Cheater's Sauce:
a very small piece of vegetable cube, see photo
4 tablespoons hot water
cornstarch solution, 1/2 tbsp cornstarch dissolved in 1 tbsp water, stir till dissolved
Instructions
(A) Blanching vegetables:
Heat a large pot of water with vegetable oil added.
When the water is boiling, add sliced carrots and broccoli and blanch for 3 minutes. Take them out and set aside. If you like, you can plunge the blanched broccoli in an ice water bath so that they retain their bright green hue.
Add ginger slices to the water you previously used to blanch vegetables. When the water is boiling, blanch clams for 1 minute and scallops for 2 minutes. Take them out and set aside.
Arrange blanched vegetables & seafood on a round serving plate. Place the broccoli around the plate with the stem pointing inwards, after which arrange the scallops, clams and broccoli in the center, covering the broccoli stems.
(B) Making the Cheater's Sauce:
To prepare the sauce, dissolve vegetable cube in hot water. Add vegetable stock to a saucepan/wok. When it comes to a boil, add cornstarch solution, bit by bit, till it reaches the desired consistency. The ideal consistency (to me) is something slightly lighter than the thickness of oyster sauce. If you sauce is too watery, add more cornstarch solution; if it is too thick, just add a bit of water.
Pour the sauce over the vegetables you arranged previously and serve immediately.
Notes
* Where I bought my scallops in Singapore
I'm quite fussy about the freshness of the scallops used. Therefore, I always buy the bigger ones sold at the fridge section of NTUC (they cost around $1 per scallop) because they taste juicier and fresher. I find that the scallops sold in a box at the frozen section (the last I checked, they cost around S$9 per box, and there are at least 30 scallops inside) though much cheaper, are smaller and a little "fishy" in taste, at least to me.
Nutrition Information
Yield
4
Serving Size
4 people
Amount Per Serving
Calories

92
Total Fat

3g
Saturated Fat

2g
Unsaturated Fat

0g
Cholesterol

13mg
Sodium

254mg
Carbohydrates

6g
Fiber

1g
Sugar

1g
Protein

8g