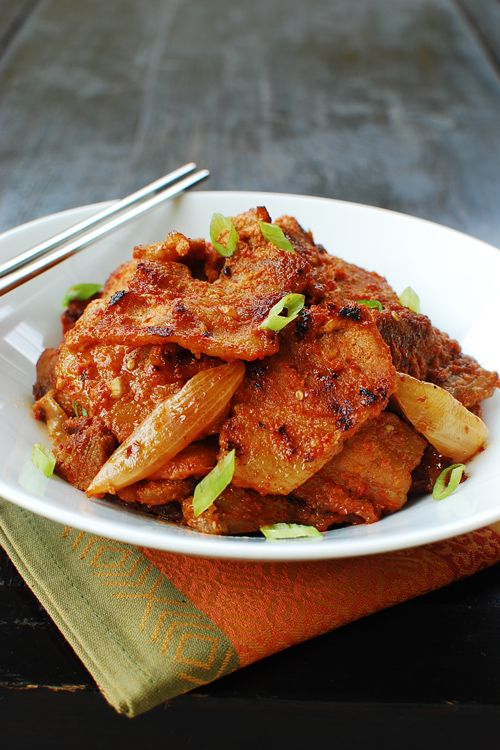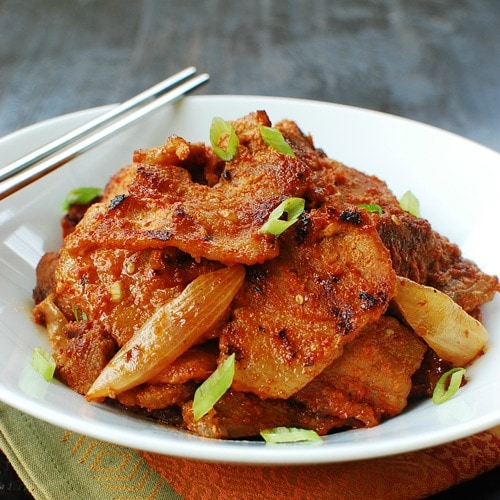 Bulgogi
Bulgogi and Bulgogi recipe. Bulgogi is marinated meat dish with Korean red chili paste. Anyone can make bulgogi with this easy bulgogi recipe.
Ingredients:
1 pound thinly sliced pork belly (or pork shoulder)
1/2 medium onion, thinly sliced
2 – 3 scallions, roughly chopped
Marinade:
3 tablespoons Korean red chili pepper paste* (gochujang)
1 tablespoon Korean red chili pepper flakes (gochugaru)
2 tablespoons soy sauce
2 tablespoons rice wine (or mirin)
2 tablespoons sugar
1 tablespoon sesame oil
1 tablespoon minced garlic
1 tablespoon grated ginger
1/8 teaspoon black pepper
Method:
Mix all marinade ingredients well.
Cut the pork belly into bite size pieces (about 2-inch long).
Combine the meat, onion, and scallions with the marinade and mix well. Marinate for at least an hour.
Heat a grill pan or a skillet over medium high heat and add the pork slices. Cook until the pork is cooked through and slightly caramelized, turning over once.
*Note: The quality and taste of commercially available gochujang (고추장) varies, depending on brands. Some of the major brand names available in the U.S. are Chungjungwon (청정원), Haechandeul (해찬들), and Sampio (샘표). Each brand makes different types of gochujang, depending on the types or origin of ingredients used. Chungjungwon (청정원) is known for its Sunchang (순창) gochujang. Sunchang (순창) is a town that's famous for making the best gochujang. Some brands note the level of spice on the package, e.g., no. 3 is medium hot and no. 4 is very hot.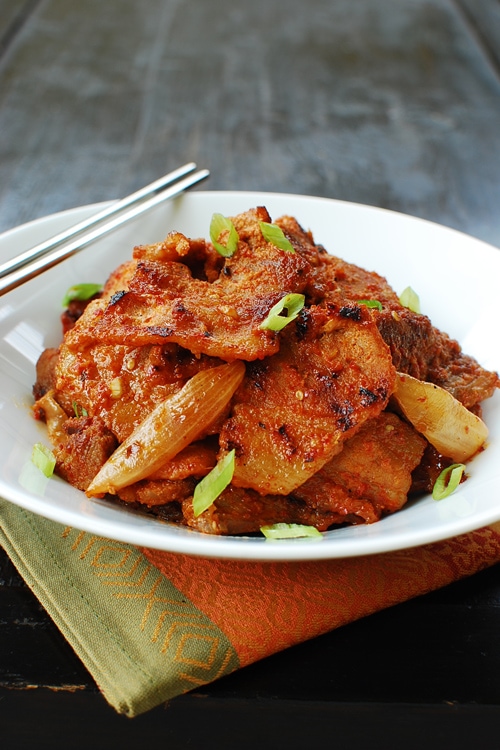 I stumbled upon Eating and Living, a Korean food blog by Hyosun earlier this year. I was so delighted that I spent hours reading through Eating and Living, learning authentic Korean home cooking that Hyosun has been making for her family. When it comes to learning authentic Asian cooking, nothing beats learning from a native home cook who prepares the food for the family on the daily basis. Eating and Living is a wonderful food blog about Hyosun's love for Korean recipes, complete with step-by-step photos and vibrant food photography. Let's learn how to make Bulgogi!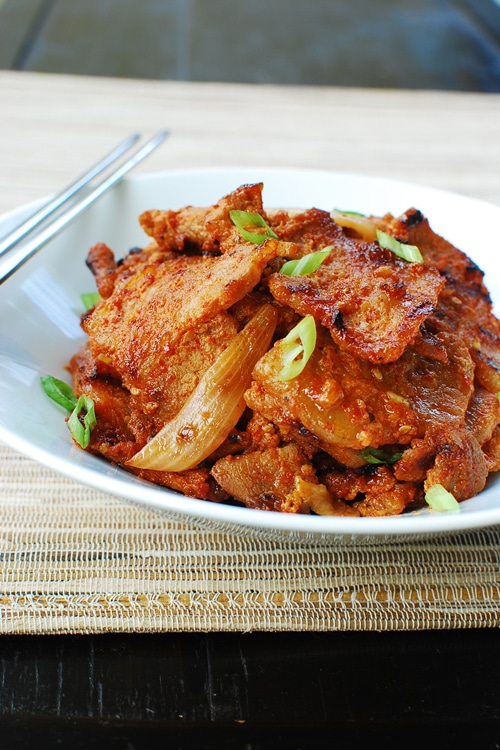 Hi! I'm Hyosun from eating and living, the Korean home cooking blog. I was so excited and flattered when I received an e-mail from Bee inviting me to guest post on her blog. It really is an honor to have the opportunity to guest post on this amazing blog. Bee asked if I could share a bulgogi recipe that uses gochujang, which is Korean red chili pepper paste. So I decided to show you how to make dwaeji bulgogi (aka jeyuk bokkeum) using pork belly (samgyupsal). You can also use pork shoulder or loin or chicken for this recipe.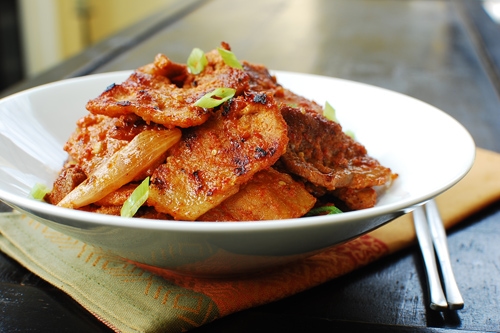 Bulgogi is a marinated meat dish made with thin slices of beef, usually rib eye. It is no doubt one of the most well-known Korean dishes outside of Korea. When it's made with pork, it's called dwaeji (pork) bulgogi. Unlike its beef counterpart, which is traditionally marinated in a soy sauce based sauce, pork is typically marinated in a spicy gochujang sauce. Gochujang is a fermented red chili pepper paste made primarily with gochugaru (Korean red chili pepper flakes), glutinous rice powder and fermented soybean powder. It's pungent, spicy, slightly sweet and salty. For an authentic Korean dish, there is simply no substitute for gochujang. Gochujang can be found in any Korean market. The marinated pork can be either grilled or pan-fried. The best way to enjoy it is to wrap a bite-size piece in lettuce or a perilla leaf and eat the whole wrap. If you love fatty pork and spicy food, this is the perfect dish for you!
Click Here to Pin This Recipe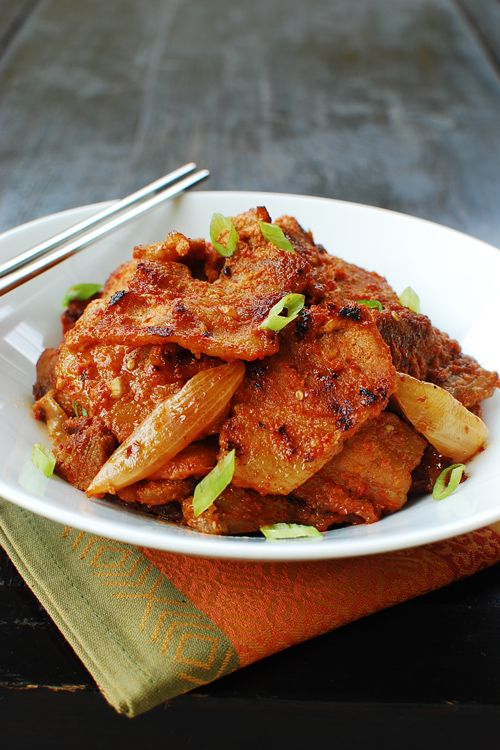 SUBSCRIBE AND NEVER MISS A RECIPE
SUBSCRIBE TO RASA MALAYSIA NEWSLETTER AND GET EASY AND DELICIOUS RECIPES DELIVERED TO YOUR INBOX. If you try my recipe, please use hashtag #rasamalaysia on social media so I can see your creations! Follow me on Facebook | Instagram | Pinterest | Twitter for new recipes, giveaways and more.