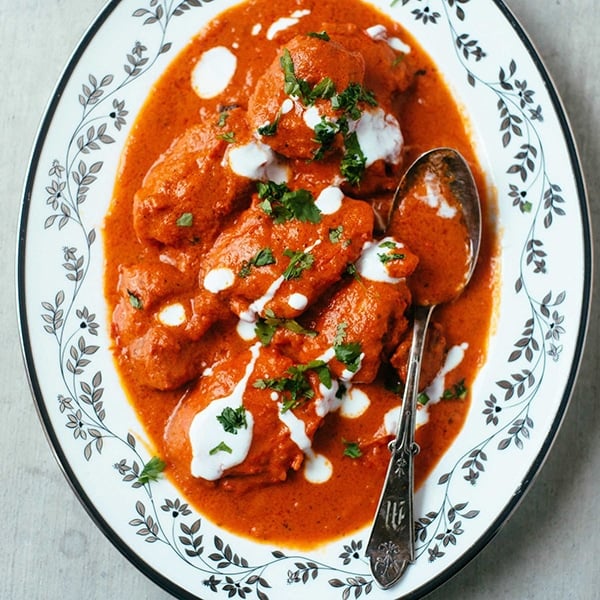 Butter Chicken
Butter Chicken – an easy, delicious and authentic Indian butter chicken recipe from a native Indian cook. The creamy butter chicken sauce is so rich and good with basmati rice or naan bread.
Prep time:
Cook time:
Total Time: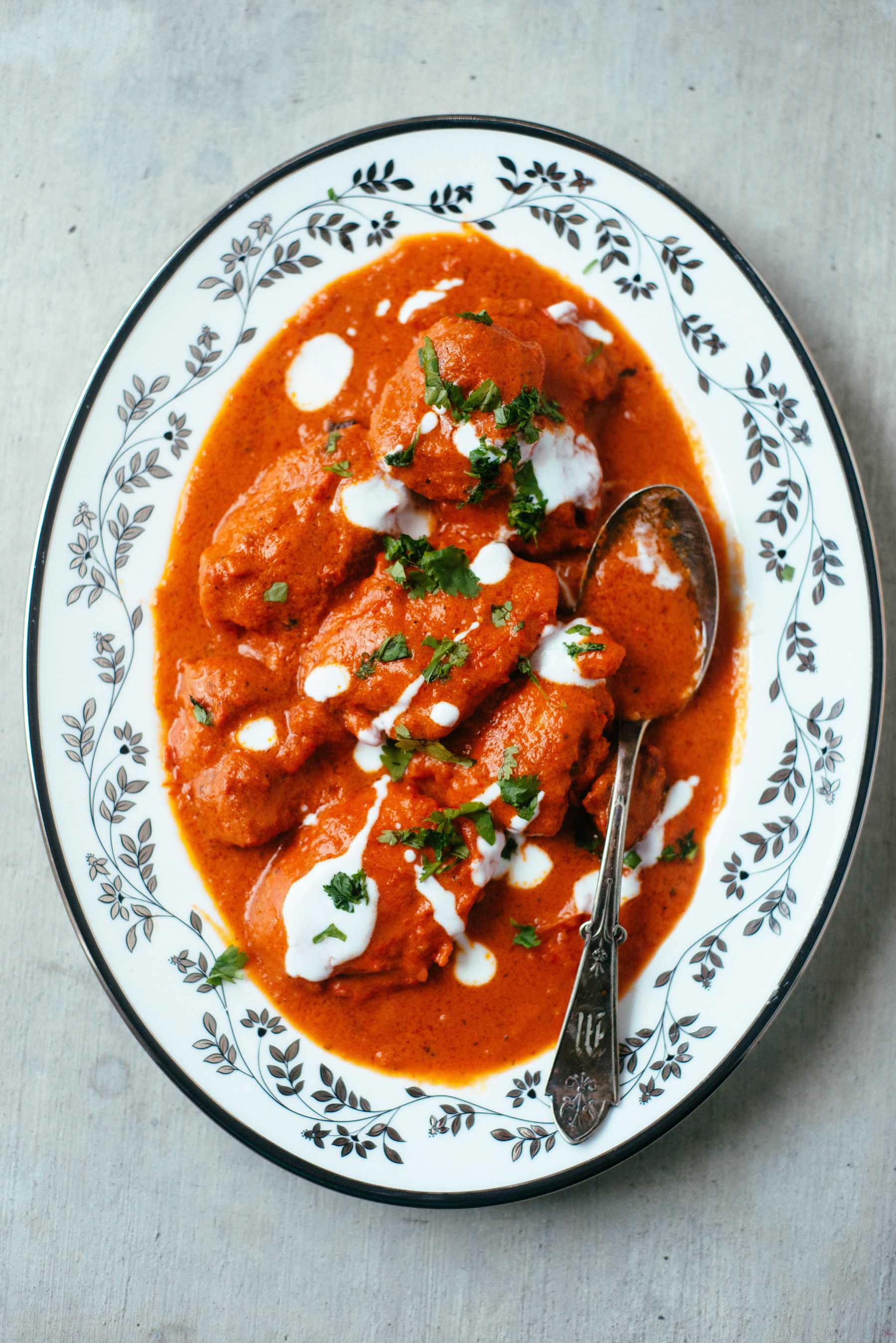 How to Make Indian Butter Chicken
Butter chicken is a creamy, tomato-based and spice-laden chicken curry and it's probably one of the most popular Indian recipes ever. The best and most authentic butter chicken is made with tandoori chicken, butter, with tomatoes, whipping cream and various Indian spices. You can make homemade butter chicken on a stove top.
Butter Chicken Sauce
The butter chicken sauce calls for ingredients such as tomatoes, whipping cream and various spices like red chili powder, cardamom, cloves, cinnamon, etc. The rich and creamy flavors come from the tomatoes and the cream, making the taste absolutely delightful to the palate. The sauce can also be used to make shrimp and paneer (Indian fresh cheese).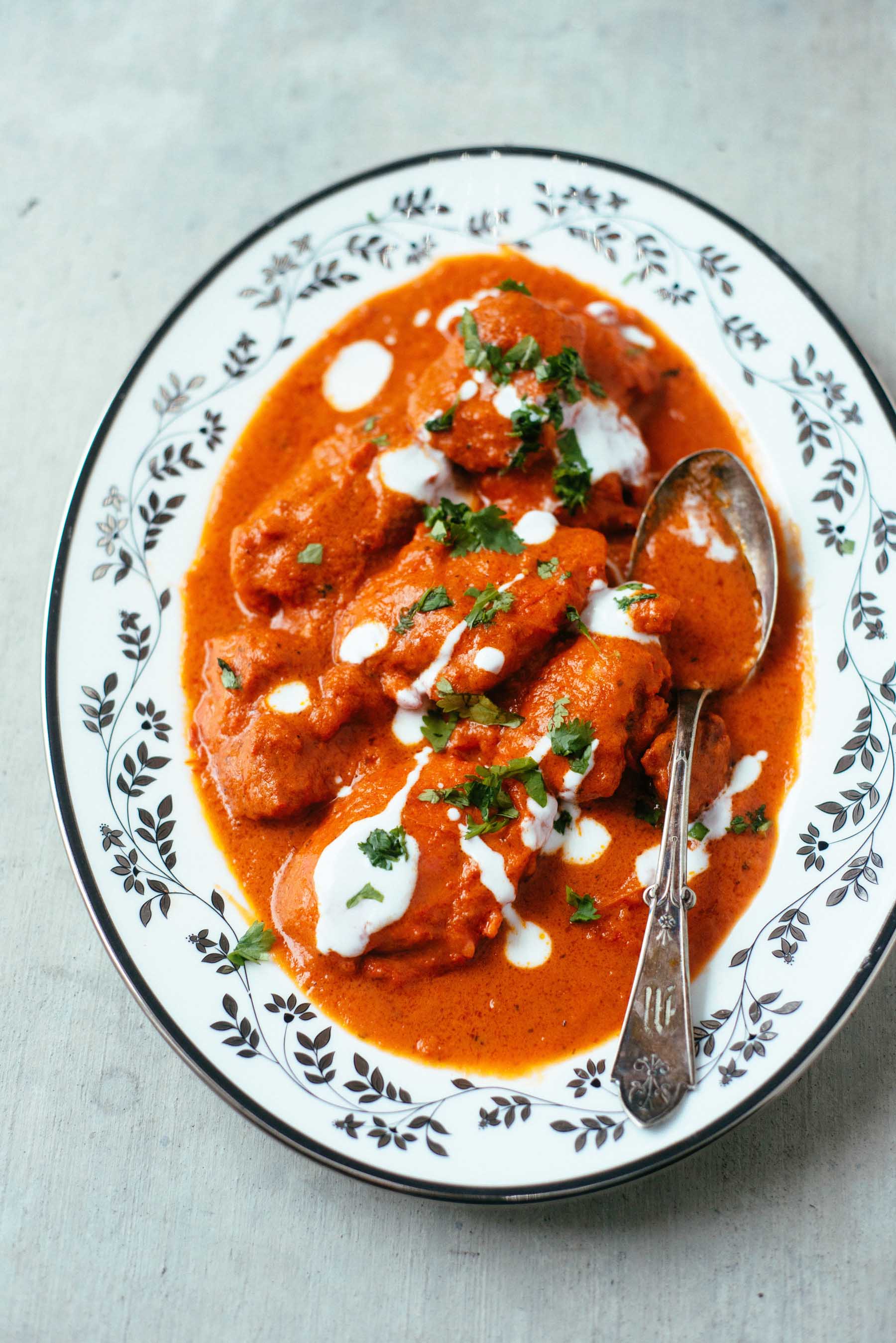 Butter Chicken Recipe
Serves 4 | Marinate Time: 30 Minutes | Cook Time: 40 Minutes
Contributor: Simply Reem
Ingredients:
Chicken
2 lbs chicken (preferably thigh meat, boneless and skinless, cut into 2-3 inch pieces)
2 teaspoons ginger paste
1 1/2 tablespoons garlic paste
1-2 teaspoons red chili powder
1/2 teaspoon ground black pepper
Salt to taste
2 tablespoons + 1 tablespoon oil
2 teaspoons lime or lemon juice
2 pinches food color (deep orange, optional)
Creamy Tomato Sauce5>
4 large tomatoes, quartered
1 1/2 tablespoons garlic paste
2 teaspoons ginger paste
1 jalapeno
1 2-inch cinnamon piece
1 bay leaf
4 cloves
2 green cardamom
6 whole black pepper
2 tablespoons ketchup
2 teaspoons sugar
1/2 teaspoon red chili powder
1/2 teaspoon dried fenugreek leaves
Salt to taste
2 tablespoons oil
2 tablespoon butter
1 cup water
Garnishing
Chopped cilantro
Heavy cream
Method:
Chicken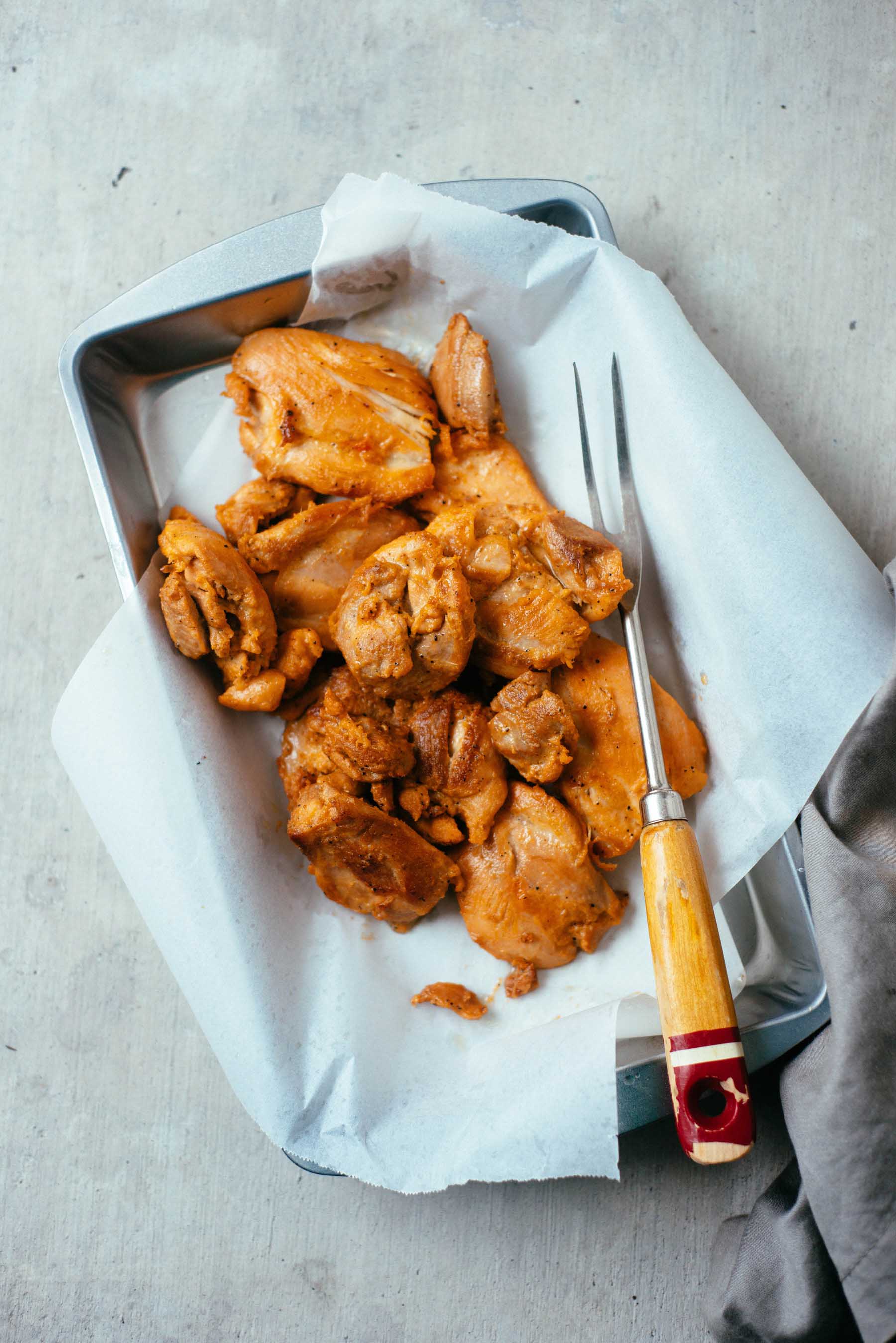 Wash and pat dry the chicken with paper towels. Transfer to a large bowl. Add all the Chicken ingredients, stir to mix well. Cover and marinate the chicken for 30 minutes or best overnight in the refrigerator.
Heat 1 tablespoon of the oil in a large wok or a pan. Transfer the chicken and the marinade to the wok or pan. Cook on medium-high heat until the liquid has dried up and the chicken turns brown on the surface, 10-15 minutes. You can also grill the chicken.
Transfer the chicken to a clean platter. The chicken can be cooked a day in advance.
Sauce
In a large pan, heat 2 tablespoons of the oil and add the green cardamoms, cloves, black peppercorns, bay leaf and cinnamon. Sauté the spices for 30-40 seconds. Add the ginger and garlic paste; stir fry for a minute. Add the tomatoes and jalapeno with 1/2 cup of the water. Cover the pan and reduce the heat to low, simmer for 5-7 minutes or until the tomatoes are soft and start to break down. Remove the pan from the heat and let cool.
Remove all the whole spices (cardamom, bay leaf, cinnamon stick, cloves and black pepper) and discard. Transfer the tomato mixture to a blender and puree it to become a sauce.
Transfer the sauce to a clean pan, add the ketchup, sugar, red chili powder, salt and dried fenugreek leaves and the remaining water. Let it simmer for 2-3 minutes on low heat. Stirring occasionally. Now add the butter, stir and simmer on the lowest heat for 5-7 minutes, or until the sauce starts to bubble. Add a little bit more water if the sauce is too thick.
Add the cooked chicken and let simmer for another 5 minutes. Remove the butter chicken from the heat, top with chopped cilantro and heavy cream. Serve immediately with naan bread or rice.
Most-Pinned Recipes
Ginger Garlic Baked Chicken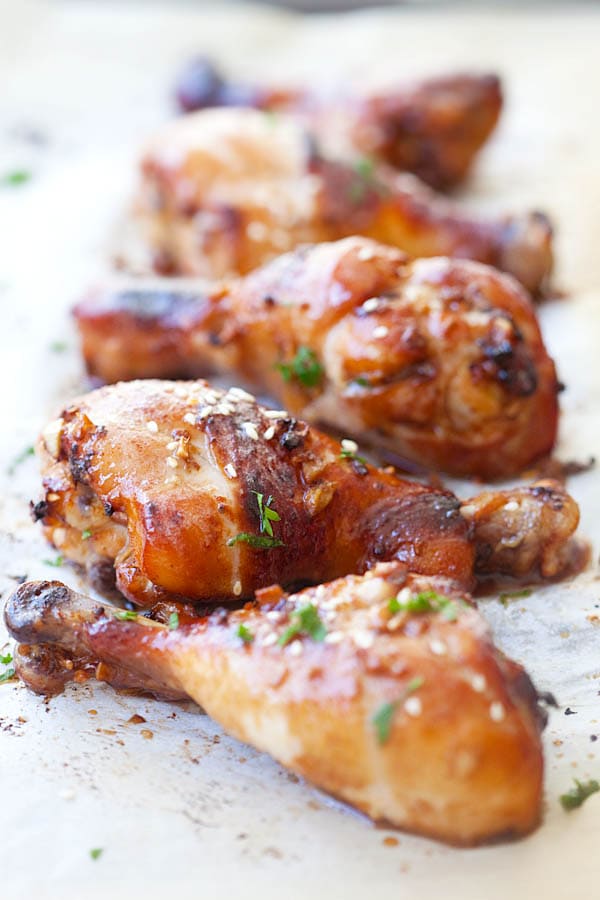 Crab Rangoon (Cream Cheese Wontons)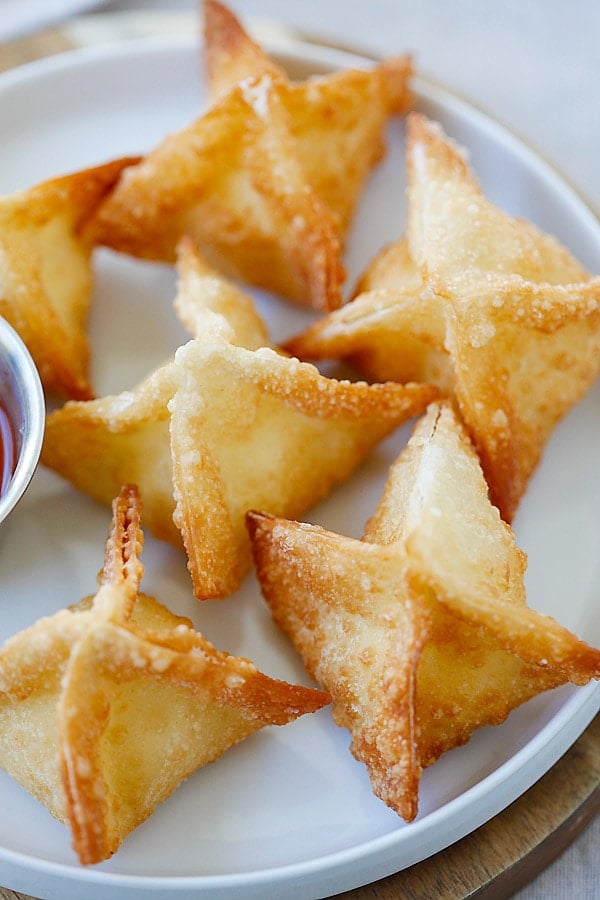 Chicken Wontons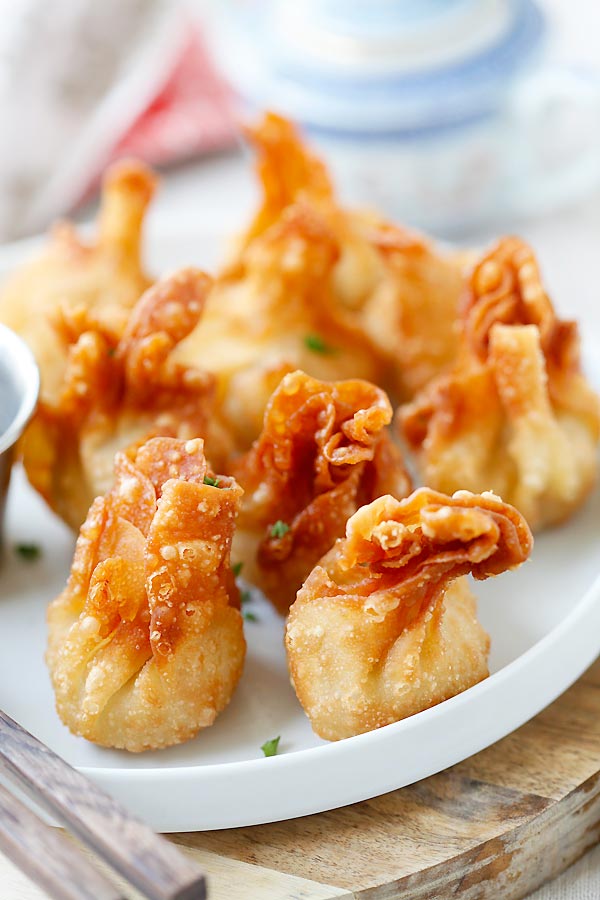 Onion Scallion Beef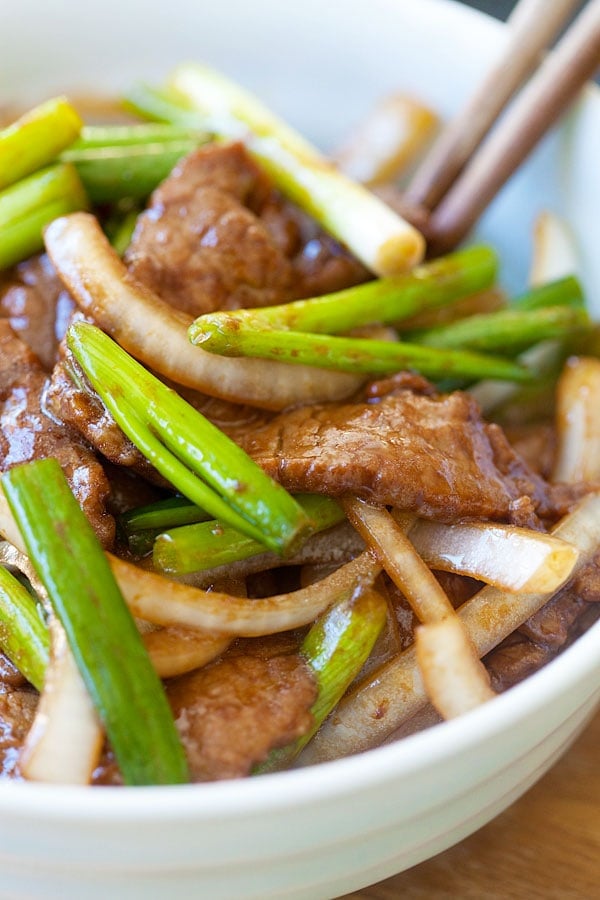 Thai Chicken Sate with Peanut Sauce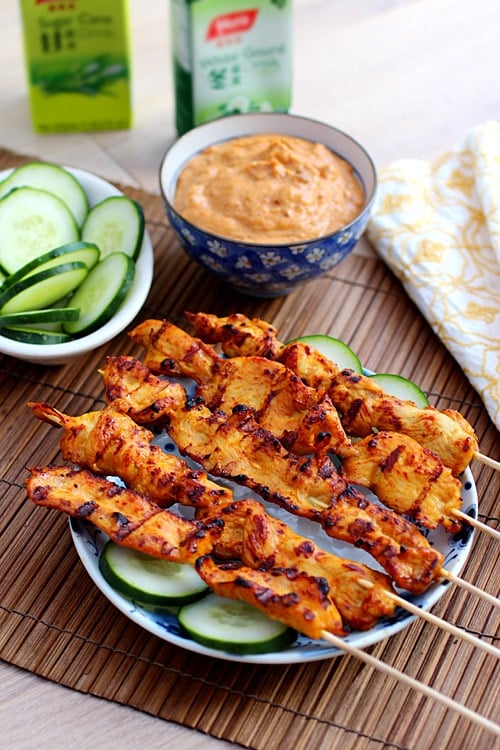 Thai Peanut Sauce