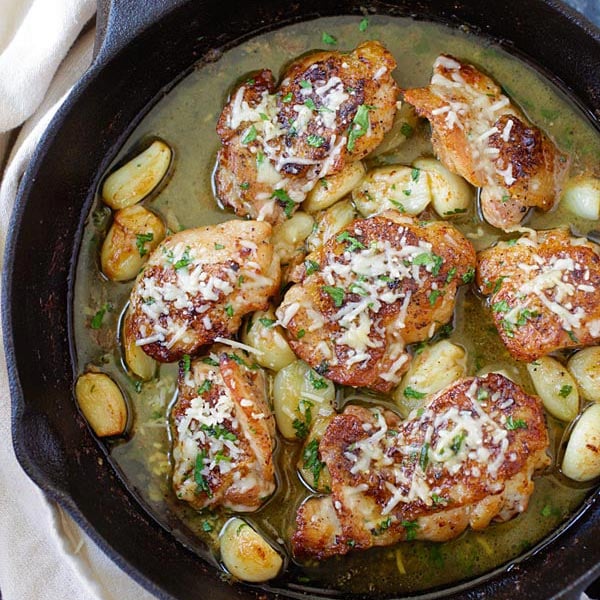 Buttery Garlic Parmesan Chicken
Buttery Garlic Parmesan Chicken – amazing skillet chicken with garlic and Parmesan cheese. Made with simple ingredients but SO good! | rasamalaysia.com
Prep time:
Cook time:
Total Time: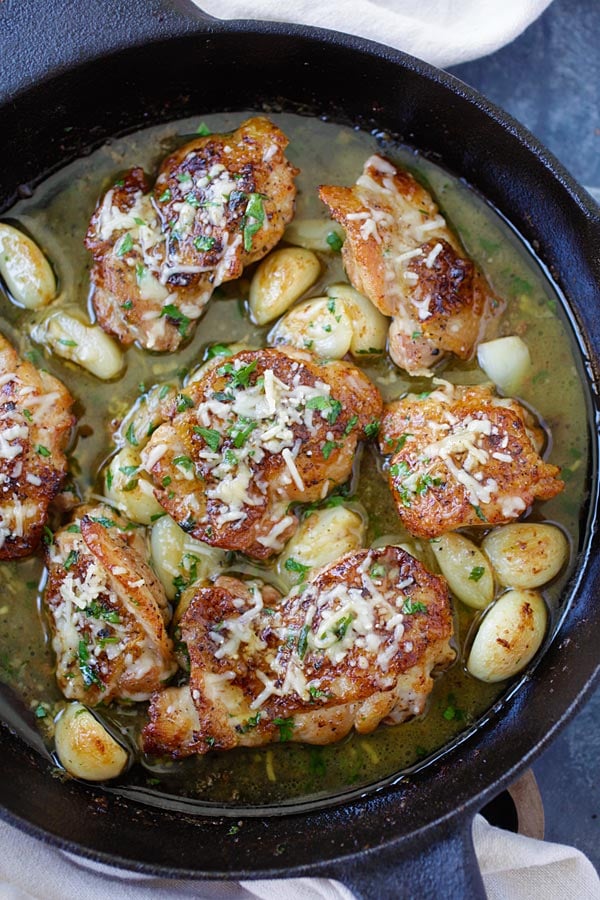 Buttery Garlic Parmesan Chicken
Buttery Garlic Parmesan Chicken – amazing skillet chicken with garlic and Parmesan cheese. Made with simple ingredients but SO good!
This recipe is easier, simpler, with everyday ingredients that you already have in the fridge: butter, garlic, chicken and Parmesan cheese. There is no need for any herbs like thyme or rosemary because it's already SO delicious, there is also no need for chicken broth. I did use white wine because I always have it in my home, but you can do without it or use beer or champagne, or just skip it and use water. So easy, so versatile, no-fuss, but SO delicious.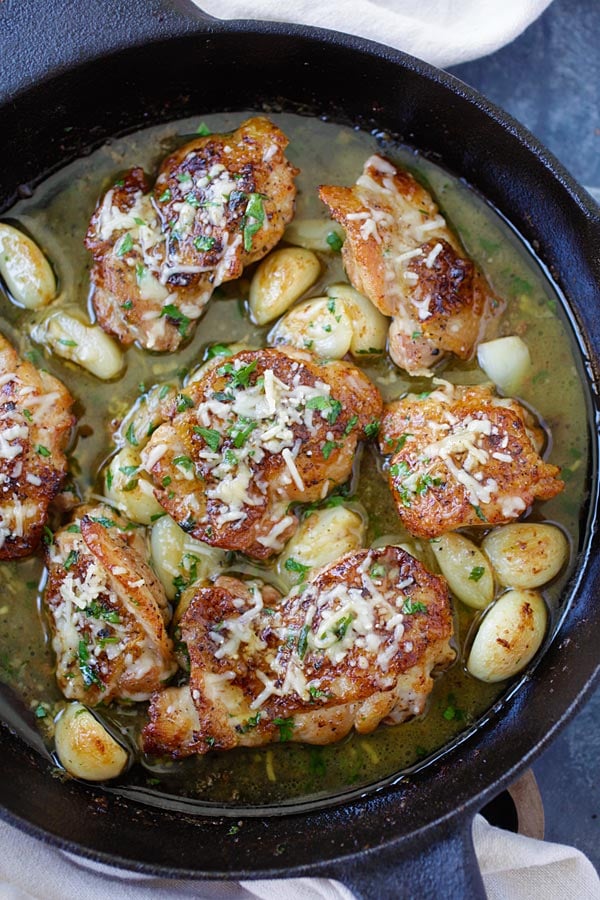 Buttery Garlic Parmesan Chicken Recipe
Serves 3 | Prep Time: 5 Mins | Cook Time: 15 Mins
Ingredients:
1 1/2 lbs chicken thighs, skin-on and deboned
Salt
Ground black pepper
3 tablespoons melted butter
20 cloves garlic, peeled and gently smashed
1/4 cup white wine, beer, or champagne
1/4 cup water
Pinch of cayenne pepper
1 tablespoon Italian Parsley
1/3 cup Parmesan cheese
Method:
Season the chicken with a little salt and black pepper.
Heat up a skillet (cast-iron skillet preferred) on medium heat, add a little bit of butter. Pan-fry the chicken with the skin side down first, until both surfaces become crispy or nicely browned. Remove the chicken from the skillet and set aside.
Add the remaining melted butter and saute the garlic until light brown. Add the chicken back into the skillet, follow by the white wine and water. Lower the heat and let simmer. Add salt to taste and a pinch of cayenne pepper. Reduce the sauce a bit. Add the chopped parsley and top the chicken with Parmesan cheese. Remove from heat and broil the chicken in the oven until the cheese melts. Serve immediately.
Cook's Notes:
You may use bone-in chicken thighs, but for best results, debone the chicken thighs but keep the skin on.
If you don't have wine, skip it and use 1/2 cup water instead of 1/4 cup.
You may melt the cheese by covering the skillet for a little bit until the cheese melts. You don't have to broil the chicken in the oven but broiling makes it better and also char the skin a little bit.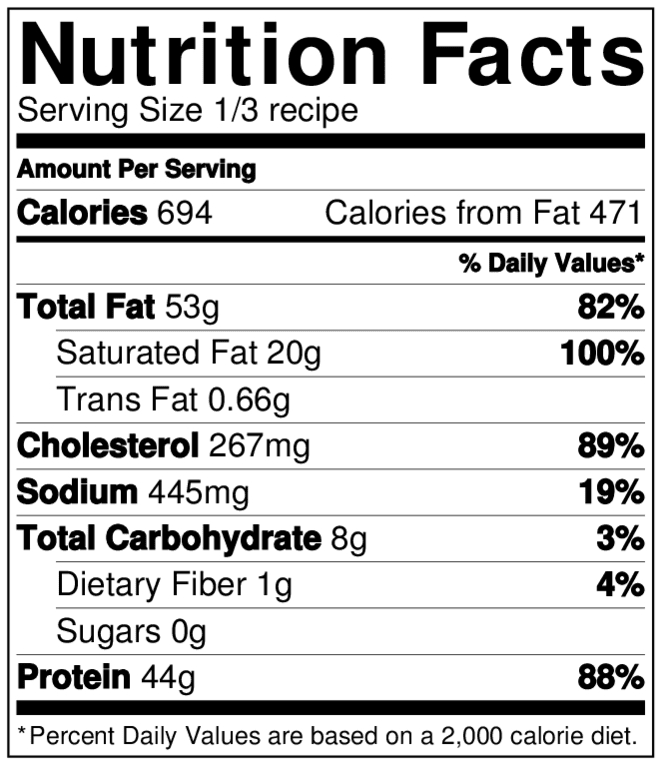 Most-Pinned Recipes
Garlic Herb Cheese Bombs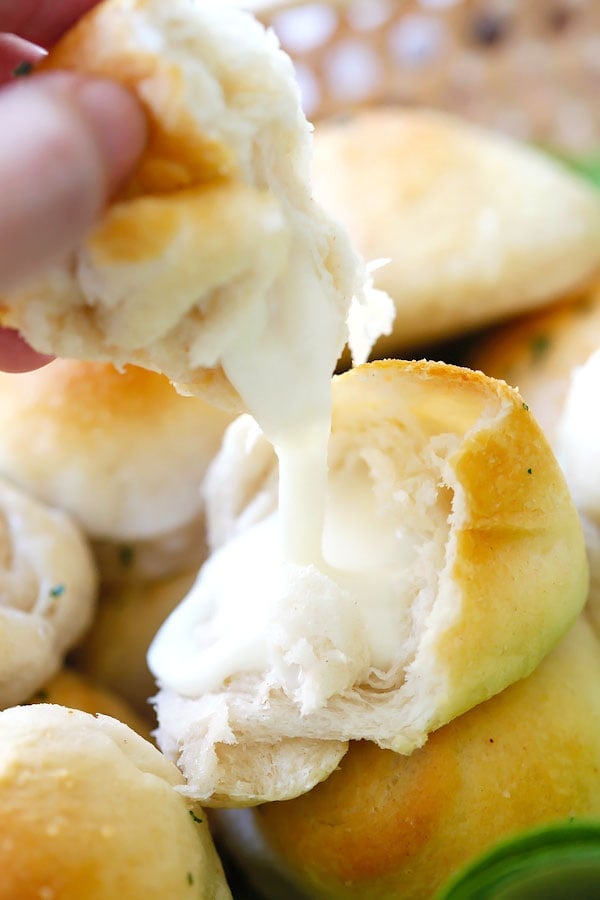 Chili Lime Chicken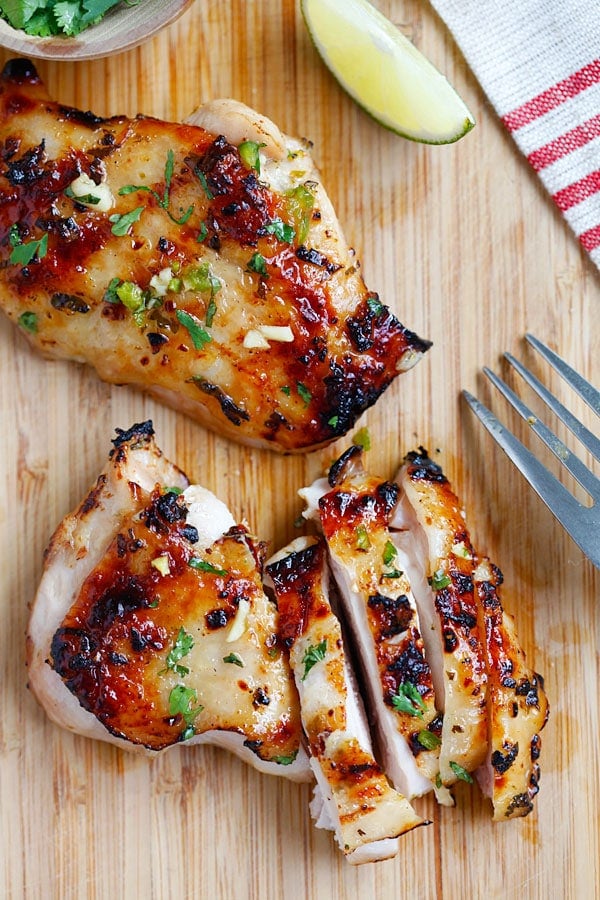 Cilantro Lime Chicken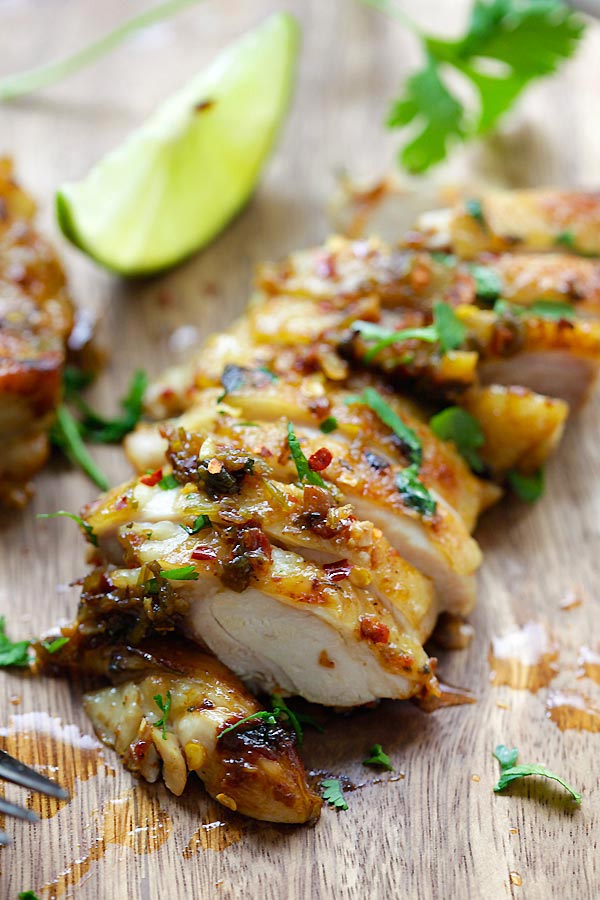 Italian Roasted Potatoes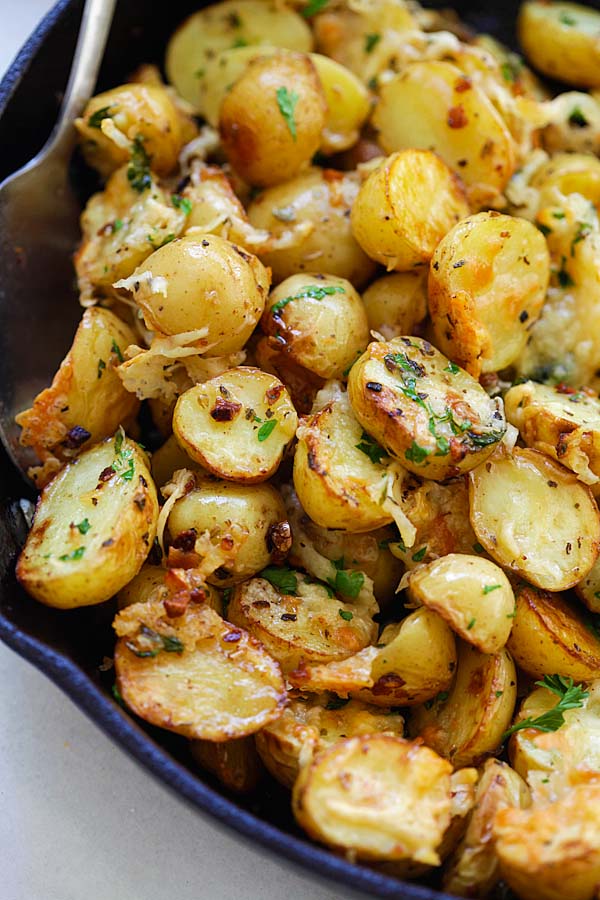 Honey Garlic Salmon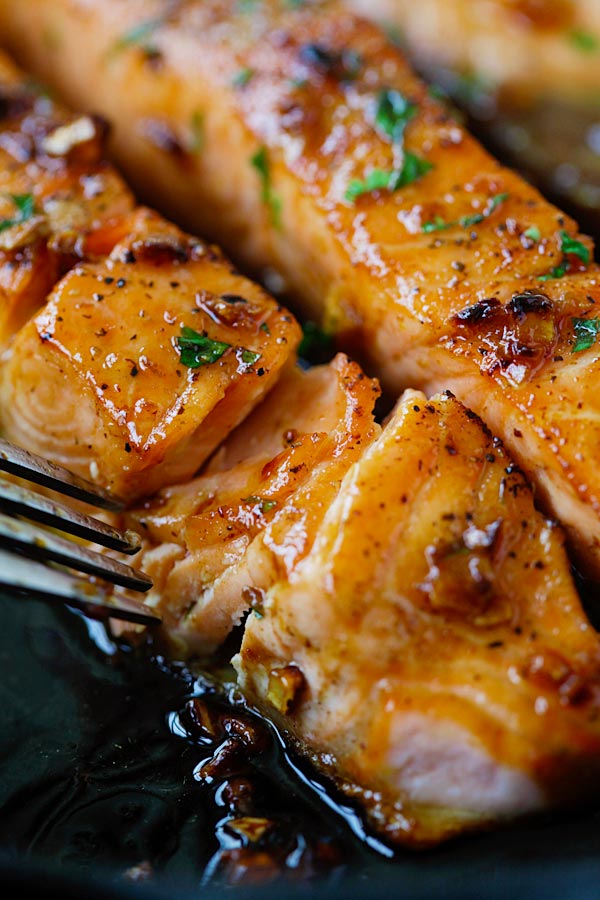 Parmesan Baked Chicken Nuggets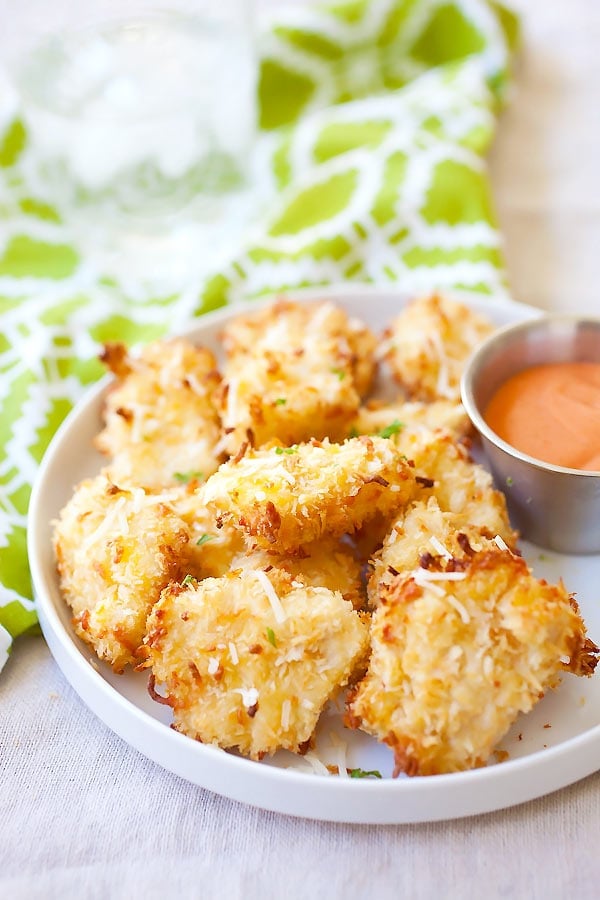 Parmesan Roasted Cauliflower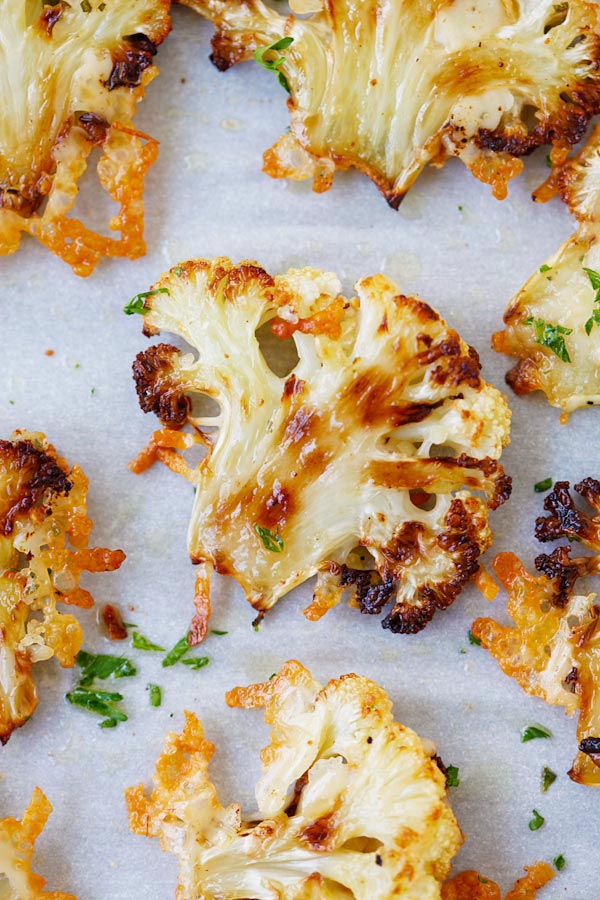 Garlic Herb Roasted Potatoes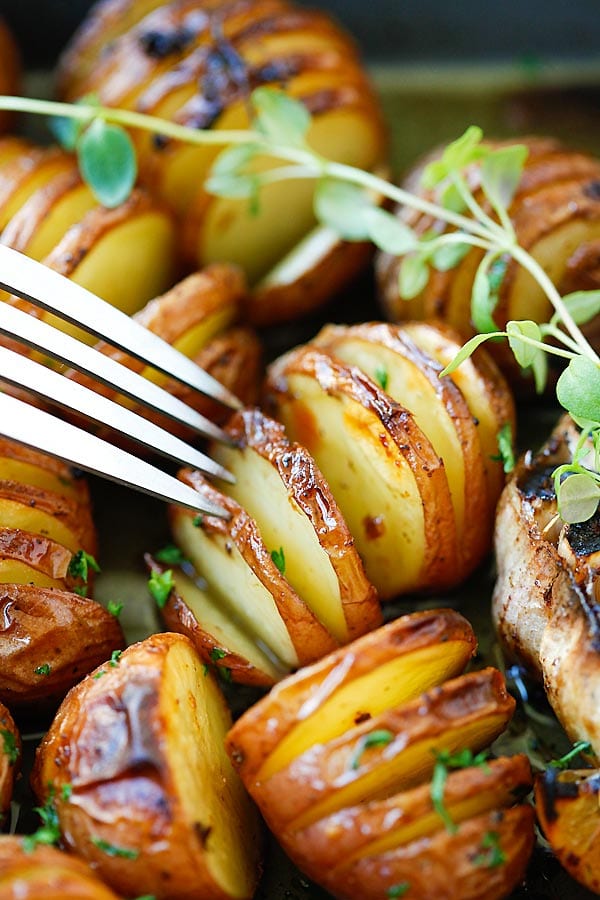 Creamy Garlic Chicken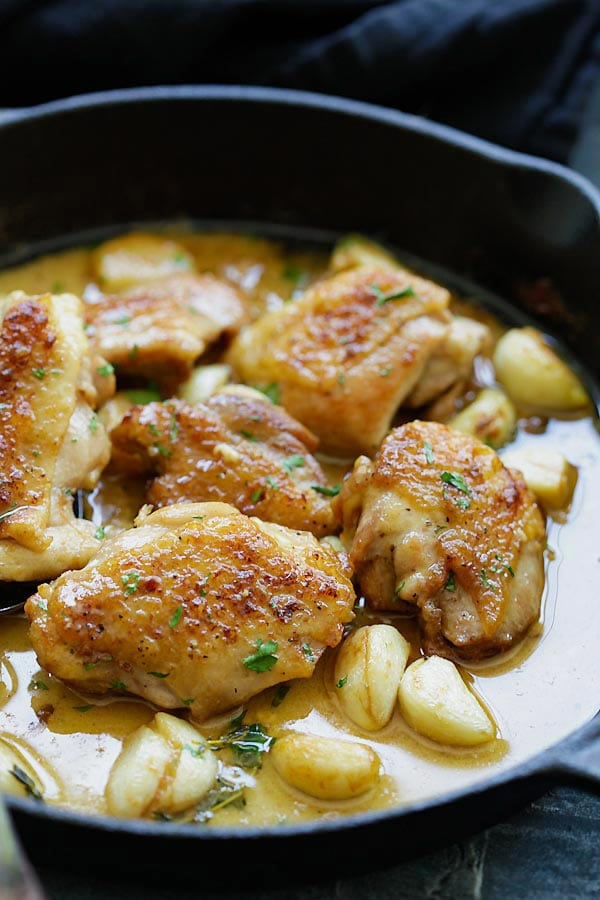 Garlic Parmesan Roasted Carrots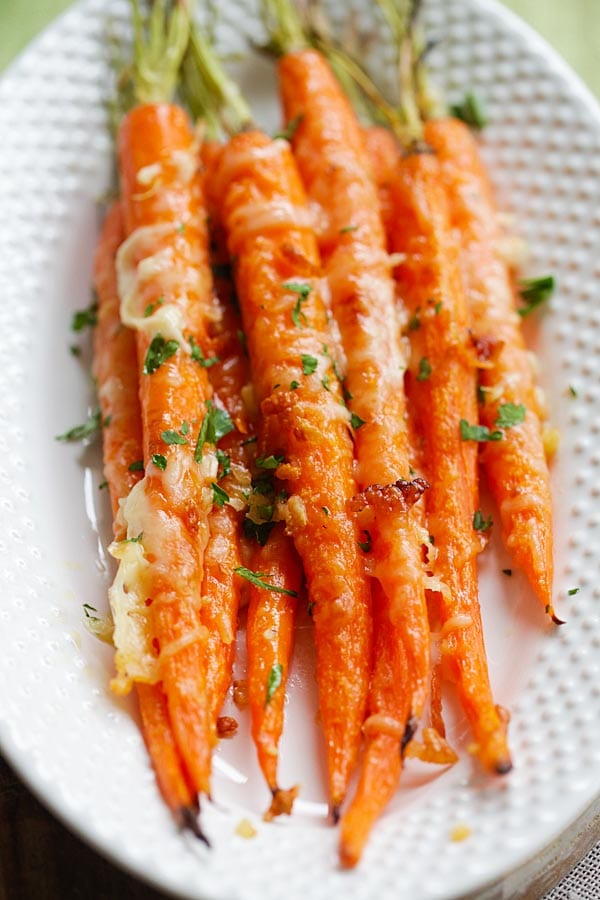 Hawaiian Shrimp Scampi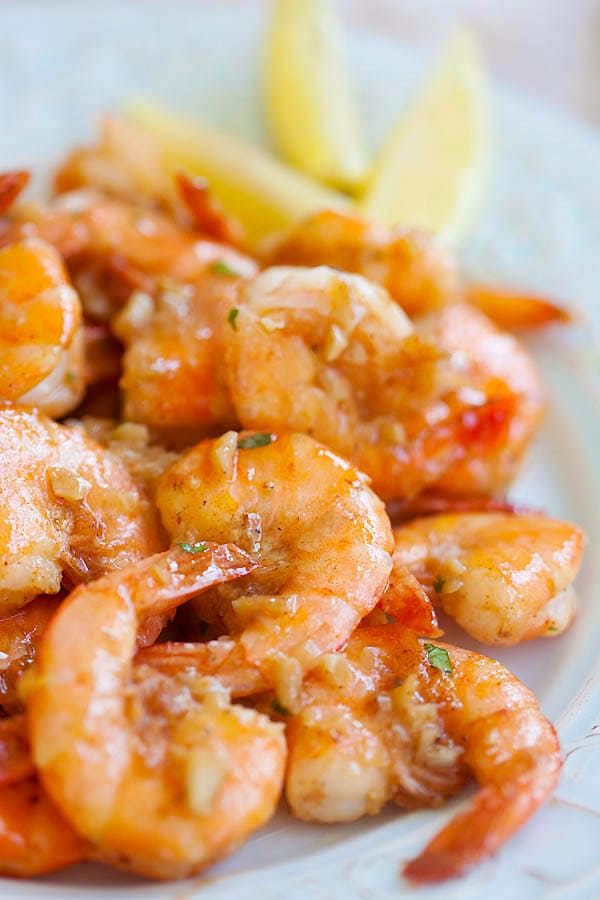 Garlic Butter Brazilian Steak