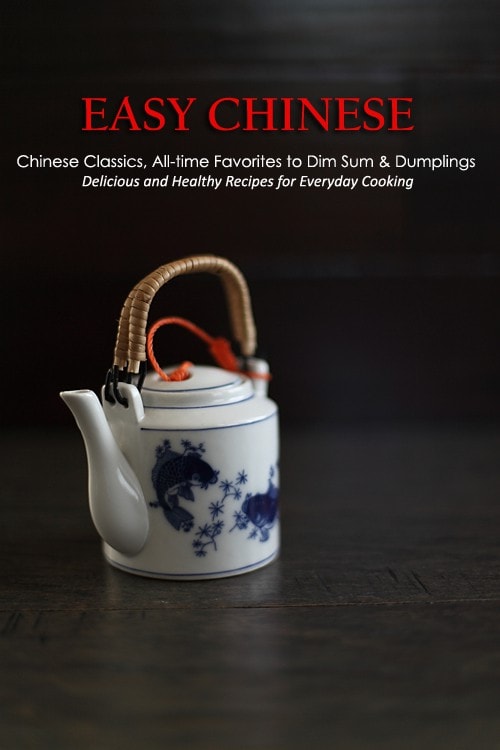 (This is not the real cover of the cookbook. It's just one of the pictures I'd shot for the book.)
(Updated: Thanks sooooo much for your warm participation. Due to the overwhelming responses, this is now closed. I will be selecting the participants these two days. Those selected will be contacted via email. Thanks again!! )
I am almost done with the cookbook writing and am ready for recipe testing. My cookbook will be released in Fall 2011, by Tuttle/Periplus Publishing. It will be available worldwide. The title of the cookbook is not final yet, but it's likely to be "EASY CHINESE: Chinese Classics, All-time Favorites to Dim Sum & Dumplings" or something along the line. Regardless of its final title, it's a Chinese recipes cookbook with 80+ easy, healthy, and delicious Chinese recipes. It has tons of new recipes, color photography (styled and shot by yours truly), step-by-step picture guide, and more!
For the recipe testers, here is what I am looking for…
Chinese food fans and enthusiasts from all over the world, especially those based in the United States, Canada, Europe, and Asia Pacific. However, if you are based elsewhere, you are most welcome to volunteer.
If you are interested, here is what you need to do:
Leave a comment on this post with the following information:
Your current location:
Your Chinese cooking level: Professional / Intermediate / Beginner
Make sure you have the correct email address in the E-mail field in the comment form so I can contact you.
What will you get in returns?
Your name in the Acknowledgments chapter
I'll be giving away two (2) copies of my cookbook to the participants, so you will be entered into a raffle to win the cookbook, when it's available.
You'll get to see the picture of the dish you will be testing (including the step-by-step picture guide, if applicable). No one has seen my cookbook pictures yet, and you will be the first one to see it!
What do you need to do?
Test two (2) recipes assigned to you
Fill out the recipe testing evaluation form (which I will provide) by August 22, 2010. The evaluation form is painless; it's a 1-page form where you can rate the recipe and write your feedback and suggestions!
Unfortunately, not everyone volunteered will be selected to participate in the recipe testing. That being said, I might have to do a drawing to pick the recipe testers if the responses are overwhelming. If you are selected, I will be in touch with you via email.
Thank you so very much for your kind support and I look forward to working with you! :)