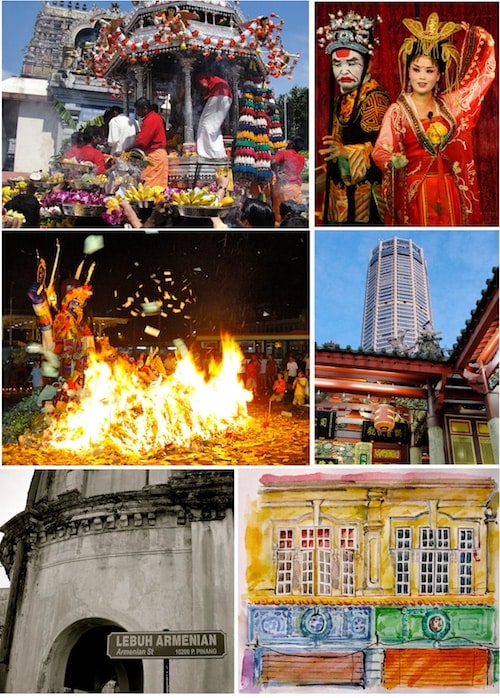 Greetings from Penang! I've been home for almost a month and am enjoying every minute of it. Today, I wanted to introduce you to Reese and Mark of Capturing Penang, a wonderful blog about Penang and their journey of discovery in my homeland. Many Penangites left home to pursue our dreams, but we all share one thing in common— we miss our island deeply and eventually, we all realize that Penang is such a special place that there is nowhere else quite like it, and we will always call Penang home regardless of where we are. Reese and Mark tell their stories through Capturing Penang and in this remarkable guest post. Please read on and check out their YouTube videos (MUST WATCH) and you will understand why Yahoo! selects Penang as the #8 island to explore before you die. Enjoy!
A few days into Chinese New Year, Mark and I headed to breakfast at Toh Soon – a rusty, bustling coffee shop in an alleyway along Campbell Street in Penang, serving roti bakar with kaya (charcoal-roasted thick bread with coconut jam), soft-boiled eggs with soy sauce & white pepper, and strong local coffee to give you that morning kick.
When we walked in, there was a film crew around the first table, and we were surprised to spot a familiar face seated among them – Bee from RasaMalaysia…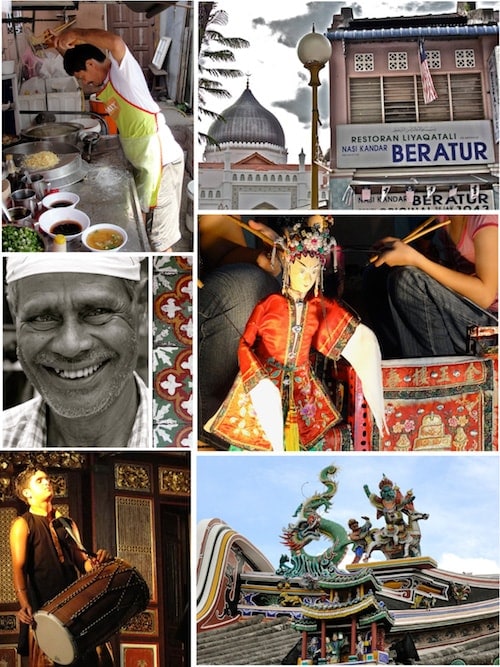 Bee had arrived the week before from California, for a two month visit to the island that she will always call home. At that moment, I realized it was exactly one year since I moved from Singapore back to Penang with the same goal. It would be a journey that would draw me into the thriving cultural and arts scene of George Town after its recent listing as a UNESCO World Heritage site. A journey that I reveal through stories, photos, and videos, on my blog – Capturing Penang.
However, I didn't expect this a year ago. While Mark was confident about the move, I couldn't push my apprehension away. I had left seven years earlier, like so many other Penangites, in search of bigger and better things. I had convinced myself that if I ever returned to live in Penang, it would only mean a step back in my life.
But by the first week, to my relief and exhilaration, I felt the energy of a revitalized Penang. Not only from the millions of visitors every year to the island, but also from the locals, like myself, who had taken this wonderful island for granted for too long.
I love saying it now – Penang is an exciting place!
You can experience the transformation in the shophouses and temples and bungalows that have been meticulously restored and opened to the public like the Peranakan Mansion, Suffolk House, Teochew Ancestral Temple, and Sun Yat Sen Base. In the quiet, verdant hills on the northwest corner of the island that have been protected under the National Park and awarded at the Tropical Spice Garden. Through the traditional trades that have been recognized and championed like the nyonya beaded shoemakers, spice mill grinders, wooded signboard engravers, popiah skin makers, bertam blind weavers, songkok makers and more. During the huge festivals like Chinese New Year and Thaipusam that have erupted with pride and exuberance, and in new festivals that have sprung up like George Town Festival in July, George Town City Day on January 1st, and Mark's favorite – Durian Festival in June.
But you know what I've realized? As much as this renewal has shined a spotlight on Penang in recent years, what makes this island truly remarkable comes from what hasn't changed, and should never change – its cultural diversity.
You'll experience it in the distinct faces that pass you by on the streets and down the five-foot-walkways, in the myriad of languages you may never place, in the shifting colors of the endless parade of festivals, and yes, in Penang's famous street food.
Oh yes, the food.
The Chinese, Nyonya, Indian, and Malay food that Bee styles and promotes on Rasa Malaysia for you to drool over, and challenges you to prepare. The sizzling, steamy food that you can find at every street corner in Penang being whipped up by every sifu with a spatula.
Curious now? I have a challenge for you too. Travel to Penang.
But you may then ask – When?
If Yahoo Travel has anything to say about it, which just listed Penang as one the Top 10 islands in the world to explore before you die, I know the answer is – Now.
See you in Penang!
YouTube Videos:
Reese (& Mark too)
@CapturingPenang.com
Note from Rasa Malaysia: If you are planning a trip to Penang, check out our Penang Private Tour services.