This cake looks beautiful!! What is on the top for decorations? Did you make that too?
–
by
Jessica
,
August 24, 2011
This cake looks beautiful!! What is on the top for decorations? Did you make that too?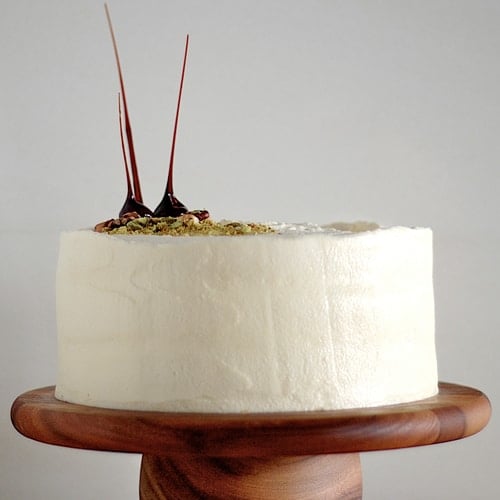 Carrot Cake with Maple Cream Cheese Frosting
BEST carrot cake with maple cream cheese frosting, the best carrot cake recipe ever, must try | rasamalaysia.com
Ingredients:
2 cups all purpose flour
2 teaspoons baking soda
1 teaspoon salt
2 teaspoons ground cinnamon
1/2 teaspoon ground nutmeg
1 teaspoon ground ginger
1 cup granulated/castor sugar
1 cup packed light brown sugar
1 cup canola oil
1 8-ounce can pineapple slices
1 teaspoon vanilla extract
4 large eggs, room temperature
3 cups/650 grams grated peeled carrots (from about 5-6 large carrots)
2 inches fresh old ginger, finely grated
1 cups walnuts (optional)
1/2 cup raisins (optional)
Maple Cream Cheese Frosting:
2 (8-ounce/226-gram) packages cream cheese, softened at room temperature
1 stick/4 ounces/113 grams unsalted butter, room temperature
2 cups/230 grams confectioners'/icing sugar, sifted
1 teaspoon vanilla extract
1 teaspoon ground cinnamon
1/4 cup pure maple syrup
Method:
Preheat oven to 350°F/180°C/gas mark 4.
For cupcakes: Line 24 cupcake molds (2 12-standard muffin tins) with liners, or butter and flour them.
For layered cakes: Butter two 9-inch-diameter or three 8-inch-diameter cake pans. Line bottom of pans with parchment, butter and flour paper; tap out excess flour.
If using walnuts, lightly roast them on a baking tray or a frying pan, about 4-5 minutes.
Leave to cool before processing them finely.
Meanwhile, whisk flour, baking soda, salt, cinnamon, nutmeg and ground ginger in medium bowl to blend.
Set aside.
Place the pineapple slices in a blender and add some of the juices from the can.
Discard excess liquid.
Puree until smooth and set aside.
In a separate large bowl, whisk sugars, pineapple puree and oil until well blended. Whisk in eggs, one at a time. Add in the flour mixture and stir until blended. Stir in the vanilla, carrots and fresh ginger. Add in the walnuts and raisins, if using them.
For cupcakes: Divide batter among cupcake molds, filling 3/4 of each. Bake cupcakes 14 to 18 minutes, or until a tester inserted into the center of one comes out clean. Let cool in pans for about 5 minutes. Transfer cakes to a cooling rack. Let cool completely before icing them.
For layered cakes: Divide the batter equally between the prepared pans, and bake the layers for about 30 minutes each for 8-inch cakes or about 40 minutes each for 9-inch cakes; or until a tester inserted into center comes out clean. Cool cakes in pans for about 15 minutes. Turn out onto cooling racks. Peel off parchment; cool cakes completely before icing.
Maple Cream Cheese Frosting:
In a stand mixer with the paddle attachment, beat all the ingredients on medium speed until fluffy.
Chill the frosting for about 20 to 30 minutes or until it has set up enough to spread smoothly and hold its shape.
For cupcakes: Place the maple cream cheese frosting into a piping bag fitted with your tip of choice and pipe onto cooled cupcakes accordingly.
For layered cakes: To assemble a layered cake, with an offset spatula, frost the top of one cake and place the other cake on top. Repeat for a three-layered cake. Frost the sides and top with a thin layer of frosting, chill the cake for about 30-45 minutes. Frost the cake completely to cover and decorate with swirls on the top. Chill cake for at least 30 minutes or till frosting is set. Bring to room temperature before serving.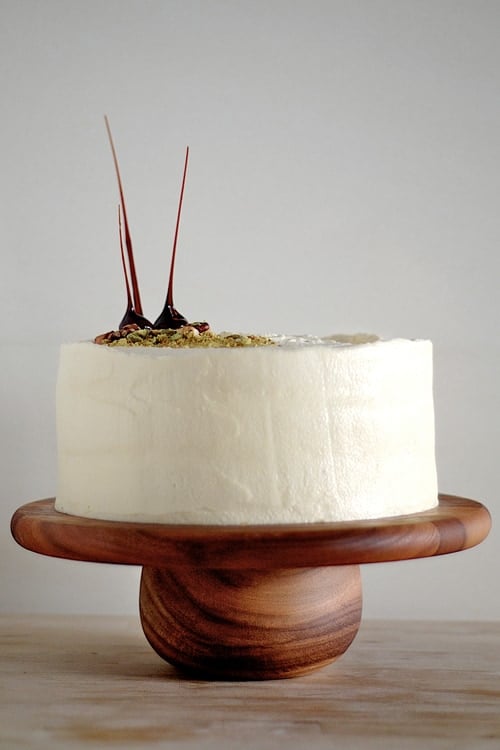 One of my favorite root vegetables is carrot. I love carrot in my soups, drinks (carrot juice), so it's no surprise that I love carrot cake, even though the idea of adding carrots to a cake is somewhat bizarre, but carrot cake is a good cake.
My contributor Pick Yin at Life is Great is here to share her carrot cake recipe, topped with a rich and decadent maple cream cheese frosting.
Just the name alone is mouthwatering enough.
Check it out!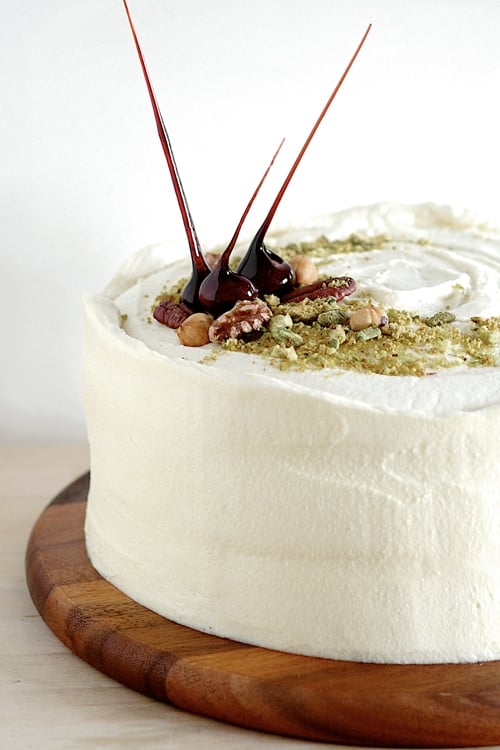 Carrot cake…who knew I'd love it?
When I first announced to Vijay that I'd make some soon, he asked "The white one or the black one?" – referring to the Chinese fried radish cake rather than this baked cake frosted with cream cheese.
He knew I'm not that girl who'd put a root vegetable and a cake together and I'd sooner turn a bunch of carrots into a pot of soup before considering them in a healthy dessert…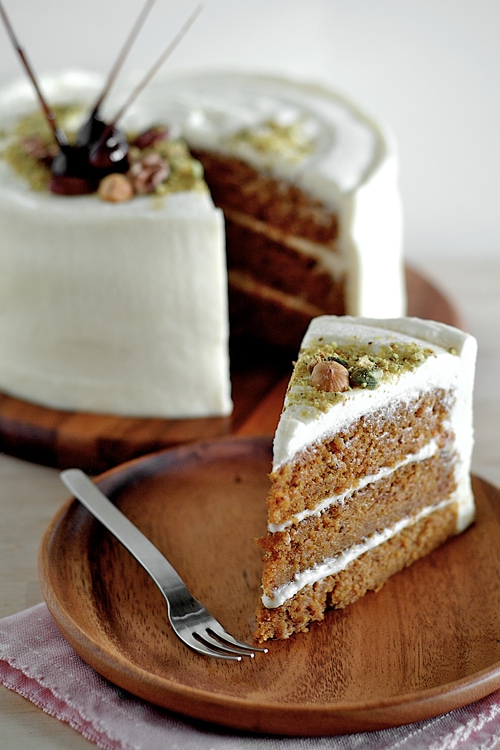 However, with more than a handful of friends professing themselves as carrot cake fans and Bee listing it as something she'd like to see featured here, it was imminent that I'd be baking one and eating some.
There's a first time for everything in life, so with not much reference or recommended recipes to fall on, I studied a few recipes and adapted what I thought were the best elements from each to come up with a carrot cake I really didn't want to share.
The base recipe is from no other than my favorite celebration cake lady. Deb's cakes had never failed me.
I wanted a smooth crumbed cake—no chunky bits of nuts or fruits in my cake, please—one that's packed with flavor, yet moist and preferably melt in my mouth, along with an exceptional frosting.
I was pleased that my adaptation worked out really well.
It took some will power on my behalf to refrain from cutting into the cake layers as they cooled.
I resorted to snacking on what little crumbs that were falling off the cooling racks instead.
Carrot cake die-hards would each have their own favorites but the best thing about this carrot cake is you can alter it to your preference.
Don't like pineapples?
Use some apple sauce instead.
George Calombaris's mother used apricot jam in hers.
You won't really taste any of the fruit but the flavor and texture of the cake would be greatly improved.
Don't have walnuts?
Use pecans, macadamias or even cashews.
There isn't really a recipe set in stone when it comes to a carrot cake.
There's only a favorite.
I hope this version of mine would be yours too.
Click Here to Pin This Recipe

SUBSCRIBE AND NEVER MISS A RECIPE
SUBSCRIBE TO RASA MALAYSIA NEWSLETTER AND GET EASY AND DELICIOUS RECIPES DELIVERED TO YOUR INBOX. If you try my recipe, please use hashtag #rasamalaysia on social media so I can see your creations! Follow me on Facebook | Instagram | Pinterest | Twitter for new recipes, giveaways and more.