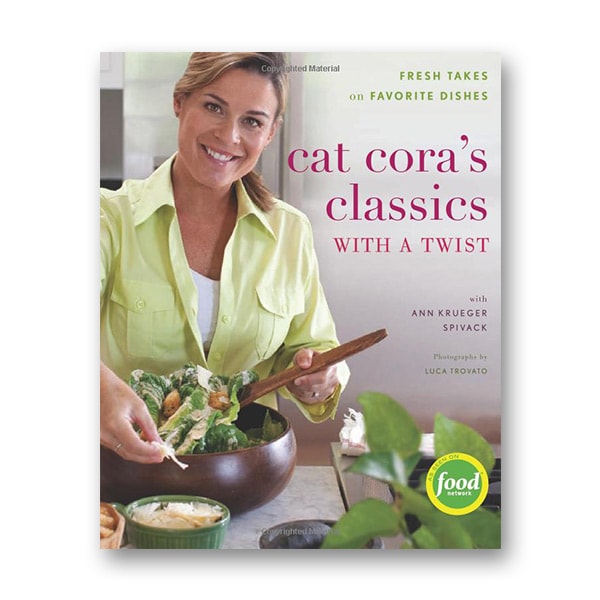 UPDATE: The winner is Liz Kilcher.
I am partnering with my friends at Catcora to giveaway Cat Cora's Classics with a Twist: Fresh Takes on Favorite Dishes Cookbook, MSRP: $6.63, US only.
Cat Cora's Classics with a Twist: Fresh Takes on Favorite Dishes
Cat's most recent cookbook showcases timeless recipes from appetizers and drinks to soups, salads, main dishes and desserts, each developed with fast, healthy twists.
Reinventing many of her favorite classics like Beef Wellington while also finding inspiration from the meals her mother served, Cat's versions feature lighter cooking methods and fresher ingredients.
Cat says, "I purposely designed the recipes in this book to make them more appealing for everyday cooking."
Featured Recipes:
Greek Style Nachos
Halibut with Pepitas, Capers, Tomatoes & Basil
Beet Salad with Tangerine Vinaigrette
Tuna Nicoise Lettuce Wraps
CAT CORA'S COOKBOOKS
Cat Cora is the author of 3 popular cookbooks. Raised in a close-knit Greek family and now the mother of four boys, Cat is determined to keep the tradition of the family dinner alive. Her recipes are based on simple, delicious flavors and usually take no more than 30 minutes to prepare.
The highly anticipated Fatbird Southern Kitchen and Bar is now open with Iron Chef Cat Cora helming the kitchen. Chef Cora, the beloved culinary personality who made history as the first female Iron Chef, is originally from Jackson, Mississippi, and Fatbird pays homage to her southern roots with a diverse menu and a creative selection of signature scratch biscuit sandwiches. The restaurant features two dining styles, a takeout biscuit counter featuring Cat's family recipes; and a full-service dining room with favorites including Nashville Hot Chicken, Wood-Fired Oysters, Spicy Shrimp and Grits and must-have desserts such as her Grandma's Bourbon Sticky Bread Pudding. Fatbird is located in the Meatpacking District at at 44 9th Avenue, New York, NY.
Follow Cat Cora on Instagram
GIVE US SOME LOVE!
Like Rasa Malaysia on Facebook. (Click on the Like button below.)