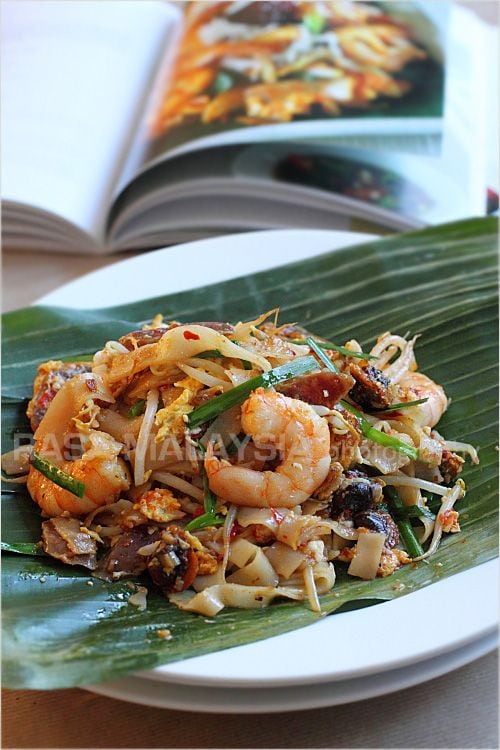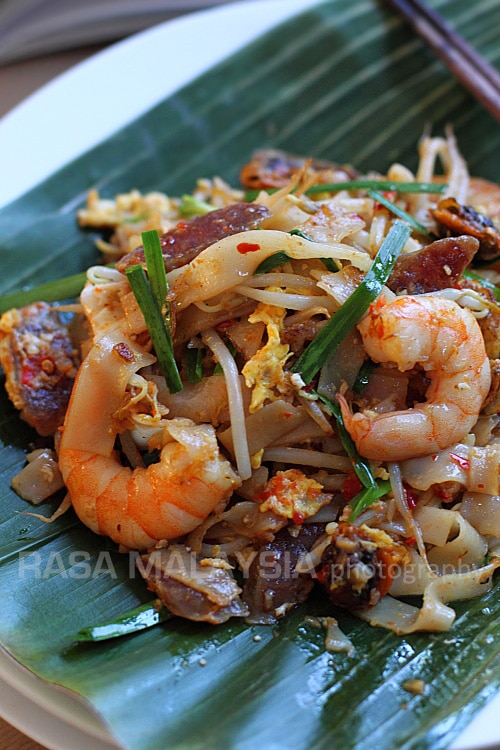 When it comes to Penang hawker food/street food, there are a few dishes that are chart-toppers: Penang Assam Laksa, Hokkien Prawn Noodles, and Char Kuey Teow.
It's hard to decide which one is the most popular, but if you go to Penang, you won't—and don't want to—miss these three stellar hawker food.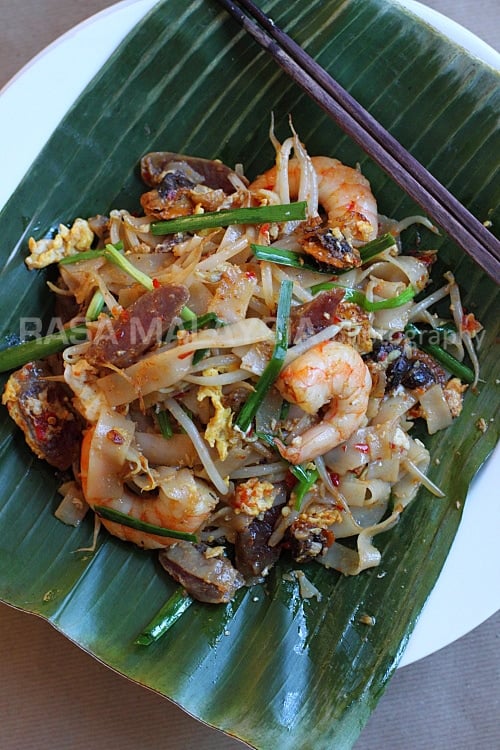 Char Kuey Teow is basically flat rice noodles stir-fried with shrimp, bloody cockles, Chinese lap cheong (sausage), eggs, bean sprouts, and chives in a mix of soy sauce.
A great serving of Char Kuey Teow is flavored not only with the freshest ingredients, but equally important is the elusive charred aroma from stir-frying the noodles over very high heat in a well-seasoned Chinese wok.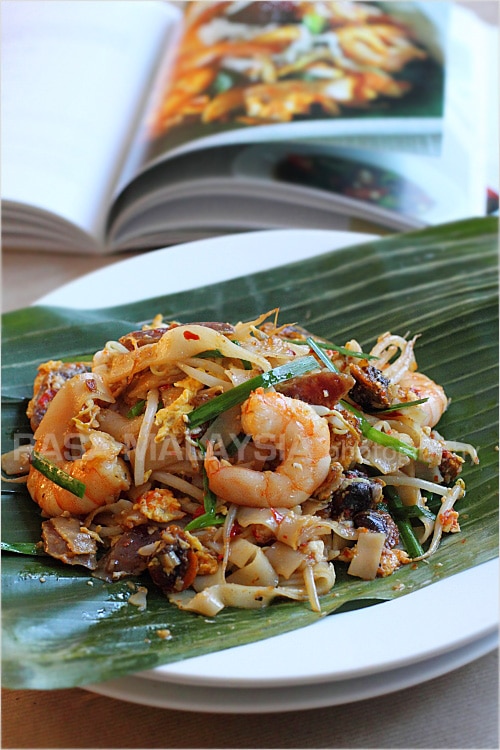 The mouthwatering aroma is the "wok hei" or breath of wok. If you've been to Penang and walk on streets where there are Char Kuey Teow hawkers, you'll know what I mean.
A great Char Kuey Teow beckons you from blocks away; the tempting aroma fills the air and lure diners in from afar. The very thought of that smell is enough to set my stomach rumbling.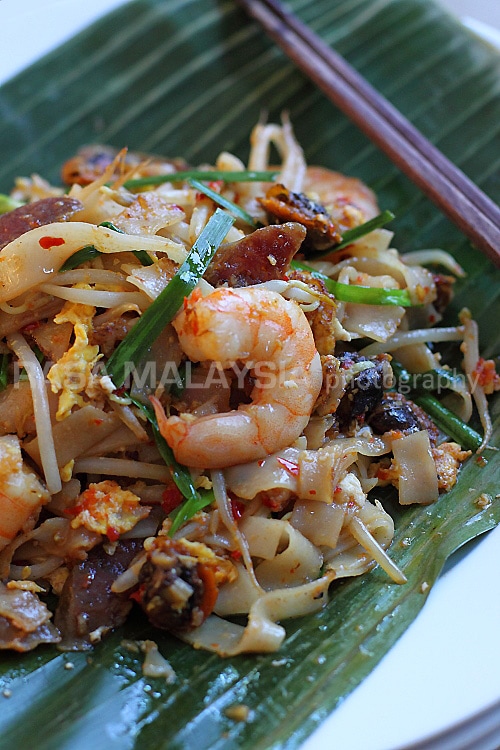 While Char Kuey Teow can be found throughout Malaysia, the Penang version reigns supreme. I've heard many stories about tourists from Hong Kong, Taiwan, Singapore, Australia, and beyond who trek religiously to Penang for a satisfying meal of the dish.
Somehow, Char Kuey Teow from outside of Penang is simply an inferior shadow of the real stuff—lack of wok hei, too dark in color, and/or wrong taste and texture. And that's the very reason why Malaysians from out-of-state would go to Penang—just to have a plate of Char Kuey Teow.
Char Kuey Teow is one the most requested recipes on Rasa Malaysia. I have readers who've been begging me to post my Char Kuey Teow recipe since three years ago.
Great things, especially a perfect recipe, is worth waiting for. Of course I've made Char Kuey Teow many times, but I wanted to share the ultimate Char Kuey Teow recipe, and this is it.
So, what are my secrets?
Get the freshest ingredients—fresh and crunchy bean sprouts, freshly-made noodles, big, fat, succulent shrimp/prawn, bloody cockles (I love my Char Kuey Teow with them, without them, it's not quite the same!), etc.
Wonder why the prawn in Penang Char Kuey Teow are always so succulent, juicy, and sweet? I believe some of the most famous stalls treat their prawn with sugar and ice water, or perhaps they are just very fresh.
Use lard if you can. That's the secret for the rich silky taste.
Very hot wok.
Control your timing of cooking and hence control your "wok hei."
Without further ado, here is my secret Char Kuey Teow recipe and a detailed step-by-step picture guide that everyone is waiting for.
Char Kuey Teow is seriously scrumptious and I don't see why it can't be as popular and well-known as Pad Thai and the likes on the global stage. I strongly believe that one day, the world will discover the delicacy that is Penang's Char Kuey Teow.
Click Here to Pin This Recipe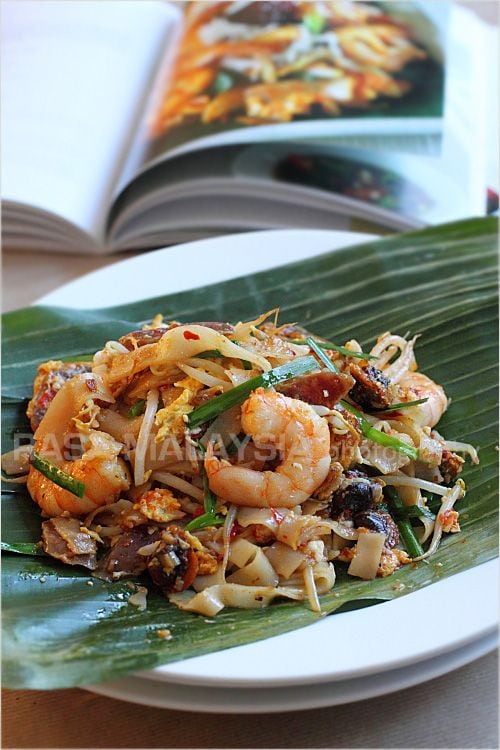 SUBSCRIBE AND NEVER MISS A RECIPE
SUBSCRIBE TO RASA MALAYSIA NEWSLETTER AND GET EASY AND DELICIOUS RECIPES DELIVERED TO YOUR INBOX. If you try my recipe, please use hashtag #rasamalaysia on social media so I can see your creations! Follow me on Facebook | Instagram | Pinterest | Twitter for new recipes, giveaways and more.