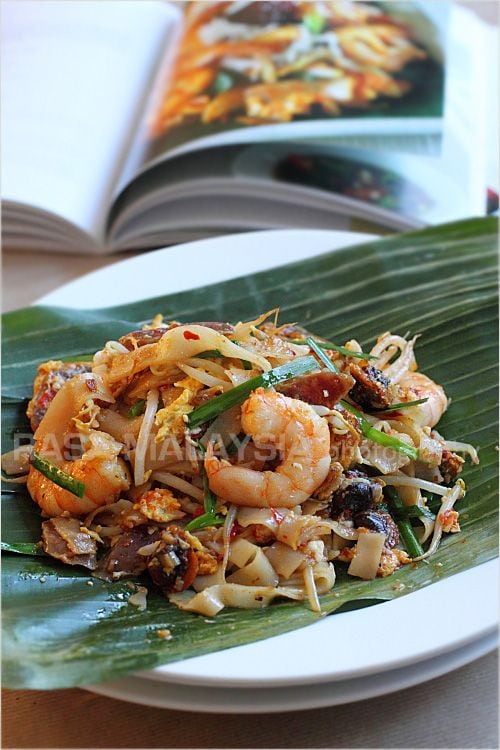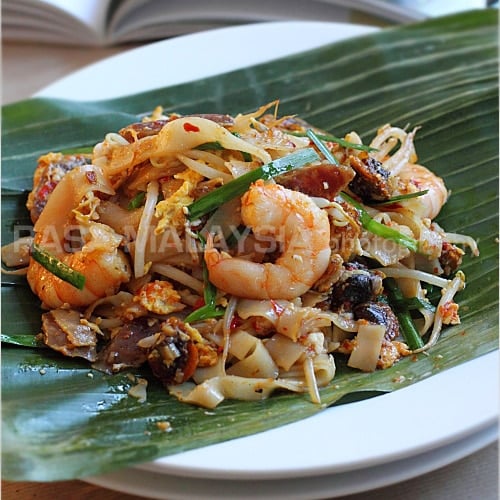 Char Kuey Teow (炒粿條/Penang Fried Flat Noodles)
Authentic Penang Char Kuey Teow with step-by-step recipe guide. Char Kuey Teow is a famous Penang hawker food. The best Char Kuey Teow recipe on the web.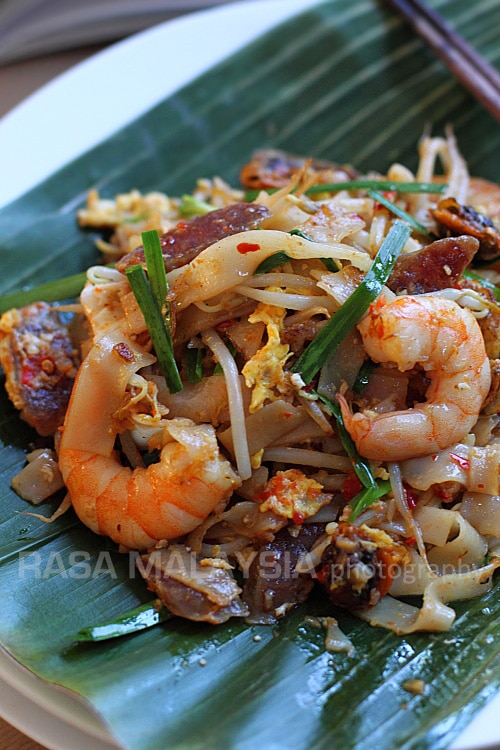 When it comes to Penang hawker food/street food, there are a few dishes that are chart-toppers: Penang Assam Laksa, Hokkien Prawn Noodles, and Char Kuey Teow. It's hard to decide which one is the most popular, but if you go to Penang, you won't—and don't want to—miss these three stellar hawker food.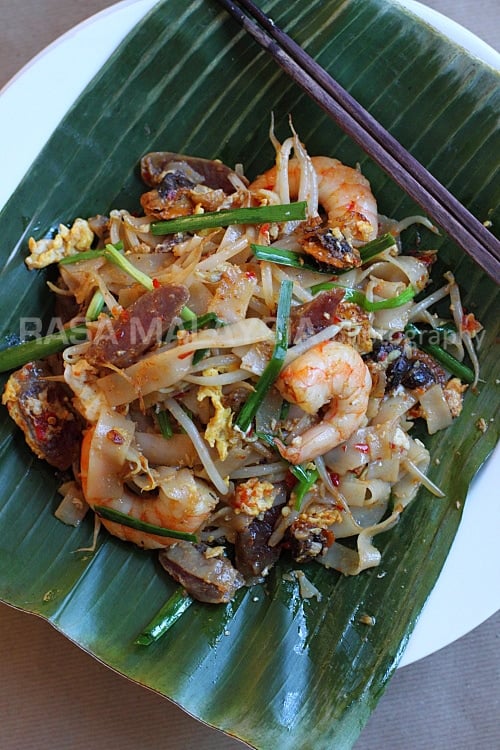 Char Kuey Teow Recipe (炒粿條/Penang Fried Flat Noodles)
Ingredients:
Chili Paste:
1 oz. seeded dried red chiles (soak in water)
2 fresh red chilies (seeded)
3 small shallots (peeled and sliced)
1 teaspoon oil
A pinch of salt
Sauce (mix and blend well):
5 tablespoons soy sauce
1 1/2 tablespoons dark soy sauce
1 tablespoon sugar
1/2 teaspoon fish sauce
Scant 1/2 teaspoon salt
2 dashes white pepper powder
Other Ingredients: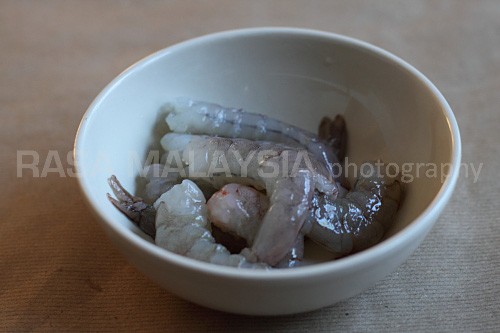 12 shelled prawn (submerge in ice cold water plus 2 tablespoons sugar for 30 minutes)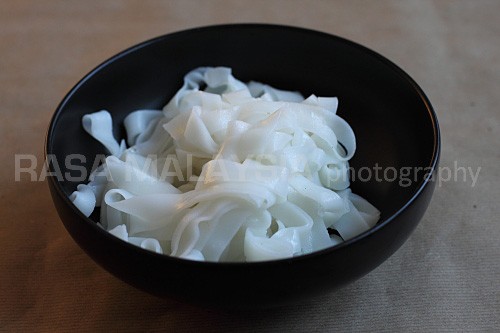 1 lb. fresh flat rice noodles (completely loosened and no clumps)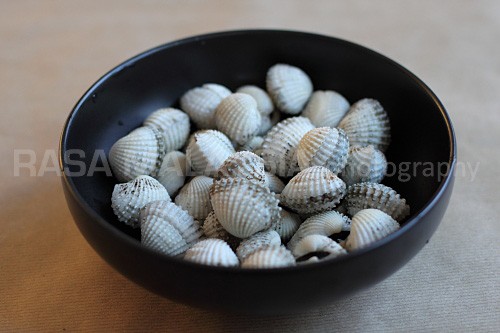 1 lb. bloody cockles (extract the cockles by opening its shell)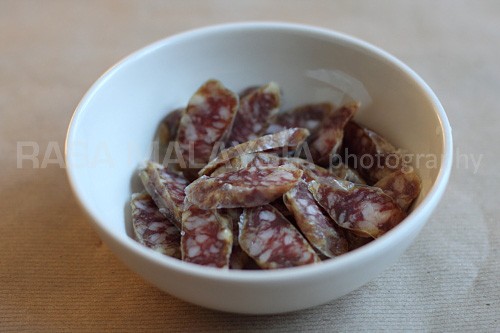 2 Chinese sausages (sliced diagonally)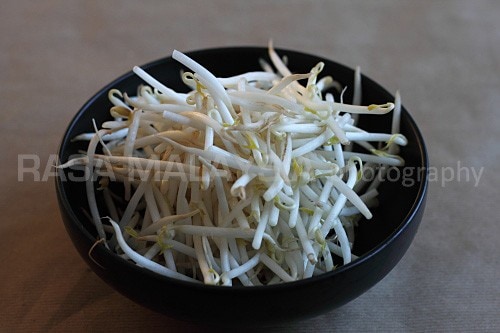 A bunch of fresh bean sprouts (rinsed with cold water and drained)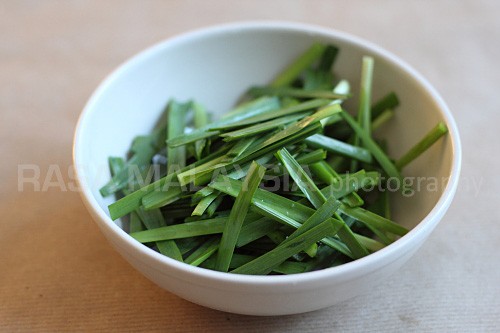 A bunch of Chinese chives (removed about 1-inch of the bottom section and cut into 2-inch lengths)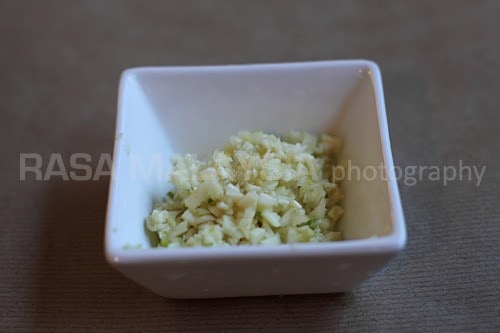 3 cloves garlic (chopped finely)
Step-by-Step Picture Guide of Making Char Kuey Teow  (炒粿條/Penang Fried Flat Noodles):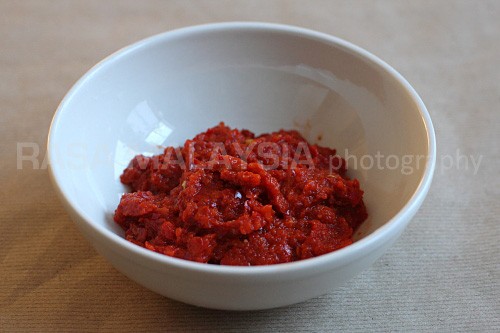 Grind all the ingredients of the chili paste using a mini food processor until fine. Heat up a wok with 1 teaspoon oil and stir-fry the chili paste until aromatic. Dish out and set aside.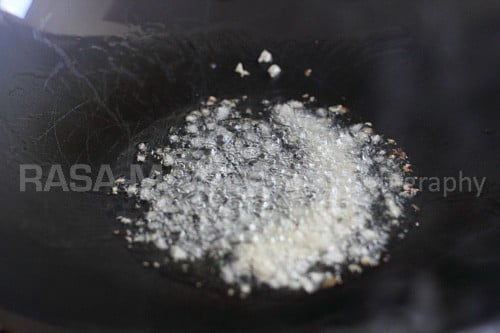 Clean the wok thoroughly and heat it over high flame until it starts to smoke. Add 2 tablespoons oil/lard into the wok and add half the portion of chopped garlic into the wok and do a quick stir.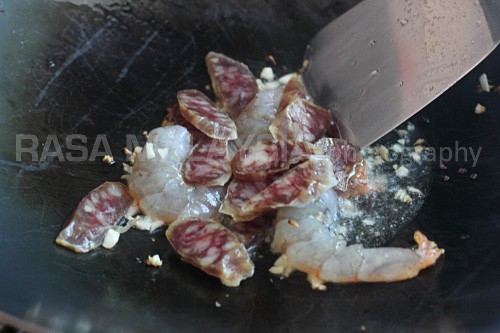 Transfer six (6) prawn out of water and half the sausage slices into the wok. Make a few quick stirs with the spatula until the prawn starts to change color and you smell the aroma of the Chinese sausage.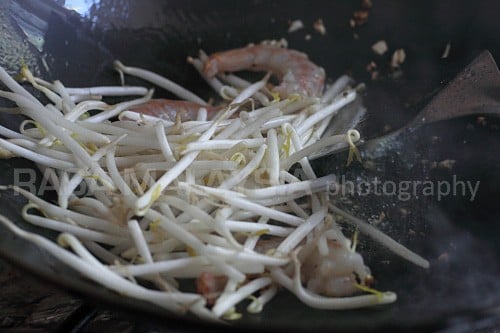 Add half the bean sprouts into the wok.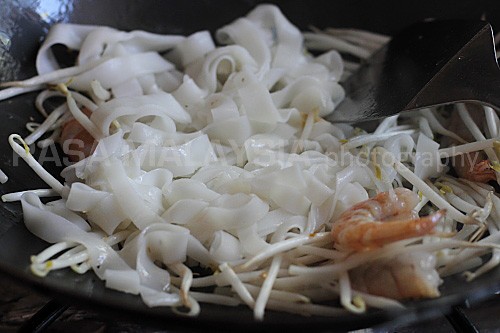 Immediately follow by 8 oz. or half portion of the flat noodles.
Add 2 1/2 tablespoons of the sauce into the wok and stir vigorously to blend well. Using the spatula, push the noodles to one side, and add a little oil on the empty area and crack an egg on it. Use the spatula to break the egg yolk and stir to blend with the egg white. Flip the noodles and cover the egg, and wait for about 15 seconds.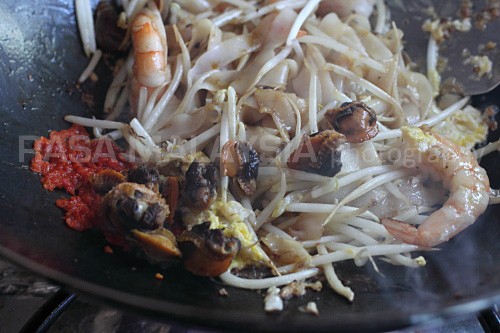 Add about 1/2 tablespoon of chili paste (if you like it spicy, add more) and some cockle clams into the wok.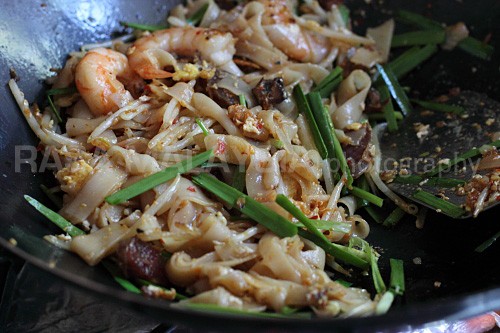 Continue to stir-fry and make sure the egg is cooked through. Add chives, do a couple of quick stirs, dish out and serve immediately.
Cook's Note:
Repeat the same and make another serving of Char Kuey Teow using the remaining ingredients. Please take note of the proper sequence of the cooking process. This is how it's done by Char Kuey Teow hawkers in Penang, an art that I love watching since I was a child. Also, a great plate of authentic Penang Char Kuey Teow should be medium brown in color. It shouldn't be too dark with too much dark soy sauce.
Most-Pinned Recipes
Ginger Garlic Baked Chicken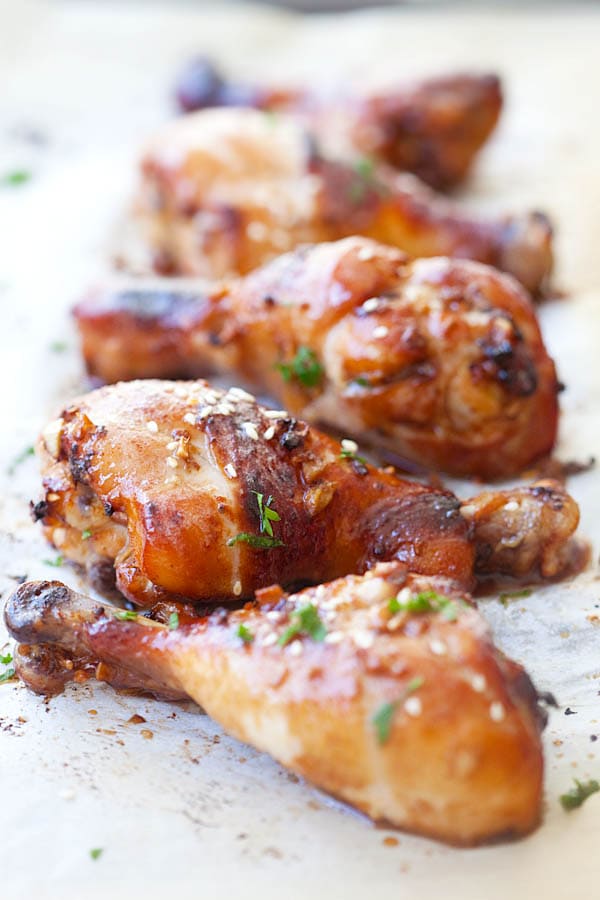 Crab Rangoon (Cream Cheese Wontons)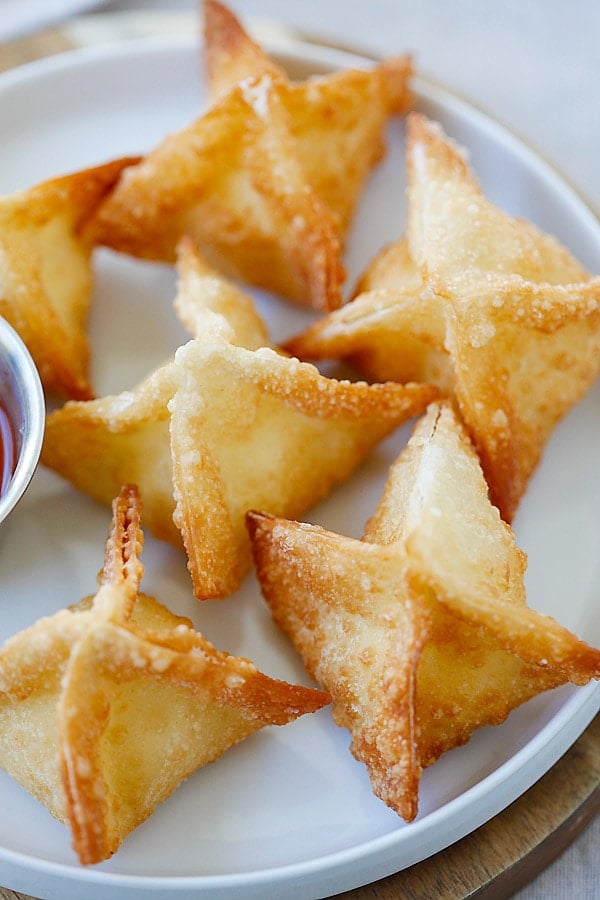 Chicken Wontons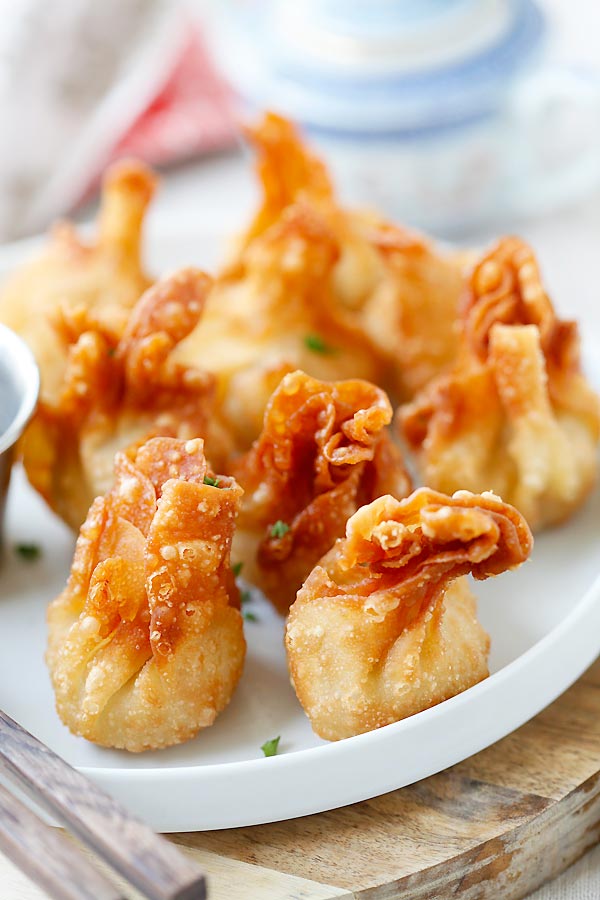 Onion Scallion Beef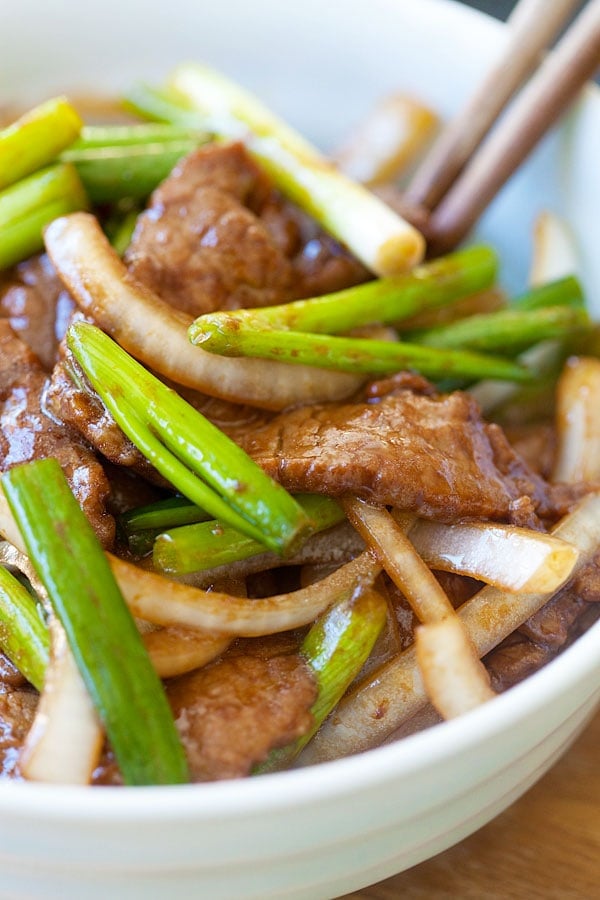 Thai Chicken Sate with Peanut Sauce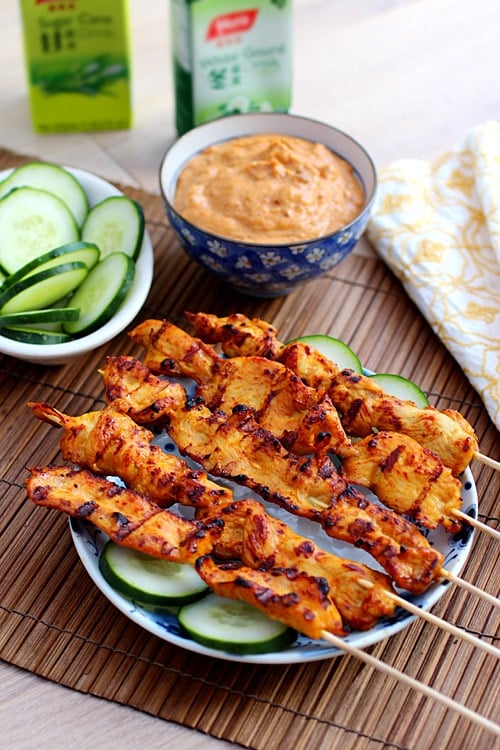 Thai Peanut Sauce