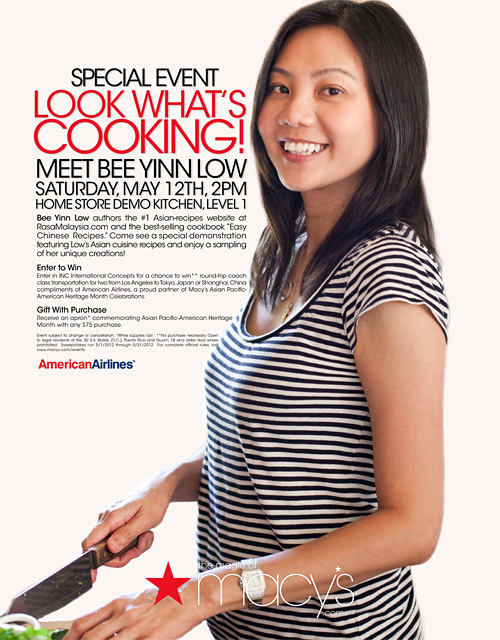 I am so thrilled to be sharing this news and event with you. I am working with Macy's and will be hosting a cooking demo at Macy's Home Store, South Coast Plaza on May 12, at 2 pm, to celebrate Asian-Pacific American Heritage Month, in the kitchen that Martha Stewart recently cooked in (gasp!).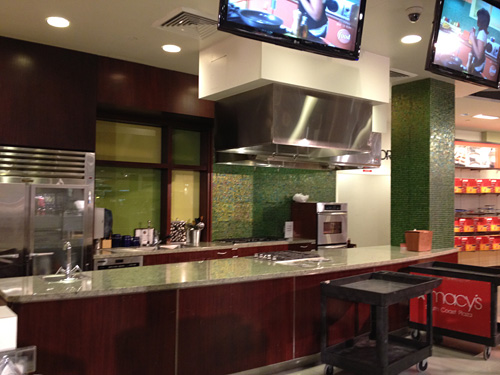 I will be making two dishes—an appetizer and a main dish, both Asian food—and you will get to taste the goods. They are dainty, delicious and absolutely easy to make. So, if you are in the Los Angeles and Orange County area, please come to see me. If you have a copy of my cookbook, I will be doing book signing at the end of the cooking demo.What's more, you can shop till you drop after the event because it's a special one-day sale at Macy's.
Here is the program details at Macy's. Check it out. It's going to be so much fun!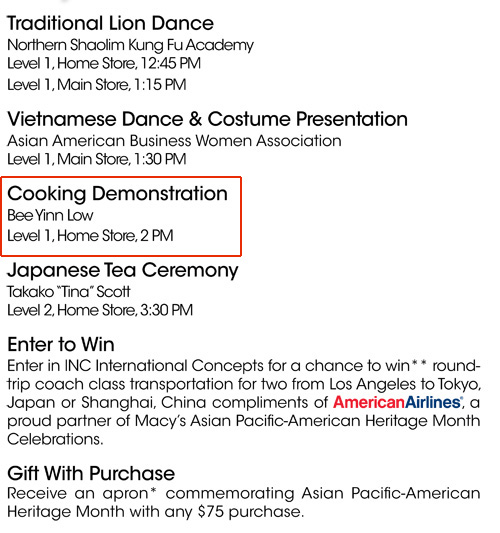 .
It's a date, see you next Saturday!
Macy's Home Store, Level 1
South Coast Plaza
3333 S. Bristol Street
Costa Mesa, CA 92626
Time: 2 pm to 3 pm
Note: Macy's Home Store is located across the bridge at South Coast Plaza. It's in the same building as the Apple store.