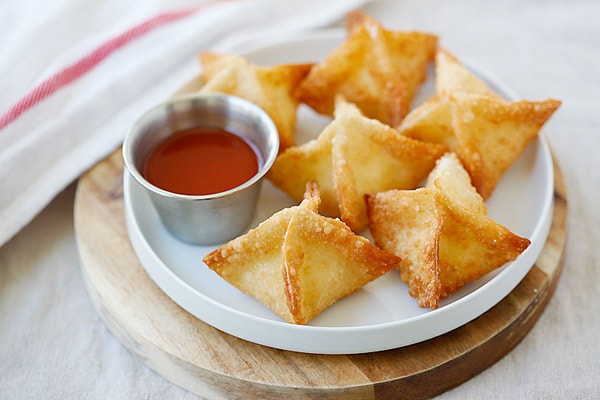 Crab Rangoon Recipe
The best, easiest & super crispy crab rangoon or cream cheese wonton recipe EVER. Quick, fool-proof, a zillion times better than Chinese takeout | rasamalaysia.com
Prep Time: |
Cook Time: |
Total Time: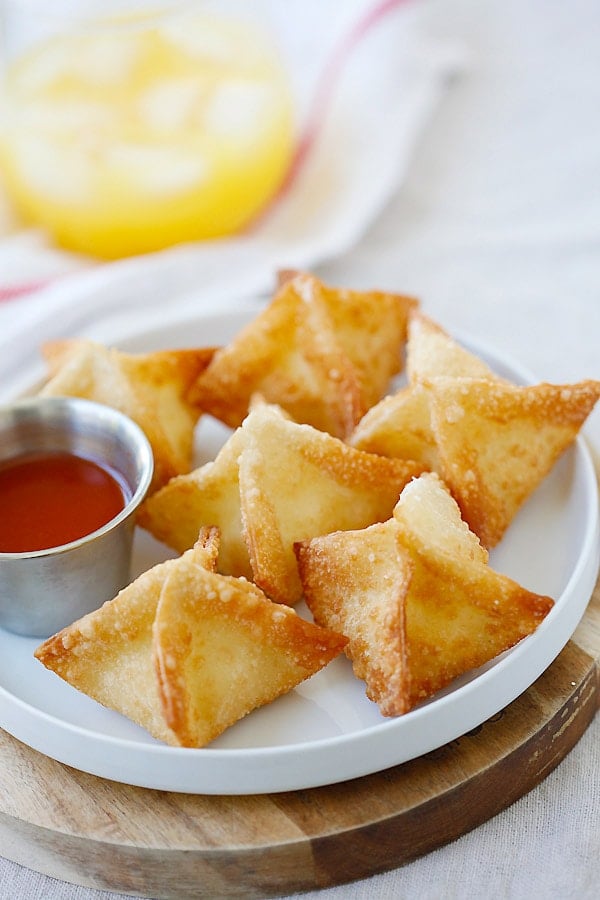 Crab Rangoon
Crab Rangoon – BEST and EASIEST crab rangoon recipe with cream cheese and wonton wrapper. Quick, fool-proof and MUCH better than Chinese takeout!!
Crab Rangoon is an appetizer found in many Chinese restaurants in the United States. A classic American creation, crab rangoon is basically cream cheese wontons with tiny bits of crab meat, deep-fried to golden perfection.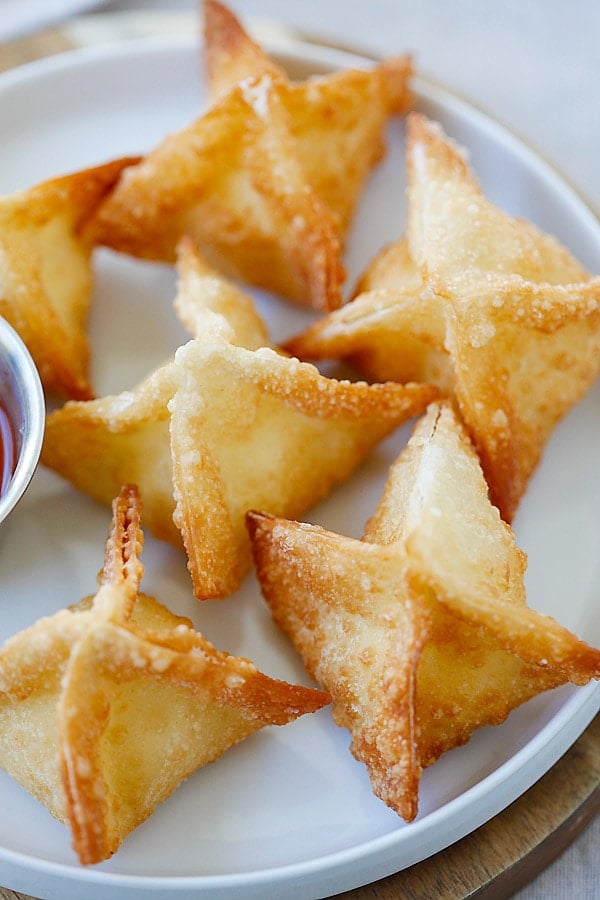 Crab Rangoon Recipe
Makes 20 | Prep Time: 15 Minutes | Cook Time: 5 Minutes
Ingredients:
1 brick (8 oz) Kraft Philadelphia Regular Cream Cheese, at room temperature
2 oz crab meat or 2 sticks imitation crab meat (finely diced)
1 tablespoon powdered sugar
Pinch of salt
20 wonton wrappers, for deep frying
Method:
Mix all the cream cheese, crab meat, sugar, and salt in a bowl. Stir to blend well. Place about 1 tablespoon of the cream cheese filling in the middle of a wonton wrapper. Dab some water on the outer edges of the wonton wrapper and fold the two ends of the wrapper together. Fold the other two ends to make a tiny parcel pictured below.  Pinch to seal tight and make sure that there is no leakage.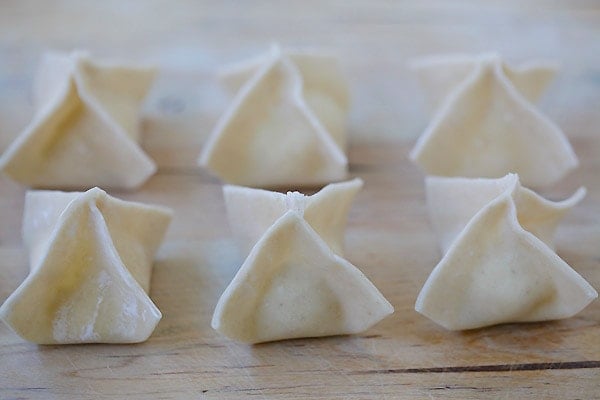 Heat up a pot of oil for deep-frying and fry the crab rangoon until golden brown. Dish out with a strainer or slotted spoon, draining the excess oil by laying the crab rangoon on a dish lined with paper towels. Let the crab rangoon cools down a bit before serving them with sweet and sour sauce.
Cook's Notes:
Use real crab meat if possible. My crab rangoon is based on the version I had in Chinese buffet restaurants, with imitation crab meat.
Don't serve the crab rangoon immediately after deep-frying as the filling will be too hot!
To make the sweet and sour sauce, please refer to my sweet and sour pork recipe.
Most-Pinned Recipes
Ginger Garlic Baked Chicken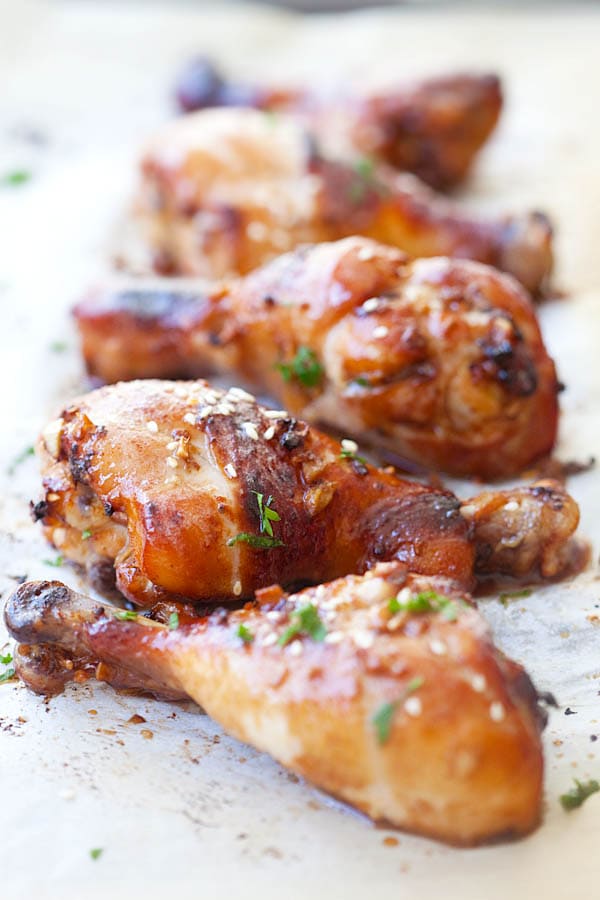 Crab Rangoon (Cream Cheese Wontons)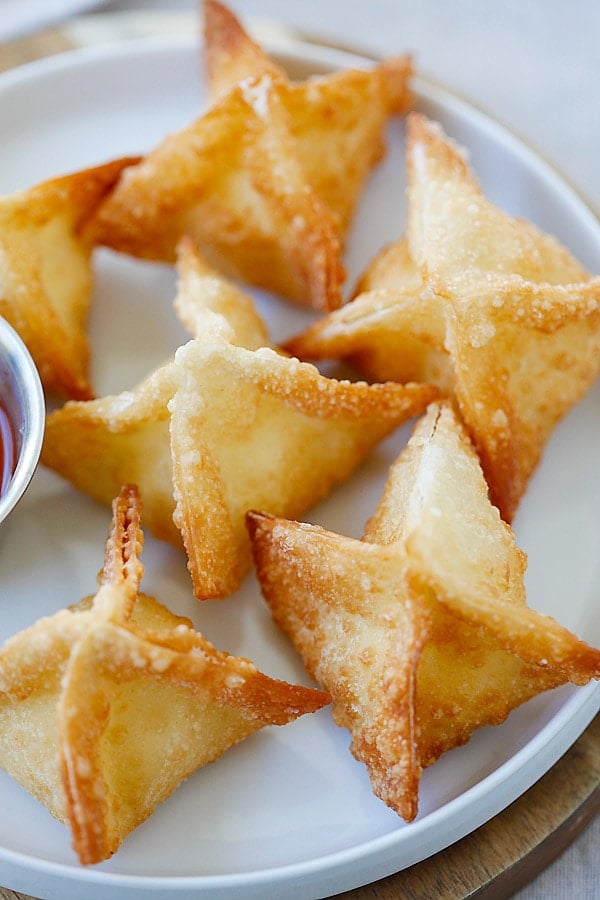 Chicken Wontons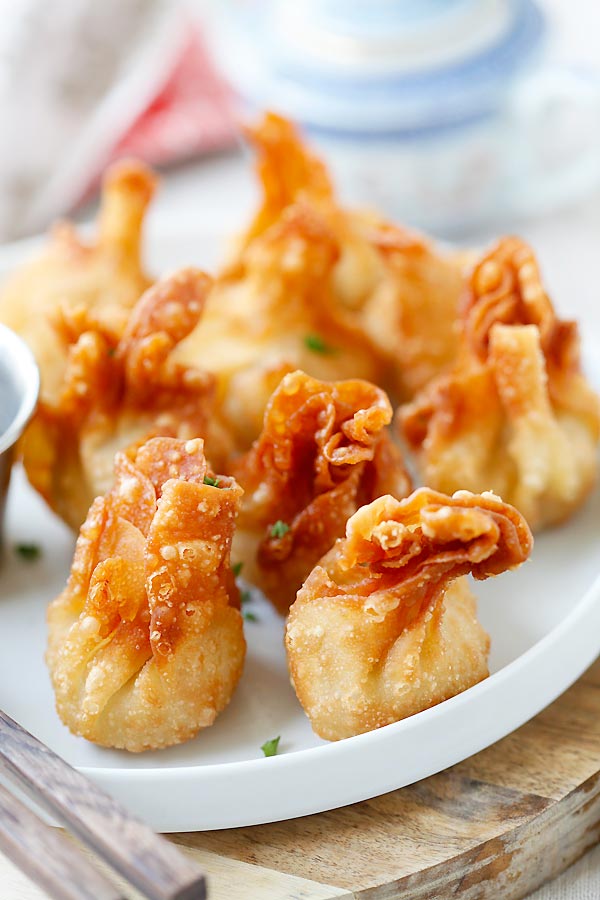 Onion Scallion Beef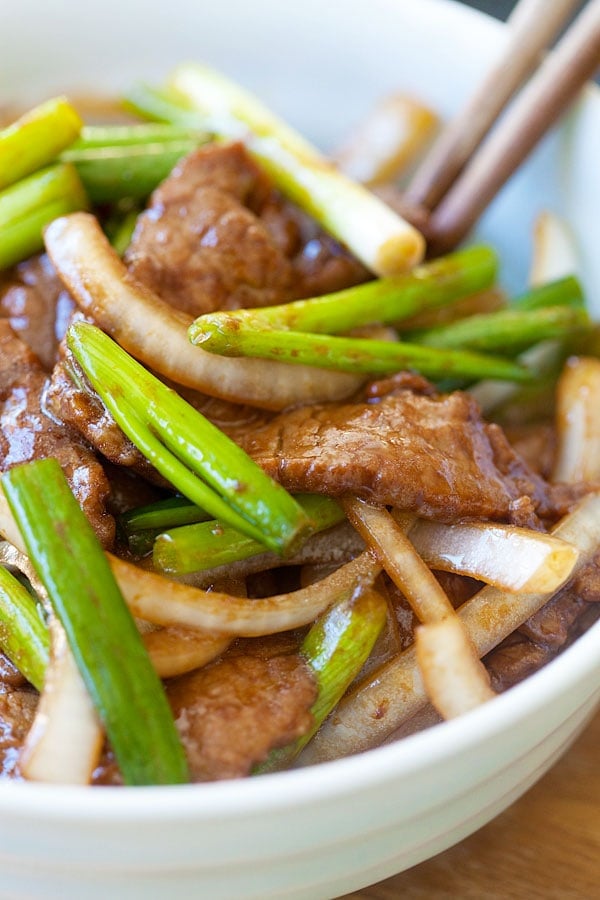 Thai Chicken Sate with Peanut Sauce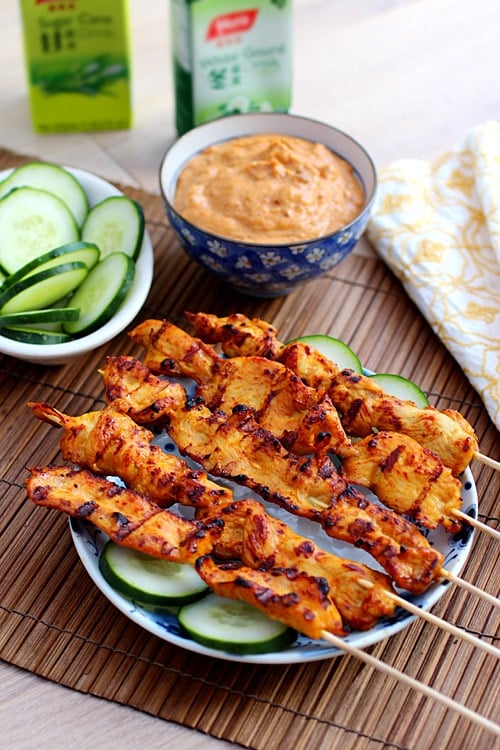 Thai Peanut Sauce