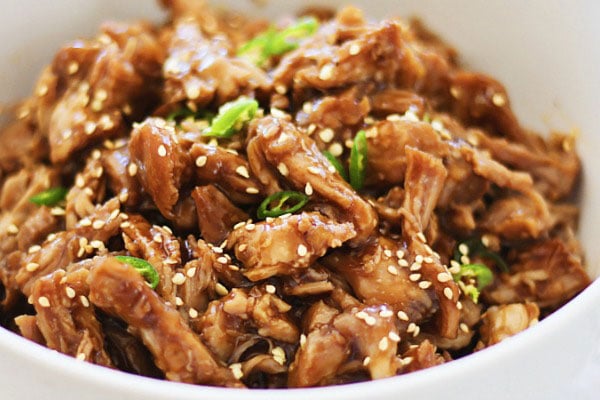 Crock Pot Honey Sesame Pulled Pork
Crock Pot Honey Sesame Pulled Pork – the easiest and best pulled pork recipe made with a crock pot or slow cooker, in an amazing honey sesame sauce | rasamalaysia.com
Prep Time: |
Cook Time: |
Total Time: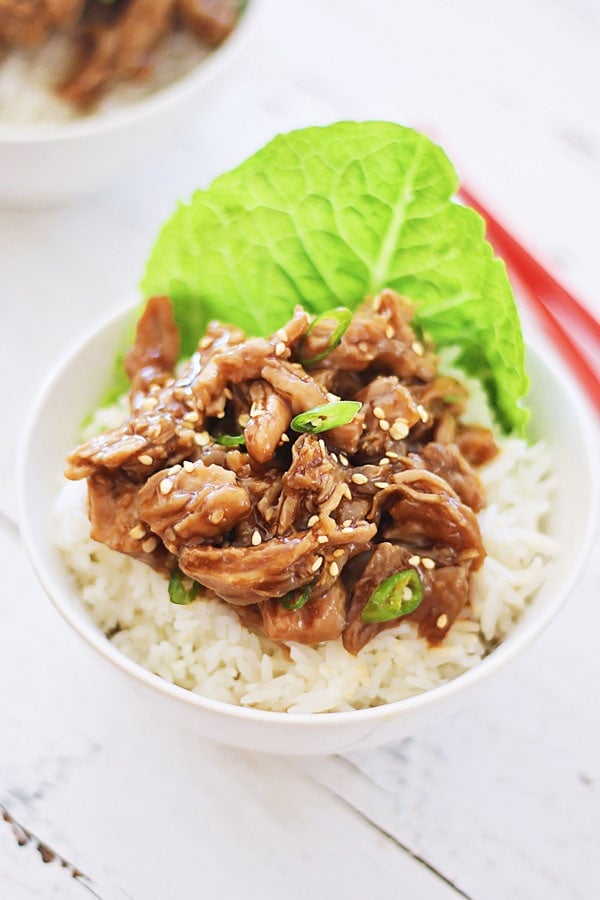 Crock Pot Honey Sesame Pulled Pork
Crock Pot Honey Sesame Pulled Pork – the easiest and best pulled pork recipe made with a crock pot or slow cooker, in an amazing honey sesame sauce.
Honey Sesame Pulled Pork is sweet and savory. The brown sugar and honey is perfectly offset by the addition of delicious salty soy sauce. I use Maggi soy sauce because it is a bit more concentrated, which means I need to use less to achieve a deep soy sauce flavor. You can find a bottle of this sauce in the international food aisle and it will be labeled as Maggi Seasoning. I highly recommend it and admit it's a staple in my kitchen.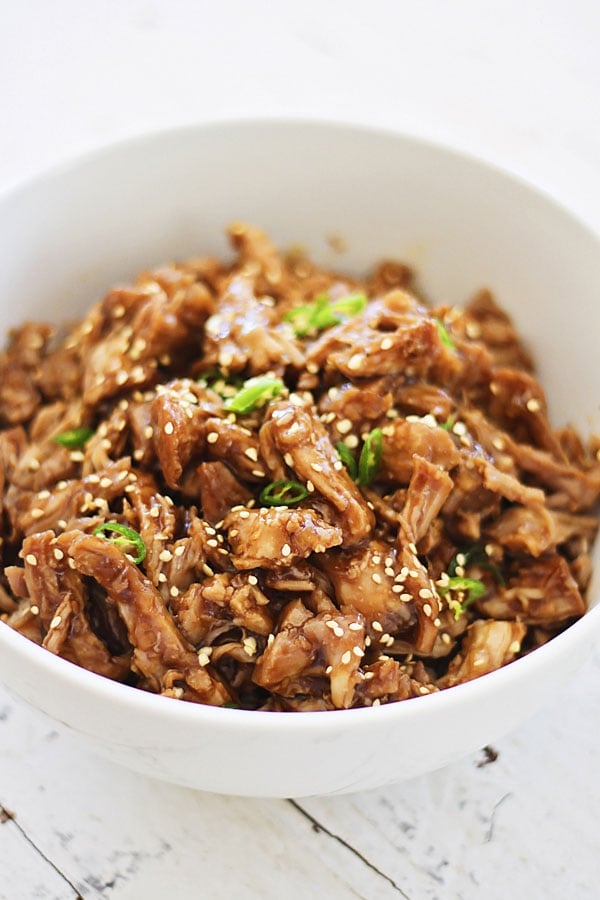 Crock Pot Honey Sesame Pulled Pork Recipe
Serves 6 | Prep Time: 15 Minutes | Cook Time: 4 Hours 5 Minutes
Contributor: Joanna Meyer
Ingredients:
2 1/2 pounds (1,125 g) pork roast, diced into 6 pieces
1/2 white onion, diced
4 cloves garlic, smashed with the side of a knife and peeled
1/4 cup (60 mL) soy sauce
1/4 cup (45 g) dark brown sugar
2 tablespoons (30 mL) honey
1 tablespoon (11 g) sesame seeds
1 tablespoon (15 g) cornstarch
3 Thai chili peppers, sliced
Method:
In a crock pot, add the pork roast, onion, garlic, soy sauce, brown sugar, honey and sesame seeds; stir until the pork is coated with the other ingredients. Cook on high for 4 hours.
Transfer the pork to a cutting board and shred using two forks.
In a pot, add the reserved juices from the crock pot and whisk in the corn starch. Cook on medium-high heat until the sauce thickens. Stir in the chili peppers and shredded pork.
Serve the pork over steamed white rice.
Cook's Note:
Crush red pepper is a good substitute for Thai chili peppers. You can also cook this recipe on low heat for 8 hours.