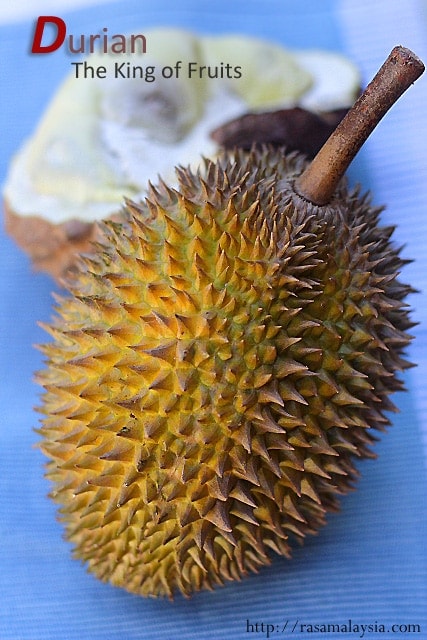 It's durian season here in Penang, Malaysia and there are durian stalls selling this thorny fruit every corner you turn.
While a lot of people consider the smell of durian as "stinky" and "repulsive"–so much so that they are banned in hotel rooms in Malaysia!–I love this king of fruits. (For those who enjoy durian, we think of the smell as "aromatic.") Some of the best durians in Malaysia come from the durian orchards in Balik Pulau, Penang, which is on the less-developed side of the island of Penang.
Growing up, my family–especially when my uncle and his family come to visit us in Penang–would drive all the way up to Balik Pulau, into the durian orchards in search of the freshest and just-drop-off-the-tree durians. At the durian orchards, we would sample various kinds of durian and pick the ones we loved the most to take back with us…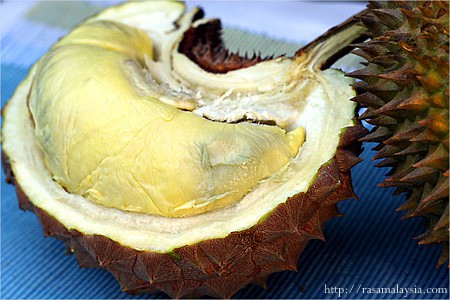 Once we get home, all my family would gather around savoring the durians, and the leftover will then be refrigerated for a "durian rice" dish (durian with steamed glutinous rice drenched in sweetened coconut milk). Eating durian is a family tradition, ones that I often reminisce.
I remember watching "Bizarre Foods with Andrew Zimmern" (an American travel and food program) where Andrew Zimmern came to a durian orchard in Penang and described the taste of durian as "a rotten onion." If you have tried them out, do let me know your durian eating experiences. I am very curious to find out what you think!
To learn more about the tropical fruits of Malaysia, please click here.