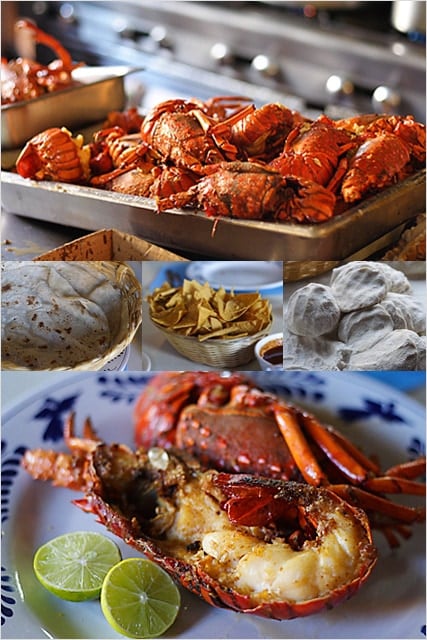 TRAVEL ALERT: Updated Jan 8, 2008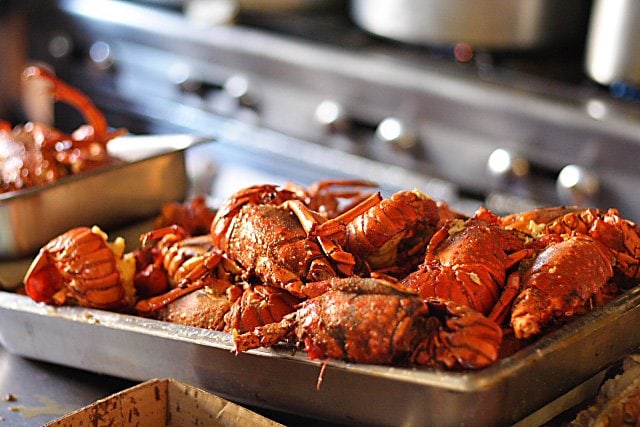 I was informed by a reader that there have been recent attacks by masked, armed bandits in Rosarito and Puerto Nueve. Kindly read this article on MSNBC and US Department of State Travel Warnings site before going.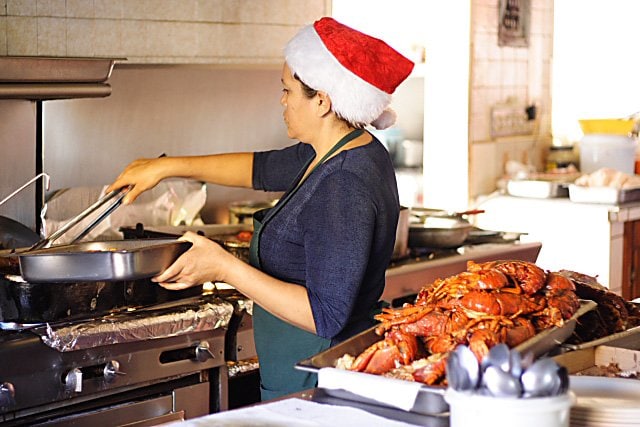 Where can you get some of the best–and affordable lobsters–in the world? The answer lies in a small coastal town named Puerto Nuevo, or self-described as "Lobster Capital of Baja California" in Mexico; a convenient 30 to 40 minutes drive south of the San Diego-Mexico border.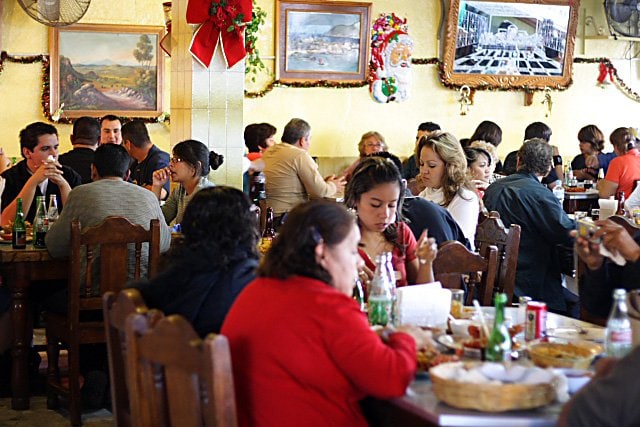 Other than the milder weather, nice environs and good food, one great perk of living in Southern California is the fact that I can practically go abroad in 2 hours, driving. I have been to Puerto Nuevo many times to savor the scrumptious lobsters, but this post marks the first entry in Rasa Malaysia and serves as an ultimate guide to eating the best lobsters in the world. Click the image aboveto view all pictures and read the following guide to eating the best lobsters in Baja California, Mexico…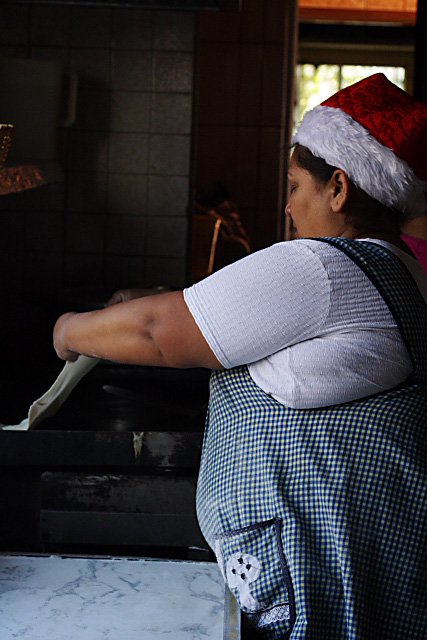 Dining Guide: Lobsters in Puerto Nuevo, Baja California, Mexico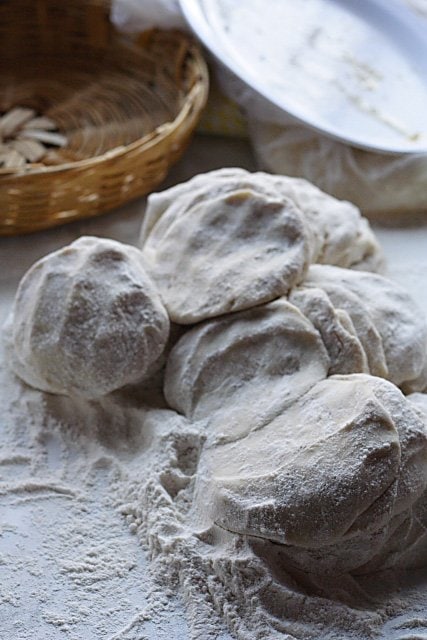 How do I get to Puerto Nuevo?
Take 1-5 South all the way to the US-Mexico border. As soon as you cross the border, stay in the right lane and you will see a signboard that reads "Rosarito-Ensenada." Turn right and just follow the signboard. As you come to the top of the hill, follow the signboard that says "Rosarito/Puerto Nuevo/Ensenada Cuota." (Cuota stands for the Toll Road). Pass through two toll gates (each for US$2.40), then exit when you see the "Puerto Nuevo" sign. Turn left and head south on the old highway. Puerto Nuevo is located on your right about 2 miles south of the "Puerto Nuevo" exit.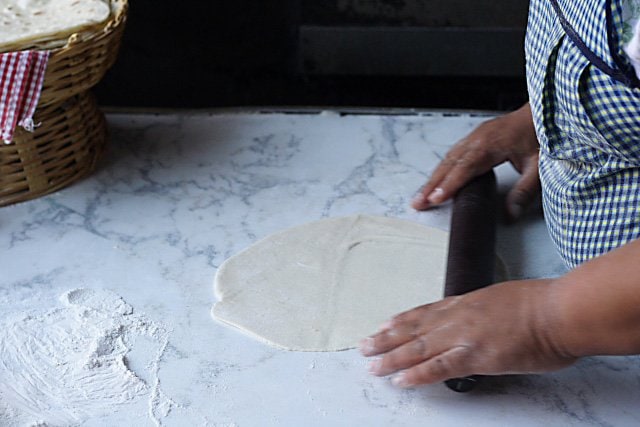 Which restaurant should I go to?
There are over 30 restaurants in Puerto Nuevo but I always go to Puerto Nuevo I or Restaurant Nuevo. This restaurant is hard-to-miss; located on your left hand side with a big "1" sign on its roof as you enter Puerto Nuevo. Puerto Nuevo I is constantly packed with diners, with a beeline of eager (and hungry) patrons lining up outside of the restaurant. There is only one thing served here: lobsters. Choose the size of your lobster–small, medium or large; each order comes with 3 lobster halves. (I strongly recommend medium sized lobsters.) The lobsters are served with sides such as beans, rice, chips, salsa, unlimited supplies of fresh, homemade flour tortillas (which is easily the best ever!).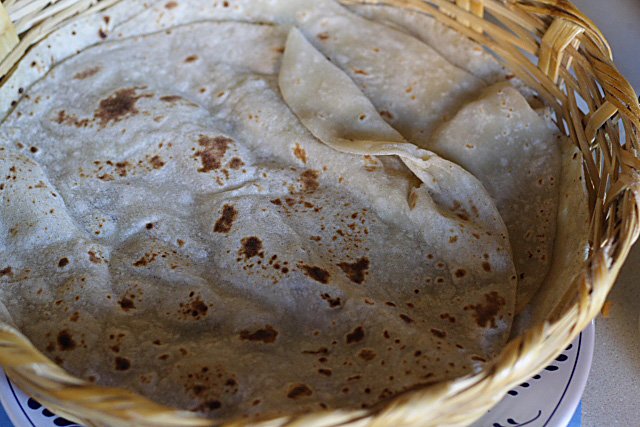 Restaurant Nuevo AKA Puerto Nuevo I
Km. 44 Carr. a Ensenada Puerto Nuevo (Km. 44 Old Highway to Ensenada New Port),
Baja California,
Mexico
Tel: (661) 614-1411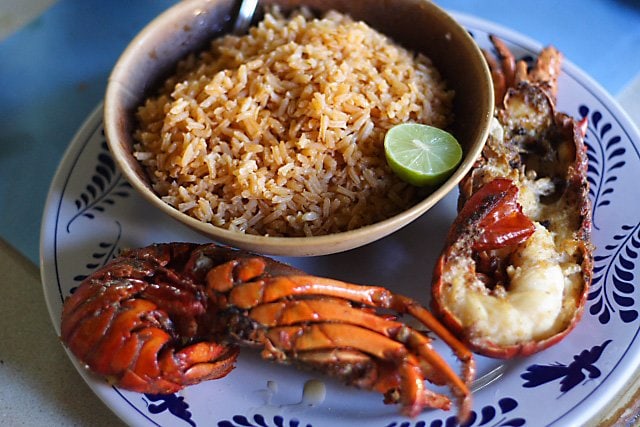 When does lobster season start in Puerto Nuevo?
The lobster season is from October through March each year. Restaurants are open during off-season, but you might get frozen lobsters instead of fresh ones.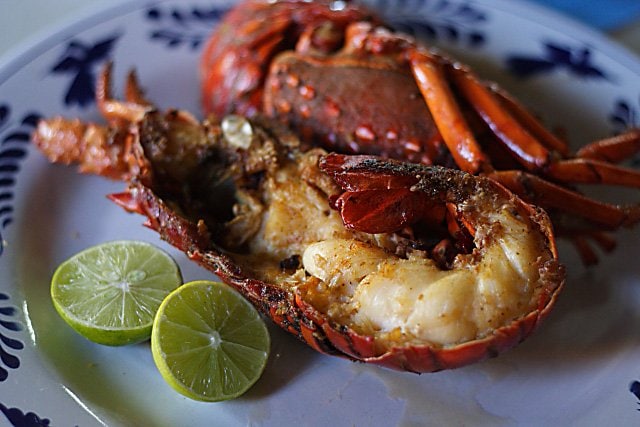 What makes Puerto Nuevo lobsters better than others?
The answer is simple: live local (California coast) spiny lobsters pan-fried with lard so the meat stays tender and succulent, with that unmistakenly lobster aroma. Yum!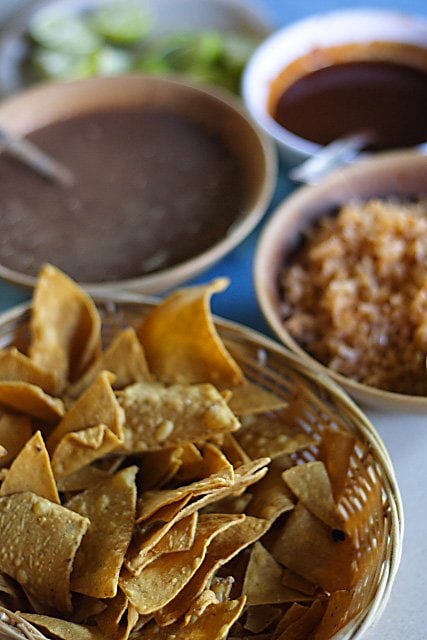 How much are the lobsters?

Price ranges from $15-$30 each (usually 3 lobster halves per person with sides included). At Puerto Nuevo I/Restaurant Nuevo, medium-sized lobsters are priced at $20 each.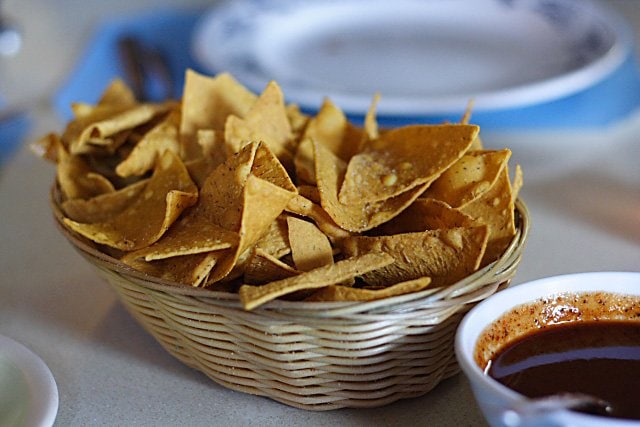 What else should I see or do while in Puerto Nuevo?
Check out the local shops and souvenirs stores.
Sipping Margarita at restaurants/bars along the sea, looking out the beautiful Pacific coastline, preferably open air if weather permits.
Try out the sweet tamale sold by this mobile vendor outside of Puerto Nuevo I restaurant. He is not always there, but if you are lucky, don't miss out his sweet tamale.
Visit the famed Hotel Calafia–a beautiful mission-style hotel where Titanic was filmed. Hotel Calafia is a few kilometers north of Puerto Nuevo, along the old highway.
Stop by Rosarito, the beach town north of Puerto Nuevo. Visit the local market and shops for sourvenirs, Mexican handicrafts, or get cheap beer at the numerous watering holes in town.
There you have it, my guide to eating the best lobsters in Puerto Nuevo, Baja California, Mexico. Try it, you will not regret it, I promise! For in-depth resources about Puerto Nuevo, check out this website and please stay tuned for my pictures of Puerto Nuevo in my next post!
Other lobster posts on Rasa Malaysia: