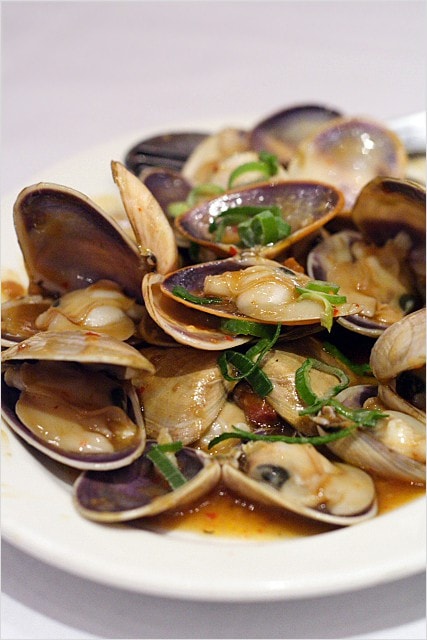 Seafood is exceedingly expensive in Sydney–think $150/kg lobster sashimi (average 5-7 kg per lobster, so do your math), $88/kg mud crab, and $48/kg clams or "pippies."
(Edited: Read the comments area)
OUCH!
I'm not moving to Sydney anytime soon, regardless how nice and how much closer it is to Malaysia.
(Edited: I just came back from the Sydney Fish Market today and have a much better picture about the price of seafood here. They are still more expensive compared to the US, and with the weakening US$ which is almost at par with AU$ now, it doesn't help. But, they are acceptable to me now. So, I might move to Australia sooner than you think. *wink*)
Anyway, these big, fat, and succulent New Zealand oysters are affordable. Priced at $3 per oyster, they were delicious. Steamed oyster with ginger and scallions is something that I miss dearly since moving away from San Francisco; somehow steamed oysters are impossible to find in Chinese restaurants in LA and Orange County. I don't know why?!
Now onto the insanely expensive pippies, but probably the best stir-fried style I've ever tasted, after the jump…
What a great recommendation from Grab Your Fork! Unlike the Manila clams we get in the US (which could get mushy sometimes), or Kepah/Lala in Malaysia, these pippies come in a different shape, the texture is slightly chewy and rubbery, but they taste heavenly stir-fried with the XO Sauce. (XO Sauce is a Cantonese-style sauce made of chilies, onion, garlic, and dried seafoods such as scallops, shrimp, and fish.) I just love them so much!
If you love shellfish like I do, I strongly recommend you to try them out if you are in Sydney.
Golden Century Seafood Restaurant
金唐海鲜酒家
393-399 Sussex Street,
Sydney NSW 2000
Australia
Tel: (61) 2 9212 3902
Note: just some quick comparisons, in the Chinese seafood restaurants in the LA area, you can get live Boston lobsters for $19.95/lb. For king crab, you can get it about $39.95/lb or less, and Dungeness crab for only $9.95/lb. For manila clams, they are sold for $3.95/lb in Asian stores.
1 kg = 2.2 lbs
US$1 = AU$1.10