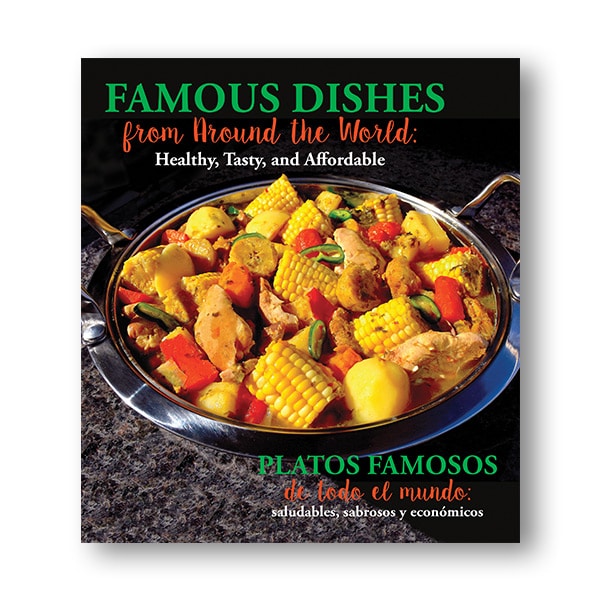 UPDATE: The winner is Carol Hansen.
I am partnering with my friends at Moonstone Press LLC to giveaway a Famous Dishes from Around the World Cookbook, MSRP: $14.99, US only.
Famous Dishes from Around the World Cookbook
Famous Dishes from Around the World / Platos famosos de todo el mundo features 30 well-known dishes from around the world, including French Ratatouille, Mexican Fajitas, Moroccan Tagine, Greek Moussaka, Polish Lentil Stew, Indonesian Satay, and Spanish Paella. With background information on each dish, this bilingual cookbook seeks to honor the vast array of tasty ethinic recipes that have been introduced into our country over time by generations of immigrants, and the cultural values and traditions that are preserved through them.
"Ethnic foods and international cuisine can be found at every street corner of our cities and neighborhoods. Whether in restaurants, diners, food trucks or grocery stores, the varied and flavorful dishes brought to the United States by generations of immigrants stand out among the most important contributions to America's rich multicultural heritage," says Author and Publisher, Stephanize Maze.
Famous Dishes from Around the World / Platos famosos de todo el mundo is a celebration of diversity and honors our nation's rich multicultural heritage through its culinary arts. This book is timely given our country's current political state of affairs, and that it provides an engaging blend of both good food, ethnicity and health. With healthier, environmentally and budget conscious variations of authentic dishes, this book includes calorie and nutrition breakdowns of each recipe and sections called "Cooking Tips and Tricks" and "Healthy Hints for the Home Cook".
About the Author:
Moonstone Press LLC, a small press in Sarasota, Florida, was established in 2001 by international photojournalist and book producer Stephanie Maze to publish high-quality photography-based books in English and Spanish for children and adults.
As a professional photographer for newspapers, magazines, and books worldwide for more than 30 years, Stephanie envisioned her company's titles to be primarily photo-driven. She decided on a bilingual English-Spanish approach for her company's titles because of her love for languages and foreign cultures (Stephanie grew up abroad, holds a degree in languages and linguistics, and speaks five languages), because Spanish remains one of the most popular foreign languages in the American school system, and because of her respect for the value of cultural diversity in the United States.
Set on becoming a teacher and translator, Stephanie's professional path instead led to an award-winning career in photojournalism, first as a staff photographer for the San Francisco Chronicle, then, as a freelance photographer for international publications, including National Geographic Magazine, for which she traveled extensively throughout the United States, Latin-America, and Europe. To learn more, go to moonstonepress.net.
GIVE US SOME LOVE!
Like Rasa Malaysia on Facebook. (Click on the Like button below.)