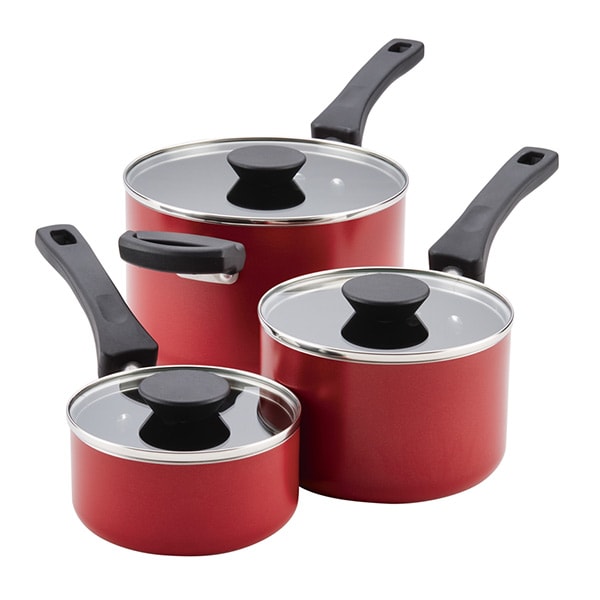 UPDATE: The winner is Ron Badaracco.
I am partnering with my friends at potsandpans.com to giveaway a Farberware® Neat Nest™ 6-Piece Covered Saucepan Set, MSRP: $49.99, US only.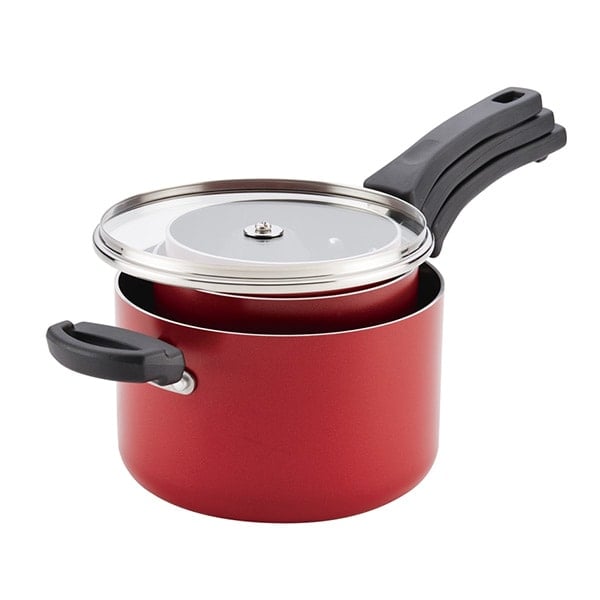 Farberware® Neat Nest™ 6-Piece Covered Saucepan Set
Upgrade your cookware to new levels of Stacked and Intact™ convenience with the Farberware® Neat Nest™ 6-Piece Aluminum Saucepan Set. Part of the Farberware® line of innovative Neat Nest™ cookware, this set of saucepans in three essential sizes is crafted from high-performance, even-heating aluminum. Ingenious and space-saving, Neat Nest™ saucepans nest within each other to maximize storage space while minimizing the dents and dings from stacking unmatched pots and pans together in the kitchen.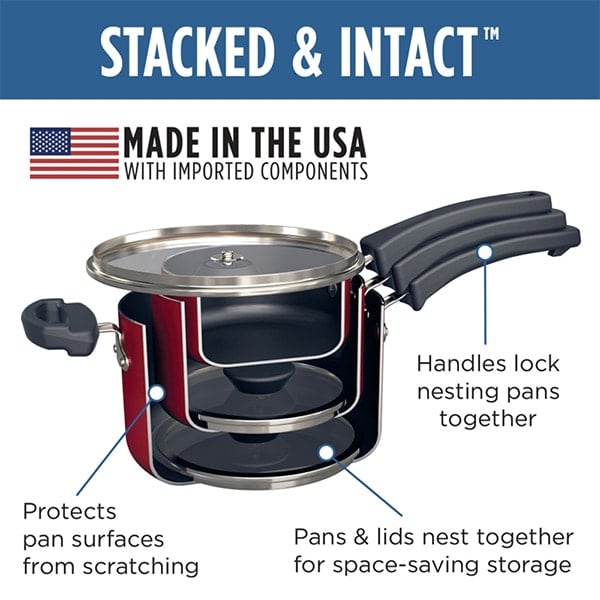 The saucepan handles are double-riveted for strength and interlock with other Neat Nest™ saucepan handles so cookware surfaces "float" rather than scratch against each other when nested, protecting the high quality nonstick surfaces. Shatter resistant glass lids seal in heat and moisture, and also act as a convenient base when saucepans are nested inside each other. Once on the stovetop, the enhanced nonstick interiors provide fantastic food release and easy cleanup of even sticky and gooey recipes like Moroccan chicken tagine with olives or a spicy Kung Pao chicken spaghetti.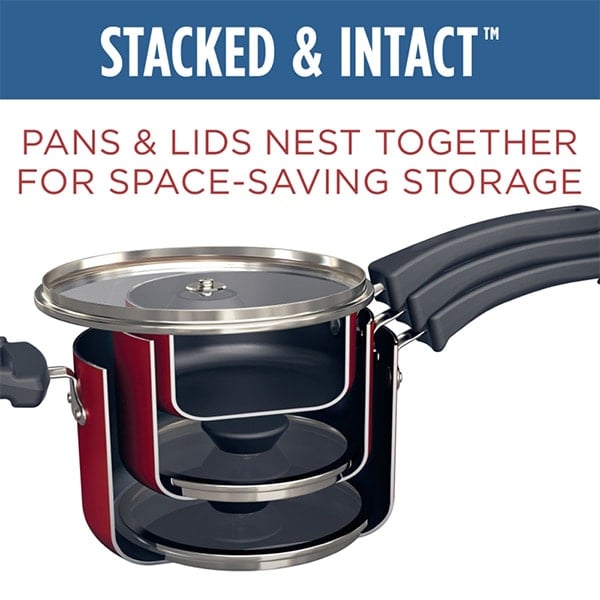 Plus, the saucepans are oven safe to 350° for finishing off soy-glazed pork tenderloin with baby roasted potatoes or pulling off other great stove-to-oven recipes. Neat Nest is made in the USA from imported components. Plus, Neat Nest purchases support Farberware's annual commitment to help the National Park Foundation protect our parks with an annual donation of $100,000, so you'll cook great and feel great, too.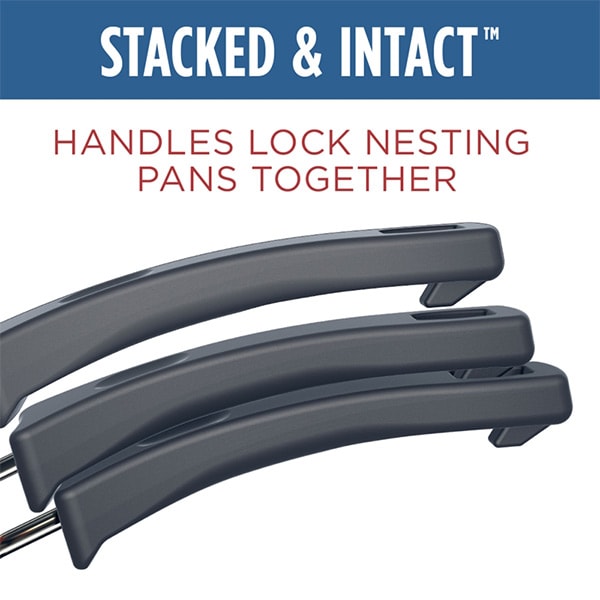 Save some space with innovative Stacked and Intact™ technology, high-performance features and the easy fit of the Farberware® Neat Nest™ Aluminum Nonstick 6-Piece Saucepan Set.
Neat Nest™ technology stacks like items together for maximized storage with minimized scratching and denting for long-lasting, space-saving cookware
High-performance Stacked and Intact™ aluminum construction heats quickly and evenly to eliminate hot spots that can burn foods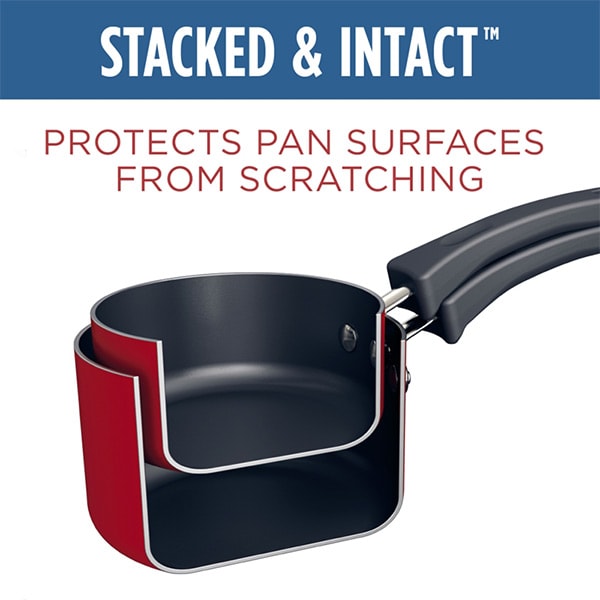 Includes:
1-Quart Covered Saucepan
2-Quart Covered Saucepan
4-Quart Covered Saucepan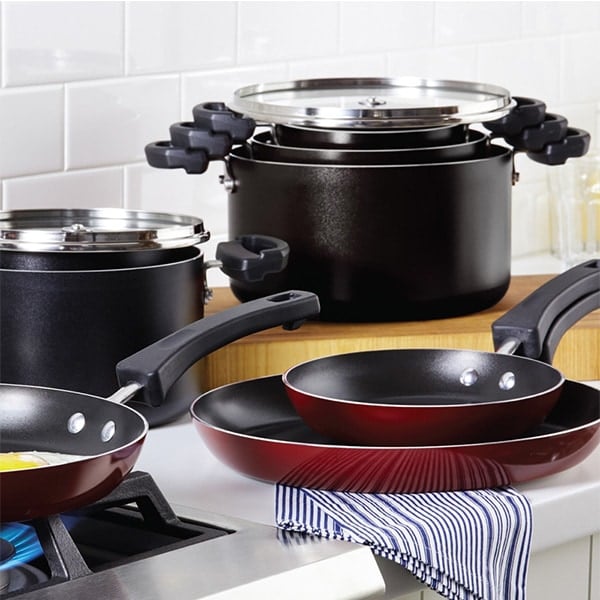 Details:
Dishwasher Safe: Yes
Warranty: Lifetime Warranty
Oven Temperature 350°F
Stovetop Suitable Glass, Ceramic, Gas, Electric
Interior Surface: Nonstick
Lid Type Glass
Handle: Phenolic
Material: Aluminum
Brand Farberware
Collection Farberware Neat Nest
Category Cookware
GIVE US SOME LOVE!
Like Rasa Malaysia on Facebook. (Click on the Like button below.)