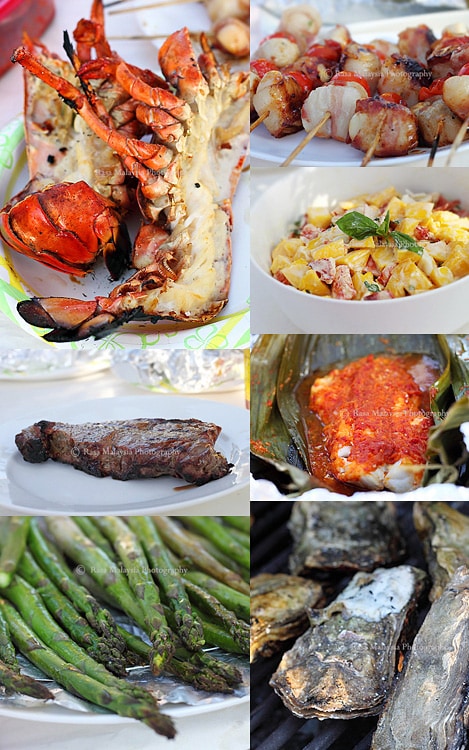 I always fancy the idea of a perfect summer white party–beautiful people dressed up in all white or almost white, delicious foods, free-flowing drinks, all by the casual settings of lush green and shimmering blue water, on a pristine tropical island somewhere. White party is that perfect summer party I have always wanted to have: happy faces, candid picture moments, excellent foods, great company, engaging conversations, and most importantly, deliriously fun.
So, when I received an email from Foodbuzz about Foodbuzz 24, 24, 24 for July, I immediately submitted my proposal for a Rasa Malaysia Summer White Party–an intimate party of about 10 people in my neighborhood club house. A private island hideaway in the Caribbean would be ideal, but my club house isn't too shabby and comes complete with a sparkling pool, two BBQ grills, jacuzzi, and manicured landscaping. Thanks to the Foodbuzz team who selected my proposal, my summer white party dream did come true…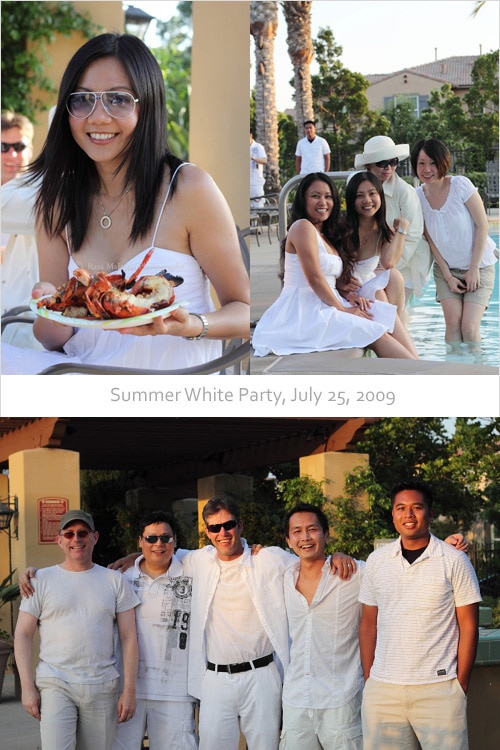 Settings: My neighborhood club house
Number of guests: Nine people, including Salt & Turmeric
When: 4:00 pm, July 25, Saturday
Budget: $250
Party Menu:
Lobster claws and mango salad (click here for the recipe)
USDA prime ribeye steaks
Grilled lobsters with butter and parsley
Malaysian-style grilled red snapper with sambal, wrapped in banana leaves (click here for the recipe)
Bacon-wrapped sea scallops with cherry tomatoes (click here for a similar recipe)
Grilled asparagus with salt and butter
Grilled oysters (click here for a similar recipe)
Grilled Malaysia-style curry clams (not served)
The food theme was pretty much surf and turf, with loads with expensive seafood and shellfish that are uncommon BBQ items. If I could spend on lobsters and USDA prime beef, why would I want to serve hot dogs and chicken wings? You get the idea.
Please take note that we never got to grilling the clams because we were completely bloated with food and booze by the time the oysters were done. I will share the clam recipe separately in a new post.
All in all though, it was a successful summer white party albeit the smaller scale. I think everyone loved the "theme" idea and that we all got to dress up a little bit for the occasion. I especially loved it that both LK and M were all decked out in white and looked utterly dashing. While F and I had been so excited to put on our sexy white dress. S and K were, as usual, their goofy selves, and came in almost white, while J resembled a movie star, and K looked so elegant and classy in her white mini dress and hat! The youngest and sweetest A wore an almost white attire. As you can see from the pictures, everyone was so relaxed and gorgeous!
Here are some simple recipes for your reference. Other recipes can be found in my archives. I would like to thank Foodbuzz for making this party a reality. We all had a fabulous–not to mention an absolutely delicious–time yesterday, and I look forward to more white parties, bigger and better ones, in the near future!

Butter and Parsley Sauce for Grilled Lobster
1 stick butter
1 teaspoon finely chopped Italian parsley leaves
Salt to taste
Method:
Melt the butter using a small sauce pan (on low heat). Add salt into the melted better and add the chopped parsley leaves. Set aside.
Brush lobsters with the butter and parsley sauce before grilling and continue to brush them while grilling. Serve hot with lemon wedges.
Ribeye Steaks Recipe
USDA prime ribeye steaks
Extra virgin olive oil
Salt
Black pepper
Method:
Brush extra virgin olive oil generously on both sides of the meat. Season with salt and pepper. Grill to your liking and serve immediately.
Bacon-wrapped Sea Scallops with Cherry Tomatoes Recipe

1 pack bacon
2 lbs sea scallops
Cherry tomatoes
Method:
Wrap one piece of bacon around a sea scallop and skewer it onto a bamboo skewer. Add a cherry tomato in between each scallop. Three scallops and two cherry tomatoes on each stick.
Grill over fire until cooked. Serve immediately.