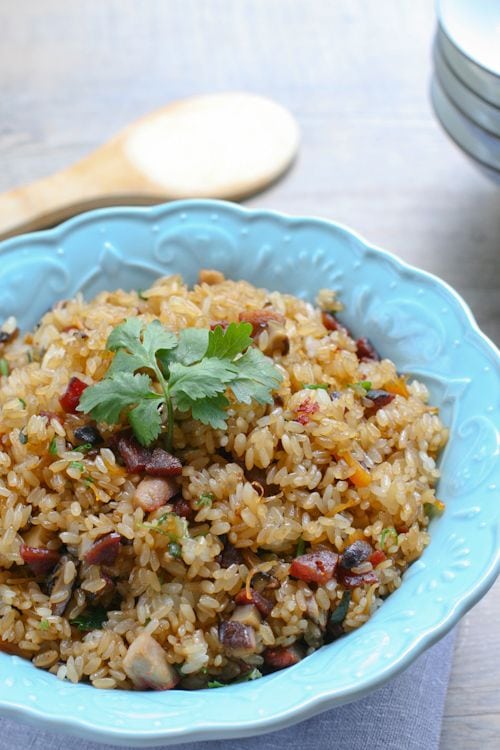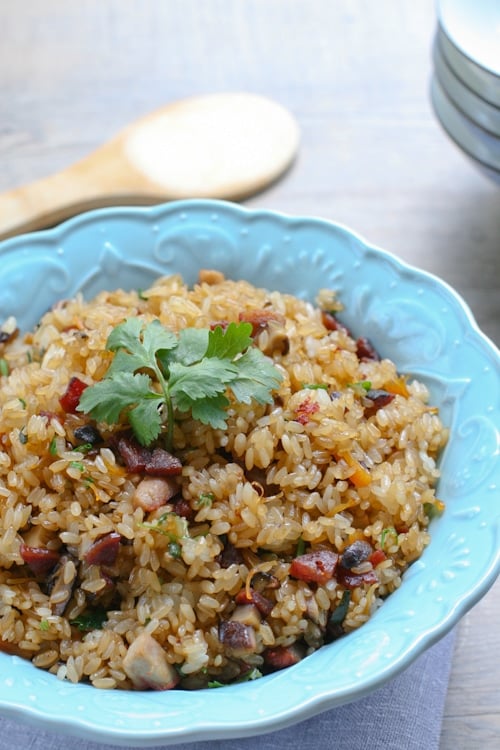 Fried Mochi Rice
Fried Mochi Rice (Nuo Mi Fan) – an amazing recipe from The Unseasoned Wok writer, Jamie. This hearty Chinese recipe is perfect for your next meal.
I love discovering great looking and delicious food blogs, and recently, I found The Unseasoned Wok while browsing around.
The story of a daughter-in-law learning authentic Chinese cooking from a master Chinese chef/restaurateur had me ogling The Unseasoned Wok and the delicious posts for hours.
The nori-wrapped shrimp—one of my favorite appetizers was calling my name.
Meet Jamie, the blogger behind The Unseasoned Wok, who blogs from Hawaii.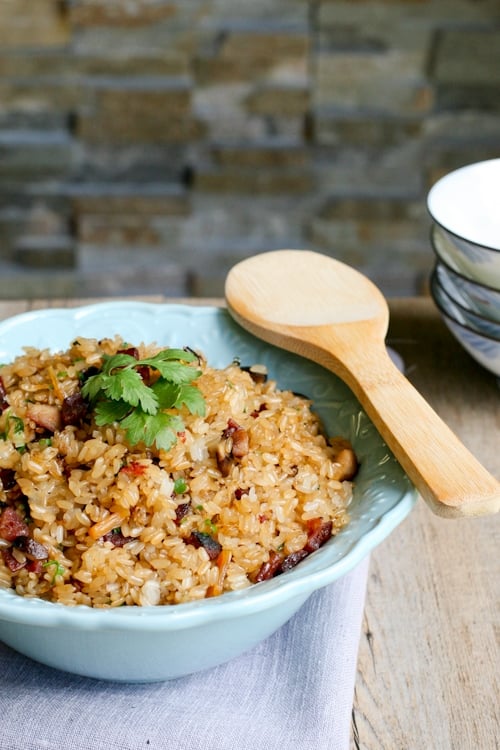 When I first received Bee's email asking me to be a guest on Rasa Malaysia, I was star struck.
Up until then, I was a girl with a crush, lurking around Bee's site typing out comments and then deleting them because they weren't smart enough.
Now here I am with a whole post to fill on Rasa Malaysia.
Thank you Bee for having me!
Bee asked me to post a dish that is true to my roots.
If you don't know me, my roots are Japanese, transplanted in Hawaiian soil generations ago amidst a bed of sprouting diversity during the plantation days of old Hawaii.
Most recently I've added Chinese to the mix when I married a smart and cute Chinese guy who can not only whip up an awesome fried rice, but can also serve as a handy spell checker and blog groupie.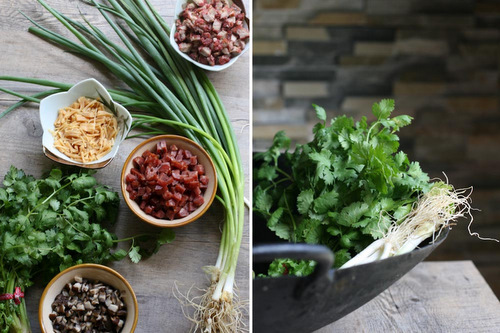 Before I met my husband, I barely knew what to do with a clove of garlic, and my understanding of "good" Chinese food was an order of beef broccoli drowning in brown sauce.
I wasn't really a fan, mostly because fortune cookies and soggy take-out don't qualify as Chinese food.
And then I married him—the only son of a Chinese restaurateur.
That is how my education in all things good and tasty began.
noun
Today I am sharing with you my family's recipe for nuo mi fan (proced noh-my-fahn in Cantonese).
This is the dish that comes to mind when I think of being true to my roots, Chinese home cooking, family, togetherness, comfort and laughter.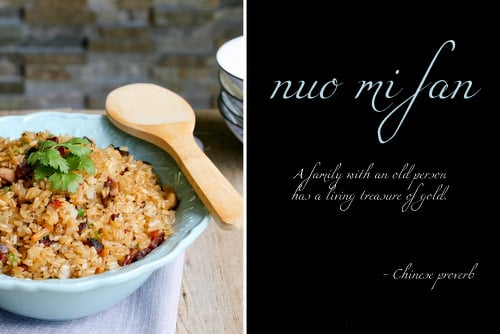 Popo says, "Eat nuo mi fan when it's cold because it warms your stomach."
I'm sure it has something to do with the Chinese belief in the balance of hot and cold, yin and yang, and qi.
But I like to think she means eat nuo mi fan when it's cold because it warms the soul.
It's a dish that sits on the family buffet, totally unglamorous, but wholly satisfying.
It's there with us on family holidays, at Sunday dinners, and to greet out-of-town guests, silently comforting us with each chewy morsel.
And when the day is done, and you're exhausted and ravenous, a heaping bowl of nuo mi fan on the dinner table is all you need to bring you back to the important things in life.
The Chinese have a saying, "A family with an old person has a living treasure of gold."
This recipe comes from my father-in-law, our old person, our treasure.
I hope it brings you as much joy as it does our family.
Enjoy!
Click Here to Pin This Recipe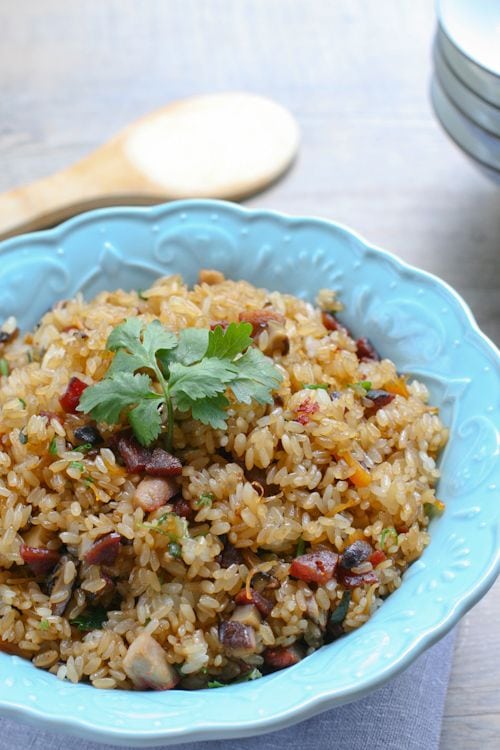 SUBSCRIBE AND NEVER MISS A RECIPE
SUBSCRIBE TO RASA MALAYSIA NEWSLETTER AND GET EASY AND DELICIOUS RECIPES DELIVERED TO YOUR INBOX. If you try my recipe, please use hashtag #rasamalaysia on social media so I can see your creations! Follow me on Facebook | Instagram | Pinterest | Twitter for new recipes, giveaways and more.