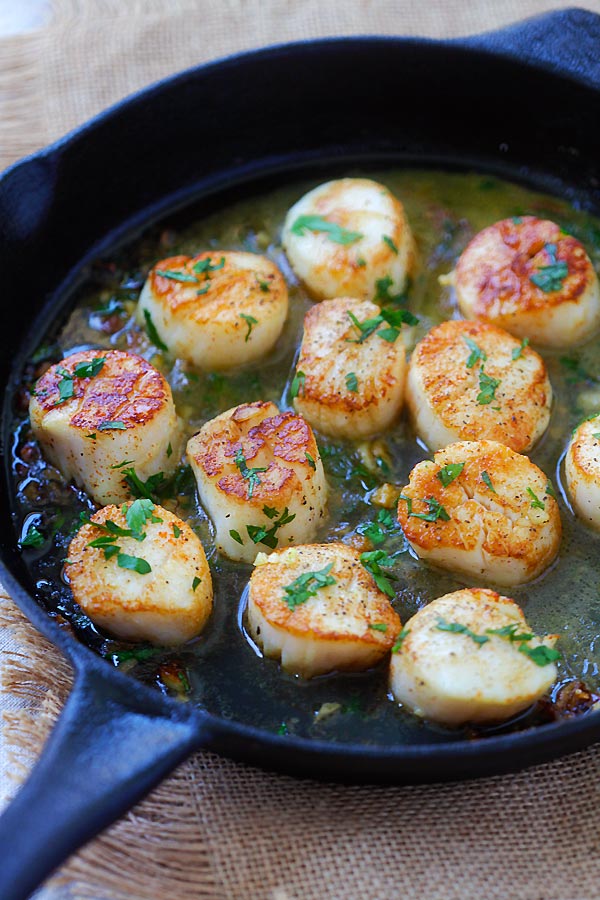 How to Cook Scallops?
I love scallops, I would cook and make them every day if they are not so expensive. They are one of the best ingredients from the sea.
There are many ways to make scallops: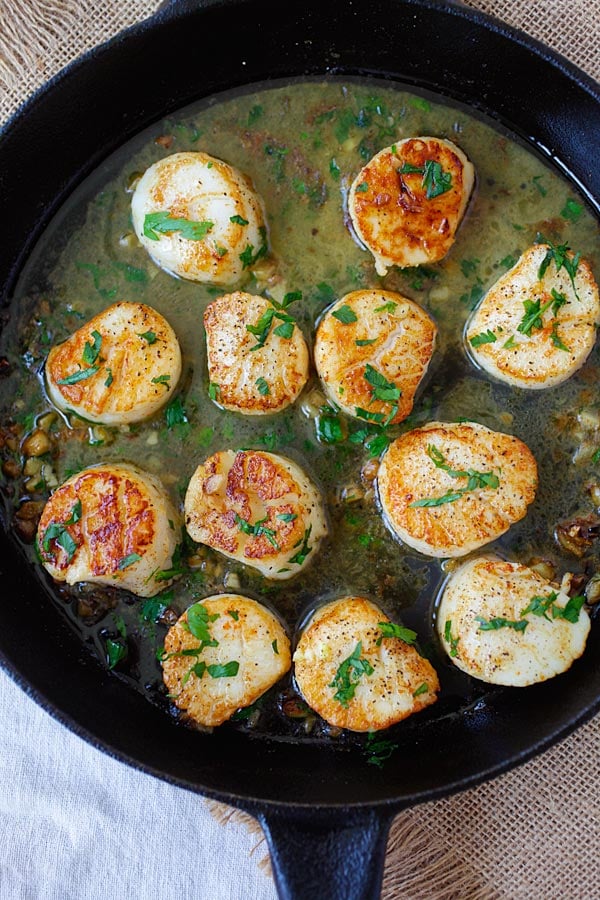 Other Scallop Recipes You Might Like
Sauteed Scallops
One of the best scallop recipes are sauteed scallops on the stove using a skillet. I love cast-iron skillet for a simple saute recipe. All you need are some olive oil, melted butter and minced garlic.
The garlic sauce calls for white wine, salt, ground black pepper and cayenne pepper. It's really that easy!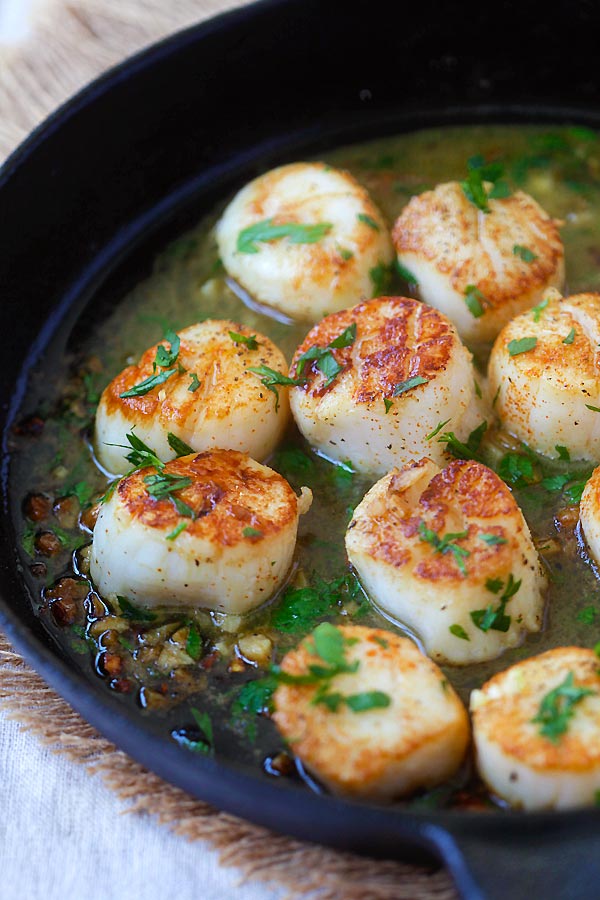 Dry Scallops (Natural) vs. Wet Scallops (Soaked)
There are two kinds of scallops available in the market:
Natural/untreated (Dry) and treated/soaked with water (Wet). When it comes to scallops, you want to get dry, natural and untreated sea scallops.
Dry scallops are milky and creamy white in color, sometimes with a slight pale yellow or pink tint. They are soft to the touch and the surface does not feel slippery. The flesh smells of the sea, and they are absolutely briny, sweet, and delightful. They are expensive.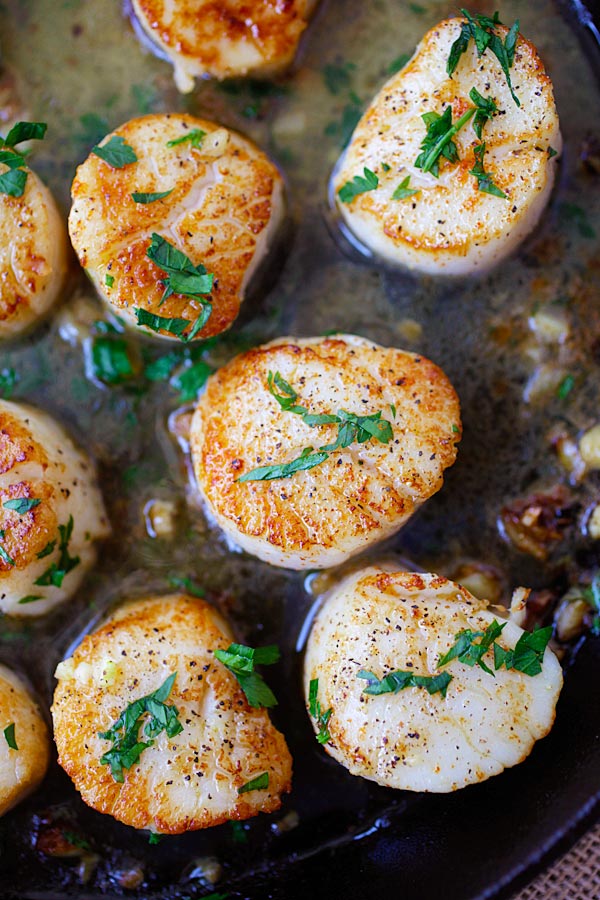 Wet scallops are treated with water and phosphates. They are are less expensive but trust me, you don't want to get those. They are smooth and slippery to the touch, translucent, and when rinsed with water, the water bubbles up.
Those are the clear indications that they are not natural but treated. Avoid them because they taste nothing like the natural and "real" scallops. In fact, they are bland with no sweet or briny flavors after cooking.
How Many Calories Per Serving?
This scallop recipe is only 236 calories per serving.
What Dishes to Serve with this Recipe?
This meal is best served with a pasta or as a main dish. For a wholesome meal and easy weeknight dinner, I recommend the following recipes.
Pairs well with: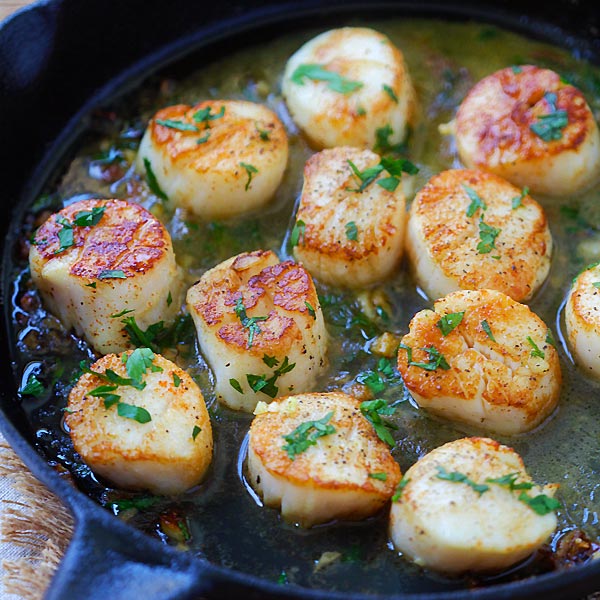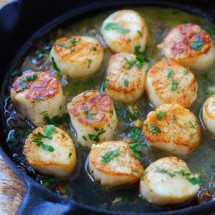 Garlic Scallops Recipe
One of the best scallop recipes is garlic scallops where fresh sea scallops are sauteed with garlic butter wine sauce. Quick and easy recipe that takes 15 mins from start to finish.
Ingredients
1

lb

natural and untreated scallops

1

tablespoon

olive oil

2

tablespoons

melted butter

3

cloves

garlic, minced

1/4

cup

white wine

1

pinch

cayenne pepper

1

pinch

salt

3

dashes

ground black pepper

1

tablespoon

chopped Italian parsley leaves
Click Here for Conversion Tool
Directions
Rinse the scallops with cold water and remove the tough ligament from the side of the scallops. Pat dry with paper towels.

Heat up a skillet (cast-iron preferred) on medium to high heat. When it's fully heated, add the olive oil and butter. Saute the garlic for a little bit and add the scallops, pan-sear until both surfaces turn brown. Add the white wine, cayenne pepper, salt and black pepper. Bring it to a light simmer or until the inside of the scallops are cooked through. Turn off heat and serve immediately.
Nutrition Facts
Garlic Scallops Recipe
Amount Per Serving (3 people)
Calories 236
Calories from Fat 117
% Daily Value*
Fat 13g20%
Cholesterol 56mg19%
Sodium 609mg26%
Potassium 349mg10%
Carbohydrates 7g2%
Protein 19g38%
Vitamin A 345IU7%
Vitamin C 2.7mg3%
Calcium 19mg2%
Iron 0.8mg4%
* Percent Daily Values are based on a 2000 calorie diet.
Easy Weeknight New Recipes: