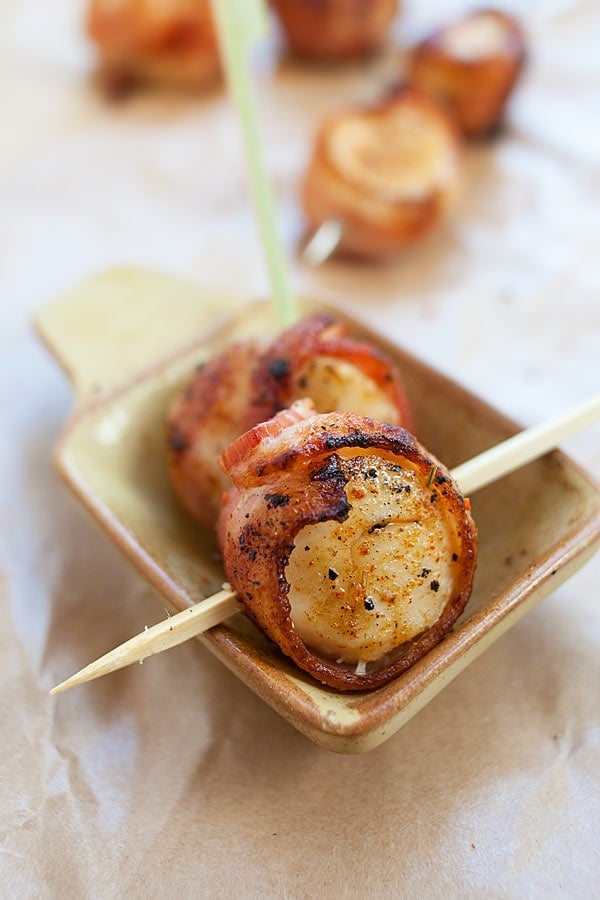 Bacon Wrapped Scallops Recipe
Everyone loves their morning bacon, but you can use bacon in many other recipes as well. Take for example, these easy bacon wrapped scallops.
The crispy bacon adds a buttery, smoky flavor to the scallops, also helping to keep the scallops moist. The end result is always heavenly, especially when they are grilled.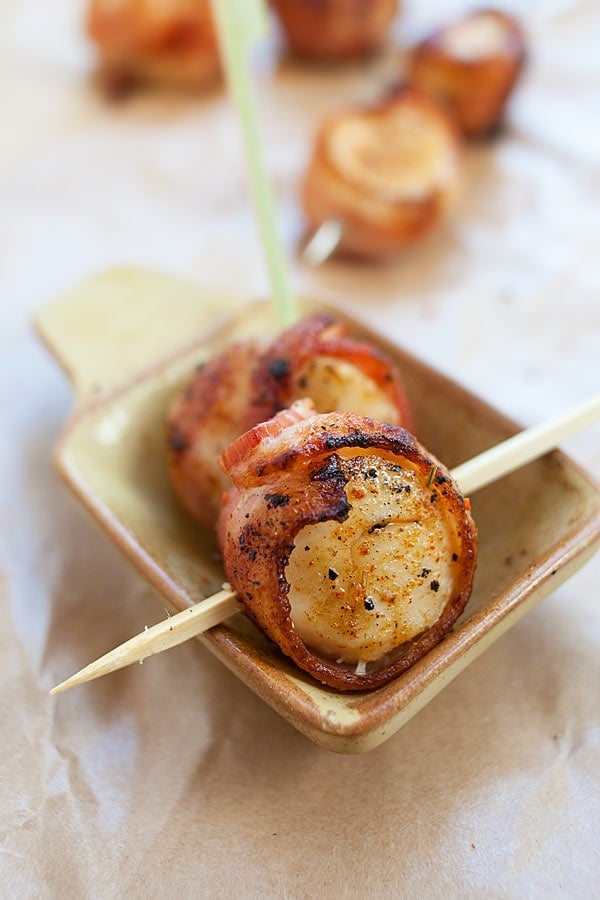 Making the bacon wrapped scallops recipe isn't just easy; it's also really quick to make. It just takes a few minutes to wrap strips of bacon around the scallops and skewer them. Then, it takes less than 10 minutes to grill them!
How to Make Bacon Wrapped Scallops on the Grill?
To make perfect bacon wrapped scallops on the grill, it is important to make sure that the bacon is wrapped tightly around the scallops. The wooden skewers will help to hold the bacon in place.
As your appetizers cook on the grill, remember to keep turning the skewers. As a result, you will have an even char across the entire strip of bacon.
To get the best char on the bacon, turn the skewers sideways, so the bacon is in direct contact with the heat source.
Last but not least, do not overcook the scallops as they might lose all the natural sweetness and become rubbery. It takes about 4 to 6 minutes to grill them; 2 to 3 minutes per side.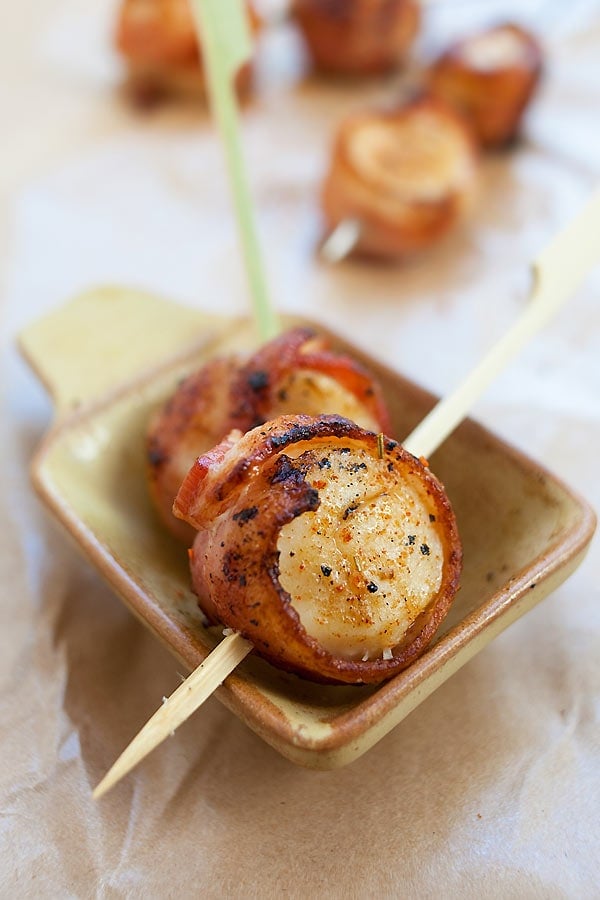 Can I make bacon wrapped scallops without a grill?
Absolutely! If you don't have a grill, you can bake or broil them in an oven. If you use a broiler, you will want to stay nearby, as they cook very quickly and can easily burn if they're broiled too long.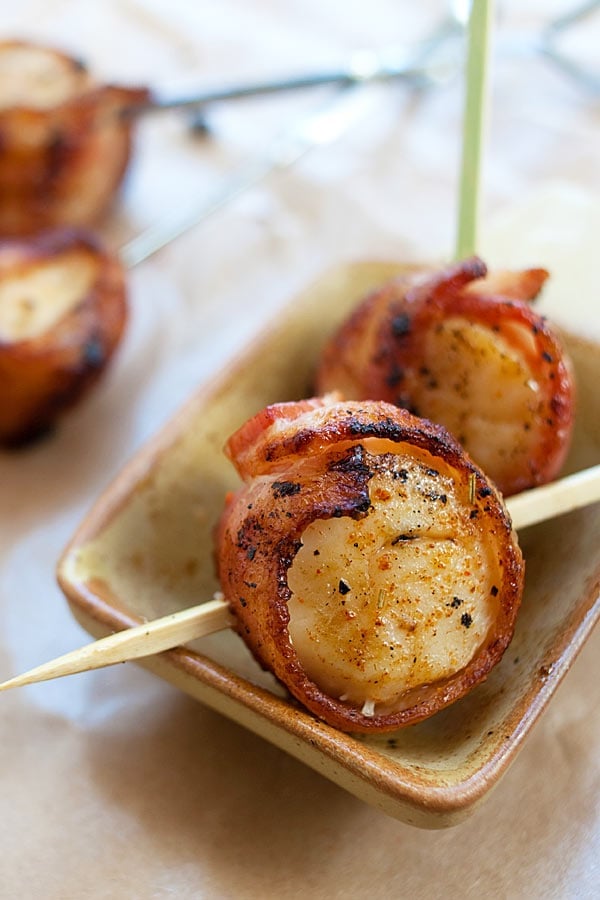 Other Grilled Appetizers To Try
Another easy appetizer to make on the grill are bacon-wrapped cherry tomatoes.
If you have picky guests at your summer BBQ parties, make sure you have some bacon handy as these two recipes will make even the pickiest eater happy.
Frequently Asked Questions
How Many Calories Per Serving?
One serving (3 pieces) of grilled bacon wrapped scallops has 324 calories.
What to Serve with this Recipe?
Serve the scallops with other grilled food. For summer entertaining, I recommend the following recipes.
Pairs well with: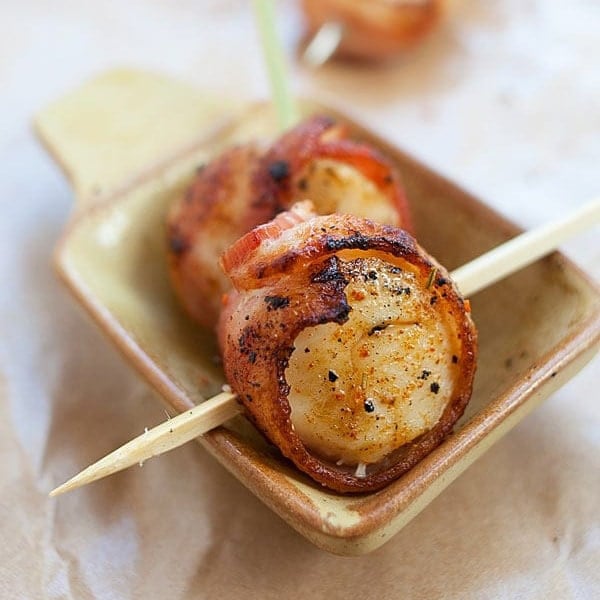 Bacon Wrapped Scallops
Bacon Wrapped Scallops – easy appetizer featuring scallops wrapped with bacon and grilled to crispy goodness on bamboo skewers. Simple party food!
Ingredients
10

oz

scallops

12

pieces

bacon

cayenne pepper

Salt
Click Here for Conversion Tool
Directions
Wrap the bacon around a scallop nicely and secure tightly with a metal skewer. You may thread two of them onto a skewer. Season both the surfaces of the scallop with some salt and cayenne pepper.

Heat up the grill and place the bacon-wrapped scallops on the grill. Keep turning the scallops until the bacon becomes charred, brown and slightly crispy. Turn the skewers around so the bacon is grilled with direct heat. Grill until the bacon becomes nicely charred all around. Serve immediately.
Nutrition Facts
Bacon Wrapped Scallops
Amount Per Serving (4 people)
Calories 324
Calories from Fat 243
% Daily Value*
Fat 27g42%
Cholesterol 61mg20%
Sodium 715mg31%
Potassium 276mg8%
Carbohydrates 3g1%
Protein 17g34%
Vitamin A 25IU1%
Calcium 8mg1%
Iron 0.5mg3%
* Percent Daily Values are based on a 2000 calorie diet.
Easy Weeknight New Recipes: