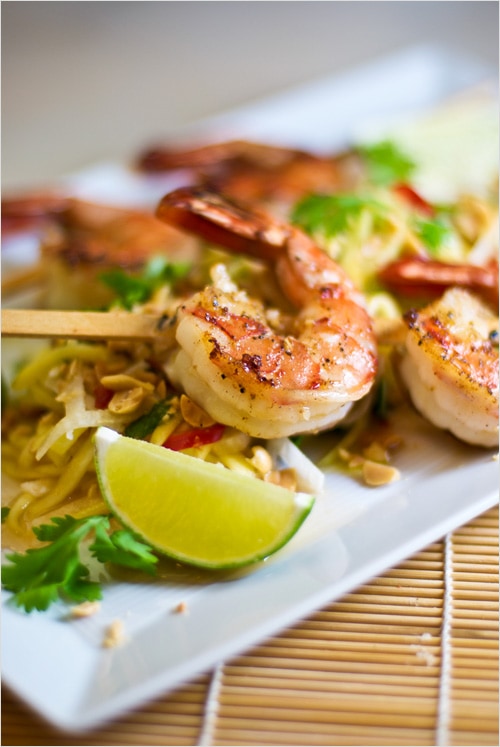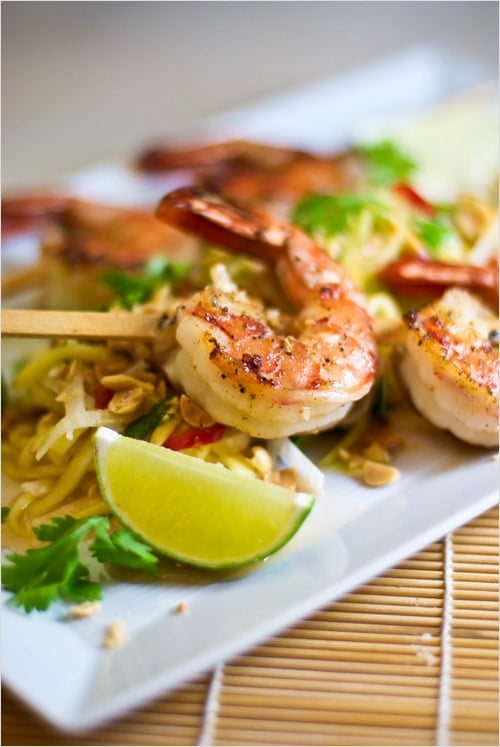 When a Michelin-trained private chef writes about food, you know it's gotta be good and that's exactly what Zen Chef at Zen Can Cook (previously known as Chefs Gone Wild) delivers–a food blog choked full of scrumptious dishes that rival the finest and best restaurants around.
Zen is always wacky, hilarious, and I admire his cooking and wicked writing style (read this guest post and you'll know what I mean!). He always provides great entertainment to his readers through his blog so you really have to check out his now spankingly new blog.
Please welcome Zen Can Cook and his grilled shrimp and green papaya and mango salad to Rasa Malaysia. I am not sure about you but my stomach is growling at the very sight of this visually pleasing and utterly tantalizing dish. And Zen, you can be my private chef anytime!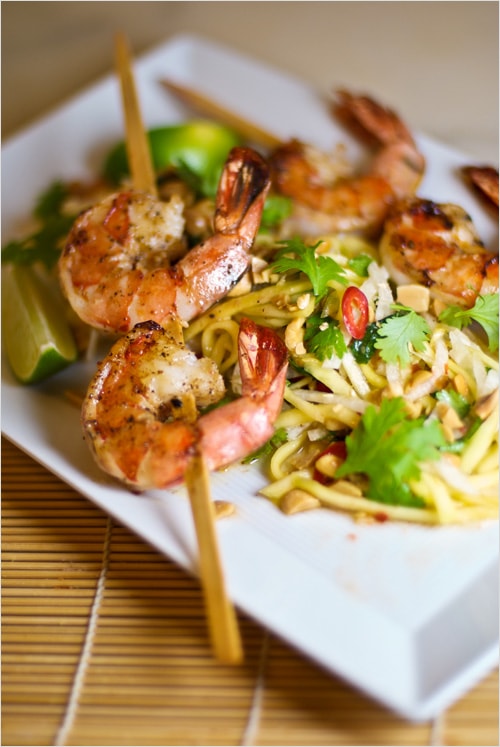 When the lovely Bee over at Rasa Malaysia asked me to guest post on her beautiful blog I almost freaked out. Rasa Malaysia isn't a blog. Rasa Malaysia is a mammoth of a blog!
Me, I'm just a mice of a food blogger who lives in a hole in a dark corner of the internet. This is one of the first blogs I discovered when I started blogging about two years ago and one that shines bright in the blogospheric firmament.
Needless to say, I feel very honored to be here in front of Rasa Malaysia's audience and I promise to do my best not to break anything in my short stay here.
To make the best impression I can even offer to vacuum and take out the garbage after I'm done. Hmm.. Excuse me.. sir!?.. err.. Fine!.. I will mop the floor, too! I do not want to be mauled by a mob of hungry RM fans!
The old paper bag trick took care of my hyperventilation, I did my affirmations and half a bottle of Tequila later I think I'm finally ready for the spotlight. Let me tell you, this is more pressure than having a Michelin starred chef looking over your shoulder. Let's start shall we?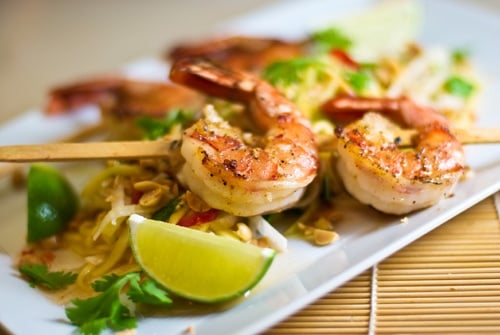 [silence followed by gargling sound].
Green papaya salad is a classic and popular Vietnamese dish.
Maybe it doesn't sound like much to some people but I guarantee you it's one with high impact and pleasing value. What you get is a salad that is sweet, spicy, crunchy, cool and refreshing at the same time and the perfect match for grilled shrimp.
It's like a little vacation on a plate! I'm French and I was really tempted to work frog legs into the dish or serve the whole thing over toasted baguette but thank God…I did not.
I kept it pretty classic except for a few exceptions. For one my papaya wasn't green enough. A green papaya should have white seeds, mine were on their way to ripeness so I improvised and used a green mango too and some jicama and carrots for extra crunch and it worked beautifully.
It's a very adaptable dish so feel free to use and experiment with any combinations you like. Mung bean sprouts would be a great addition too. To finish it off the salad is tossed with a delicious Vietnamese dressing made with lime juice, garlic-chili powder and nam pla and the whole thing is sprinkled with chopped peanuts. Yum and enjoy!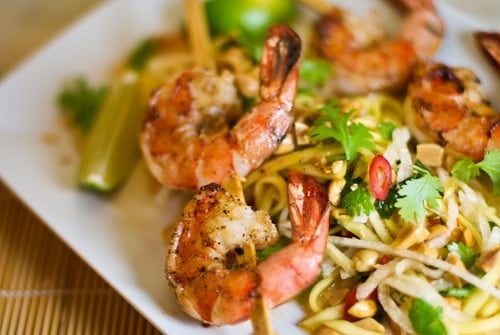 Now if you excuse me. I have some blogkeeping to do.
[Picks up a broom and starts sweeping]
How Many Calories Per Serving?
This recipe is only 233 calories per serving.
5 Secrets to 20 Min Dinners
Get tricks for quick & easy meals!
Yield: 4 people
Grilled Shrimp with Green Papaya and Mango Salad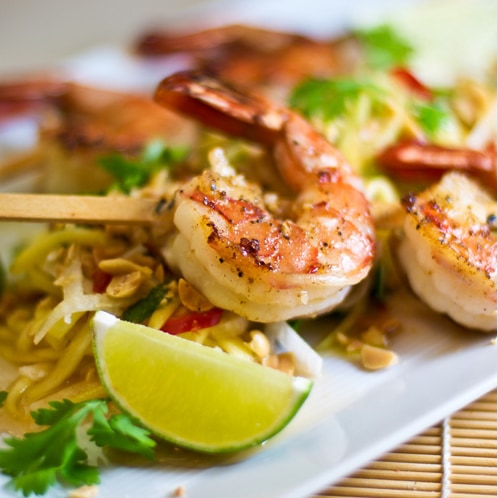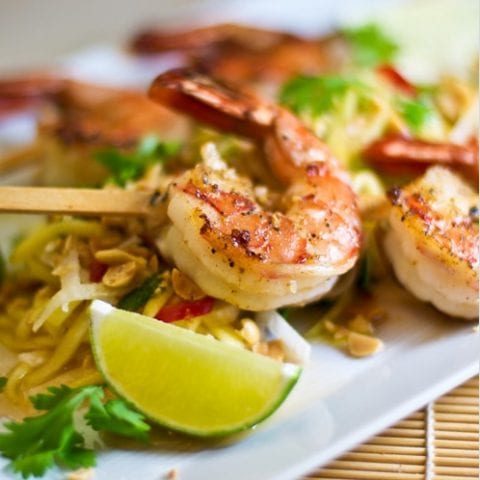 Grilled Shrimp with Green Papaya and Mango Salad recipe - To finish it off the salad is tossed with a delicious Vietnamese dressing made with lime juice, garlic-chili powder and nam pla and the whole thing is sprinkled with chopped peanuts.
Ingredients
Vietnamese Dressing:
1/2 teaspoon garlic-chili paste
1 tablespoon light brown sugar
1/4 cup fresh lime juice
1/4 cup Thai fish sauce
1 tablespoon chopped mint
1 tablespoon chopped cilantro stems
Salad:
1 green papaya, julienned
1 green mango, julienned
1/2 jicama, julienned
1 carrot, julienned
1/2 cup chopped peanuts
fresh mint, roughly chopped
fresh cilantro, roughly chopped
1 thai bird chile, sliced, optional
Shrimp:
16 jumbo shrimp
salt and pepper
wooden skewers
Instructions
Toss together the julienned papaya, mango, carrots, jicama and herbs in a large bowl.
In a small bowl, whisk all the ingredients of the dressing together and set aside.
Place the shrimp on wooden skewers. Four per person. Season with salt and pepper and grill, about 2 minutes on each side.
While the shrimp are grilling pour the dressing over the salad and toss together. Dress on a platter and generously sprinkle with the chopped peanuts. Place the grilled shrimp skewers on top and serve. Lime wedges on the side.
Nutrition Information
Yield
4
Serving Size
4 people
Amount Per Serving
Calories

233
Total Fat

10g
Saturated Fat

1g
Unsaturated Fat

0g
Cholesterol

60mg
Sodium

1524mg
Carbohydrates

28g
Fiber

7g
Sugar

15g
Protein

11g