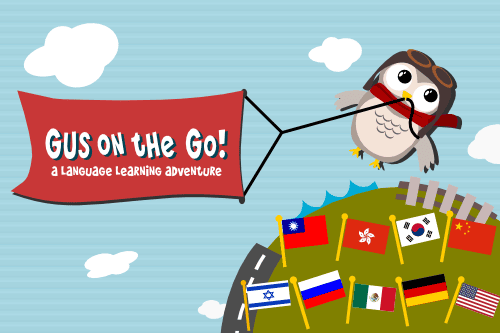 Growing up in Malaysia has made me a proud polyglot, as I fluently speak Mandarin, Cantonese, Malay, English, and Hokkien. And now as baby G continues to build his language skills (which unfortunately now includes phrases such as "Mama, I don't like fish!"), it becomes more and more important for me to expose him to as many languages as possible. These days, it seems that modern technology has made it possible for me to do so while still living in the US.
My friends at toojuice.com have created a delightful and graphically beautiful app that helps young children learn basic vocabulary in foreign languages called Gus on the Go. You may also know one of them as Alice from the Eat a Duck I Must! food blog. Alice and I share the same intense love of languages and this app has already done wonders for baby G and her baby Ducks. You may also read about her touching story behind developing this app in her blog post about Gus on the Go.
Baby G absolutely loves this app and so do I. It's interactive, educational, intuitive AND addictive. We've been playing through Gus on the Go in Mandarin Chinese and Hong Kong Cantonese and we can't get enough of it. Of course my favorite lessons are the market food and the kitchen scene. It's important to me that baby G knows the essential fruits and vegetables. And with the fun interactive scenes, baby G has picked up the food vocab in no time! Hmmm, maybe I can get them to release Gus on the Go: Malay? Pretty please?
For those of you with young children, do not hesitate to buy this app! With 10 interactive lessons and a bounty of fun vocabulary games, the value of this app extends well beyond its low price.
Gus on the Go is currently available in Mandarin Chinese, Cantonese, Taiwanese Mandarin, Taiwanese, Korean, Spanish, German, Hebrew, Russian and English with many more languages to come! While it's available for iPad and iPhone, Android and Windows development is in the works as well.
Links
www.gusonthego.com
www.facebook.com/GusOnTheGo