Hunan chicken is a tasty Chinese chicken dish with broccoli, peppers in a spicy Hunan sauce. Easy Hunan Chicken recipe that is better than takeout.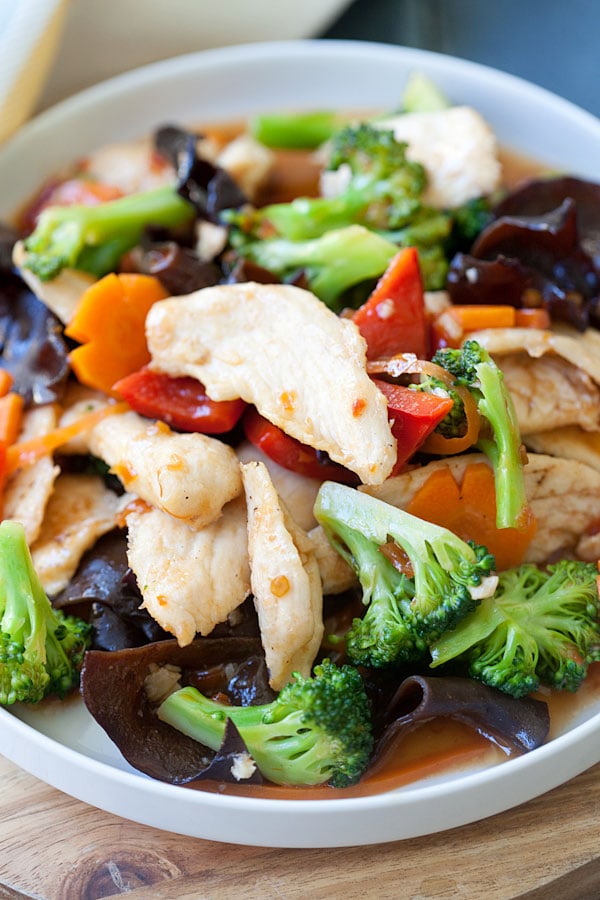 Hunan Chicken
In the early 2000's, we were in the San Francisco Bay Area. It was the golden era of dot com's, when young and aspiring professionals made millions overnight working in a dot com that went public on NASDAQ or New York Stock Exchange. I was one of the wannabe's, working in a gaming dot.com pursuing the wild "make-me-a-millionaire" dream.
My office was in downtown San Francisco, in the SOMA (South of Market) area, where old buildings were converted into hip, loft-like dot com's offices. Prior to San Francisco, we lived in Salt Lake City. San Francisco downtown—during that time—was a heaven on earth for us, so vibrant and cosmopolitan. We were charmed by the energy, lifestyle, food, and the notion that we could be rich carrying a dot com business card.
Office lunches were  so much fun for me. I would always invite a few co-workers and we would walk a few blocks around the SOMA area and enjoy a great lunch meal of various ethnic and regional cuisines: Chinese, Cantonese, American, Thai, Fusion, Indian, French, Californian, and so much more. One of my favorite of them all is this humble Hunan restaurant just a couple of blocks away from my office.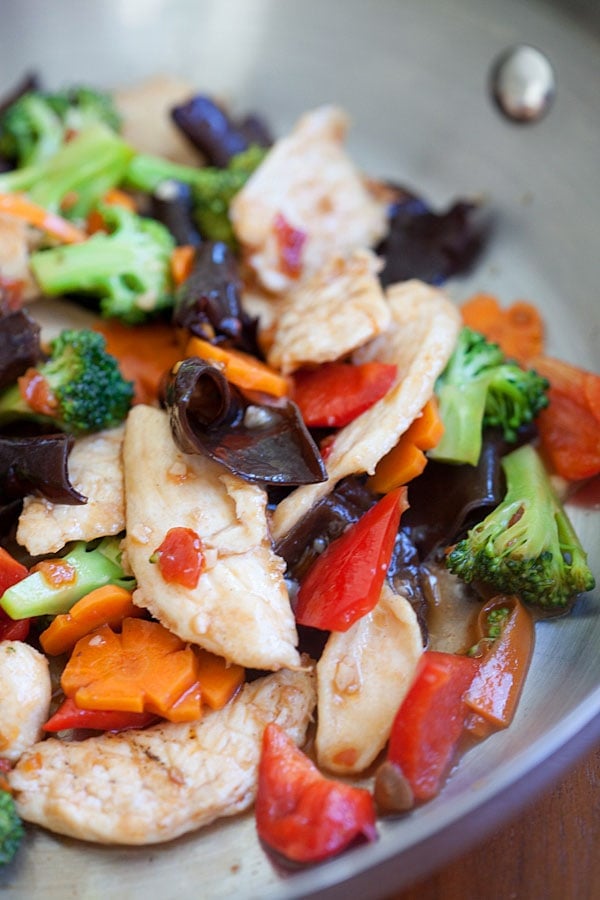 My Asian co-workers and I loved the Hunan Chicken in that restaurant. So simple, yet utterly delicious and mouthwatering. Tender pieces of chicken breast, stir-fried with carrot, broccoli, black fungus, in a light brown sauce that tasted so wonderful. The owners were from Hunan, and the Hunan Chicken was their signature dish. I could go there every day for this dish…
Fast forward many years later, I constantly miss this dish, whenever I reminisce my dot com days. Dot com golden era didn't make me a millionaire. My company went bust, just like every other dot com in the Bay Area. I kept the job for as long as I could, before the axe came down on me. I had to say that some of the happenings in that company left a pretty bad taste in my mouth, but the good taste of Hunan Chicken, my favorite Chinese lunch dish, lingers and remains flavorful in my memory.
Here is my Hunan Chicken recipe. One day, I will go find this restaurant again in the SOMA area of San Francisco and I hope  it's still around!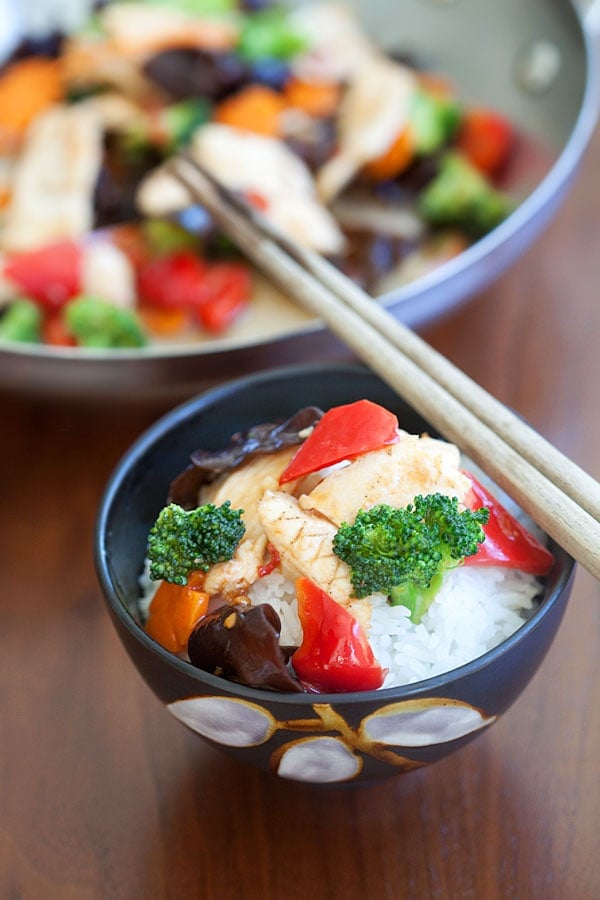 SUBSCRIBE TO RASA MALAYSIA NEWSLETTER AND GET EASY AND DELICIOUS RECIPES DELIVERED TO YOUR INBOX. If you try my recipe, please use hashtag #rasamalaysia on social media so I can see your creations! Follow me on Facebook | Instagram | Pinterest | Twitter for new recipes, giveaways and more.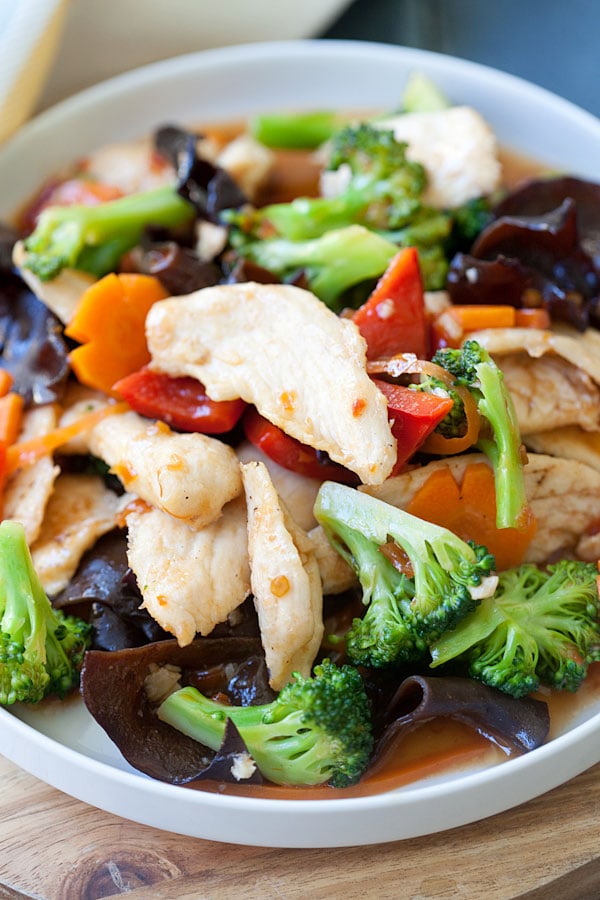 Hunan Chicken Recipe
Serves 2 | Prep Time: 20 Minutes | Cook Time: 10 Minutes
Ingredients:
8 oz chicken breast, cut into about 1/4-inch slices
3 tablespoons oil
2 cloves garlic, minced
2 cups broccoli floret, sliced carrot, sliced mushroom, and red bell pepper
2 oz dry black fungus, optional, soaked in water and drained
5 tablespoons Hunan Sauce
Salt and sugar, to taste
Marinade:
1 egg white, beaten
1/2 teaspoon constarch
3 dashes white pepper
1/2 teaspoon salt
Hunan Sauce:
Yields 2/3 cup
1/4 cup chicken broth
1 tablespoon soy sauce
2 tablespoons oyster sauce
3 tablespoons chili bean sauce, Spicy Douban Jiang or Spicy Fermented Soybean Sauce
2 1/2 tablespoons ketchup
1/2 teaspoon apple cider vinegar
1 1/2 tablespoons sugar
3 dashes white pepper
1 teaspoon cornstarch
Method:
Marinate the chicken with all the ingredients in the Marinade and set aside for 10 minutes.
Mix all the Hunan Sauce ingredients. Set aside.
Add the oil in a heated wok, gently drop in marinated chicken slices, stir-fry the chicken until the surface turns opaque. Dish out and set aside.
Add the remaining oil into the wok, stir-fry the minced garlic until fragrant. Toss in the mixed vegetables, black fungus and continue to stir-fry for 2 minutes.
Toss in the chicken, put 5 tablespoons of Hunan Sauce, stir to combine well, until the chicken is completely cooked. Add extra Hunan Sauce, if you like, and add salt and sugar to taste. Dish out and serve with steamed rice.
Cook's Note:
The Hunan Sauce can be stored in the refrigerator for other stir-fry recipes.
NEW! Menu Pairing Ideas: