Back to school easy and delicious Japanese bento lunch box with shrimp tempura made with Mizkan sauces and seasonings.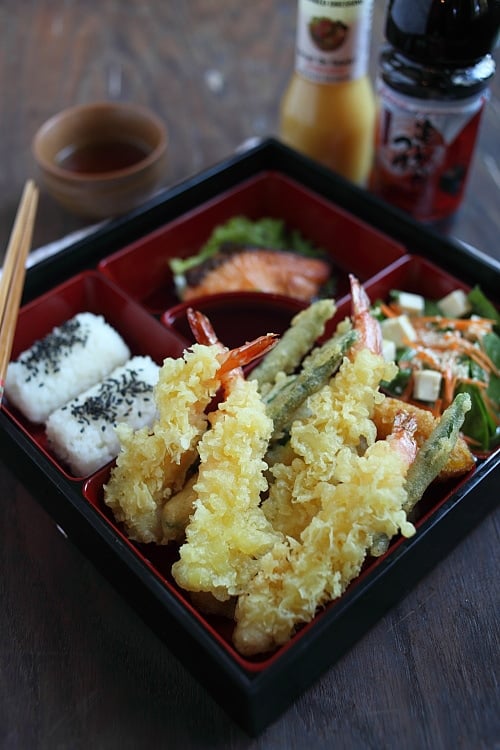 Shrimp Tempura and Salmon Teriyaki Bento
.
In my previous life as a business development professional, I traveled extensively to the Asia Pacific region and made frequent trips to Japan.
As a food lover with a penchant for Japanese cuisine, I was always thrilled to visit Japan.
As I was there for business trips, I would always work at the company's Japanese headquarters in Tokyo, and had the opportunity to experience the working life of the Japanese people.
My colleagues would take me on "cultural immersion" tours such as taking the bullet train, buying bento boxes (called ebiken or eki bento) at the train station, having immaculate Makunouchi bento (formal bento meal) during lunch meetings, and late night karaoke.
The part that mesmerized me the most about my experiences was the Japanese bento and takeout culture.
Everywhere you turn, you can't miss bento boxes, be it at the train stations, supermarkets, convenient stores, in the office, at the park, or at school.
Bento is an integral part of the Japanese food culture.
(Ekiben at Train Station. Image Source: Google)
.
What is Bento?
Bento, or o-bento (弁当), is a Japanese single-portion takeout meal, packed in traditional Japanese lacquer/plastic bento boxes with several compartments or simple disposable containers.
Japanese bento is usually meant for lunch and the food ranges from simple rice dish with meat and vegetables, spectacular assortments of the best seasonal Japanese dishes, to kids bento (called kyaraben or charaben "character bento") with various edible decorations and eye-candy arrangements, and more.
Bento is a true art form of Japanese cuisine; I simply love all sorts of foods served in Japanese bento: Japanese fried chicken, teriyaki, salads, tamagoyaki (fried eggs), and the simmered side dishes.
Now that I am a stay home mother, I miss those days when I traveled to Japan so I take matters in my own hand.
I started making bento at home and am learning more about charaben for my growing and picky toddler.
And whenever I make Japanese food or bento, I turn to Mizkan, my trusted source of authentic Japanese condiments.
Recently, I have started using Mizkan Japanese dressing for my salads and discovered a whole new world where I can incorporate the dressing into my cooking repertoire, especially when it comes to bento boxes with salad.
Cooking with Mizkan is almost a daily affair in my kitchen now.
My two staples are the Mizkan (Bonito Flavored) Soup Base and MIZKAN HONTERI® Mirin.
I love the versatility and flavors as I use them not only in Japanese cooking but other Asian cooking such as Chinese, Korean, and Taiwanese.
This very fact is why their condiments take a permanent spot in my pantry.
In the next few months, I will be creating a series of easy Japanese bento and takeout recipes on Rasa Malaysia, including tips and tricks how to create a perfect bento box. So please stay tuned and follow me on Rasa Malaysia, Facebook, Twitter, and Pinterest (NEW!) as I share new recipes.
I have also created the following visual recipe index, including Japanese cooking tips and techniques, and shopping guide for your easy reference.
I will continue to update this page when I post new recipes so they are accessible to you.
Resources:
Mizkan, Bringing Flavor to Life: Introducing Mizkan Japanese condiments.
Japanese Cooking with Mizkan: Cooking tips and tricks in Japanese cooking.
Building a Japanese Pantry and Mikzan Shopping Guide: Virtual shopping guides to Japanese and Asian markets.
Recipes:
| | |
| --- | --- |
| | |
| Salmon Teriyaki | Japanese Beef Rolls with Mizkan Ponzu |
| | |
| Sushi Rice | Hand Roll Recipe (Temaki) |
| | |
| Gyoza | Yaki Udon |
| | |
| Flank Steak w/ Mizkan Ponzu & Miso Butter | Oden |
| | |
| Seared Ahi Tuna Salad with Mizkan Ponzu | Steamed Fish with Ponzu |
| | |
| Japanese Fried Chicken Bento | Shrimp Tempura Bento |
| | |
| Sukiyaki Donburi | Oyakodon |
| | |
| Gyudon (Japanese Beef Bowl) | Tebasaki (Nagoya Fried Chicken Wings) |
.
About Mizkan Japanese Condiments
Mizkan Japanese condiments are traditional and authentic Japanese products with over 205 years of history in Japan. In the United States, the products are distributed by Mizkan Americas and the products offered are very close to the ones Mizkan Japan has in Japan. Mizkan is the leader in the consumer space as well as the preferred brand in the food services industry and widely used in Japanese restaurants. Mizkan condiments are all about "Bringing Flavor to Life" so you can splash, pour, drizzle, and infuse them into your favorite food and recipes for authentic flavor, aroma, and richness in taste.
About Mizkan Dressings
Mizkan has been producing and selling this ethnic flavor line of salad dressings for more than 10 years and they are the clear leader and pioneer in this space even though similar products from other brands have popped up in the marketplace. I especially love them because of the authentic ingredients used in their dressings: sesame paste, ground sesame, yuzu juice, and fermented miso paste and soy sauce sourced directly from Japan. It's no wonder that Mizkan is the #1 brand used by restaurateurs, professional chefs, and discerning home cooks alike.