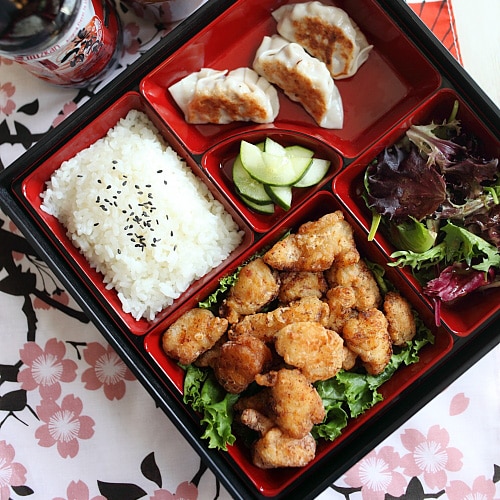 Japanese Fried Chicken Bento
Japanese Fried Chicken Bento with steamed rice and sesame seeds, pickled cucumbers, salad and Gyoza.
Prep time:
Cook time:
Total Time: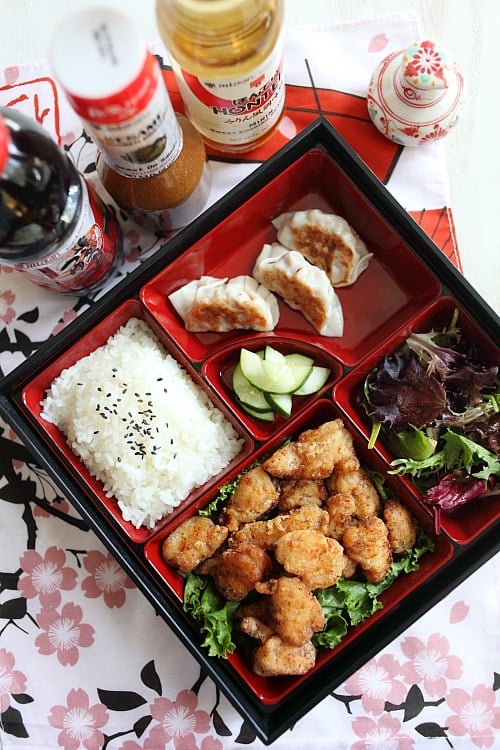 One of my favorite bento is chicken karaage, or Japanese fried chicken bento. In the United States, chicken kaarage is also referred to as sesame fried chicken in many Japanese restaurants. Other than chicken teriyaki, chicken karaage is probably one of the most popular combinations when it comes to Japanese bento. If you have had Japanese food or lunch box, I am sure you have tried the crispy and flavorful Japanese fried chicken. I simply can't resist the good taste.
Making restaurant-style bento is actually easier than you think, and the whole process of assembling the different dishes into the bento box is actually quite fun. When I started making bento at home, I got myself a 5-compartment bento box, which is widely used in many Japanese restaurants. Please take note that there are a wide variety of bento boxes available: plastic, wood, lacquer ware, 2-tier, single compartment, 2 compartments, up to 7 or 8 compartments, and the list goes on. When it comes to choosing the size and type of bento box, it's really a personal preference and what works best for you and your needs. If you are a working professional, you should probably start with a simple 2 to 3-compartment bento box.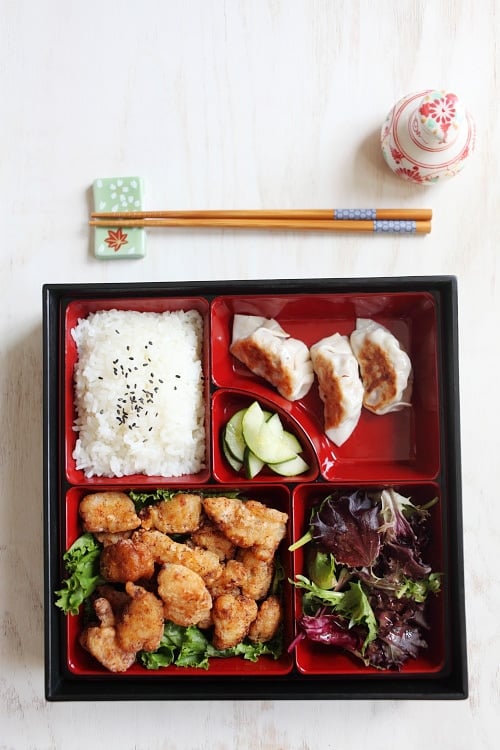 Japanese Fried Chicken (Chicken Karaage) Bento Recipe
Serves 1 | Prep Time: 10 Minutes | Cook Time: 10 Minutes
Ingredients:
8 oz skinless and boneless chicken, chicken breast or thigh (preferred)
1 tablespoon ginger juice, extracted from 2-inch piece ginger
1 1/2 tablespoons Mizkan (Bonito Flavored) Soup Base
1 tablespoon Mizkan HONTERI® Mirin
3/4 cup cornstarch or potato starch
Oil, for deep-frying
Steamed rice
Sesame seeds
Cucumer Pickle
Salad
Gyoza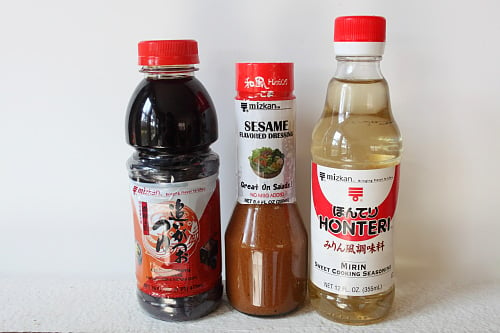 Method:
Cut the chicken into bite-sized pieces/cubes. Use paper towels to pat dry the chicken and transfer to a bowl. Grate the ginger and extract the juice by squeezing with your hand, you should get about 1 tablespoon ginger juice.
Add the Mizkan (Bonito Flavored) Soup Base, Mizkan HONTERI® Mirin, and ginger juice to the chicken and marinate for 30 minutes. Transfer the chicken out of the marinade and coat them evenly with the corn starch or potato starch. Shake off the excess.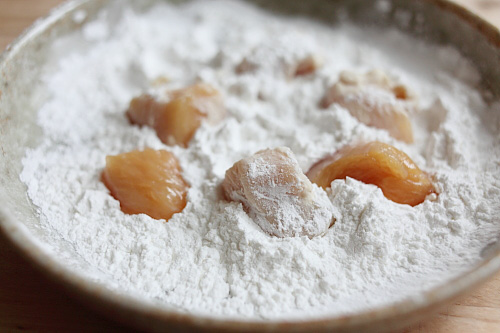 Heat 2 to 3 inches of oil in a pan or small stockpot to 350 degree F for deep-frying. Gently drop the chicken pieces into the oil and deep-fry until golden brown. Dish out with a strainer or slotted spoon, draining the excess oil by laying the chicken on a dish lined with paper towels.
Cucumber Pickle (Tsukemono)
Ingredients:
4 oz cucumber
1/2 teaspoon salt
1 teaspoon sugar
1 teaspoon Mizkan Rice Vinegar
Method:
Cut the cucumber lengthwise and then slice into small pieces. Transfer the cucumber to a small bowl and add the salt, sugar, Mizkan Rice Vinegar and mix well. Chill in the refrigerator for 30 minutes.
Salad
Ingredients:
Mixed green or fresh herb salad
Mizkan Sesame Dressing
Method:
Arrange the salad in the salad compartment of the bento box. Drizzle some Mizkan Sesame Dressing on top of the salad.
Assembling the Japanese Fried Chicken Bento
Lay a piece of lettuce leaf on the main dish compartment. Arrange the fried chicken on top of it.
Add a bowl of steamed rice in the rice compartment and top with some black sesame seeds.
Add 3-4 gyoza in the side dish compartment.
Add the chilled cucumber pickle in the tsukemono compartment.
The bento is now done and ready to be served.
Cook's Note:
For the gyoza recipe, please click here. For other Japanese bento recipes such as salmon teriyaki, please click here.

Trending Now
Soy-Glazed Chicken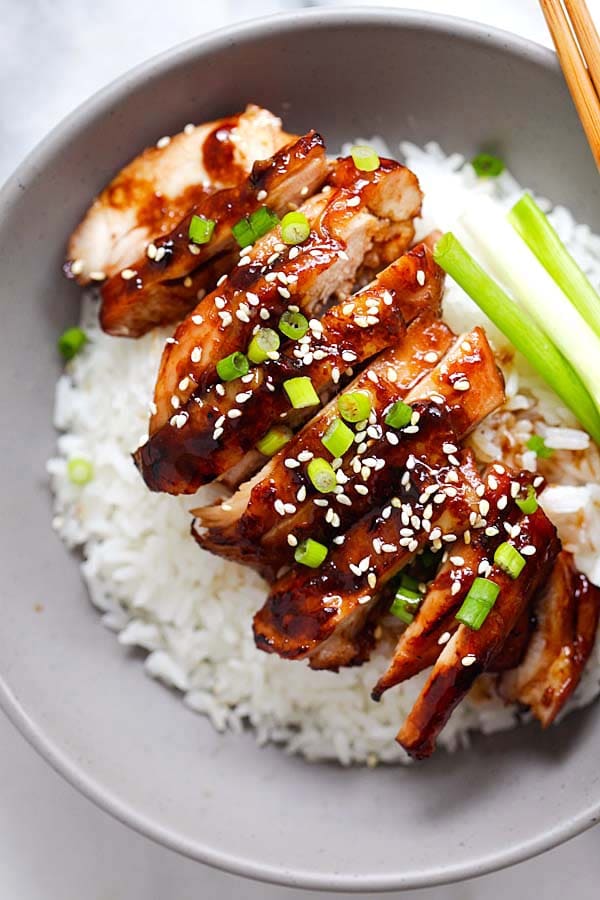 Honey Sriracha Scallops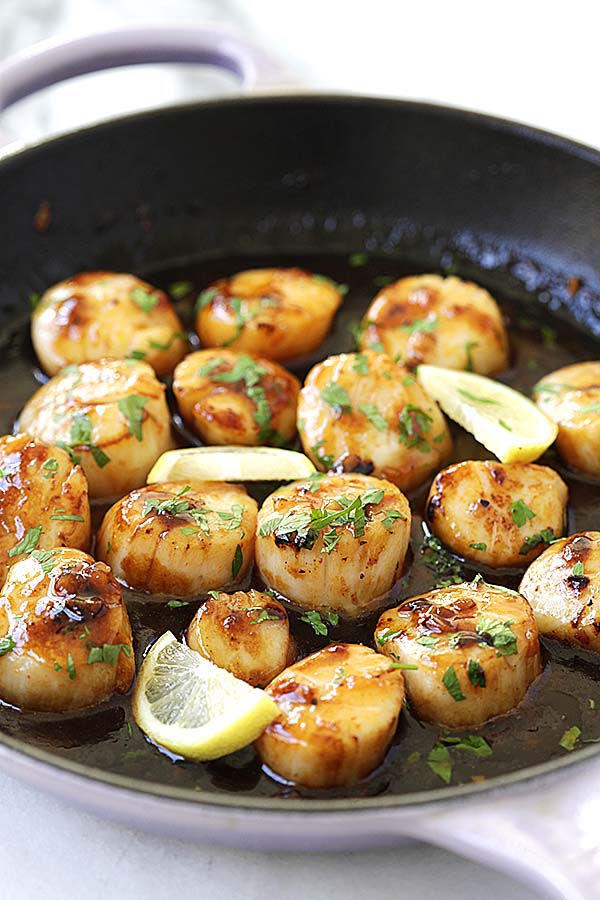 Teriyaki Chicken Meatballs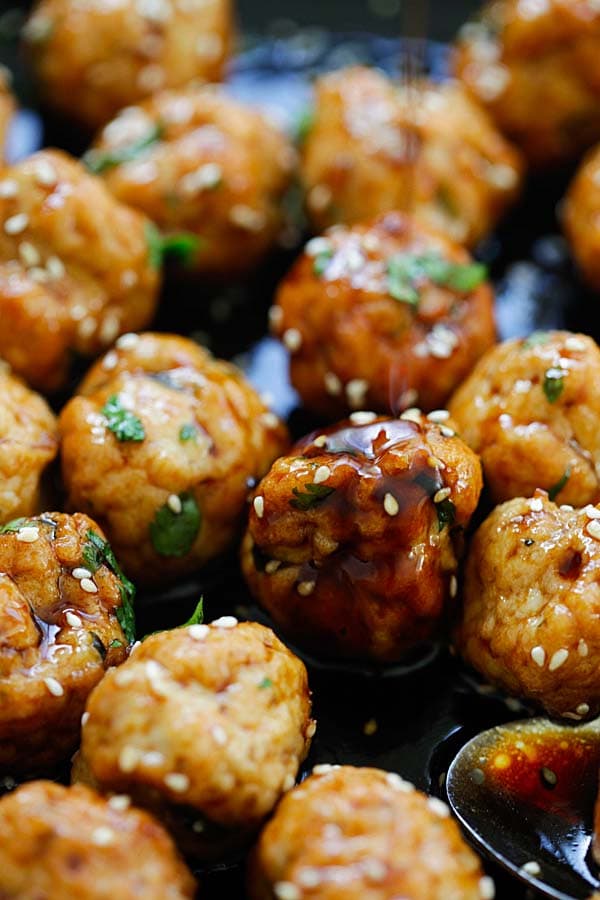 Hot and Sour Soup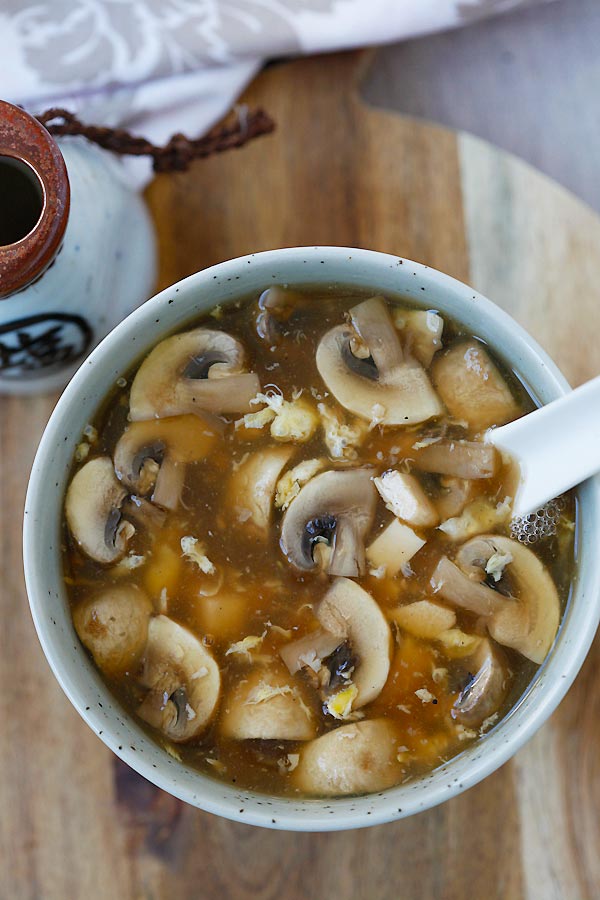 Thai Sweet Chili Chicken