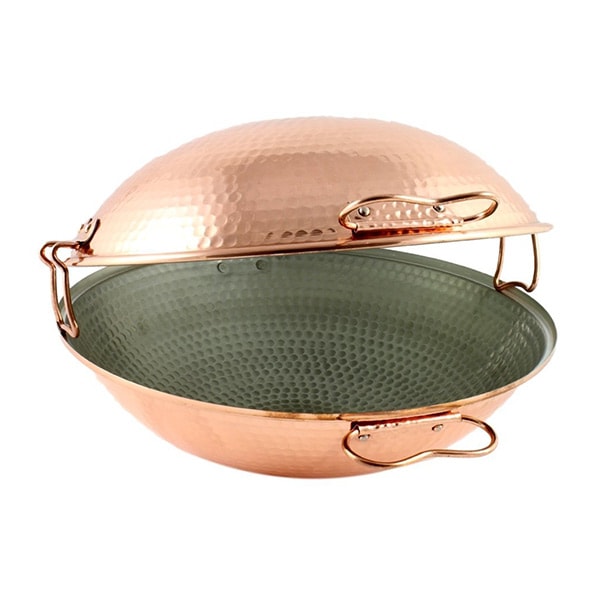 UPDATE: The winner is Marianne Landis.
I am partnering with my friends at KATAPLANAS to giveaway Original Portuguese Copper Cataplana Pan Gas 11″Inch 30 Cm, MSRP: $110.00, US only.
The "Kataplanas -The Portuguese Handmade Copper Pan" Kickstarter campaign is active now, check it out here.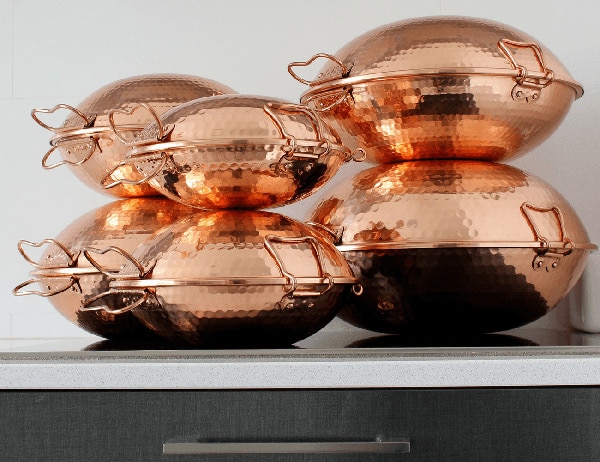 KATAPLANAS Traditional Portuguese Cookware Giveaway
In Portugal, people have been using the traditional cataplana pan for centuries. With KATAPLANAS Traditional Portuguese Cookware, you get the same clever design in your own kitchen. You can cook seafood, meat, vegetables and much more in these beautiful handmade pans. The clamshell design holds in the flavor, so you get the full lip-smacking experience with every dish. In addition, this means you can eat lighter, healthier meals without compromising on taste. Clamp down the lid, and you can also use your KATAPLANAS as a pressure cooker for slow roasts and delicious stews. You don't even need to pre-heat these copper pans, as they heat up in seconds. The pans are crafted with care, and you get a lifetime guarantee. With multiple sizes to choose from, this range might just make you switch to Algarve-style cooking for good.
Specifications:
Sizes : 8, 9, 10, 11, 12, or 14 Inches
Materials : Copper, Tin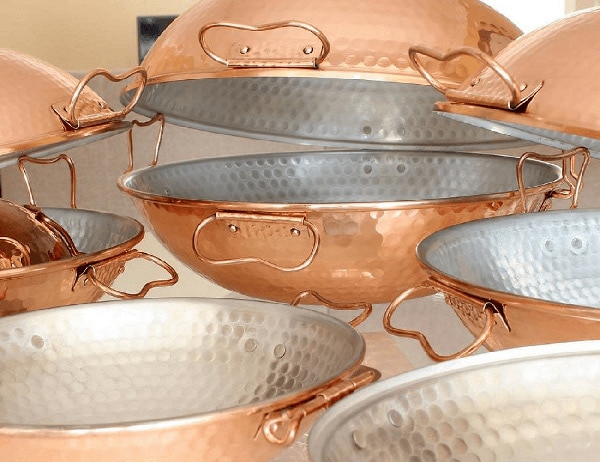 What Makes the CATAPLANA Special?
Shaped like a clam with two domed halves, the pot seals in moisture like a Dutch oven, encouraging a steaming effect inside the vessel. The latches on the side lock the dome closed, emulating a pressure cooker. The cataplana is essentially an uncanny combination of slow cooker or Dutch oven, tagine and modern pressure cooker.
The cooking process used by the Cataplana prevents the loss of the ingredients and aromas, ensuring a full and excellent flavor Furthermore, cooking in the Cataplana is healthier since the recipes use less fat, and thus contain fewer calories. Of all the cookware materials, copper is the best heat conductor. It heats food evenly and adjusts to temperature changes quickly. Does not require much pre-heating since copper heats very quickly.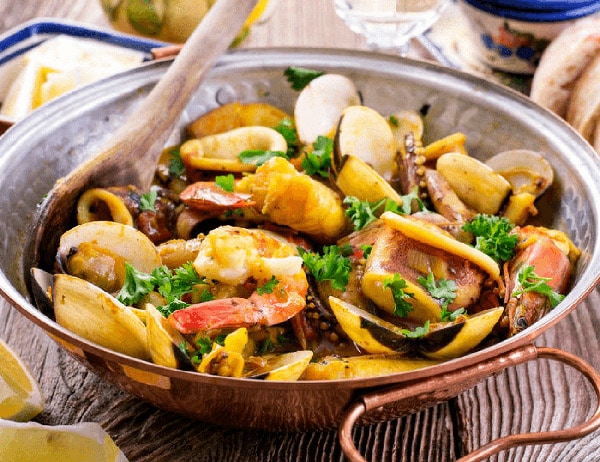 Why else should you use and own a Cataplana?
You love to cook, and we're guessing you're probably pretty good at it or you'd be Googling something new other than regular cookware. That means you're ready for your best recipes to get even better.
The only ingredients in our pots and pans are copper and tin a;(Cu),(Sn) in the Periodic Table of the Elements. Our pure metal cookware is as unalloyed and organic as it comes.
The use of copper, apart from the excellent conductivity of heat throughout the Cataplana structure, gives the entire contents of a special, unique and incomparable taste.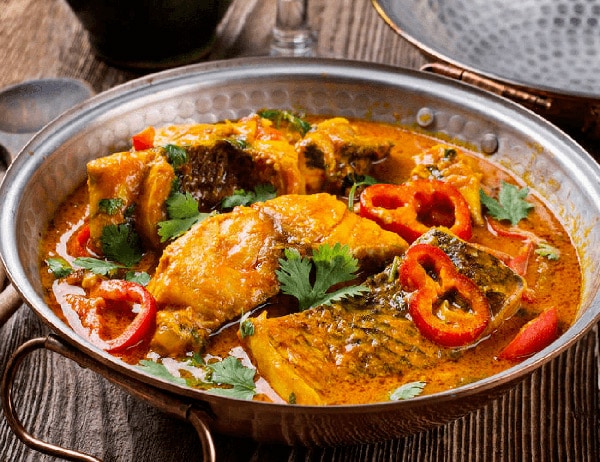 Health Benefits
Along with timeless beauty copper cataplanas also provide health benefits. Copper has the inherent ability to kill a variety of potentially harmful pathogens.Copper is antibacterial, killing most bacteria within a couple hours.
Copper is a necessary trace nutrient, but, like grandma used to say, you can have too much of a good thing. That's why smiths have been lining copper cookware with non-reactive tin for centuries. You never have to think about what could be going into your food other than what you put in the cataplana.
PREMIUM QUALITY
Copper Cookware has been the gold standard in cooking and the top choice among professional chefs and cooking enthusiasts for centuries. A quality copper cookware set is an investment that will stay in your family forever. Bring added quality, functionality and more beauty to your home with a copper cataplana.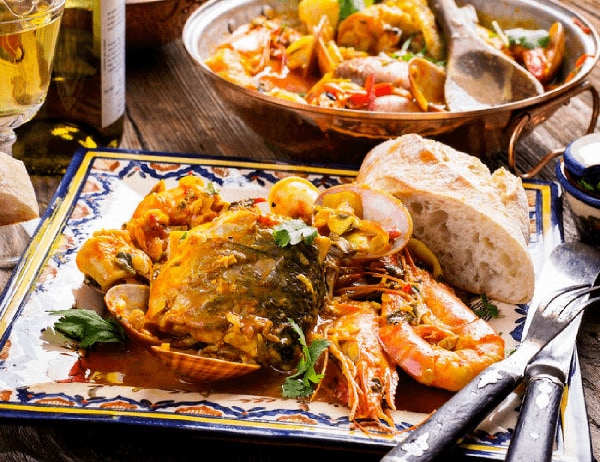 MULTI PROPOSE
The more you work with the cataplana the more you will realized this dish isn't just for shellfish. It can be used for vegetarian stews, chicken, rabbit and seafood rice and a variety of different fish dishes like a Caldeirada de Peixe (fish stew). Cooking in the cataplana makes the flavors richer by not allowing the juices to go to waste by evaporating into the air and instead continuously sinking back into the food and creating a luscious liquid in the bottom.
FUN, SAFE & EASY TO USE AND CLEAN:
Cataplana is perfect for the cooking device because it efficiently contains the flavour and heat of the contents in the dish to provide a uniquely flavoured and scented dish, simply without any fuss.
The cataplana is easy enough to clean, but we recommend using copper cleaner or polish to keep it looking pristine. The pan is a refreshing combination of form and function, and easily the most eye-catching addition to your kitchen.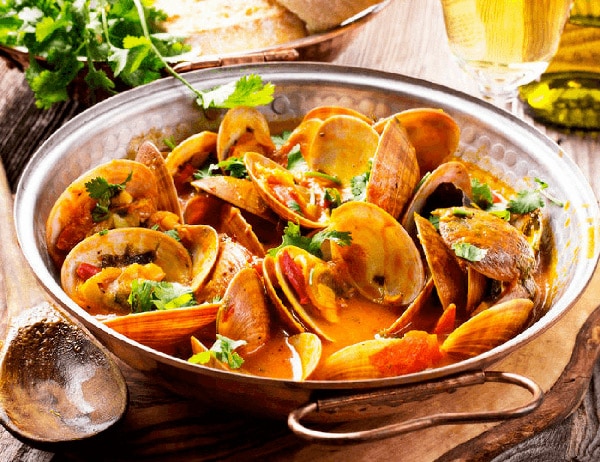 GIVE US SOME LOVE!
Like Rasa Malaysia on Facebook. (Click on the Like button below.)