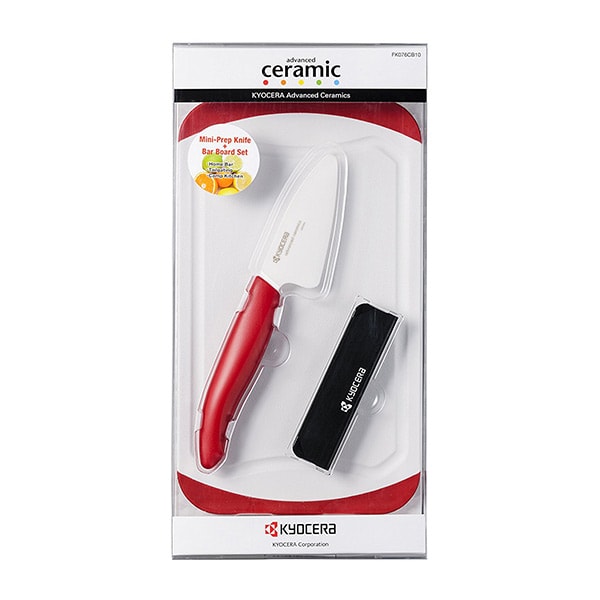 UPDATE: The winner is Stacie Dubay.
I am partnering with my friends at Kyocera to giveaway a Kyocera Mini-Prep Knife + Bar Board + Sheath Set, MSRP: $29.95, US only.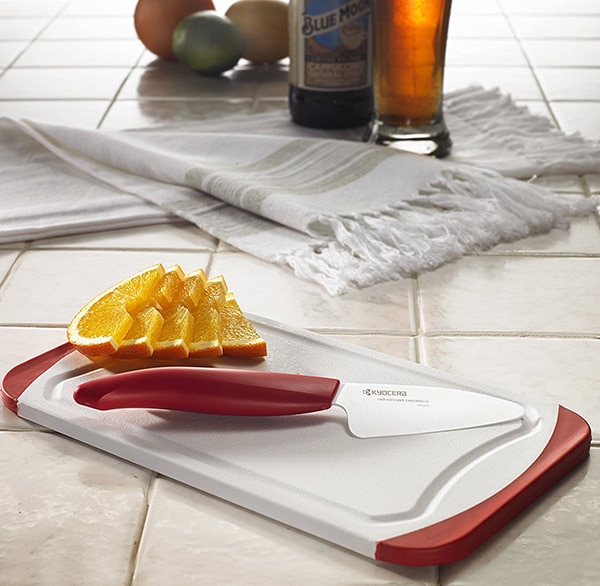 Kyocera Mini-Prep Knife + Bar Board + Sheath Set
The Mini-Prep Knife + Bar Board Set was created for the home bar, tailgating, camp kitchen, picnics, boating and more reaching out to expand the target market for the brand's exclusive advanced ceramic cutlery. Beautifully packaged, it can also be merchandised for gift giving or as a set of "city-sized" compact kitchen tools for small space kitchens. The 3-piece set includes a 3-inch Mini Prep Knife, a cutting board, and a safety sheath. It comes in black, red, green or yellow accents with white. The 3-Inch Mini Prep Knife features a pure white ceramic blade made of Zirconia Z206, Kyocera's proprietary advanced ceramic. This one-of-a-kind ceramic creates a stronger, denser, super sharp blade that holds its edge more than 10 times longer than other blades, including premium steel. Kyocera's ceramic offers unparalleled purity and will never rust or transfer metal ions to foods. This is the go-to knife for slicing fruits such as lemons, limes and strawberries, or for mincing and cutting herbs or small veggies. It is easy to clean: simply hand wash or wipe clean with a towel. The 9 1/2 by 5- inch sturdy plastic cutting board is white, with a curved non-slip rubber edge on each end that is color coordinated with the knife. A decorative juice groove keeps things neat by catching excess liquid. The design is reversible, allowing the user to prevent cross contamination by using both sides. The cutting board is dishwasher safe and stain resistant, and it will not warp, crack or peel. The included safety sheath protects the blade for safe and easy storage and transport.  Set Includes: 4″ Mini Prep Knife in black, red, green, or yellow handle, 5.5 " x 9.4″ x 0.3″ Bar Board in black, red, green, or yellow trim,  3.7″ Knife Sheath: black.
Features & Benefits:
Unrelenting Sharpness: razor-sharp blade stays sharper longer. Kyocera advanced ceramic blades offer superior edge retention, holding their edge at least 10 times longer than other professional cutlery, including high carbon steel.
Unparalleled Purity: Will never brown foods. No metallic ions to transfer – won't alter the taste, smell or appearance of food. Will never rust.
Ultra Lightweight: Perfectly balanced and light, reduces fatigue during repetitive cutting tasks.
Zirconia Z206: Kyocera's proprietary advanced ceramic. This translates to a stronger, denser blade that holds an edge longer than other ceramic knives.
Lifetime Warranty: Kyocera advanced ceramic cutlery and kitchen tools are fully warranted to be free of defects in material and/or craftsmanship. If the product is found defective, we will repair or replace it.
Lifetime Complementary Sharpening: Kyocera offers complimentary sharpening for KYOCERA ADVANCED CERAMIC knives only. A shipping and handling charge is required per shipment. Up to two (2) knives – $10; $5 for each additional knife.
GIVE US SOME LOVE!
Like Rasa Malaysia on Facebook. (Click on the Like button below.)