Mac and Cheese with Broccoli and Carrots - skillet Mac and Cheese loaded with healthy broccoli and carrots. Even the pickiest eaters like it.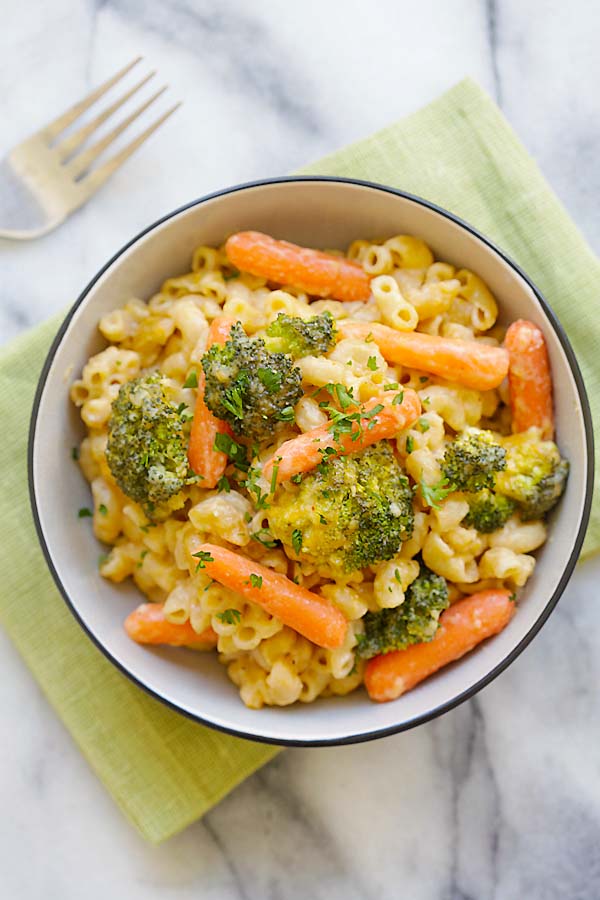 Little G is quite a picky eater. He practically eats four things: pizza, mac and cheese, pasta and chicken nuggets. As with many kids his age, mac and cheese is my life saver.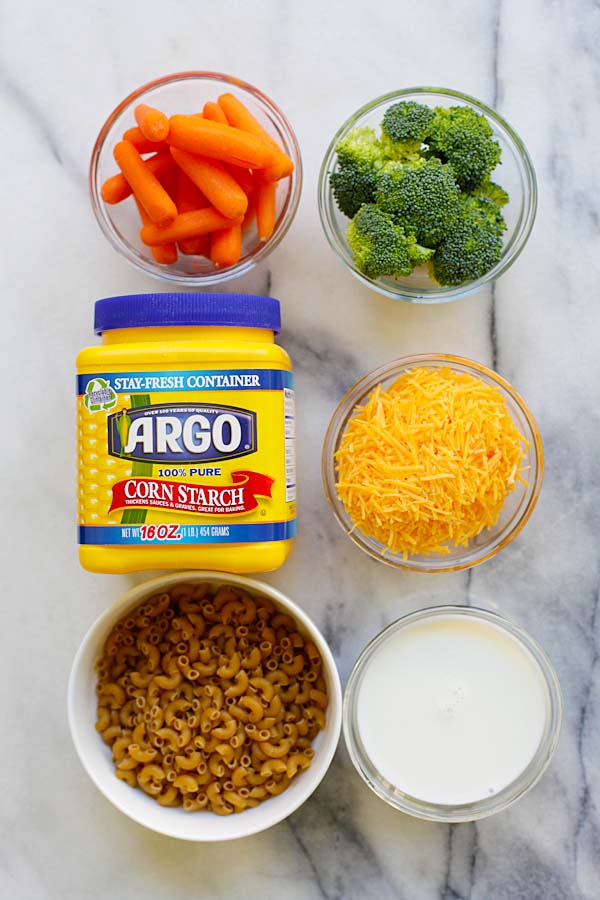 Whenever I run out of dinner ideas (for him), I whip up mac and cheese as he will be happy to gobble it up, without fail.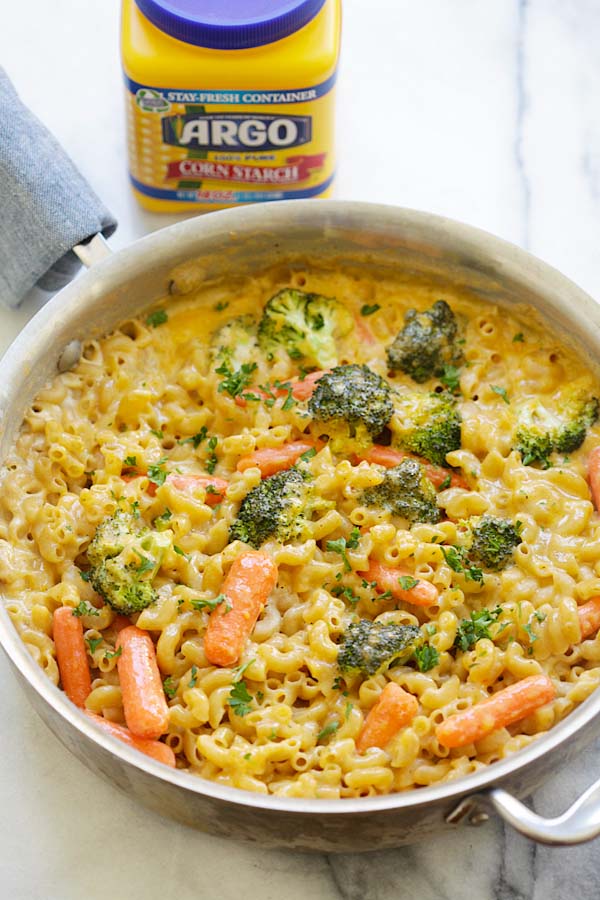 Other Recipes You Might Like
While there are many instant mac and cheese in a box, or fast food mac and cheese, I always believe in making everything from scratch for the little ones.
First of all, homemade is always so much healthier and better; secondly, it's really quite easy and quick to whip up a skillet full of mac and cheese for Little G, and I even have enough leftovers for his lunch box the next day.
Double win!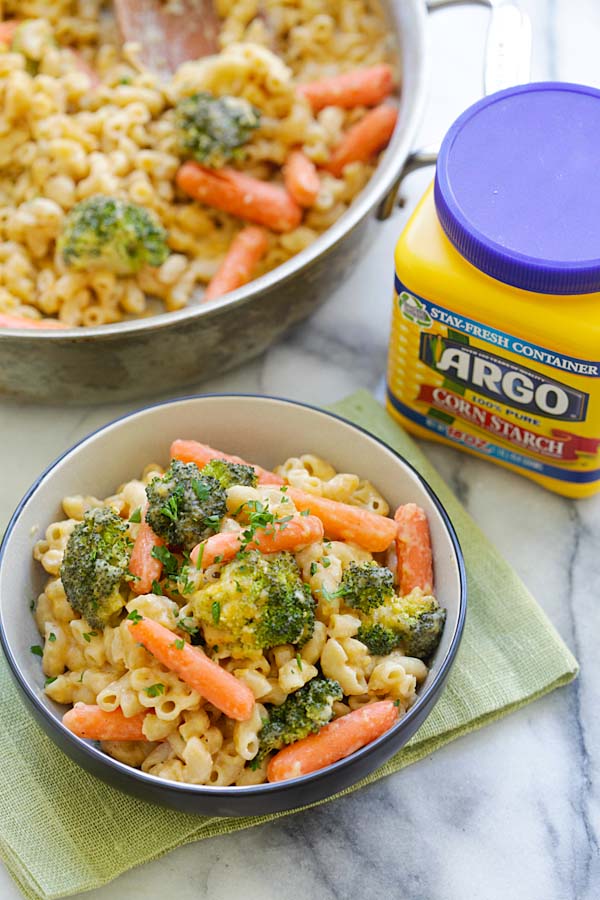 Much like other kids around his age, little G is not a big fan of vegetables. As a mother, I always try to sneak in some vegetables here and there so he gets enough Vitamin C every day.
Homemade mac and cheese makes everything easier for me as I can always add in some broccoli and baby carrots (the only two vegetables he eats!) and he won't pick them out.
This Mac and Cheese with Broccoli recipe from Argo.com is always my goto recipe.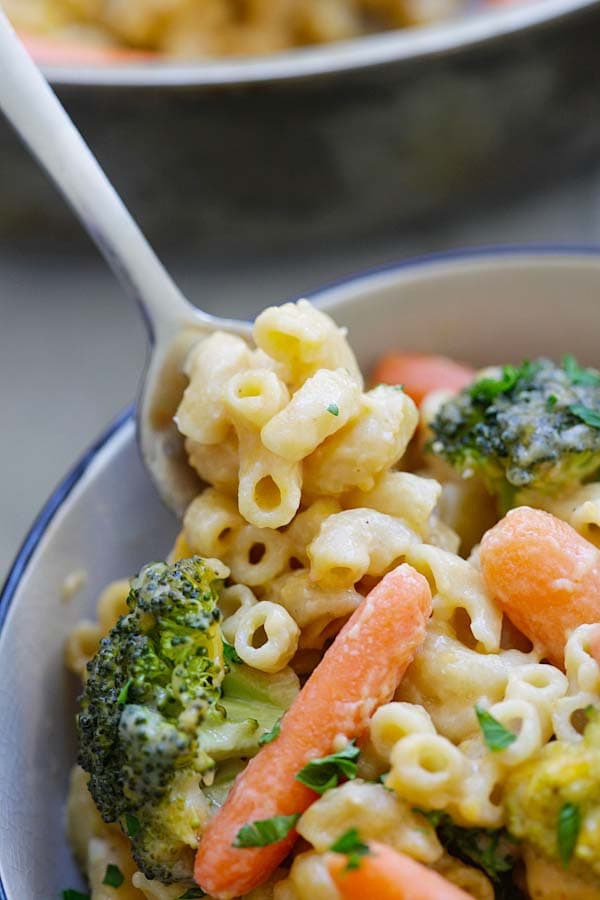 Little G loves the cheesy sauce so I used Argo® Corn Starch to thicken it up so every little piece of the elbow macaroni is nicely coated with the cheese.
Ultimately, that's what makes mac and cheese such a delightful dish to eat not only as a quick snack, but as a lovely side dish for Thanksgiving and holiday get togethers.
I also love it that this is an easy one skillet dish so I have one less dish to clean up after dinner. Check out the video below and get cooking!
Disclaimer: This is a sponsored post by Argo® Corn Starch and I am sharing this recipe as an Argo® Corn Starch Blog Ambassador.
How Many Calories Per Serving?
This recipe is only 317 calories per serving.
What Dishes To Serve with this Recipe?
For a wholesome meal and easy weeknight dinner, I recommend the following recipes.
5 Secrets to 20 Min Dinners
Get tricks for quick & easy meals!
Yield: 4 people
Mac and Cheese with Broccoli and Carrots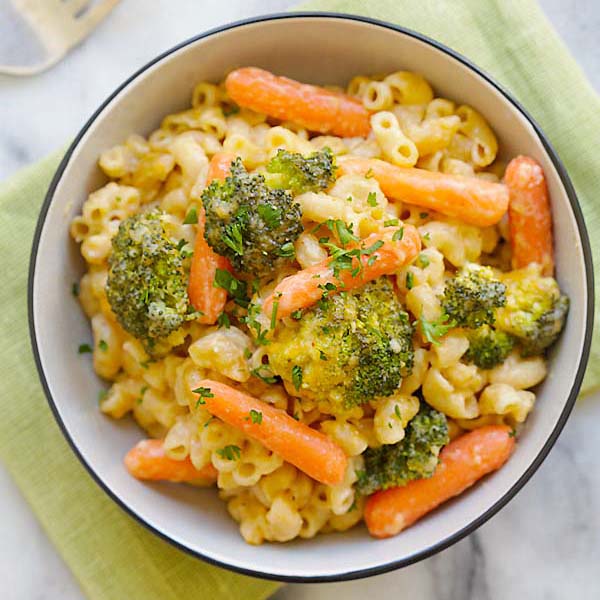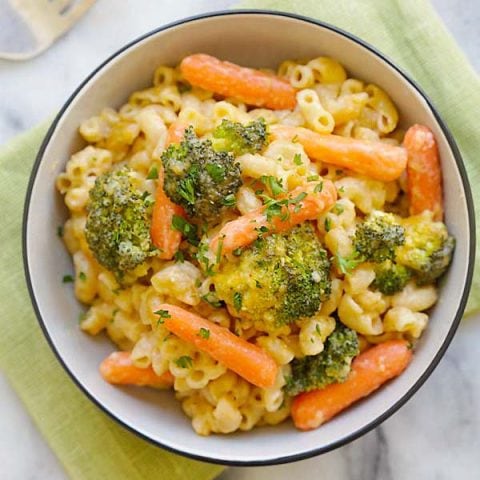 Mac and Cheese with Broccoli and Carrots – skillet Mac and Cheese loaded with healthy broccoli and carrots. Even the pickiest eaters like it.
Ingredients
2 cups whole wheat elbow macaroni
Sauce:
1 1/2 chicken bouillon cubes
1/4 cup boiling water
2 tablespoons Argo® Corn Starch
1-3/4 cups skim milk
1 tablespoon Spice Islands® Minced Onion
1/4 teaspoon Spice Islands® Garlic Powder
1/8 teaspoon Spice Islands® Fine Grind Black Pepper
1/8 teaspoon Spice Islands® Cayenne Pepper
1-3/4 cups shredded sharp 2% milk cheddar cheese (7 oz.)
1 cup fresh broccoli florets
1 cup baby carrots
1 tablespoon chopped parsley
Instructions
Preheat oven to 350°F (176°C). Cook the macaroni per the package directions.
Dissolve the chicken bouillon cubes in boiling water; set aside. On medium to low heat, add milk in an oven-safe skillet, follow by Argo® Corn Starch. Stir well. Add the dissolved bouillon cubes, onion, garlic powder, black pepper and cayenne pepper. Stirring constantly, bring to a simmer. Remove from heat and gradually stir in the cheese until melted. Add the cooked pasta, broccoli and carrots. Stir until well combined.
Transfer the skillet to the oven and bake for 20 minutes or until slightly browned and bubbly. Remove from the oven, top with parsley and serve immediately.
Nutrition Information
Serving Size
4 people
Amount Per Serving
Calories

317
Total Fat

3g
Saturated Fat

1g
Cholesterol

7mg
Sodium

448mg
Carbohydrates

61g
Fiber

1g
Sugar

3g
Protein

13g