Malaysian-style BBQ Seafood - This Malaysia recipe is so easy to make and only take less than 30 minutes to cook!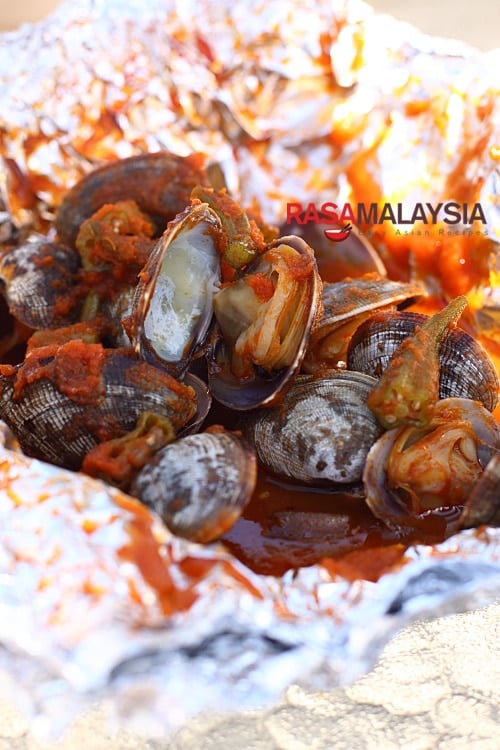 My good friends Farina and Michael came over to visit last week and we made some Malaysian-style BBQ seafood, inspired by this popular hawker fare in Kuala Lumpur (KL), Malaysia.
They are called Portuguese-style baked seafood. There is really nothing Portuguese about it but Malaysia do have some Portuguese descendants because Malacca was a Portuguese colony in the 16th century.
So perhaps this is how they bake their seafood—with fiery sambal, okras, and wrapped with aluminum foil.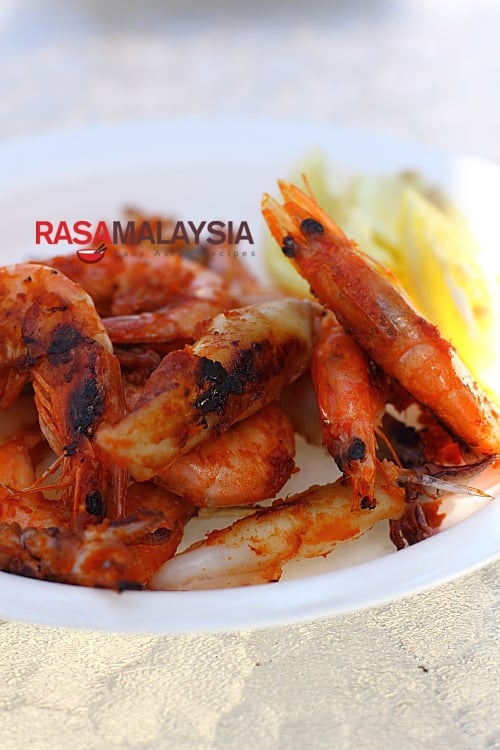 Farina and I enjoyed our BBQ so much. As Malaysians, we concluded that this is probably the best way to serve seafood BBQ-style. Our favorite is the BBQ clams with sambal and okras. It was simply lip smackingly delicious.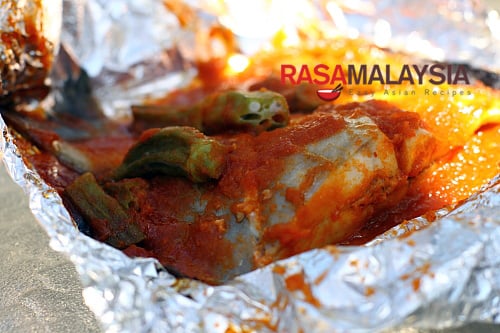 To prepare these mouthwatering Malaysian-style BBQ, all you need are your favorite seafood and shellfish: shimp, squid, fish (we like stingray or white pomfret), clams, and some okras.
Mix the seafood of your choice (you can also do a seafood combination) with sambal, okra, and wrap the aluminum foil tightly (preferably two layers to avoid leakage), and off onto the grill. That's it.
Try this new recipe this summer. You will not be disappointed!
How Many Calories per Serving?
This recipe is only 362 calories per serving.
What Dishes to Serve with This Recipe?
For a wholesome meal and easy weeknight dinner, I recommend the following recipes.
5 Secrets to 20 Min Dinners
Get tricks for quick & easy meals!
Yield: 4 people
Malaysian-style BBQ Seafood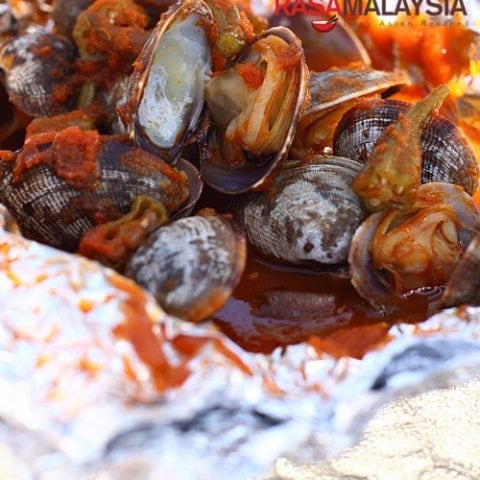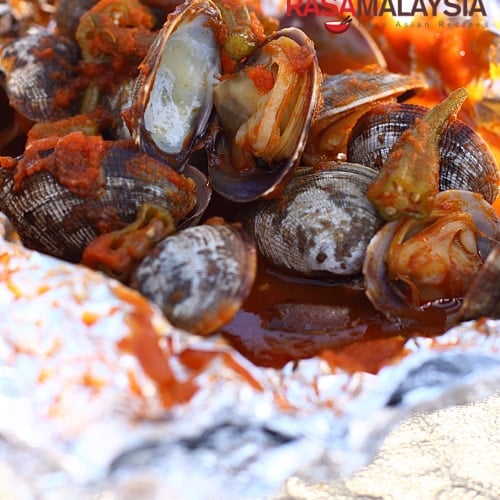 BBQ Clams using sambal, a popular chili based from Malaysia and Indonesia.

Prep Time 5 minutes

Cook Time 20 minutes

Total Time 25 minutes
Ingredients
A:
1 small bottle (8 oz.) of store-bought sambal oelek
2 medium-sized onion, quartered
5- in ginger
1-2 stalks lemongrass, white part only, grated
1 tablespoon toasted belacan powder
B:
1/4 cup vegetable oil
1 small can tomato paste
1/2 cup water
3 tablespoons tamarind juice, extract from tamarind pulp and water
1 1/2 tablespoons salt
1 cup sugar
Instructions
Grind all the ingredients in A.
Heat up the oil in the wok on medium high heat. Put the above the ground ingredients A in. Keep stirring for about 10 minutes.
Add water, tomato paste, tamarind juice, salt, and sugar. Continue stirring for another 10 minutes. Add more salt or sugar to taste. Dish out and set aside.
Notes
Bottled sambal oelek is very spicy, but the above sambal recipe will "dilute" the spiciness. The recipe yields about two bottles or more sambal. You don't have to use up all the sambal for the BBQ seafood, just use enough for each seafood parcel.
You can also try out my grilled fish sambal recipe here, which is more Nyonya-style.
Nutrition Information
Yield
4
Serving Size
4 people
Amount Per Serving Calories 362Total Fat 13gSaturated Fat 11gUnsaturated Fat 0gCholesterol 42mgSodium 2756mgCarbohydrates 59gFiber 1gSugar 53gProtein 3g