Penang Apong (Apom) Balik - This recipe is so easy to homemade, sweet and savoury for asian food lover!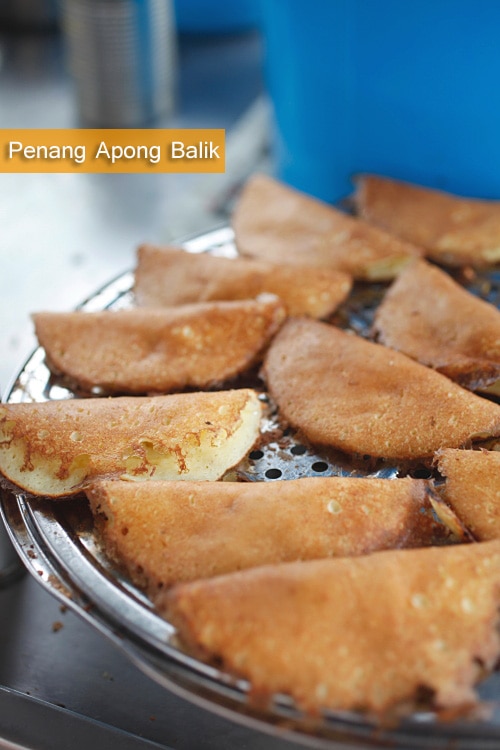 Every time I come back to Penang, there are a few hawker food (street food) that I never miss out eating. As I was born and raised in Penang, I seek out to those foods and places that carry sentimental values to me—my favorite dishes and treats I grew up eating, neighborhood restaurants, hawker centers or coffee shops (kopitiam) that my family frequents, or particular hawkers that have known me since I was little. These places are mostly unknown to the tourists as they are not covered by guide books, but to me, they are some of the best foods found in Penang…they are the tastes of my childhood.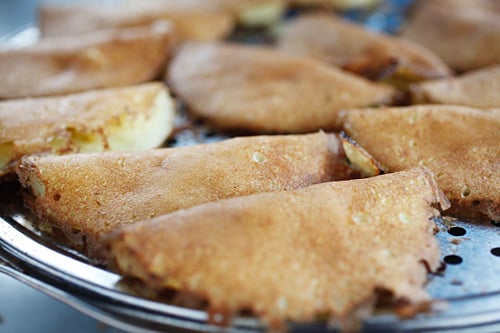 One of the treats that I absolutely love is Penang Apong Balik, or Apom Balik, solid by this 70-year old hawker Chooi, along Burmah Road (before Union Primary School). Penang Apong Balik is a Nyonya sweet treat with sliced bananas, some corns, all folded up in a sweet, eggy, aromatic, soft and fluffy pancake, speckled with shredded coconut. The taste, texture and recipe are completely different from the original Indian apom (which is another favorite of mine).
Each piece of this heavenly apong balik is merely RM0.40 (or US$0.15) but trust me on this, it's probably one of the best pancakes ever created. Each apong balik is made by hand by Uncle Chooi, and sold/served immediately to the customers. I can easily gobble up ten (10) of these hot-off-the-pan apong balik as my afternoon snack…they are absolutely delightful and tasty!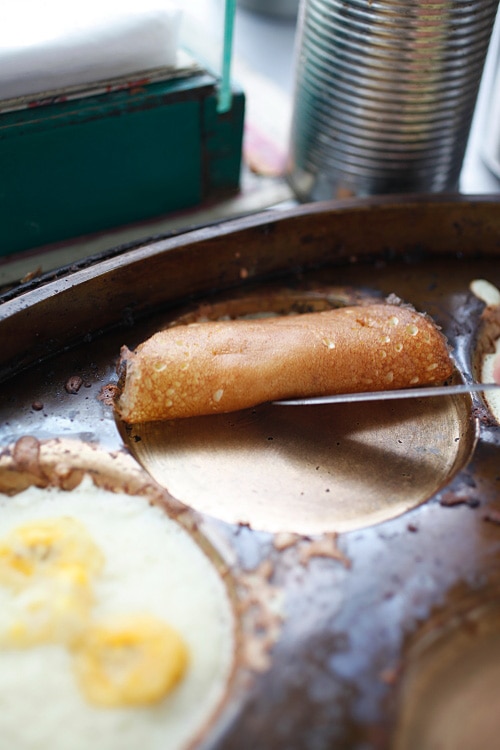 With many hawkers in Penang nearing or exceeding retirement age, I am sometimes saddened by the fact that I probably will not have my favorite apong balik in the years ahead. As I mentioned, Chooi is 70 years old and his three children are professionals and will not inherit his humble business. A truly legendary concoction and recipe might be lost forever in the near future. But for now, I will savor every piece of these heavenly apong balik whenever I drive by Chooi's stall.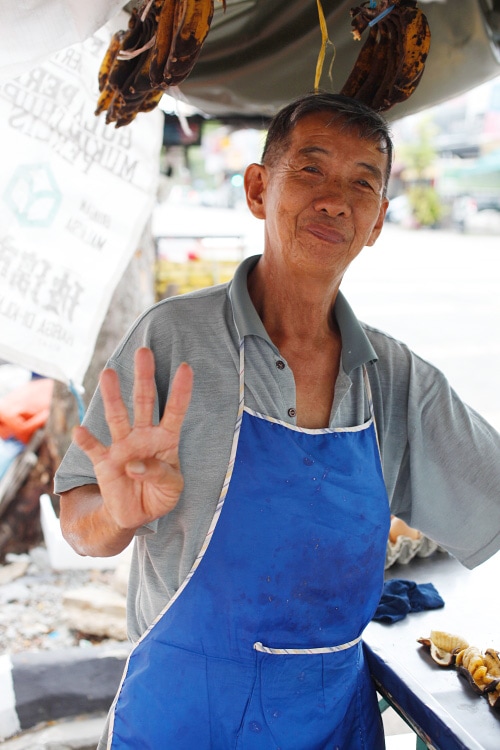 Apom Chooi 老字号
Burmah Road, Penang
Hours: 1.30pm to 8pm (Closed on Sundays)
Note:
To local Penangites, this stall is the less-popular stall next to the famous Apong Guan, but the truth is Chooi is the older brother of Apong Guan, so both have the same family recipe and their apong pretty much taste the same. Chooi has also operated the business longer.