Join Penang tour and culinary tour. Travel and eat like a local in Penang with a friendly local travel specialist. Private tour, customized itinerary and more!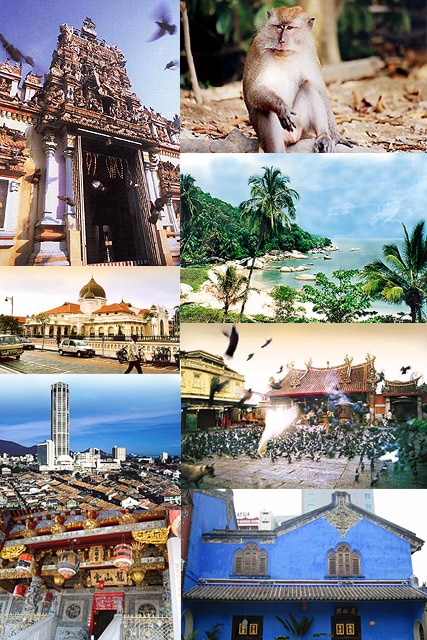 Send an email to rasamalaysia@gmail.com today to inquire and join our award-winning Penang Private Tour and Culinary Tour.
.
Our award-winning tour has been featured on US, Singapore, Philippines, and other regional media and magazines below.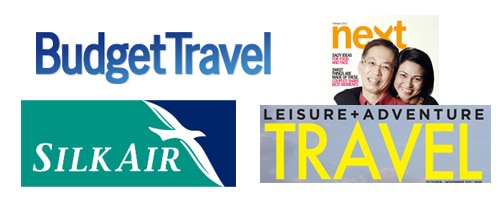 Rasa Malaysia Penang Private Tour and Culinary Tour is catered specifically to foreign tourists and visitors, as well as local tourists from Singapore and Asian countries. Unlike other packaged tours with a van that loads and unloads visitors at various tourist traps, Penang Private Tour is the ONLY tour company that offers customized itinerary with a friendly driver, in a licensed mini van (new and with air-condition) with proper insurance coverage. Send an email to rasamalaysia@gmail.com now to learn more about our tour programs and rates. Our guide speaks fluent English, Mandarin, Cantonese, Malay/Indonesian, and our award-winning services have been featured on Singapore's SilkAir magazine, Budget Travel Magazine, USA, Leisure + Adventure Travel, Philippines, Next Magazine, Singapore, and TODAYonline. For the glowing reviews from previous guests, scroll down to the comments section.
TOUR PACKAGES: .
Penang Private Tour—a 9-hour day tour to the best sights and places of interests in Penang.
Penang Culinary Tour—a 9-hour culinary tour to local wet markets, spice mill, traditional soy sauce/belacan factory, plus the best local food experience (hawker centers, kopitiam/coffee shops, and private dining). Cooking classes can be arranged.
Penang Day and Night Tour—a 12-hour tour that covers places of interests plus sunset tour, night market tour, and sampling famous Penang seafood dinner.
Penang Firefly Tour—Watch ten of thousands of fireflies flickering and lighting up mangrove trees along a serene river bank. A must-visit excursion for nature lovers.
Penang Peranakan Culture and Nyonya Food Tour—Nyonya and Peranakan tour covers the unique and colorful Penang Baba-Nyonya and Peranakan culture, heritage, living traditions, museums, cuisine, and antiques.
Penang Durian Tour (May 2015 – August 2015)—durian eating tour at a private durian orchard in Balik Pulau, tropical fruit orchards, and round-the-island tour.
.
PENANG PRIVATE TOUR (Sample Itinerary)
Day 1 Georgetown UNESCO World Heritage Tour
9:00 am—Pick up at hotel
9:30 am—Georgetown UNESCO Heritage Walking Tour
12:00 pm—Lunch (sampling local cuisine of Indian "nasi kandar" and "teh tarik")
1:00 pm—Pinang Peranakan Mansion Tour
2:00 pm—Penang floating village of Chew Jetty (a UNESCO site)
3:00 pm—Cheong Fatt Tze mansion
4:00 pm—Fort Cornwallis and Esplanade
5:00 pm—Tea break at local street food stalls and Penang Road walking tour
6:00 pm—Car transfer back to hotel
Day 2 Nature and Heritage Temples
9:00 am—Pick up at hotel
9:30 am—Wet market tour
10:30 am—Reclining Buddha and Burmese Temple
11:30 am—Botanical Garden and Youth Park (Monkeys!)
12:30 pm—Lunch (sampling Nyonya cuisine or local Chinese food)
1:30 pm—Penang Hill
3:30 pm—Kek Lok Si Temple
5:00 pm—Penang street food (hawker food) experience
6:00 pm—Car transfer back to hotel
Day 3 Round-the-island Tour
9:00 am—Pick up at hotel
9:30 am—Penang Spice Garden
10:30 am—Butterfly Farm
11:30 pm—Tropical fruit farm and waterfall hike
1:00 pm—Sampling famous Balik Pulau Laksa
2:00 pm—Balik Pulau tour and various scenic view points
4:30 pm—Snake temple
5:00 pm—Fishing village plus sampling Malay "ikan bakar" (grilled fish wrapped with banana leaves)
6:00 pm—Car transfer back to hotel
.
PENANG CULINARY TOUR
[imagebrowser id=121]
Our award-winning Rasa Malaysia Penang Culinary Tour (as featured on SilkAir and Budget Travel USA) takes you to sample the best street food, traditional restaurants and hidden gems known only to the locals. You will get to sample the world famous Penang hawker food, visiting spice mill, soy sauce, and "belacan" (shrimp paste) factories, wet market, food culture tour, and more! We also offer Nyonya Food Culinary Tour with the focus on Nyonya and Peranakan food, legacy, and heritage. Click the photo album above to view the delicious Penang food.
.
PENANG FIREFLY TOUR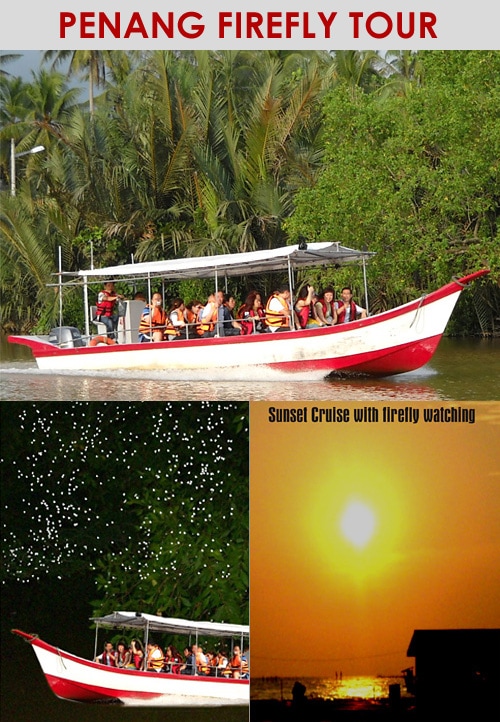 Penang Firefly Tour takes you on an excursion to a serene riverbank with mangrove trees—the natural habitat of firefly. Watch ten of thousands of fireflies flickering and dancing in front of your eyes, lighting up the mangrove trees like Christmas trees while you cruise along the river enjoying the peaceful and serene nature. You'll be amazed—and mesmerized—by the synchronized flashes of light gently hovering over the mangrove trees. A must-see for nature lovers.
.
PENANG DURIAN TOUR
Our Penang Durian Tour will take you on an adventurous journey into private durian orchards in Balik Pulau. The tour is both educational and fun, where you get to sample the freshest and most delicious durians that have just fallen off the trees, try out the different award-winning Penang durians, and learn more about "the KING of fruits." Penang Durian Tour also covers other exotic tropical fruit orchards such as nutmeg, ampla (ambula), and more. While in Balik Pulau, you will also take in the spectacular and serene nature, vistas, and scenary, with a stop-over to sample the famous Penang Assam Laksa. All in all, you will have a pleasant and enjoyable time with us.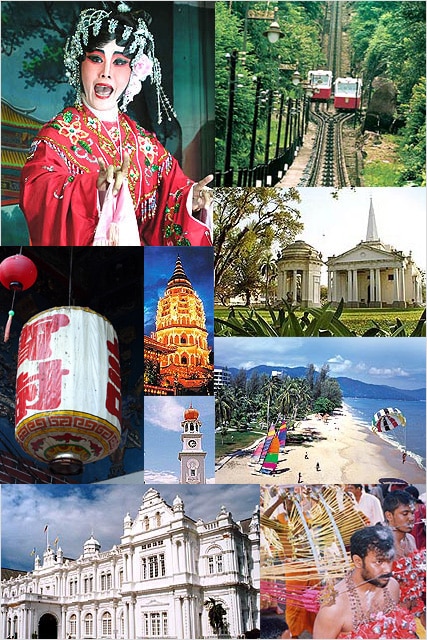 If you wish to tour Penang with a knowledgeable and friendly local guide for sightseeing, food, nature, culture, or need someone to drive you around, please contact us at rasamalaysia@gmail.com for our tour programs and rates. Rates depend on the number of people in your group or the size of vehicle used. To check the glowing reviews and testimonials from our previous customers, scroll down to the comments section.
See you in Penang!